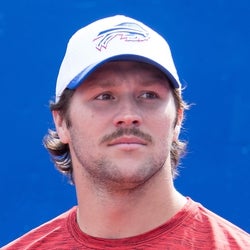 2023 Fantasy Outlook
Allen fell just short last year in his bid to three-peat as the top fantasy QB, finishing second with a remarkably similar season to the one before despite playing through an injury to his throwing elbow. He came within 124 passing yards, one TD pass and one rushing yard of matching his 2021 numbers (and, like in 2021, the Bills lost in the divisional playoffs). Allen attempted 79 fewer passes than he did the previous year, in part because he played 16 games instead of 17, making up for it by increasing his YPA from 6.8 to 7.6 (8th) while his average target depth jumped a full yard to 9.2 (3rd). Allen's completion rate held steady at 63.3 percent, though it again was far off his impressive 2020 percentage (69.2). That works well enough when a QB gets healthy passing volume, completes passes downfield and adds elite rushing production. The only negative is a receiving corps that looks dicey behind standout WR Stefon Diggs. Gabe Davis disappointed last season, and while the team drafted Dalton Kincaid in the first round to join Dawson Knox, the learning curve for rookie tight ends is usually steep. In the backfield, Buffalo replaced Devin Singletary with Damien Harris, who has 105 fewer career catches and could take more of the goal-line carries. Nevertheless, Allen should again challenge for QB1 in fantasy thanks to his potentially league-leading combination of pass and rush attempts.
Read Past Outlooks
RANKS
#

Overall
$Signed a six-year, $258 million contract with the Bills in August of 2021.

ANALYSIS
Buffalo created close to $32 million in cap space by restructuring the contracts of Allen and
Von Miller
. Allen accounted for just over $21 million of that cap space by converting $26.4 million of his 2023 salary into a signing bonus. The quarterback -- who turns 27 in May -- is hoping this move will help the Bills fortify the roster around him after falling short in the playoffs in recent years. Allen is expected to enter the 2023 season fully healthy after playing through a lingering UCL injury in his right throwing elbow in 2022.
Read More News
NFL Stats
Fantasy/Red Zone Stats
See red zone opportunities inside the 20, 10 and 5-yard lines along with the percentage of time they converted the opportunity into a touchdown.
Loading Fantasy/Red Zone Stats...
Advanced NFL Stats
How do Josh Allen's 2022 advanced stats compare to other quarterbacks?
This section compares his advanced stats with players at the same position. The bar represents the player's percentile rank.
The longer the bar, the better it is for the player.
Bad Pass %

The percentage of passes that were considered to be poorly thrown.

Avg Target Depth

The average number of yards thrown per pass by the quarterback – including incomplete passes.

Sack Rate

The percentage of dropbacks where the quartback was sacked. The longer the bar below, the more often they are sacked relative to other QBs.

Avg Receiver YAC

The average number of yards after the catch that receivers gained on passes thrown by this quarterback.

Receiver Drop %

The percentage of passes dropped by receivers on passes thrown by this quarterback. The longer the bar, the more sure-handed his receivers have been.
Loading Advanced NFL Stats...
2022 NFL Game Log

Calculate Stats Over Time
Just click on any two dates.
Scoring
Standard
PPR
Half PPR
FanDuel
DraftKings
Yahoo DFS
2021 NFL Game Log

Calculate Stats Over Time
Just click on any two dates.
Scoring
Standard
PPR
Half PPR
FanDuel
DraftKings
Yahoo DFS
2020 NFL Game Log

Calculate Stats Over Time
Just click on any two dates.
Scoring
Standard
PPR
Half PPR
FanDuel
DraftKings
Yahoo DFS
2019 NFL Game Log

Calculate Stats Over Time
Just click on any two dates.
Scoring
Standard
PPR
Half PPR
FanDuel
DraftKings
Yahoo DFS
2018 NFL Game Log

Calculate Stats Over Time
Just click on any two dates.
Scoring
Standard
PPR
Half PPR
FanDuel
DraftKings
Yahoo DFS
Snap Distribution / Depth Chart
2022 Josh Allen Split Stats
Loading NFL Split Stats...
How do Josh Allen's measurables compare to other quarterbacks?
This section compares his draft workout metrics with players at the same position. The bar represents the player's percentile rank. For example, if the bar is halfway across, then the player falls into the 50th percentile for that metric and it would be considered average.
Recent RotoWire Articles Featuring Josh Allen
See More
Past Fantasy Outlooks
Allen's efficiency regressed last season, but passing volume and rushing production were enough to make him the first quarterback since Daunte Culpepper (2003-04) to lead the position in fantasy scoring in back-to-back years. After taking a huge leap the year before, Allen's on-target rate fell by five percentage points and his completion rate by six points last season, contributing to a decline of more than a yard in YPA (6.8, 24th). He ranked fourth in pass attempts, though, which helped him top 4,000 passing yards and 35 TDs for the second year in a row. And with triple-digit rushes (for the third consecutive year), a league-high 6.3 yards per carry and six rushing touchdowns, Allen separated himself from the pack in QB fantasy scoring. Coach Sean McDermott said his franchise QB might run less frequently this season, but 48 of Allen's 122 rushes last year were scrambles (3rd), so even if the Bills limit designed runs he'll find opportunities to use his legs. The Bills return their main playmakers, including wide receivers Stefon Diggs and Gabriel Davis, and they signed Jamison Crowder to replace slot receiver Cole Beasley, giving Allen one of the league's better WR trios. In the red zone, TE Dawson Knox is an effective target when Allen doesn't throw to Diggs or Davis or run it in himself. Allen is the rare dual-threat QB with upside for 600-plus pass attempts and strong per-pass efficiency, giving him a shot to become the first player since Brett Favre (1995-97) to lead the position in fantasy scoring three consecutive years.
Allen played himself into the MVP conversation last season, which perhaps shouldn't be surprising, considering better accuracy was seemingly the only thing keeping him from being a top-5 fantasy QB. The extent to which his accuracy improved, however, was surprising. Allen improved his completion percentage by nearly 11 points to 69.2 percent, vaulting from last in the league in 2019 to fourth last season. And he went from 29th in bad-pass percentage (22.1) to 12th (18.2), sandwiched between Patrick Mahomes and Ryan Tannehill as he set franchise records for completions, passing yards and TDs. Part of Allen's turnaround was thanks to shorter passes — his average target depth dropped from 9.5 to 8.9 — but the most notable improvement came on downfield passing where his percentage of on-target throws jumped from 41.4 (24th) to 47.8 (15th), improving his completion percentage on attempts of 20-plus yards from 25.7 (28th) to 43.3 (8th). Allen's improvement wasn't a fluke — he entered training camp with re-worked mechanics, footwork and balance aimed specifically at improving accuracy. The addition of Stefon Diggs also helped (20 of his 62 completions of 20-plus yards (4th) went to the speedster). Even if Allen's accuracy dips modestly this season, he still has his legs to boost his fantasy value. Allen's 25 career rushing TDs (8 last season) already rank 20th all-time among QBs. He has one of the strongest arms in the league and plays in an offense that offers a heathy number of attempts, and he has an excellent supporting cast in Diggs, Cole Beasley, Gabriel Davis and newcomer Emmanuel Sanders. Allen has as much fantasy upside in 2021 as any quarterback.
If the Bills are to win the AFC East and a playoff game for the first time in a quarter century, Allen needs to take an even bigger step than he did last season — yes, his accuracy improved, but that's not saying much. His completion percentage increased by six points, but at 58.8 percent still ranked last in the NFL, and while his bad-pass percentage was no longer the league's lowest, it merely improved to bottom 10 at 22.1 percent. At 6-5, 237, Allen has a cannon arm, but he is among the league's least effective deep passers. He attempted 63 throws longer than 20 yards last season, completing just 15 as only Kyle Allen (23.1) and Mason Rudolph (23.6) had lower downfield completion percentages than Allen's ugly 23.8. That's partly why his average depth of target ranked seventh at 9.5 yards while his YPA ranked 25th at 6.7. Allen's decision-making improved, though. After throwing seven interceptions in the first five games, he threw just two more the rest of the way. But he continued to fumble at a high rate, fortunate to lose only five of 14. Allen is too quick to take off in the face of pressure, but the rushing stats elevate his fantasy upside — among quarterbacks since 1970, only Cam Newton had more rushing touchdowns (22) in his first two years than Allen's 17. The Bills acquired wide receiver Stefon Diggs to help with Allen's deep passing, and he still has speedster John Brown, effective slot man Cole Beasley and a promising young tight end in Dawson Knox. Given his rushing numbers, if Allen gets the passing game going, he could jump into the top 5 of fantasy quarterbacks.
The knock on Allen entering his rookie season was accuracy, and he did nothing to prove critics wrong. He finished last in the league among 33 qualified quarterbacks with a completion rate of 52.8 percent. While his 11.3-yard average depth of target tied for the league lead (Jameis Winston), Allen completed just 23.7 percent of his attempts longer than 20 yards (29th), and his 11.9 INT percentage was the highest among those with at least 35 downfield attempts. He did better with shorter throws, but his 64.8 completion percentage on attempts of 0-10 yards was still much lower than the league average of 69.7 percent. Allen, who earned the starting job Week 2 and missed four games midseason with an elbow injury, finished 32nd with a 6.5 YPA, besting only fellow rookie Josh Rosen (5.8). Allen used his legs to salvage some fantasy value, rushing for 631 yards - second to Lamar Jackson (695) among QBs - with a position-leading eight touchdowns. His running ability creates some fantasy optimism entering 2019, especially with expected gains in the passing game in Year 2. The Bills added talent and depth with the additions of John Brown, Cole Beasley, Tyler Kroft and Frank Gore, and Allen's elbow is healthy entering offseason workouts. Even if the passing improvement is modest and the rushing isn't quite as efficient as it was last season, Allen has the makings of a decent sleeper candidate with an improved roster around him.
The seventh overall pick in the draft, Allen is expected to sit to at least start the year in Buffalo. Coach Sean McDermott said Allen will compete in training camp with AJ McCarron and Nathan Peterman for the starting job, but scouts question whether Allen's game is ready for the NFL. At 6-5, 237, Allen has perfect size for a quarterback, and he has one of the league's strongest arms. But he struggled mightily with accuracy in college at Wyoming, and the need to work on his decision-making and timing likely means he's destined for the backup job behind McCarron. Allen can make all the throws - downfield, outside the numbers, on the run, what have you - but playing behind a shaky offensive line (it lost three starters) with few receiving threats besides Kelvin Benjamin is a tough proposition for any rookie. Nevertheless, McCarron, the four-year backup in Cincinnati, is unproven as well, and whoever emerges with the job is likely to spend more time in a game-manager role than anything, with LeSean McCoy remaining the offensive centerpiece.
More Fantasy News