Projecting Tight End Production Based on Age

Over the past few weeks, I've been attempting to break down fantasy output for each position based on age. I think there are a lot of practical uses for age breakdowns, particularly in dynasty or keeper leagues. It's much easier to understand a player's three-year outlook if you know how similar players at the same age have performed in the past.

Today, it's the tight ends' turn. Below, I charted tight end production over the past decade-plus, sorted by age.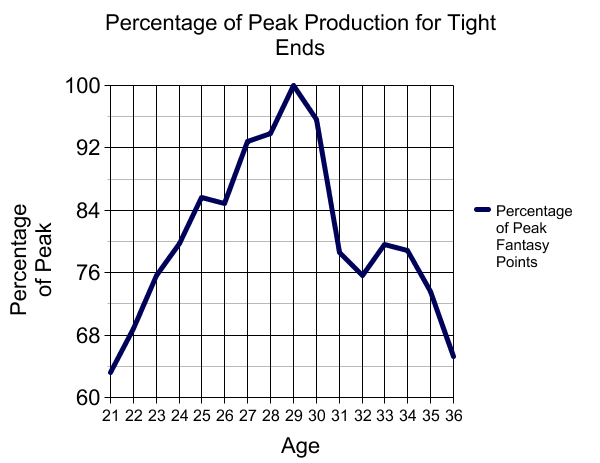 If that graph were a mountain, it would be difficult to climb on both ends. That's because tight ends have historically had a smaller range of peak years than quarterbacks, receivers and even running backs. Tight ends take a long time to develop - the probability of a rookie tight end posting respectable fantasy numbers is almost zero - and they see a steep decline in their early-30s.

Historically, the typical tight end has produced only four seasons with at least 90 percent of his peak production. In that way, they're very comparable to wide receivers, who also record only a few elite years. The difference is that wide receivers sustain a decent level of play for a much longer time than tight ends.
But why? It's possible that the wear and tear of playing the tight end position takes its toll. By the time tight ends hit their 30s, they're just worn out. That might change with the rise of pure pass-catching tight ends who don't have to deal with the hassle of blocking, but it's unclear right now.

To show you the small window of opportunity for the average tight end, check out this graph.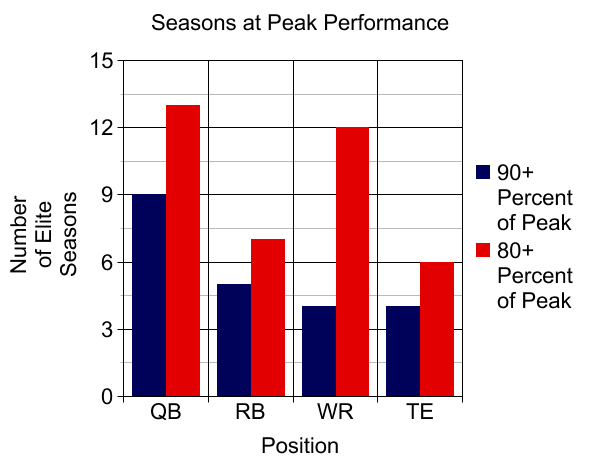 This gives you a really good idea of the number of quality (80-plus percent of peak) and elite (90-plus percent of peak) seasons for the average player at each position. Unsurprisingly, quarterbacks have the longest windows with an average of 13 quality seasons. Meanwhile, tight ends have the fewest quality seasons (six) and elite seasons (four).

So what does this mean for you in fantasy leagues? I think it actually both helps and hurts tight end value, depending what league you're in. In dynasty leagues, tight ends have to be downgraded since most of them won't provide you with long-term production. In re-draft leagues, however, the lack of tight ends playing at an elite level at any given time could actually inflate their value. Remember, a fundamental concept of sound fantasy football drafting strategy is scarcity; elite tight ends are a scarce (and surprisingly consistent) resource, meaning they're valuable.

In both dynasty and re-draft leagues, target tight ends entering their mid-20s. It's in that range that most tight ends see a dramatic spike in play. It's unclear why it takes tight ends so long to develop in the NFL, but it tends to happen pretty quickly when it does. By targeting mid-20s tight ends before they break out (and passing on middle-aged tight ends prior to their inevitable decline), you can acquire value.

And one last point: Tony Gonzalez is a freak of nature, and none of this applies to him. Draft him until he's 55 years old.

Jonathan Bales is the author of Fantasy Football for Smart People: How to Dominate Your Draft. He also runs the "Running the Numbers" blog at DallasCowboys.com and writes for the New York Times.