2013 and Historic RB Scarcity

Prior to the start of the season, I published an article on why history suggests we should wait on quarterbacks, with the sensational "Year of the Quarterback" in 2011 being an outlying season. This was why I arrived at that conclusion: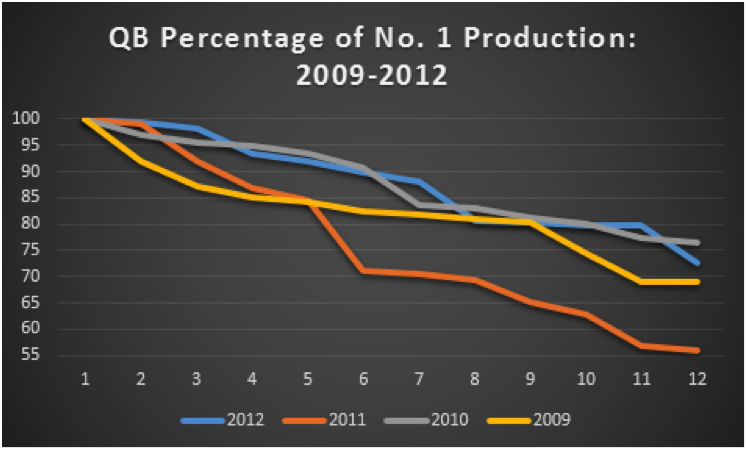 In 2009, 2010, and 2012, the drop from the fifth-rated quarterback to the 12th-rated quarterback wasn't a massive one. Not so in 2011, when the fifth-rated quarterback scored far more points than the No. 12 passer - more so than ever before.

That led to the early-quarterback strategy to which I personally fell victim last season. There are other benefits to going with a quarterback early, of course - namely that you can be relatively certain that particular player will produce at an elite level - but the scarcity just isn't what was represented in 2011.

Running Backs

So that's the background for the most recent study I did on running backs. Looking at running back scarcity from 2009 to 2012, we see a much different story.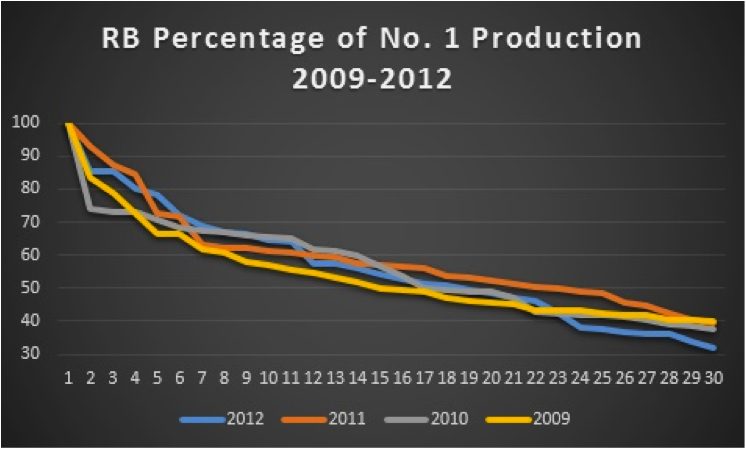 There are minor deviations, but for the most part, the position has looked the same every year. There's a massive drop from the top tier runners - the top six or so - and then a gradual but steady decline from there.

Even if we "zoom in" on the backs ranked seventh or worse, we see the same general trend each season.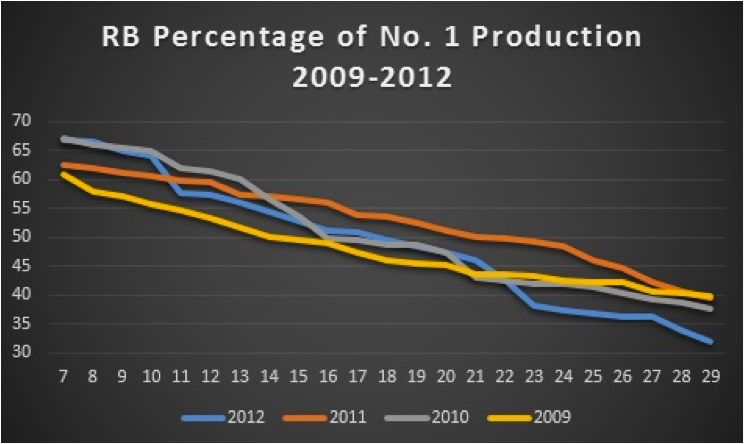 There was slightly more running back scarcity last year than in the three prior seasons, but nothing drastic. We just haven't had the same sort of outlying season that we saw from quarterbacks in 2011.

Running Backs in 2013

Despite the small sample, we're seeing the exact same trend from running backs already in 2013.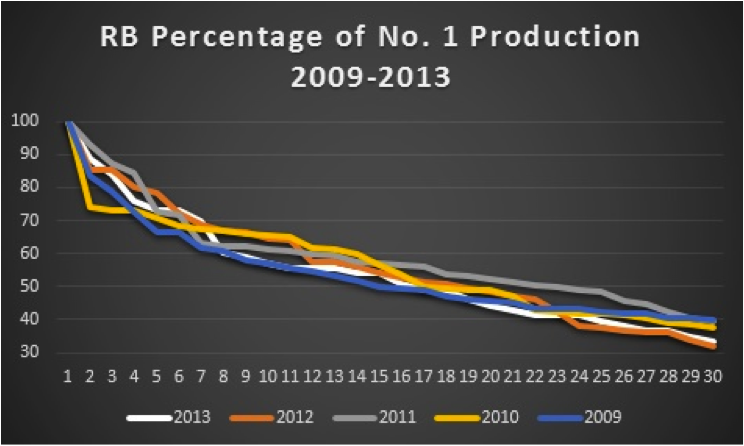 Represented by the white line, the deviation in running back points in 2013 already matches the trend we've seen in recent years. It becomes clearer if we compare 2013 to the average season from 2009 to 2012.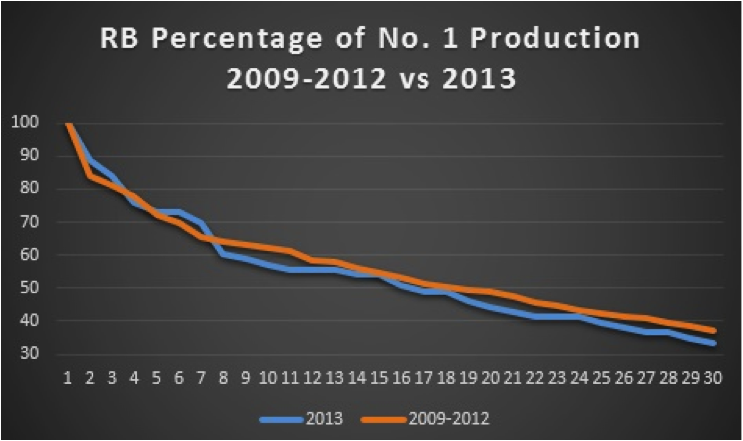 Given we have only three weeks of data, that's pretty amazing. Those lines really couldn't mirror one another more closely than that.

Position vs. Individual

As I alluded to earlier, there's a difference between knowing how a certain position will shape up in a given year and knowing which players at the position will rank highly. As it stands right now, Joique Bell, Fred Jackson, Bilal Powell and Jason Snelling all rank in the top 15 among running backs in PPR leagues.

However, while three weeks might be enough data to examine the scarcity of an entire position, it's certainly not enough to judge individual players. Running backs - especially those in the top tier - have historically proven to be nearly as consistent as the top passers. When combined with the positional trends from prior seasons, that's evidence to hang onto a guy like C.J. Spiller. Even if it takes another month, he should eventually join Shady McCoy, Adrian Peterson, Matt Forte and Doug Martin in the top 10.

From a broader perspective, it's too early to conclude if RB-RB-RB was a solid draft strategy. Every draft is different, but the RB-RB-RB approach seemed to make best use of the data we have on each position from a year-to-year standpoint. Chances are the owners who abandon their top running backs too early in the year will eventually regret their decision.

Jonathan Bales is the author of the Fantasy Football for Smart People book series. He also runs the "Running the Numbers" blog at DallasCowboys.com and writes for the New York Times.