Evidence for a Late-Quarterback Draft Strategy in 2013

I was wrong. Very, very wrong. At this time last season, I was advocating an early-quarterback draft strategy. You see, I had done a lot of research on position consistency, and quarterbacks came out on top. Quarterback is still the most consistent position in fantasy football, especially among the top-tier guys. There's a reason we see Drew Brees, Aaron Rodgers, Tom Brady & Co. among the league-leaders in fantasy points each season. And there's value in that consistency, especially when you're spending early-round draft picks.

That consistency alone wasn't enough to catapult elite quarterbacks near the top of my board, though. The reason I was all over Rodgers and Cam Newton in 2012 was I mistakenly believed elite quarterbacks - true top-tier guys - were scarce. As is the case in any market, scarce commodities are valuable. If the top quarterbacks were as scarce as I had believed, the decision to take one early was a no-brainer given their consistency.

To give you an idea of what I mean by scarcity, I charted the final ranks for the top-30 players at each position in 2012. Each player is ranked by how his production compared to the top player at his position. The total on the left is the percentage of No. 1 production.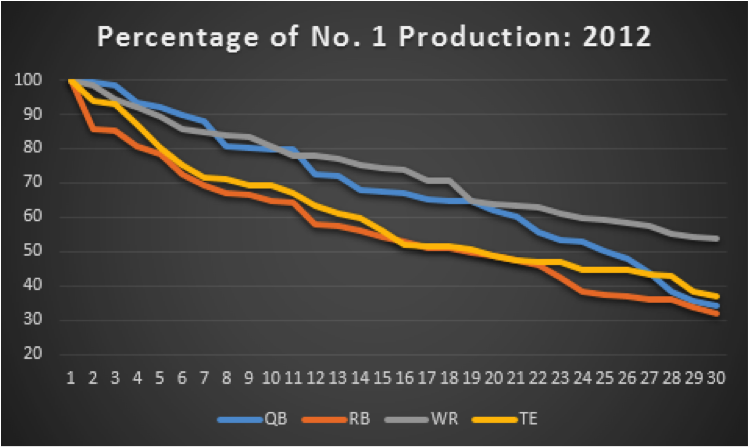 You can see a strong initial drop at the running back position, but that's due to Adrian Peterson's outlier season. Still, running backs join tight ends as the scarcest positions in that No. 1 through No. 6 range, even considering Peterson's remarkable year.

The wide receiver curve doesn't have a strong initial drop, and it also remains pretty level throughout the top 30 players. That lends credibility to the idea that there are valuable options at the position in the middle rounds.

Quarterbacks

In any event, you can see that there were a bunch of viable quarterback options in 2012. If we were to have looked at this chart following the 2011 season, however, we would have seen something much different. And that's where I messed up. Take a look at quarterback production over the past four years.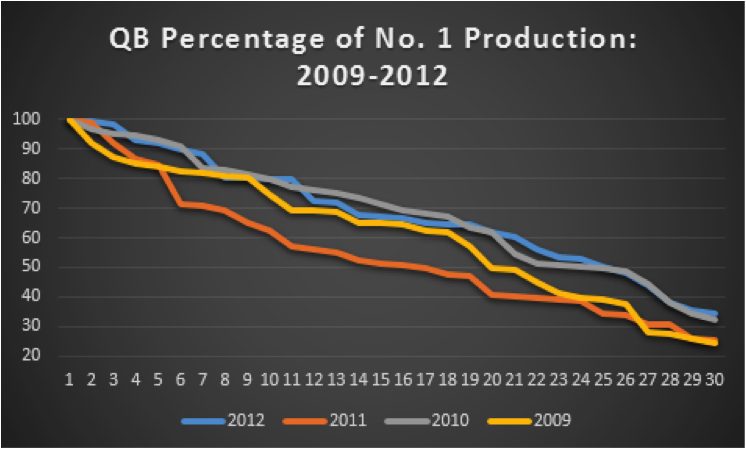 You can see 2011 was clearly an outlying season. I knew that going into the year, but I also thought there was reason to believe the trend would continue. With quarterbacks capable of producing at near-elite levels, however, there are more and more quality starters at the position. That decreases the value of the top guys by reducing their scarcity. You might not be able to re-produce Rodgers' numbers, but if you can get 85 percent of them in the eighth round, that's a good deal.

Let's blow up that graph to show just the top 12 passers.




Here, you can better see how starting fantasy quarterback production in 2011 really differed from other seasons. The top five quarterbacks produced as usual, but there was a major drop to the second tier. Not surprisingly, most fantasy owners valued five quarterbacks - Rodgers, Brady, Brees, Newton and Stafford - far more than other passers last year. Those who bypassed those guys were rewarded. Not because they're not awesome players, of course, but because they weren't really as scarce as the 2011 numbers suggested.

Multi-Year Analysis

Last week, I cautioned against assuming that 2012's numbers will repeat themselves in 2013. As we saw last year, that can be a dangerous assumption. Namely, if we're viewing stats from an outlier season, and we don't know it, it can really wreak havoc on our rankings. That's why it's crucial to study multi-year trends to ensure what we assume to be the case, really is.

In doing that for quarterbacks, we see the elite passers aren't quite as scarce as they appeared a season ago. As I mentioned, there's value in other traits - such as consistency - but nothing is more valuable than scarcity. Based on the numbers over the past four years, I feel comfortable advocating a late-round draft strategy.

Let's see if I'm writing this same article in 2014.

Jonathan Bales is the author of the Fantasy Football for Smart People book series. He also runs the "Running the Numbers" blog at DallasCowboys.com and writes for the New York Times.