Do players score more fantasy points on Monday Night Football?

Three people were recently crowned fantasy football millionaires, winning $1 million grand prizes in single daily fantasy football tournaments. The latest was on DraftKings - the only one that extended two days to include the Monday Night Football game - and both the first and second-place entrants had players who were playing on Monday night.

That got me thinking: is it advantageous to start players playing on Monday night - either in season-long or daily leagues - because they have an extra day of rest? There could very well be something there since, if you recall from my study on Thursday night football games, teams and players score fewer points on short rest. The biggest effect is on passing touchdowns.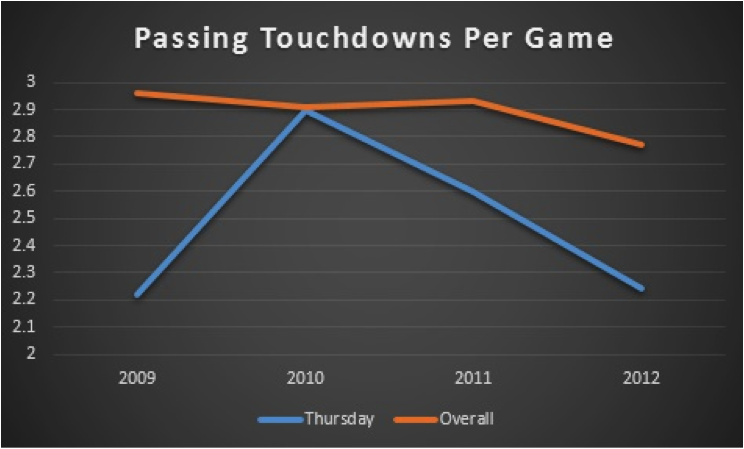 If there's indeed an opposite sort of effect on Monday night, it could actually lend credence to the idea that offenses perform better with more time to prepare and worse on short rest. So let's take a look at the MNF numbers.

Yards Per Carry

Overall, offenses have seemed to rush the ball a little bit better on Monday Night Football.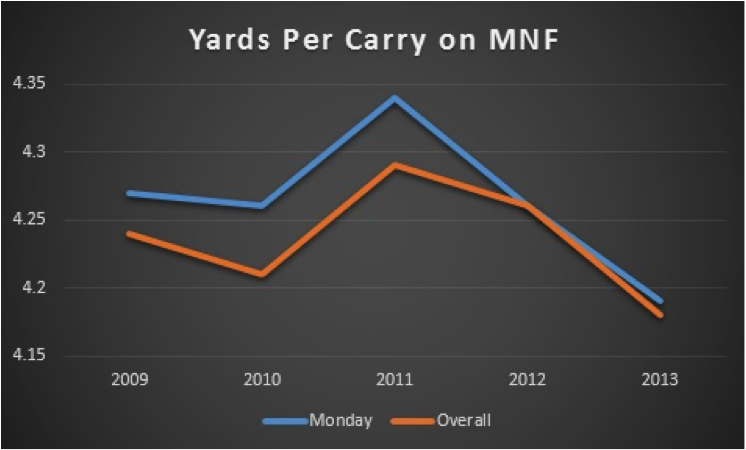 Teams have rushed at or above the league average in yards per carry each of the past five seasons. That's in contrast to reduced rushing efficiency in Thursday night games.

Yards Per Attempt

Meanwhile, the same effect doesn't appear to be present for passing efficiency.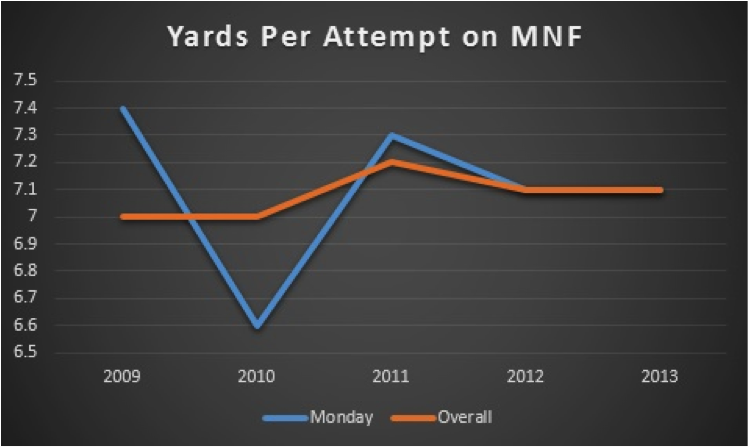 The Monday night yards per attempt is right around the overall mark, with some seasons above and below the league average. This is noteworthy because the NFL typically pits above-average teams against one another on Monday night, and the best teams usually have the best quarterbacks. The fact that there's not superior passing efficiency on Monday night might be significant.

Again, this is in contrast to Thursday night games in which offenses have typically passed the ball much more effectively than on other days. Could it be that more prep time actually helps passing defenses?

Rushing Touchdowns

Although the effect is small, there have been fewer rushing touchdowns per game on Monday night football than overall.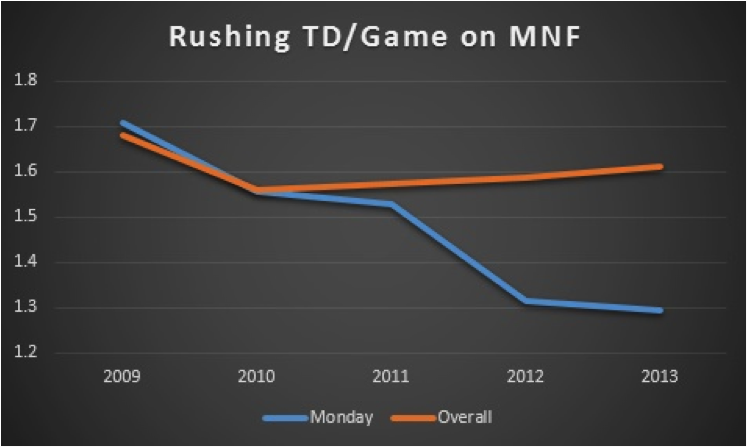 There's no significant effect in Thursday night games.

Passing Touchdowns

Finally, you can see Monday Night Football passing touchdowns have been pretty volatile.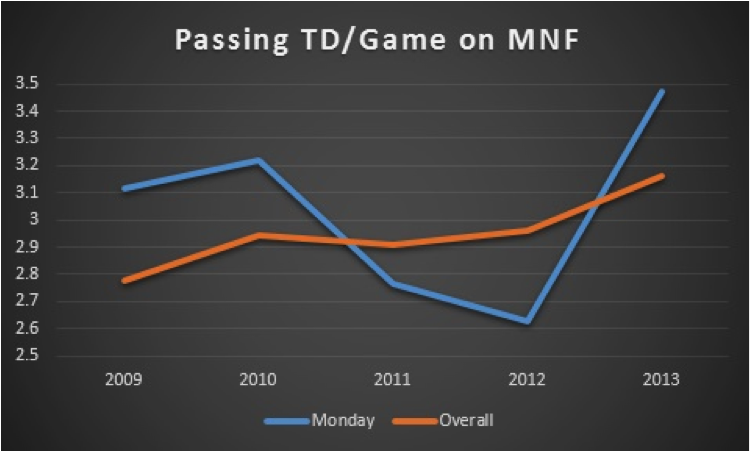 The overall effect is insignificant.

Conclusions

Because touchdowns are relatively low-frequency events, and there aren't many Monday Night Football games each season, I'm more inclined to "trust" the efficiency stats. We see the opposite effect for both passing and rushing efficiency when comparing Thursday games to Monday contests.

Specifically, passing efficiency seems to decrease with longer rest, while rushing efficiency increases. It's a really weird effect - one I wasn't anticipating - suggesting that perhaps it's not really all that advantageous to specifically target starters who are playing on Monday Night Football.

Offenses have more time to prepare, yes, but so do defenses. With five years of data, the results indicate the only real reason to get MNF players into your lineup is so you can enjoy watching them play.

Jonathan Bales is the author of the Fantasy Football for Smart People book series. He also runs the "Running the Numbers" blog at DallasCowboys.com and writes for the New York Times.