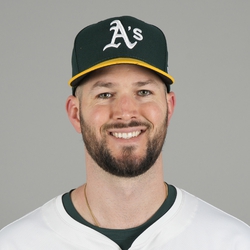 Rest-of-Season Projections
2023 Fantasy Outlook
After his start on August 14, Wood registered a 4.11 ERA and 1.19. A 68.3% LOB mark inflated his ERA over the associated 3.33 FIP and 3.29 xFIP. However, Wood recorded a bloated 13.86 ERA and 1.70 WHIP over what turned out to be his final three outings as it was later revealed Wood was pitching with a shoulder infringement which shut him down for September and October. Wood is expected to be healthy in the spring when he's again ticketed to be in the Giants rotation. Wood is still a health risk despite two straight seasons with 26 starts, plus he's a five-inning guy. Even so, the southpaw will be just 32 years old next season and he can still deal when healthy. The cost will be minimal after his ratios blew up towards the end. If streaming is part of your repertoire, make sure you see the Wood for the trees.
Read Past Outlooks
$Signed a two-year, $25 million contract with the Giants in November of 2021.

Wood allowed an unearned run on four hits and three walks while striking out five over 4.2 innings versus the Padres on Tuesday. He did not factor in the decision.
ANALYSIS
The Giants were shut out, and
John Brebbia
took the loss as the opener after giving up a solo home run to
Juan Soto
in the first inning. Wood was better, though he still gave up an elevated number of baserunners. The veteran southpaw is now at a 4.33 ERA, 1.43 WHIP and 74:42 K:BB through 97.2 innings over 29 appearances (12 starts) this year. Wood could get one more outing out of the bullpen this season, though he threw 83 pitches (54 strikes) in this appearance.
Read More News
Pitching Stats
Loading Pitching Stats...
2023
2022
2021
2020
2019
2018
2017
2023 MLB Game Log

Calculate Stats Over Time
Just click on any two dates.
Scoring
FanDuel
DraftKings
Yahoo DFS
Loading Pitching Game Log...
2022 MLB Game Log

Calculate Stats Over Time
Just click on any two dates.
Scoring
FanDuel
DraftKings
Yahoo DFS
Loading Pitching Game Log...
2021 MLB Game Log

Calculate Stats Over Time
Just click on any two dates.
Scoring
FanDuel
DraftKings
Yahoo DFS
Loading Pitching Game Log...
2020 MLB Game Log

Calculate Stats Over Time
Just click on any two dates.
Scoring
FanDuel
DraftKings
Yahoo DFS
Loading Pitching Game Log...
2019 MLB Game Log

Calculate Stats Over Time
Just click on any two dates.
Scoring
FanDuel
DraftKings
Yahoo DFS
Loading Pitching Game Log...
2018 MLB Game Log

Calculate Stats Over Time
Just click on any two dates.
Scoring
FanDuel
DraftKings
Yahoo DFS
Loading Pitching Game Log...
2017 MLB Game Log

Calculate Stats Over Time
Just click on any two dates.
Scoring
FanDuel
DraftKings
Yahoo DFS
Loading Pitching Game Log...
Minor League Game Log

Calculate Stats Over Time
Just click on any two dates.
Loading Minor League Pitching Game Log...
Pitching Appearances Breakdown
How many pitches does Alex Wood generally throw?
What part of the game does Alex Wood generally pitch?
% Games Reaching Innings Threshold
% Games By Number of Innings Pitched
Left/Right Pitching Splits
BAA
K
BB
H
HR
Since 2021

vs Left

.231
86
25
80
5
Since 2021

vs Right

.259
271
86
275
35
2023

vs Left

.243
21
12
25
1
2023

vs Right

.270
53
30
73
8
2022

vs Left

.193
36
5
23
1
2022

vs Right

.283
95
25
109
16
2021

vs Left

.258
29
8
32
3
2021

vs Right

.230
123
31
93
11
More Splits

→

View More Split Stats
Home/Away Pitching Splits
ERA
WHIP
IP
K/9
BB/9
Since 2021

Home

4.09
1.17
196.0
8.7
2.4
Since 2021

Away

4.79
1.39
171.0
8.8
3.1
2023

Home

4.20
1.26
49.1
6.8
3.3
2023

Away

4.47
1.61
48.1
6.9
4.5
2022

Home

4.66
1.27
63.2
8.9
1.7
2022

Away

5.51
1.21
67.0
9.1
2.4
2021

Home

3.58
1.04
83.0
9.7
2.4
2021

Away

4.20
1.40
55.2
10.2
2.7
More Splits

→

View More Split Stats
Stat Review
How does Alex Wood compare to other starting pitchers?
This section compares his stats with all starting pitcher seasons from the previous three seasons (minimum 120 innings)*. The bar represents the player's percentile rank. For example, if the bar is halfway across, then the player falls into the 50th percentile for that stat and it would be considered average.
* Exit Velocity, Barrels/BBE %, Balls Hit 95+ MPH %, and Spin Rate are benchmarked against 2019 data (min 120 IP).
See here for more exit velocity/barrels stats
plus an explanation of current limitations with that data set.
K/BB

Strikeout to walk ratio.

K/9

Average strikeouts per nine innings.

BB/9

Average walks per nine innings.

HR/9

Average home runs allowed per nine innings.

Fastball

Average fastball velocity.

ERA

Earned run average. The average earned runs allowed per nine innings.

WHIP

Walks plus hits per inning pitched.

BABIP

Batting average on balls in play. Measures how many balls in play against a pitcher go for hits.

GB/FB

Groundball to flyball ratio. The higher the number, the more likely a pitcher is to induce groundballs.

Left On Base

The percentage of base runners that a pitcher strands on base over the course of a season.

Exit Velocity

The speed of the baseball as it comes off the bat, immediately after a batter makes contact.

Barrels/BBE

The percentage of batted ball events resulting in a Barrel. A Barrel is a batted ball with similar exit velocity and launch angle to past ones that led to a minimum .500 batting average and 1.500 slugging percentage.

Spin Rate

Spin Rate is the rate of spin on a baseball after it is released. It is measured in revolutions per minute (rpm).

Balls Hit 95+ MPH

The percentage of batted balls hit that met or exceeded the 95 MPH threshold.

Swinging Strike

The percentage of pitches that result in a swing and a miss.
Advanced Pitching Stats
Loading Advanced Pitching Stats...
Loading MLB Defensive Stats...
Recent RotoWire Articles Featuring Alex Wood
See More
Past Fantasy Outlooks
2022
2021
2020
2019
2018
2017
2016
2015
2014
Wood was mostly an afterthought last year after a couple injury-plagued seasons between Cincinnati and Los Angeles. He rewarded fantasy managers who took a late flier on him in drafts and/or grabbed him off waivers by posting a sub-4.00 ERA and a career-best 26.0 K% while winning 10 games. The biggest factor in the successful season was Wood's health as he pitched 138.2 frames compared to a combined 48.1 the two previous seasons. Staying healthy is the main concern for Wood, but this concern is baked into his price in drafts. Wood should be viewed as solid back-end rotation piece in fantasy, and if he can't stay healthy or sustain the level of success he enjoyed last season, he can be an early drop. The veteran southpaw will be back in San Francisco after signing a two-year deal in November.
Wood was handed a starting job to begin the 2020 campaign but made only one appearance before a shoulder injury sidelined him for the entirety of August. The emergence of rookie hurlers Tony Gonsolin and Dustin May relegated Wood to a bullpen role upon his return, and he finished the season having pitched only 12.2 innings. It's difficult to extract much useful information over such a small sample, but if there's a positive spin it's that his fastball clocked in a tick faster than in his previous two seasons and his 23.1 K% was his highest since 2017 -- results, perhaps, of his offseason work with Driveline Baseball. A strong showing in the postseason (one run, eight strikeouts in 6.2 relief innings) may help Wood's prospects on the free-agent market, though teams are no doubt well aware of the lefty's history of health issues.
I once had a pitcher, or should I say, he once had me. He showed me his curveball, and asked isn't it good, Norwegian spin? He asked me to stay, he told me to roster him anywhere, so I looked around, and noticed there was not a chair. Wood has either pitched over 151 innings, or fewer than 61 in each of the past four seasons. He gets strikeouts, and he does not hurt himself with walks. Until this past season, he did not have a problem with homers. He allowed 11 homers in 35.2 innings with the Reds because he struggled with a bad back all season. Pitching mechanics are a fine-tuned exercise, so anything that disrupts that can lead to bad results. For Wood and his high-effort delivery, a bad back prevented him from finishing off his delivery and pitches, so mistakes were left up in the zone that got hammered. He is an endgame skills target that could also be your first drop for a free agent.
Wood experimented with pitching exclusively out of the stretch last season and it didn't work out. His average fastball velocity fell below 90 mph in 2018 and his strikeout rate dropped to 21.2%, the second-lowest mark of his career. Meanwhile his opponents' hard-hit rate leapt 10 percentage points to a career-worst 37.9%. It's not like his season was that bad -- he had a 1.60 FIP against lefties and a 3.53 mark overall -- but the decline in stuff is a troubling sign moving forward. The Dodgers had settled on 150 or so innings as a cap for Wood, and as he approached that number in September, the team moved him to the bullpen. That kind of innings limit put a firm cap on Wood's fantasy upside, and while he could push back up closer to 200 frames with Cincinnati following a December trade, the Dodgers did what they did for a reason (Wood battled arm issues earlier in his career).
The Dodgers' extensive pitching depth confined Wood to the bullpen to begin last season, but when injuries hit the starting ranks in April, the lefty entered the rotation and didn't look back. After roaring to an 11-0 record, 1.56 ERA and 0.88 WHIP though his first 16 outings, Wood proved more mortal in the second half (3.89 ERA, 1.24 WHIP in 71.2 innings), with his strikeout and home-run rates swinging wildly in undesirable directions. Wood's low cost of acquisition still made him a major fantasy bargain in 2017, but with the 27-year-old's place in the rotation secure entering the upcoming campaign, he will be more properly valued on draft day this time around. Since Wood has turned in FIPs ranging between 3.18 and 3.69 the last four seasons, he'll likely veer closer to the second-half version of himself rather than the legitimate Cy Young candidate he was prior to the All-Star break. That's still plenty useful, especially while he's supported by one of baseball's top offenses.
The lefty with the Tazmanian delivery was shelved for much of last season, as arm woes disabled him in early June and in-season elbow surgery took him out until mid-September. His pitching motion is a site to behold, with his head veering every direction throughout the course of his delivery, and it's somewhat amazing that he can hit spots at all with such a blatant imbalance in his mechanics. It's even more shocking that he can maintain something approaching a league-average walk rate with that shaky delivery, but Wood has stayed within spitting distance of 3.0 BB/9 in each of the past three seasons. Wood will be one of a dozen contenders for a spot in back of the Dodgers' rotation in the spring, though his combination of bullpen experience, recent health issues and the leftward-leaning starting staff of the Dodgers could very well conspire to keep him in the bullpen.
Wood came over from the Braves to the Dodgers in a July blockbuster that also involved Jose Peraza and Hector Olivera. He ultimately notched career highs in starts (32), innings (189.2), and wins (12). That said, 2015 represented a bit of a step back over his 2014 season, as Wood's ERA rose from 2.78 to 3.84 and his WHIP shot from 1.14 to 1.36. Wood also saw his strikeout rate drop sharply - 6.6 K/9 vs. 2014's 2.8. Wood does a good job limiting free passes (2.8 BB/9) and he generates about two groundballs per flyball, helping offset a below average fastball (89.1 mph on average). Of his final five starts last year, Wood allowed 14 total runs in two of them and just four combined in the other three. Wood should have a role in the back end of the Dodgers' 2016 rotation where he'll look to improve his consistency and develop more of an "out pitch" against right-hand hitters who batted .292 against him last year.
Gavin Floyd's return in early May afforded the Braves the option of moving Wood to the bullpen, and they took advantage, seeing it as a perfect opportunity to manage the lefty's innings. Following a brief assignment to the minors to get stretched out, Wood returned to the rotation June 25 and went on to post a 2.20 ERA and .227 BAA in 13 second-half starts. He cut down on his walks while maintaining a strikeout rate of 8.9 K/9 and lowered his ERA by more than 30 points despite his HR/FB nearly doubling (from 5.1% to 10.0%). Wood used his plus curveball far more often to great results and mixed in his changeup effectively, with his stuff proving equally difficult on lefties (.667 OPS) and righties (.645), providing hope that he can sustain a good deal of success at the major league level despite a fastball that averages under 90 mph. Along with Julio Teheran, Wood will form one of the youngest 1-2 punches in the league, but any innings restrictions will likely lifted and he already has an impressive major-league track record for a 24-year-old.
The Braves were looking for a way to work Wood into the rotation in late July, after the left-hander posted a 1.26 ERA, a 9.0 K/9 and a 3.6 BB/9 over 12 starts with Double-A Mississippi and a 2.45 ERA in 16 appearances with the big club to begin the year. Injuries to Tim Hudson and Paul Maholm opened the door, and Wood went on to go 3-2 with a 3.54 ERA and a 8.7 K/9 in 11 starts with Atlanta. Eventually, Wood transitioned back to a bullpen role, but the 23-year-old will compete for a rotation spot this spring, and considering how well he performed last season, he likely has an edge over the likes of David Hale and J.R. Graham.
More Fantasy News