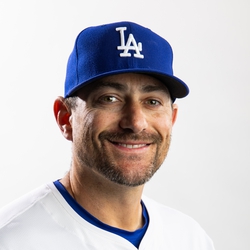 60-Day IL
Injury Knee
Est. Return 10/15/2023
Rest-of-Season Projections
2023 Fantasy Outlook
Hudson was limited to 24.1 innings after tearing his ACL in late June. The injury carries a lengthy recovery timeline, but the veteran hopes to be ready by the start of camp, or close to it. The Dodgers were optimistic enough to pick up Hudson's $6.5 million option for 2023. Despite his age - Hudson will be 36 this year - recent seasons have proven he can still be an effective high-leverage reliever. The right-hander had five saves and nine holds in his 25 appearances last year while maintaining a 30-plus percent strikeout rate and 16-plus percent SwStr% for three years running. As long as Hudson's velocity (97 mph) is not affected by his injury, and can keep his walk rate down between last year's mark (5.2%) and the season prior (7.8%), he should return excellent late-round value for those speculating on saves.
Read Past Outlooks
$Signed a one-year, $7 million contract with the Dodgers in November of 2021. Dodgers exercised $6.5 million team option for 2023 in September of 2022.

ANALYSIS
This is a significant step forward for Hudson, whose previous throwing session was from the slope (not the rubber) of the bullpen mound. The veteran reliever has pitched in just three games this season, with his latest appearance with Los Angeles taking place July 5. It remains unlikely that Hudson will be able to return by the end of the campaign, though it's possible he could be an option if the Dodgers go deep into the postseason.
Read More News
Pitching Stats
Loading Pitching Stats...
2023
2022
2021
2020
2019
2018
2017
2023 MLB Game Log

Calculate Stats Over Time
Just click on any two dates.
Scoring
FanDuel
DraftKings
Yahoo DFS
Loading Pitching Game Log...
2022 MLB Game Log

Calculate Stats Over Time
Just click on any two dates.
Scoring
FanDuel
DraftKings
Yahoo DFS
Loading Pitching Game Log...
2021 MLB Game Log

Calculate Stats Over Time
Just click on any two dates.
Scoring
FanDuel
DraftKings
Yahoo DFS
Loading Pitching Game Log...
2020 MLB Game Log

Calculate Stats Over Time
Just click on any two dates.
Scoring
FanDuel
DraftKings
Yahoo DFS
Loading Pitching Game Log...
2019 MLB Game Log

Calculate Stats Over Time
Just click on any two dates.
Scoring
FanDuel
DraftKings
Yahoo DFS
Loading Pitching Game Log...
2018 MLB Game Log

Calculate Stats Over Time
Just click on any two dates.
Scoring
FanDuel
DraftKings
Yahoo DFS
Loading Pitching Game Log...
2017 MLB Game Log

Calculate Stats Over Time
Just click on any two dates.
Scoring
FanDuel
DraftKings
Yahoo DFS
Loading Pitching Game Log...
Minor League Game Log

Calculate Stats Over Time
Just click on any two dates.
Loading Minor League Pitching Game Log...
Pitching Appearances Breakdown
How many pitches does Daniel Hudson generally throw?
What part of the game does Daniel Hudson generally pitch?
% Games Reaching Innings Threshold
% Games By Number of Innings Pitched
Left/Right Pitching Splits
BAA
K
BB
H
HR
Since 2021

vs Left

.220
45
11
28
3
Since 2021

vs Right

.191
65
13
31
6
2023

vs Left

.000
2
2
0
0
2023

vs Right

.250
3
1
2
0
2022

vs Left

.174
16
2
8
1
2022

vs Right

.214
14
3
9
0
2021

vs Left

.256
27
7
20
2
2021

vs Right

.179
48
9
20
6
More Splits

→

View More Split Stats
Home/Away Pitching Splits
ERA
WHIP
IP
K/9
BB/9
Since 2021

Home

2.75
1.08
36.0
13.0
4.5
Since 2021

Away

2.93
1.02
43.0
12.1
1.3
2023

Home

0.00
2.00
2.0
13.5
13.5
2023

Away

0.00
1.00
1.0
18.0
0.0
2022

Home

1.69
0.75
10.2
12.7
2.5
2022

Away

2.63
1.02
13.2
9.9
1.3
2021

Home

3.47
1.16
23.1
13.1
4.6
2021

Away

3.18
1.02
28.1
13.0
1.3
More Splits

→

View More Split Stats
Stat Review
How does Daniel Hudson compare to other relievers?
This section compares his stats with all relief pitcher seasons from the previous three seasons (minimum 30 innings)*. The bar represents the player's percentile rank. For example, if the bar is halfway across, then the player falls into the 50th percentile for that stat and it would be considered average.
* Exit Velocity, Barrels/BBE %, Balls Hit 95+ MPH %, and Spin Rate are benchmarked against 2019 data (min 30 IP).
See here for more exit velocity/barrels stats
plus an explanation of current limitations with that data set.
K/BB

Strikeout to walk ratio.

K/9

Average strikeouts per nine innings.

BB/9

Average walks per nine innings.

HR/9

Average home runs allowed per nine innings.

Fastball

Average fastball velocity.

ERA

Earned run average. The average earned runs allowed per nine innings.

WHIP

Walks plus hits per inning pitched.

BABIP

Batting average on balls in play. Measures how many balls in play against a pitcher go for hits.

GB/FB

Groundball to flyball ratio. The higher the number, the more likely a pitcher is to induce groundballs.

Left On Base

The percentage of base runners that a pitcher strands on base over the course of a season.

Exit Velocity

The speed of the baseball as it comes off the bat, immediately after a batter makes contact.

Barrels/BBE

The percentage of batted ball events resulting in a Barrel. A Barrel is a batted ball with similar exit velocity and launch angle to past ones that led to a minimum .500 batting average and 1.500 slugging percentage.

Spin Rate

Spin Rate is the rate of spin on a baseball after it is released. It is measured in revolutions per minute (rpm).

Balls Hit 95+ MPH

The percentage of batted balls hit that met or exceeded the 95 MPH threshold.

Swinging Strike

The percentage of pitches that result in a swing and a miss.
Advanced Pitching Stats
Loading Advanced Pitching Stats...
Loading MLB Defensive Stats...
Our full team depth charts are reserved for RotoWire subscribers.
Subscribe Now
Recent RotoWire Articles Featuring Daniel Hudson
See More
Past Fantasy Outlooks
2022
2021
2020
2018
2017
2016
2015
2014
2013
2012
2011
2010
Hudson signed a one-year, $7 million deal with the Dodgers after a solid 2021 campaign split between Washington and San Diego. The right-hander posted a 3.31 ERA and 1.08 WHIP in 51.2 innings in 2021. He had his highest average fastball velocity ever recorded at 97 mph last season, and that fueled a career-high strikeout percentage (35.7%). Clearly Hudson still has a lot left in the tank at 35 years old, and with Kenley Jansen signing with Atlanta and manager Dave Roberts making it clear he likes Blake Treinen's flexibility out of the bullpen, Hudson could very well emerge as the primary closer for one of the best teams in baseball. Hudson's strong ratios and strikeout upside make him a viable target in leagues scoring saves-plus-holds leagues and in standard leagues as a ratio stabilizer, and there's significant upside beyond that.
Hudson is a great success story. He came back from two Tommy John surgeries to win a World Series with the Nationals in 2019, even recording the final out of the championship season. While some expected Sean Doolittle would reclaim the closer job in 2020, Doolittle struggled early on before hitting the IL, and Hudson went on to earn 10 of the Nationals' 12 total saves for the season. He blew five chances along the way and the final ERA was ugly. Further, the quality of the contact against Hudson was a bit alarming, in particular a 14.0 Barrel% allowed. At 33 years old, Hudson continued to pump gas and he can still put hitters away with his slider, although the results on the slider were poor in 2020. He needs to bury the slider and keep it away from the heart of the plate as he has a flyball lean to begin with. Hudson will return to a setup role following the Brad Hand signing.
Hudson latched on with the Angels prior to the 2019 season but was let go in March after scuffling in spring training. He joined the Blue Jays shortly thereafter and worked his way to the back end of their bullpen before getting traded to the Nationals at the deadline. The right-hander was lights out following the deal, posting a 1.44 ERA and 0.88 WHIP in 25 innings for Washington. Hudson took over as the team's closer down the stretch following an injury to Sean Doolittle, and he pitched well enough -- converting six of his eight regular-season save chances -- to at least partially hang onto that role throughout the playoffs. Hudson returned to Washington on a two-year, $11 million deal. Doolittle probably enters the year getting most of the saves, but Hudson should once again serve as his handcuff. Some ratio regression is likely, as evidenced by his strand rate (81.8%) and FIP (3.97).
In 2017, Hudson set a new career high with 21 holds, despite again allowing too many base runners for a reliever often tasked with working in high-leverage scenarios. Control is Hudson's primary issue -- he threw only 61 percent of his pitches for strikes last season. On the plus side, Hudson again posted a solid swinging-strike rate, supporting a 24 percent strikeout rate, helping bail him out of some precarious situations. Unfortunately, it wasn't enough as he finished the season with a 4.38 ERA, too high for those looking for sources of holds. Don't read anything into his 2.70 ERA in September, his WHIP that month was 1.60. Hudson will be just 31 on Opening Day and has been durable since missing about two and a half years between 2012 and 2014 after tearing and re-tearing his UCL ligament. Sitting 96 mph, he could become a fantasy asset with better control, but unless he cuts down on the walks, his ratios will be too damaging.
After a strong season out of Arizona's bullpen in 2015, Hudson took a step back last season. His ERA and WHIP both went up and his K/9 went down. Hudson did at least finish strong, posting a 2.78 ERA and 9.9 K/9 from Aug. 1 through the end of the season. He also ended up going 5-of-7 in save opportunities after the team traded both Brad Ziegler and Tyler Clippard during the season. He inked a two-year, $12 million deal with the Pirates during the offseason, which is a pretty solid landing spot if he hopes to eventually pitch his way into a ninth inning role. Tony Watson figures to begin the year as the closer, but the veteran southpaw only has 20 career saves over six seasons and lacks the wipeout arsenal of the traditional closers of the era. Hudson could be next in line if Watson falters, especially if the move from Arizona to Pittsburgh has the presumed effect of him becoming a slightly better pitcher.
Once considered a key member of the Arizona rotation, Hudson appears to have settled into a relief role after coming back from two Tommy John surgeries. In 2011, Hudson went 16-12 with a 3.49 ERA and 169 strikeouts across 222 innings, but then the elbow injuries started to pile up. Hudson tore his UCL in 2012, then re-tore the ligament during a rehab start a year later. Hudson didn't pitch in the majors in 2013, and threw just 48 total MLB innings between 2012 and 2014, so it was a great sight to see Hudson stay healthy throughout the 2015 campaign. Hudson racked up 21 holds and four saves out of the bullpen. Given his effectiveness in his new role, Hudson could emerge as a candidate to push Brad Ziegler for the closer role in 2016.
Hudson appeared to be starting off a strong career with the Diamondbacks after posting a 3.01 ERA in his first 44 starts with the club. He got off to a horrific start in 2012 and eventually underwent not one, but two Tommy John surgeries costing him essentially all of 2012, 2013, and 2014. The right-hander threw 45 innings in 2012 before getting hurt and then just 2.2 innings of relief ball in September of last year, marking his comeback from the pair of surgeries. He will be used exclusively as a reliever in 2015, which could be pretty interesting. He will have to play his way into any real fantasy value, but he was hitting 95-96 mph out of the bullpen and could be a big strikeout force who eventually puts pressure on Addison Reed in the closer role, especially if Reed struggles with the inconsistency that plagued him last year.
In a heartbreaking turn of events, Hudson battled back from Tommy John surgery halfway through the 2013 campaign only to suffer a re-injury on the same elbow, forcing a second procedure. He is likely sidelined the vast majority of the 2014 season as a result of the injury, but the D-Backs re-signed him to continue his rehab efforts as a member of their organization during the offseason.
After three starts, Hudson landed on the 15-day disabled list with a shoulder impingement. He was able to return in late May, but he lost velocity on his fastball and was removed from an outing in June with tightness in his right forearm. Further tests revealed a torn UCL in Hudson's pitching elbow, and he was forced to undergo Tommy John surgery in July. His recovery was on schedule in the offseason and Hudson is expected to return to the rotation at some point around the All-Star break.
Just as Hudson's 2010 FIP (3.28) suggested, he wasn't going to repeat the 2.45 ERA from his 14-start taste of the big leagues. Still, the results were encouraging, as Hudson racked up 222 innings and managed to deliver a useful number of strikeouts because of the high innings count. There's reason to believe that he might increase his strikeout rate given his career 10.6 K/9IP in the minors and an above-average 9.9 percent swinging strike percentage in 2011. He also displayed encouraging signs of growth with his walk rate and groundball rate, as both suggest that he has the tools to succeed as a No. 2 starter despite making half of his starts at hitter-friendly Chase Field.
In one of the best cost-cutting moves of the trade deadline, the D-Backs acquired Hudson from the White Sox for Edwin Jackson. He didn't disappoint with the move to the National League, going 7-1 with a 70:16 K:BB over 79.2 innings after August 1 and looking the part of a legitimate No. 2 or No. 3 starter for the team's rebuilding rotation. After logging 188.2 innings between Triple-A and the majors last season, there is no workload restriction to be concerned about here. Hudson has three quality offerings, and is able to generate plenty of whiffs with both his fastball and changeup thanks to his arm slot and the resulting deception in his delivery. Although he may not have the ceiling of a future ace, Hudson is polished and should carry a reasonable price tag on draft day.
Hudson pitched at five different levels in 2009, making his way to the majors all the way from Low-A Kannapolis. He averaged 10.1 K/9IP over his 147.1 minor league innings, and he's averaged more than nine at each minor league level. He has three plus pitches, and his fastball is effective in the low-to-mid 90s. The White Sox start the 2010 season with six other viable major league pitchers, so a few injuries stand in his way for a starting spot with the White Sox this season, but he should be in the rotation equation in 2011.
More Fantasy News