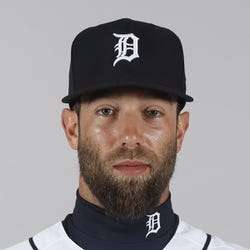 Rest-of-Season Projections
2023 Fantasy Outlook
There was no outlook written for Daniel Norris in 2023. Check out the latest news below for more on his current fantasy value.
$Signed a one-year contract with the Guardians in August of 2023.

Designated for assignment
ANALYSIS
Norris' most recent stay in the big leagues lasted just one day after he was tagged for four runs on four hits and a walk over two innings versus the Twins on Monday. This is the second time Norris has been DFA'd by Cleveland this month -- he elected free agency after the first time before re-signing on a minor-league deal.
Hunter Gaddis
was recalled from Triple-A Columbus in a corresponding move.
Read More News
Pitching Stats
Loading Pitching Stats...
2023
2022
2021
2020
2019
2018
2017
2023 MLB Game Log

Calculate Stats Over Time
Just click on any two dates.
Scoring
FanDuel
DraftKings
Yahoo DFS
Loading Pitching Game Log...
2022 MLB Game Log

Calculate Stats Over Time
Just click on any two dates.
Scoring
FanDuel
DraftKings
Yahoo DFS
Loading Pitching Game Log...
2021 MLB Game Log

Calculate Stats Over Time
Just click on any two dates.
Scoring
FanDuel
DraftKings
Yahoo DFS
Loading Pitching Game Log...
2020 MLB Game Log

Calculate Stats Over Time
Just click on any two dates.
Scoring
FanDuel
DraftKings
Yahoo DFS
Loading Pitching Game Log...
2019 MLB Game Log

Calculate Stats Over Time
Just click on any two dates.
Scoring
FanDuel
DraftKings
Yahoo DFS
Loading Pitching Game Log...
2018 MLB Game Log

Calculate Stats Over Time
Just click on any two dates.
Scoring
FanDuel
DraftKings
Yahoo DFS
Loading Pitching Game Log...
2017 MLB Game Log

Calculate Stats Over Time
Just click on any two dates.
Scoring
FanDuel
DraftKings
Yahoo DFS
Loading Pitching Game Log...
Minor League Game Log

Calculate Stats Over Time
Just click on any two dates.
Loading Minor League Pitching Game Log...
Pitching Appearances Breakdown
How many pitches does Daniel Norris generally throw?
What part of the game does Daniel Norris generally pitch?
% Games Reaching Innings Threshold
% Games By Number of Innings Pitched
Left/Right Pitching Splits
BAA
K
BB
H
HR
Since 2021

vs Left

.196
58
27
36
7
Since 2021

vs Right

.252
77
44
74
16
2023

vs Left

.250
3
4
4
1
2023

vs Right

.182
8
8
6
2
2022

vs Left

.176
27
13
15
3
2022

vs Right

.233
39
16
30
8
2021

vs Left

.205
28
10
17
3
2021

vs Right

.288
30
20
38
6
More Splits

→

View More Split Stats
Home/Away Pitching Splits
ERA
WHIP
IP
K/9
BB/9
Since 2021

Home

6.08
1.30
63.2
8.2
4.7
Since 2021

Away

5.29
1.52
64.2
10.7
5.3
2023

Home

0.00
0.00
2.0
9.0
0.0
2023

Away

6.75
2.06
10.2
7.6
10.1
2022

Home

6.82
1.29
30.1
8.6
4.5
2022

Away

3.49
1.24
28.1
11.8
4.4
2021

Home

5.74
1.40
31.1
7.8
5.2
2021

Away

6.66
1.60
25.2
10.9
4.2
More Splits

→

View More Split Stats
Stat Review
How does Daniel Norris compare to other relievers?
This section compares his stats with all relief pitcher seasons from the previous three seasons (minimum 30 innings)*. The bar represents the player's percentile rank. For example, if the bar is halfway across, then the player falls into the 50th percentile for that stat and it would be considered average.
* Exit Velocity, Barrels/BBE %, Balls Hit 95+ MPH %, and Spin Rate are benchmarked against 2019 data (min 30 IP).
See here for more exit velocity/barrels stats
plus an explanation of current limitations with that data set.
K/BB

Strikeout to walk ratio.

K/9

Average strikeouts per nine innings.

BB/9

Average walks per nine innings.

HR/9

Average home runs allowed per nine innings.

Fastball

Average fastball velocity.

ERA

Earned run average. The average earned runs allowed per nine innings.

WHIP

Walks plus hits per inning pitched.

BABIP

Batting average on balls in play. Measures how many balls in play against a pitcher go for hits.

GB/FB

Groundball to flyball ratio. The higher the number, the more likely a pitcher is to induce groundballs.

Left On Base

The percentage of base runners that a pitcher strands on base over the course of a season.

Exit Velocity

The speed of the baseball as it comes off the bat, immediately after a batter makes contact.

Barrels/BBE

The percentage of batted ball events resulting in a Barrel. A Barrel is a batted ball with similar exit velocity and launch angle to past ones that led to a minimum .500 batting average and 1.500 slugging percentage.

Spin Rate

Spin Rate is the rate of spin on a baseball after it is released. It is measured in revolutions per minute (rpm).

Balls Hit 95+ MPH

The percentage of batted balls hit that met or exceeded the 95 MPH threshold.

Swinging Strike

The percentage of pitches that result in a swing and a miss.
Advanced Pitching Stats
Loading Advanced Pitching Stats...
Loading MLB Defensive Stats...
Our full team depth charts are reserved for RotoWire subscribers.
Subscribe Now
Recent RotoWire Articles Featuring Daniel Norris
See More
Todd Zola makes the case for innings pitched over wins or quality starts as a fantasy category and shares his thoughts from Tuesday's box scores.
Todd Zola breaks down Wednesday's MLB action and tries to pinpoint exactly why pitcher perform worse from the stretch.
Mike Barner previews Wednesday's Yahoo slate, making his picks to help you craft an effective DFS entry across a 15-game schedule.
Dan Marcus turns in his insights for Wednesday's DraftKings slate, rolling with a Giants bat stack against Arizona.
Chris Morgan looks over Wednesday's slate as Anthony Rizzo once again tries to take advantage of the short porch at Yankee Stadium.
Past Fantasy Outlooks
2021
2020
2019
2018
2017
2016
2015
2013
2012
After several injury-riddled seasons split between the rotation and bullpen, Norris has settled in as a primary pitcher. Norris rarely worked more than two innings, but he was effective in short stints. His first outing was a start on the heels of a long stay on the COVID-19 list. Detroit then piggybacked the southpaw with righty Michael Fulmer. After the initial start, Norris posted a 2.77 ERA and 1.00 WHIP with 28 strikeouts and five walks in 26 innings. He likely wouldn't have maintained those ratios over a full 162-game season, but his surface stats were supported by his peripherals over the two-month campaign. Norris not only added a couple ticks of velocity but also bagged his curveball and sinker, instead throwing more changeups. It was only 27.2 innings, but if he can come close to repeating, Norris will be a mixed-league bench candidate to float in for ratio support.
The numbers down the stretch look pretty good and that's because Norris moved away from a traditional starting role; Detroit limited Norris to exactly three innings in each of his final nine outings. The lefty took well to the new gig, posting a 3.33 ERA, 1.00 WHIP and 27:7 K:BB in those 27 innings, compared to a 4.76 ERA, 1.41 WHIP and 98:31 K:BB in his first 20 starts (117.1 IP). It made perfect sense to shorten him up, as Norris for the season saw his ERA go from 2.84 the first time through the order to 4.41 the second time through, and from 4.41 to 9.26 the third time through. Without the worry of having to turn a lineup over multiple times, Norris could max out, lean mostly on his fastball and change and save his slider for more favorable counts. The Tigers will have to turn to Norris often again in 2020, but in this role Norris' upside is limited since it seems he will rarely factor into decisions.
Last season didn't go as planned for Norris, who missed nearly four months with a groin injury and finished the campaign with a 5.68 ERA and 1.45 WHIP across 44.1 innings (eight starts, three relief appearances). His career-worst ERA was driven by a below-average walk rate (3.9 BB/9) coupled with a spike in his home-run rate. The southpaw also saw a slight dip in his velocity, with his fastball averaging 90.2 mph after sitting at 93.2 mph in 2017, though that could have been related to his injury. It wasn't all bad for Norris, however, as the 25-year-old managed to post a career-best 10.4 K/9 despite the drop in velocity, offering a reminder of his upside. Norris might once again slot into Detroit's starting rotation to begin the 2019 season and could be worth a late-round flier, though his inconsistency and recent injury issues make him tough to trust.
Expectations were high for Norris after he notched a 4-2 record with a 3.38 ERA over 13 starts in 2016. Unfortunately for the Tigers and fantasy owners, Norris struggled out of the gates this past season and failed to recreate the success he found in his first full year in the Tigers' organization. The 24-year-old was sidelined for nearly two months with a groin strain and finished the season with a disappointing 5.31 ERA over 101.2 innings. He still has some heat on his fastball, with an average velocity over 93 mph, and three quality offerings (slider, curveball, changeup) to complement his primary pitch. However, his strikeout and walk rates both went in the wrong direction last season, with his K-BB percentage falling from 16.2 percent in 2016 to 9.1 percent in 2017. Norris has now battled injuries in two consecutive seasons and thus shouldn't be counted on as more than a sixth or seventh starter on a fantasy staff.
Part of the haul from the trade that sent David Price to Toronto, who brought back both Matt Boyd and Norris (plus a lefty relief prospect). Norris enjoyed a nice 69-inning sample, but back and oblique injuries kept him from a larger inning count. Thankfully, he did log another 86 innings in the minors, so if performance and health allow it, he'll be ready for a full season in 2017. His 93 mph fastball was eighth-best among lefties who threw at least 60 innings as a starter ahead of luminaries like Clayton Kershaw, David Price, and Chris Sale. Of course, pitching is more than velocity, but it's a good start. The fastball needs to improve versus righties (too many homers) if he wants to cut into the 152-point OPS platoon split, but he showed enough with the slider, changeup, and curve to justify the No. 2/No. 3 starter upside he was tabbed with as a prospect. Buy.
Norris had a crazy season: a 25-man roster spot out of camp, a demotion, a trade, a FIFTY-FOUR pitch inning and then a cancer diagnosis at season's end. By late-October, his thyroid surgery was declared successful and he was deemed cancer free. Obviously continued health will be the primary focus ahead of baseball, though an idea of his 2016 plan should be known by draft season. On the field he showed flashes of his top-notch upside, but also plenty of evidence that he's far from a finished product. He tightened up the walk rate with Detroit, going from 4.6 to 1.7 BB/9, but the trade-off was more hittable pitches and a surge in homers allowed, suggesting he was exhibiting more control than command. Control is simply hitting the zone; command is placing it in the zone. This is the profile type to bet on because it could all come together in a big way, but do so with a late-round pick because it's unlikely and if it goes south then you move on.
The Blue Jays were incredibly aggressive with Norris in 2014, as the 21-year-old southpaw climbed three full levels, finishing the season with a cup of coffee in Toronto. His strikeout rate in the minor leagues kept getting better as he faced more advanced hitting. Norris posted strikeout rates of 29 percent (66.1 innings), 31.6% (35.2 innings) and 44.7% (22.2 innings) at High-A, Double-A and Triple-A, respectively, and in turn, his prospect stock exploded. The curveball and slider will both work as finishing pitches against big league hitters (as long as he can locate his mid-90s fastball early in the count) and minor league hitters simply did not have a chance against his advance repertoire. Norris posted a 2.53 ERA and 1.15 WHIP, allowing just 96 hits in 124.2 innings across three levels. That said, he still profiles as more of a mid-rotation starter in the big leagues, with perhaps better-than-average strikeout totals. Norris has a chance to start the season at the back of the Blue Jays' rotation.
Norris struggled in his first full professional season in 2012 going 2-4 with an 8.44 ERA in 42.2 innings (12 starts). The lefty spent most of his time in the Appalachian League and had a brief stint with short-season Vancouver (Northwest League). He did, however, post a strong 9.1 K/9 thanks to an electric fastball that occasionally reaches 96 mph. Norris' secondary pitches are still developing, but after a full offseason of work, the 20-year-old should see the opportunity to step up in 2013 with a full-season assignment to Low-A Lansing.
The Jays landed Norris in the 2nd round due to some contract demands but he rewarded the Jays nicely. A low-to-mid 90s fastball is complemented with a nice breaking ball and changeup and he could move quickly. He'll make his pro debut this season.
More Fantasy News