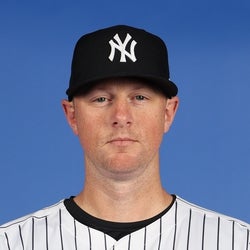 2023 Fantasy Outlook
LeMahieu delivered a strong first half with a .279/.383/.403 slash line and 48:45 BB:K in 83 games, but he scuffled down the stretch and hit .195 after the start of August. He was playing through a toe fracture but eventually landed on the injured list and missed most of the final month of the season. The injury likely played a role in his struggles, and he ended up with the worst BABIP (.285) of his big-league career. Overall, he played in 125 games and had a career-best 12.5 percent walk rate, while his strikeout rate (13.1 percent) remained steady with recent seasons. LeMahieu took a major step back in 2021 and was rebounding well in 2022 prior to the injury, which is encouraging news for his outlook going forward. However, he'll turn 35 years old in July and may have a more difficult time reaching the highs of his first two years in New York, both of which netted him a Silver Slugger.
Read Past Outlooks
$Signed a six-year, $90 million contract with the Yankees in January of 2021.

Yankees manager Aaron Boone said Wednesday that his preference is to have LeMahieu bat leadoff this season,
Marly Rivera of ESPN.com
reports.
ANALYSIS
LeMahieu might not even technically have a set starting spot, but he'll essentially be an everyday player if healthy and all indications are that he's past last year's toe issue. The veteran infielder has some bounce-back potential in fantasy if he is indeed placed at the top of the batting order, as he'll have tremendous runs and batting average upside.
Read More News
Batting Stats
2022
2021
2020
2019
2018
2017
2022 MLB Game Log

Calculate Stats Over Time
Just click on any two dates.
Scoring
FanDuel
DraftKings
Yahoo DFS
FantasyDraft
Head2Head
Loading Batting Game Log...
2021 MLB Game Log

Calculate Stats Over Time
Just click on any two dates.
Scoring
FanDuel
DraftKings
Yahoo DFS
FantasyDraft
Head2Head
Loading Batting Game Log...
2020 MLB Game Log

Calculate Stats Over Time
Just click on any two dates.
Scoring
FanDuel
DraftKings
Yahoo DFS
FantasyDraft
Head2Head
Loading Batting Game Log...
2019 MLB Game Log

Calculate Stats Over Time
Just click on any two dates.
Scoring
FanDuel
DraftKings
Yahoo DFS
FantasyDraft
Head2Head
Loading Batting Game Log...
2018 MLB Game Log

Calculate Stats Over Time
Just click on any two dates.
Scoring
FanDuel
DraftKings
Yahoo DFS
FantasyDraft
Head2Head
Loading Batting Game Log...
2017 MLB Game Log

Calculate Stats Over Time
Just click on any two dates.
Scoring
FanDuel
DraftKings
Yahoo DFS
FantasyDraft
Head2Head
Loading Batting Game Log...
Minor League Game Log

Calculate Stats Over Time
Just click on any two dates.
Loading Minor League Batting Game Log...
Batting Order Slot Breakdown
#1
#2
#3
#4
#5
#6
#7
#8
#9
#1
#2
#3
#4
#5
#6
#7
#8
#9
Left/Right Batting Splits
OPS
PA
HR
RBI
AVG
Since 2020

vs Left

.756
399
6
33
.287
Since 2020

vs Right

.771
1024
26
96
.278
2022

vs Left

.799
144
4
11
.285
2022

vs Right

.711
397
8
35
.253
2021

vs Left

.678
213
2
18
.266
2021

vs Right

.726
466
8
39
.269
2020

vs Left

1.005
42
0
4
.395
2020

vs Right

1.039
161
10
22
.363
More Splits

→

View More Split Stats
Home/Away Batting Splits
OPS
PA
HR
RBI
AVG
Since 2020

Home

.814
685
20
71
.292
Since 2020

Away

.718
747
12
59
.268
2022

Home

.825
252
7
24
.286
2022

Away

.657
289
5
22
.240
2021

Home

.663
329
5
28
.257
2021

Away

.756
350
5
29
.279
2020

Home

1.258
104
8
19
.415
2020

Away

.759
108
2
8
.306
More Splits

→

View More Split Stats
Stat Review
How does DJ LeMahieu compare to other hitters?
This section compares his stats with all batting seasons from the previous three seasons (minimum 400 plate appearances)*. The bar represents the player's percentile rank. For example, if the bar is halfway across, then the player falls into the 50th percentile for that stat and it would be considered average.
* Exit Velocity and Barrels/PA % are benchmarked against 2019 data (min 400 PA) and Hard Hit Rate is benchmarked against last season's data (min 400 PA).
See here for more exit velocity/barrels stats
plus an explanation of current limitations with that data set.
BB/K

Walk to strikeout ratio

BB Rate

The percentage of plate appearances resulting in a walk.

K Rate

The percentage of plate appearances resulting in a strikeout.

BABIP

Batting average on balls in play. Measures how many of a batter's balls in play go for hits.

ISO

Isolated Power. Slugging percentage minus batting average. A computation used to measure a batter's raw power.

AVG

Batting average. Hits divided by at bats.

OBP

On Base Percentage. A measure of how often a batters reaches base. Roughly equal to number of times on base divided by plate appearances.

SLG

Slugging Percentage. A measure of the batting productivity of a hitter. It is calculated as total bases divided by at bats.

OPS

On base plus slugging. THe sum of a batter's on-base percentage and slugging percentage.

wOBA

Weighted on-base average. Measures a player's overall offensive contributions per plate appearance. wOBA combines all the different aspects of hitting into one metric, weighting each of them in proportion to their actual run value.

Exit Velocity

The speed of the baseball as it comes off the bat, immediately after a batter makes contact.

Hard Hit Rate

A measure of contact quality from Sports Info Solutions. This stat explains what percentage of batted balls were hit hard vs. medium or soft.

Barrels/PA

The percentage of plate appearances where a batter had a batted ball classified as a Barrel. A Barrel is a batted ball with similar exit velocity and launch angle to past ones that led to a minimum .500 batting average and 1.500 slugging percentage.

Expected BA

Expected Batting Average.

Expected SLG

Expected Slugging Percentage.

Sprint Speed

The speed of a runner from home to first, in feet per second.

Ground Ball %

The percentage of balls put in play that are on the ground.

Line Drive %

The percentage of balls put in play that are line drives.

Fly Ball %

The percentage of balls put in play that are fly balls.
Advanced Batting Stats
Loading Advanced Batting Stats...
Games By Position
Defensive Stats
Loading Games Played by Position...
Loading MLB Defensive Stats...
Batted Ball Stats
Loading Batted Ball Stats...
Stats Vs Upcoming Pitchers
Our full team depth charts are reserved for RotoWire subscribers.
Subscribe Now
Recent RotoWire Articles Featuring DJ LeMahieu
See More
Past Fantasy Outlooks
2022
2021
2020
2019
2018
2017
2016
2015
2014
2013
2012
There is no way to sugarcoat it: LeMahieu was one of the bigger busts of 2021. Now that we've set that aside, we'll focus on why you should buy back in this season. After two terrific seasons in New York, his production fell smack dab back to league average after being well above that the two prior seasons. The lack of ability to drive the ball was quite concerning, and his sports hernia surgery after the season helps frame those struggles. The other noticeable struggle was how his average with runners in scoring position fell to .270 after rates of .392 and .364 the previous two campaigns. LeMahieu is still one of the toughest hitters to strike out and his expected stats still paint a rather favorable picture of his abilities. Consider 2019-2020 his peak level performance. Stare long and hard at his 2017-20 window because the 2021 struggle fees provide a buying opportunity.
LeMahieu eclipsed his superb first season in New York with a better one, posting a career-best .364/.421/.590 slash line, claiming the AL batting crown and finishing third on the MVP ballot. His 177 wRC+ ranked fourth in the league, and bested both players (Jose Ramirez and Jose Abreu) who finished ahead of him in the voting. He ranked third among qualified batters with an 89.9 Contact% while posting the second-best strikeout rate (9.7%). LeMahieu's barrel rate (2.9%) and average launch angle (2.3 degrees) hardly resemble that of a power hitter, but he took advantage of the Yankee Stadium right-field short-porch -- his 361-foot average HR distance was third-lowest in MLB -- to post a career-best 19.5 AB/HR. Replicating that rate is far from guaranteed, even after signing a long-term deal to stay in New York, but his bat-to-ball skills are elite and make LeMahieu one of baseball's most reliable hitters.
When LeMahieu signed with the Yankees last January, many expected his offensive output to decline without the benefit of 81 games at Coors Field. Instead, the 31-year-old put together an MVP-caliber season, ranking second in the American League with a .327 average and setting career highs in home runs (26), RBI (102), runs scored (109) and slugging percentage (.518). LeMahieu's flyball rate (26.2%) and average launch angle (6.7 degrees) don't fit the profile of a typical home-run hitter, but the veteran played the part by consistently mashing the ball, ranking 23rd in average exit velocity (91.7 mph) and posting a solid 40.4% hard-hit rate. LeMahieu's surprising 2019 home-run total should be viewed as a ceiling rather than an expectation, but his elite contact rate (85.5%) and presence atop New York's lineup bode well for another season of superb hitting and plenty of run-scoring opportunities.
LeMahieu flipped the script in 2018, bashing a career-high 15 homers despite two DL stints. It was a conscious decision to sell out for power, with LeMahieu doubling his launch angle en route to a 29.5% flyball rate, seven points above his career rate. It came with him sacrificing his all-fields contact, however, something even the Coors Effect couldn't mask. While LeMahieu's .271 average was solid, it was disappointing for a player drafted to be a pillar in the category after three consecutive .300-plus seasons. He landed in another favorable home park in Yankee Stadium, but LeMahieu is a .264/.311/.364 career road hitter -- he faces a stiff challenge to re-emerge as the batting-average stabilizer he once was, particularly if he maintains the new swing. Even with a more balanced plate approach, his counting totals will likely drop now that he's a super-utility player no longer buoyed by 82 games at altitude.
LeMahieu hit over .300 for a third consecutive season, but his power fell back from an already below-average level. That was a result of his flyball rate falling to below 20 percent, with LeMahieu posting the seventh-lowest Average Launch Angle in baseball (min. 200 at-bats). He mustered just 18 extra-base hits in 300 at-bats at Coors Field (three homers), and his success rate on the basepaths fell again (6-for-11). The 29-year-old's plate skills are strong -- he had a 13.2 percent strikeout rate and 8.7 percent walk rate last season -- and some tweaks to his swing could change his power outlook considerably, but right now, LeMahieu is mostly a two-category player (average and runs). Something to keep in mind: he's entering his final season before free agency and may be motivated to make some changes.
LeMahieu flew under the radar a bit in 2015 despite putting together a solid year, but he made the league take notice with his 2016 showing. After putting up a solid .746 OPS in 2015, he broke out to the tune of a .348/.416/.495 line, winning the National League batting title. He also put up career highs in doubles (32), RBI (66) and runs (104). The All-Star even muscled up for 11 home runs, equaling the number he hit over the previous two years combined. Thanks to all of this and an outstanding 0.83 BB/K, LeMahieu has become a steady mid-tier option at the keystone, but the longevity of his current levels of production will hinge on his future with the Rockies. He's under club control with Colorado through the 2018 campaign. LeMahieu hit .303/.353/.395 with four of his 11 homers on the road in 2016, while his output soared to a .391/.473/.591 line at Coors Field.
LeMahieu needed 150 games to mash six home runs despite playing 75 games at Coors Field, where Dodgers rookie Joc Pederson hit four home runs as a visitor in 2015 alone. Still, LeMahieu managed to sustain his solid contact skills and his ability to spray the ball across Colorado's huge outfield to record a .301/.358/.388 line with 85 runs scored, all career highs. His 23 stolen bases also marked a career high, and he had an 88 percent success rate despite being caught 10 times in 20 stolen-base attempts in 2014. Second base projects to be a weak offensive position once again, and while LeMahieu wouldn't be worth a look outside of Colorado, he's making the most out of his at-bats. If he can maintain a high average and keep running regularly, he will be worthwhile again in 2016 despite his power deficiency.
Thanks largely to his standout defense, LeMahieu retained a regular role throughout 2014 for the Rockies, playing a career-high 149 games and leading all NL second basemen in both Defensive Runs Saved and Ultimate Zone Rating en route to his first Gold Glove. Unfortunately, this was of little relevance in the fantasy realm, where LeMahieu's minimal power (25 extra-base hits in 538 plate appearances) and presence in the bottom third of the order deflated his counting stats. LeMahieu even noticed a decent-sized drop in the offensive categories he'd typically been an asset, as an increased strikeout rate led to a 13-point drop in his batting average from 2013, while decreased efficiency on the basepaths (10-for-20 on steal attempts) made him more reluctant to run as the season progressed. The 26-year-old's tremendous glove should grant him the upper hand in remaining atop the Rockies' depth chart at second base, but even with the added benefit of calling Coors Field his home park, LeMahieu will struggle to emerge as much more than a lower-tier fantasy option at his position.
After Josh Rutledge flopped as the second baseman to start the season, LeMahieu stepped in to provide an immediate upgrade with a steady batting average and excellent glovework. Those attributes were to be expected based on what LeMahieu had delivered a season prior, but new manager Walt Weiss's more aggressive approach on the basepaths allowed the second baseman to showcase another dimension of his game with 18 stolen bases. The inability to draw walks and a lack of power will continue to inhibit LeMahieu's fantasy appeal, but in deeper leagues, his above-average contributions in two categories are enough to warrant attention at the middle-infield spot. In recognition of his strong 2013 showing, LeMahieu should be the frontrunner for the Opening Day second base job, but even if he loses out to Rutledge once again, he should see ample usage in a utility role.
LeMahieu redeemed himself following an uninspiring first callup to the Rockies in May, batting .316 after the All-Star break while becoming a defensive standout at second base, making just two errors in 311 chances. Those numbers were nice, but because LeMahieu lacks even low-end power or speed, he was a virtual non-entity in fantasy despite playing regularly in the second half. LeMahieu's mediocre on-base skills will make it difficult to sustain last season's lofty batting average, which would strip him of nearly all his value. If that does not happen, the move of Josh Rutledge to second base almost surely will, as LeMahieu projects this season as little more than a utility infielder, likely replacing Jordan Pacheco on defense in the later innings.
With little power to speak of and poor on-base skills, it's hard to see a lot of upside for LeMahieu even in Coors Field after he was traded to Colorado in the Tyler Colvin deal. LeMahieu does make good contact, so he's a fair bet to hit for average, but he doesn't run much, and the lack of walks limits his capacity to score runs. He could be in the running the second-base job this spring, but you're better off gambling on Chris Nelson or Eric Young, Jr.
More Fantasy News