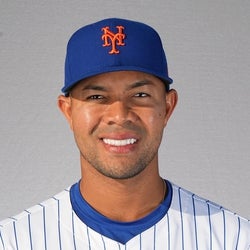 Rest-of-Season Projections
2023 Fantasy Outlook
That came out of nowhere -- Quintana enjoyed a career year in 2022 with a 2.93 ERA, 1.21 WHIP and 137:47 K:BB across 165.2 innings between the Cardinals and the Pirates. Pitching in the NL Central surely has its upside, but the left-hander has never been that sharp. He was helped by a 0.4 HR/9 and a 2.6 BB/9, though his 7.4 K/9 rate was his lowest since 2013. He got a two-year, $26 million deal from the Mets to be a back-end starter, which is about as good of a landing spot as we could have hoped for. Even so, fantasy managers should know it's risky to make a big investment on a player that defied his aging curve so significantly a year ago. Quintana could still end up being solid, but be prepared to bake in a large helping of regression on draft day. League-average is likely a best-case scenario.
Read Past Outlooks
$Signed a two-year, $26 million contract with the Mets in December 2022.

Quintana (3-5) struck out two batters and earned a win over the Reds on Sunday. He allowed two runs on eight hits and a walk over 6.2 frames.
ANALYSIS
Quintana coughed up a run in the first inning but held the Reds in check until
Nick Senzel
knocked a solo shot in the fifth. Quintana has allowed two or fewer runs in four straight starts and seven of his last eight. During that eight-start stretch, he's posted a 2.81 ERA, lowering his season mark to 3.02 through 65.2 frames. Quintana's next outing is currently projected to be in Philadelphia.
Read More News
Pitching Stats
Loading Pitching Stats...
2023
2022
2021
2020
2019
2018
2017
2023 MLB Game Log

Calculate Stats Over Time
Just click on any two dates.
Scoring
FanDuel
DraftKings
Yahoo DFS
Loading Pitching Game Log...
2022 MLB Game Log

Calculate Stats Over Time
Just click on any two dates.
Scoring
FanDuel
DraftKings
Yahoo DFS
Loading Pitching Game Log...
2021 MLB Game Log

Calculate Stats Over Time
Just click on any two dates.
Scoring
FanDuel
DraftKings
Yahoo DFS
Loading Pitching Game Log...
2020 MLB Game Log

Calculate Stats Over Time
Just click on any two dates.
Scoring
FanDuel
DraftKings
Yahoo DFS
Loading Pitching Game Log...
2019 MLB Game Log

Calculate Stats Over Time
Just click on any two dates.
Scoring
FanDuel
DraftKings
Yahoo DFS
Loading Pitching Game Log...
2018 MLB Game Log

Calculate Stats Over Time
Just click on any two dates.
Scoring
FanDuel
DraftKings
Yahoo DFS
Loading Pitching Game Log...
2017 MLB Game Log

Calculate Stats Over Time
Just click on any two dates.
Scoring
FanDuel
DraftKings
Yahoo DFS
Loading Pitching Game Log...
Minor League Game Log

Calculate Stats Over Time
Just click on any two dates.
Loading Minor League Pitching Game Log...
Pitching Appearances Breakdown
How many pitches does Jose Quintana generally throw?
What part of the game does Jose Quintana generally pitch?
% Games Reaching Innings Threshold
% Games By Number of Innings Pitched
Left/Right Pitching Splits
BAA
K
BB
H
HR
Since 2021

vs Left

.184
75
21
40
2
Since 2021

vs Right

.273
192
85
248
20
2023

vs Left

.167
7
2
7
0
2023

vs Right

.266
38
22
53
2
2022

vs Left

.219
32
8
21
0
2022

vs Right

.251
105
39
133
8
2021

vs Left

.152
36
11
12
2
2021

vs Right

.344
49
24
62
10
More Splits

→

View More Split Stats
Home/Away Pitching Splits
ERA
WHIP
IP
K/9
BB/9
Since 2021

Home

2.79
1.21
161.1
9.0
3.1
Since 2021

Away

4.80
1.50
133.0
7.2
3.4
2023

Home

2.20
1.22
28.2
5.7
2.8
2023

Away

3.65
1.32
37.0
6.6
3.6
2022

Home

2.24
1.08
92.1
8.1
2.2
2022

Away

3.80
1.38
73.1
6.6
2.9
2021

Home

4.46
1.49
40.1
13.4
5.4
2021

Away

9.93
2.16
22.2
9.9
4.4
More Splits

→

View More Split Stats
Stat Review
How does Jose Quintana compare to other starting pitchers?
This section compares his stats with all starting pitcher seasons from the previous three seasons (minimum 120 innings)*. The bar represents the player's percentile rank. For example, if the bar is halfway across, then the player falls into the 50th percentile for that stat and it would be considered average.
* Exit Velocity, Barrels/BBE %, Balls Hit 95+ MPH %, and Spin Rate are benchmarked against 2019 data (min 120 IP).
See here for more exit velocity/barrels stats
plus an explanation of current limitations with that data set.
K/BB

Strikeout to walk ratio.

K/9

Average strikeouts per nine innings.

BB/9

Average walks per nine innings.

HR/9

Average home runs allowed per nine innings.

Fastball

Average fastball velocity.

ERA

Earned run average. The average earned runs allowed per nine innings.

WHIP

Walks plus hits per inning pitched.

BABIP

Batting average on balls in play. Measures how many balls in play against a pitcher go for hits.

GB/FB

Groundball to flyball ratio. The higher the number, the more likely a pitcher is to induce groundballs.

Left On Base

The percentage of base runners that a pitcher strands on base over the course of a season.

Exit Velocity

The speed of the baseball as it comes off the bat, immediately after a batter makes contact.

Barrels/BBE

The percentage of batted ball events resulting in a Barrel. A Barrel is a batted ball with similar exit velocity and launch angle to past ones that led to a minimum .500 batting average and 1.500 slugging percentage.

Spin Rate

Spin Rate is the rate of spin on a baseball after it is released. It is measured in revolutions per minute (rpm).

Balls Hit 95+ MPH

The percentage of batted balls hit that met or exceeded the 95 MPH threshold.

Swinging Strike

The percentage of pitches that result in a swing and a miss.
Advanced Pitching Stats
Loading Advanced Pitching Stats...
Loading MLB Defensive Stats...
Our full team depth charts are reserved for RotoWire subscribers.
Subscribe Now
Recent RotoWire Articles Featuring Jose Quintana
See More
Past Fantasy Outlooks
2022
2021
2020
2019
2018
2017
2016
2015
2014
2013
2012
The left-hander struggled with a 6.43 ERA and 1.73 WHIP in 29 games (10 starts) between the Angels and Giants last season. His 28.6 K% was in the 81st percentile, so he could be a solid source of strikeouts as a streamer against the Cubs and Reds, but his barrel rate was in the 4th percentile, so he will always be a risk to the ratios, even against bad offenses. The best thing working in Quintana's favor is his job security and division. Quintana has thrown only 73 innings over the last two years, so he shouldn't be expected to hold up under a full season's worth of starts.
A thumb injury delayed the start of Quintana's 2020 season, and then a lat injury slowed him down in September. With the slate already condensed down to 60 games, the lefty managed to toss only 10 innings across four contests, so there's not much to read into his 4.50 ERA and 1.30 WHIP. Looking back to 2019 paints a better picture of Quintana's current form. That year, the 31-year-old produced a 4.68 ERA, 1.39 WHIP and 152 strikeouts across 171 innings. Quintana mostly fell short of expectations after joining the Cubs via trade during the 2017 season, as he registered an ERA north of 4.00 in each of his two full campaigns with the club. As a member of the White Sox between 2012 and 2016, Quintana logged a 3.41 ERA and 1.24 WHIP. The southpaw is now a free agent, and while his new team will hope he can recapture his White Sox form, fantasy managers should base expectations on more recent results.
Quintana is a league average pitcher coming off a season where his ratios were artificially bloated pitching into some bad luck. Specifically, his 1.39 WHIP was inflated via a high .326 BABIP, not corroborated by the underlying metrics, save an unusually high line-drive rate. Not only did Quintana's 4.68 ERA suffer from the extra hits, a 65.9% left-on-base mark elevated it well past its estimators. The lefty's 20.4 K% was a little below league average though his 14.2 K-BB% was league norm. The area Quintana excelled in was keeping the ball in the yard, allowing just 20 homers in 171 innings. While a league-average pitcher has value, especially in formats allowing streaming, Quintana isn't the underrated difference maker helping to win fantasy championships people thought he was just a few years back. Consider him back-end rotation filler with limited upside but safe when deployed judiciously.
Quintana's strikeout, walk and home-run rates worsened in 2018, yet his ERA came in a few points better thanks to him stranding more runners. The numbers could have been better had Joe Maddon exercised a quicker hook, as Quintana struggled mightily after two times through the lineup. Quintana's ERA went from 2.97 to 3.59 to 7.15 with each trip through a lineup. His home/road splits were rather neutral, but there does appear to be some gains to be made if Maddon goes to the bullpen a batter early rather than one too late in 2019. The Cubs exercised their contract option on Quintana to bring him back, so they too see something better here. If Quintana can cut the walks down and get the homers back in line, there will be some profit to be made. He has been a model of health and has not missed a start in seven seasons, but he is not throwing 200 innings any longer and his 174.1 innings could be cut down to 160 with better utilization.
Quintana has mostly been a prognosticator's dream. If you pencil him in for nine wins, a mid-3.00s ERA, 175 strikeouts and zero missed starts, you would be 90 percent of the way there. It was not until 2016 that Quintana finally broke the nine-win barrier, but 2017 was weird for him. Despite a career-best 26.2 percent strikeout rate, he posted a career-worst 4.15 ERA. He allowed one more home run than he had in 2016, but he worked 20 fewer innings thanks in part to a jump over to National League rules over the All-Star break. He threw seven shutout innings in his NL debut, but allowed three or more earned runs in seven of his other 13 outings with the Cubs. He will still enjoy good team defense and run support with Chicago, so keep the initial base projections but bump up the wins as 12 wins should be his realistic floor in 2018.
Quintana delivered another strong season of 200-plus innings, his fourth in a row. This time it finally resulted in more than nine wins -- a mark he'd been stuck on for three years running. He saw his home run rate inch upward, but maintained his solid strikeout and walk rates over a career-high 208 innings. He probably deserved even more than 13 wins, but he suffered an 0-7 record in a nine-start run from mid-May through June, during which he had five quality starts and only two real blowups. The only major change in approach from previous seasons was that he leaned on his fastball a career-high 66.5 percent of the time. Despite career bests in ERA and WHIP, there weren't enough gains from Quintana to believe it's some new level. He is a mid-3.00s ERA, 1.20s-WHIP pitcher, who is about as bankable of a 200-inning arm as is available.
Quintana is one of the more underrated pitchers in the American League. For the third consecutive season, he made more than 30 starts, threw more than 200 innings, and posted an ERA in the mid-3.00s. Most importantly for his home park, he keeps the ball out of the bleachers. Unfortunately for fantasy owners, he failed to reach double-digit wins, and he failed to strike out a batter per inning. He should serve as the rotation's No. 2 starter (behind Chris Sale) to open the season. And at age 27, his best years may lie ahead.
Quintana had the best season of his three-year career in 2014 even though he failed to get to a double-digit win total. He served as a capable No. 2 in the rotation behind Chris Sale for the entire season, and was the only member of the staff to go over 200 innings. One point of concern; his 5.1% HR/FB rate was about half of his 10.3% mark from the previous two seasons, so his ERA could be on the move in 2015 if the rate reverts. He should serve as the team's No. 3 starter in the upcoming year, with Jeff Samardzija coming aboard in the offseason.
One season removed from signing with the White Sox as a minor league free agent, Quintana became a 200-inning horse in 2013. His 33 starts ranked fourth in the American League, but a lousy White Sox offense supported him to all of nine wins even though he struck out nearly three times as many batters as he walked. His repertoire primarily consists of a fastball, curveball, cutter and changeup, and he can throw those pitches equally effectively against right- and left-handed batters. None of his pitches are dominant offerings, but he was able to keep his ERA below 4.00 from his second start until the end of the season, and that is good enough to place him as the White Sox's No. 2 or 3 starter as 2014 opens.
The White Sox quietly stole Quintana away from the Yankees' organization in November, and he was in the White Sox's rotation by late May. He posted a 2.04 ERA over his first 10 appearances, but a failure to miss bats resulted in a .317 BAA and 5.32 ERA over his final 66 frames. He should have the inside track for a spot toward the back of the White Sox's rotation to open 2013, although his job security may lessen if John Danks returns healthy and Gavin Floyd remains in the organization.
The White Sox added Quintana to their 40-man roster in November after he had spent five seasons in the Mets and Yankees organizations. He has a career 1.166 WHIP in 251.1 career minor league innings, which is more impressive when you consider he posted a 4.11 BB/9IP over that stretch. He possesses some deceptive secondary pitches, which could make him effective as a starter or left-handed specialist in the majors. He should start 2012 at Double-A Birmingham, with the potential to make the 25-man roster in 2013.
More Fantasy News