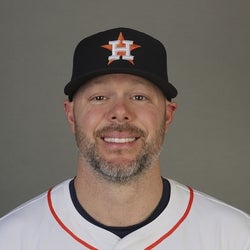 Rest-of-Season Projections
2023 Fantasy Outlook
Pressly was seventh in the league with a career high 33 saves in 2022, which was impressive considering he was limited to just 50 appearances and 48.1 innings for the Astros. The veteran required an early trip to the injured list due to knee inflammation, then neck spasms put him on the shelf again later in the year. Neither injury was particulary lengthy, but prohibited Pressly from challenging for the league's saves lead. Those injuries and age (34) may deter some for 2023 drafts, but Pressly is coming off a season during which he posted career best marks in multiple categories, including WHIP (0.89), strikeout rate (35.7%) and K-BB percentage (28.6%). He was also dominant in the 2022 postseason with 13 strikeouts over 11 scoreless frames. What Pressly may lack compared to other top-end closers is innings volume, but he has been extremely consistent and should be drafted with confidence as one of the top five or six closers off the board again.
Read Past Outlooks
$Signed a two-year, $30 million contract extension with the Astros in April of 2022. Contract includes a $14 million vesting option ($2 million buyout) for 2025.

Pressly (3-5) blew the save and took the loss Monday against the Orioles. He allowed three runs on three hits and a walk while striking out three over one inning.
ANALYSIS
Tasked with protecting a two-run lead in the ninth, Pressly surrendered a pair of one-out singles before
Cedric Mullins
launched a three-run homer, sticking Pressly with his sixth blown save and the eventual loss. The right-hander's now given up five runs over his last two appearances after holding opponents scoreless in 11 of the previous 12 outings. Overall, Pressly has 30 saves on the year with a 3.84 ERA, 1.07 WHIP and 71:13 K:BB across 61 innings.
Read More News
Pitching Stats
Loading Pitching Stats...
2023
2022
2021
2020
2019
2018
2017
2023 MLB Game Log

Calculate Stats Over Time
Just click on any two dates.
Scoring
FanDuel
DraftKings
Yahoo DFS
Loading Pitching Game Log...
2022 MLB Game Log

Calculate Stats Over Time
Just click on any two dates.
Scoring
FanDuel
DraftKings
Yahoo DFS
Loading Pitching Game Log...
2021 MLB Game Log

Calculate Stats Over Time
Just click on any two dates.
Scoring
FanDuel
DraftKings
Yahoo DFS
Loading Pitching Game Log...
2020 MLB Game Log

Calculate Stats Over Time
Just click on any two dates.
Scoring
FanDuel
DraftKings
Yahoo DFS
Loading Pitching Game Log...
2019 MLB Game Log

Calculate Stats Over Time
Just click on any two dates.
Scoring
FanDuel
DraftKings
Yahoo DFS
Loading Pitching Game Log...
2018 MLB Game Log

Calculate Stats Over Time
Just click on any two dates.
Scoring
FanDuel
DraftKings
Yahoo DFS
Loading Pitching Game Log...
2017 MLB Game Log

Calculate Stats Over Time
Just click on any two dates.
Scoring
FanDuel
DraftKings
Yahoo DFS
Loading Pitching Game Log...
Minor League Game Log

Calculate Stats Over Time
Just click on any two dates.
Loading Minor League Pitching Game Log...
Pitching Appearances Breakdown
How many pitches does Ryan Pressly generally throw?
What part of the game does Ryan Pressly generally pitch?
% Games Reaching Innings Threshold
% Games By Number of Innings Pitched
Left/Right Pitching Splits
BAA
K
BB
H
HR
Since 2021

vs Left

.199
119
17
64
10
Since 2021

vs Right

.214
98
22
67
6
2023

vs Left

.218
38
5
27
6
2023

vs Right

.229
33
8
25
2
2022

vs Left

.178
41
7
16
3
2022

vs Right

.184
24
6
14
1
2021

vs Left

.194
40
5
21
1
2021

vs Right

.219
41
8
28
3
More Splits

→

View More Split Stats
Home/Away Pitching Splits
ERA
WHIP
IP
K/9
BB/9
Since 2021

Home

2.83
0.89
92.1
12.3
1.9
Since 2021

Away

3.18
1.07
82.0
10.0
2.1
2023

Home

3.77
1.16
31.0
9.6
2.6
2023

Away

3.77
0.94
31.0
11.0
1.2
2022

Home

2.22
0.70
24.1
15.2
1.5
2022

Away

3.75
1.08
24.0
9.0
3.4
2021

Home

2.43
0.78
37.0
12.6
1.7
2021

Away

2.00
1.22
27.0
9.7
2.0
More Splits

→

View More Split Stats
Stat Review
How does Ryan Pressly compare to other relievers?
This section compares his stats with all relief pitcher seasons from the previous three seasons (minimum 30 innings)*. The bar represents the player's percentile rank. For example, if the bar is halfway across, then the player falls into the 50th percentile for that stat and it would be considered average.
* Exit Velocity, Barrels/BBE %, Balls Hit 95+ MPH %, and Spin Rate are benchmarked against 2019 data (min 30 IP).
See here for more exit velocity/barrels stats
plus an explanation of current limitations with that data set.
K/BB

Strikeout to walk ratio.

K/9

Average strikeouts per nine innings.

BB/9

Average walks per nine innings.

HR/9

Average home runs allowed per nine innings.

Fastball

Average fastball velocity.

ERA

Earned run average. The average earned runs allowed per nine innings.

WHIP

Walks plus hits per inning pitched.

BABIP

Batting average on balls in play. Measures how many balls in play against a pitcher go for hits.

GB/FB

Groundball to flyball ratio. The higher the number, the more likely a pitcher is to induce groundballs.

Left On Base

The percentage of base runners that a pitcher strands on base over the course of a season.

Exit Velocity

The speed of the baseball as it comes off the bat, immediately after a batter makes contact.

Barrels/BBE

The percentage of batted ball events resulting in a Barrel. A Barrel is a batted ball with similar exit velocity and launch angle to past ones that led to a minimum .500 batting average and 1.500 slugging percentage.

Spin Rate

Spin Rate is the rate of spin on a baseball after it is released. It is measured in revolutions per minute (rpm).

Balls Hit 95+ MPH

The percentage of batted balls hit that met or exceeded the 95 MPH threshold.

Swinging Strike

The percentage of pitches that result in a swing and a miss.
Advanced Pitching Stats
Loading Advanced Pitching Stats...
Loading MLB Defensive Stats...
Our full team depth charts are reserved for RotoWire subscribers.
Subscribe Now
Recent RotoWire Articles Featuring Ryan Pressly
See More
Past Fantasy Outlooks
2022
2021
2020
2019
2018
2017
2016
2015
2014
2013
Pressly was fantastic for the fourth straight season after delivering a 2.25 ERA, 0.97 WHIP and 26 saves in 28 chances for Houston. His 27.2 K-BB% ranked eighth among qualified relievers, while the spin rates on his curveball (100th percentile) and fastball (97th percentile) were elite. He also posted a career-best 55.5 GB% and 5.2 BB%. Since Pressly appeared in 64 games for the Astros, his contract vested to a fully guaranteed $10 million deal for 2022. He was one of only seven relievers in baseball who had a greater than 76% share of his team's total saves, but Houston was in the bottom half of the league in saves overall (34) since they won plenty of blowouts and had the fourth-best run differential (+205) in the league. However, Pressly is firmly entrenched as the Astros' closer and will be among the top 10 options drafted.
Pressly entered the 2020 season with only six career saves across seven campaigns. However, with Roberto Osuna sidelined by an elbow injury that cost him the entire season, Pressly was pressed into closing duties. He got off to a rocky start in the role, taking a loss and blowing two saves in his first nine appearances. He returned to the form expected of him from there on, logging nine saves and 20 strikeouts to go along with a 2.03 ERA across the final month of the regular season. Since the end of the campaign, the Astros have parted ways with Osuna, leaving the door open for Pressly to slot into the closer role once again in 2021. Though he should be considered the favorite to pick up the majority of the saves, the team has other internal options, the most notable of which is Enoli Paredes.
Pressly cemented his status as one of the best setup men in the game, though his second half was marred by a pair of IL visits, the first for a bruised right knee and the second for arthroscopic surgery on the same knee. While his performance suffered a bit as he tried to work through the soreness before being shelved, Pressly still notched 31 holds, tied for most in the league. He also scooped three saves. Pressly continued to sport 97th percentile spin on his fastball and 100th percentile on his curve with pinpoint control. The result was a dominating 28.4 K-BB%. Pressly incurred knee soreness in the playoffs but it was attributed to tearing scar tissue after August surgery and he is expected to be pain free in the spring. He'll return to setting up Roberto Osuna, in play in not only holds leagues, but all formats where a dominant reliever to stabilize ratios is useful.
Of course it was the Astros, the team that led the spin-rate revolution, who acquired Pressly from the Twins prior to the trade deadline. After Houston got their hands on Pressly, he became one of the most dominant pitchers in the game, posting a 0.77 ERA, 0.60 WHIP and 32:3 K:BB with the Astros in 23.1 innings over the remainder of the regular season. The incredible spin on his breaking pitches helped Pressly to a top-five swinging-strike rate overall among qualified relievers (17.7%). He can also pump in his fastball at over 95 mph on average -- the total package with Pressly is close to elite. It looks like Pressly will open the year as the Astros' top setup man in front of closer Roberto Osuna. He is good enough to hold value in all formats in a setup role and could be a top-10 closer if given the opportunity to handle the ninth.
Pressly struggled at the start of last season with a 9.50 ERA before he was sent to the minors in June. While he throws hard (95.8 mph average fastball), he was too wild and gave up too much contact. He had an 11.5 K/9 but allowed a 4.0 BB/9, five home runs and 21 hits in his first 18 innings. Pressly turned his season around when called back up in July as he had a 2.75 ERA with a 8.1 K/9 and 2.5 BB/9 thereafter. If he can reduce his walks and keep the ball in the park, he has enough velocity to be a key setup man and possible closer.
Pressly had a productive season in the Minnesota bullpen while sneaking in high-leverage appearances. He features a plus fastball (95.1 mph average last year) with decent dominance (8.0 K/9) and control (2.75 BB/9). He should be a mainstay of Minnesota's setup corps, but overuse may be a worry after he was tied for fourth in the AL with 72 appearances. The Twins' closer depth chart also remains messy, and he's not guaranteed a chance if opportunities arise.
Pressly showed promise as an impact arm in the bullpen with a 94.2 average mph fastball and a decent 7.1 K/9 last season. He began the season at Triple-A but posted a 2.93 ERA in a setup role before a season-ending strained right lat muscle injury in early August. His 10.0 K/9 at Triple-A over the past two seasons show he could be a sorely needed strikeout pitcher in Minnesota's bullpen if given a more prominent role.
Pressly spent all of 2013 on the major league roster as a Rule 5 pick and was productive with a 3.56 ERA, but was surprisingly sent to the minors in spring training. He responded well with a 2.98 ERA and 9.4 K/9 at Triple-A, which earned him a trip to the majors in July and he posted a 2.68 ERA. He had just a 4.5 K/9 and a 4.54 FIP in the majors, so his peripheral numbers didn't support his major league success. Still, his Triple-A strikeout rate was encouraging and he did hold his own as a rookie in the majors in 2013. He'll have a strong chance to win a middle relief role in spring training as a result.
Pressly struggled a bit in the second half with a 4.91 ERA (compared to 3.09 ERA in the first half), but his season was still a success as the Rule 5 pick stayed on the big league roster all season and was productive (0.3 fWAR). He had a 3.87 ERA overall, but just a 5.8 K/9 IP and 3.2 BB/9 IP. However, he has a decent groundball rate (43.8 percent) and was tough on right-handed batters (.614 OPS allowed). He should win a middle-relief role again with the Twins this spring.
Pressly made the bullpen as a Rule 5 pick out of Boston's farm system. He'll likely have a low-profile role, but the Twins may keep him on the roster all season in order to avoid losing him.
More Fantasy News