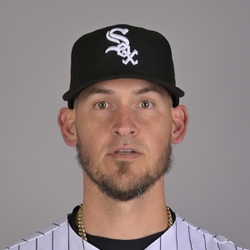 Rest-of-Season Projections
2023 Fantasy Outlook
Grandal was not expected to repeat 2021's career year but following it up with his worst season ever was a surprise. To be fair, hamstring, back and knee issues hampered him all season with lower back spasm requiring a month-long IL visit. Grandal's exit velocity, Barrel rate, and hard-hit rate all fell precipitously. He maintained solid plate skills but hitting the ball with far less authority torpedoed his batting average and slugging to career lows. Grandal's defense also suffered, which does not bode well for playing time since his bat is no longer worthy of designated hitter or first base action. Grandal isn't over the hill at 34-years-old. However, since 2014, only three backstops have caught more innings and the squatting could be catching up. Even if he starts, Grandal's playing time is earmarked to drop. He's still in play in two-catcher leagues, but he's now lumped in with the back-end dregs.
Read Past Outlooks
$Signed a four-year, $73 million contract with the White Sox in November of 2019.

Filling in for resting Lee
ANALYSIS
Grandal was on the bench for each of the White Sox's last four games but will pick up a start Monday while top backstop
Korey Lee
gets a breather. Though Lee is off to a 3-for-46 (.065 average) start to his time with the White Sox, he could still get the bulk of the starts at catcher over Grandal for the final two weeks of the season while the non-contending club plays out the string.
Read More News
Batting Stats
2023
2022
2021
2020
2019
2018
2017
2023 MLB Game Log

Calculate Stats Over Time
Just click on any two dates.
Scoring
FanDuel
DraftKings
Yahoo DFS
Loading Batting Game Log...
2022 MLB Game Log

Calculate Stats Over Time
Just click on any two dates.
Scoring
FanDuel
DraftKings
Yahoo DFS
Loading Batting Game Log...
2021 MLB Game Log

Calculate Stats Over Time
Just click on any two dates.
Scoring
FanDuel
DraftKings
Yahoo DFS
Loading Batting Game Log...
2020 MLB Game Log

Calculate Stats Over Time
Just click on any two dates.
Scoring
FanDuel
DraftKings
Yahoo DFS
Loading Batting Game Log...
2019 MLB Game Log

Calculate Stats Over Time
Just click on any two dates.
Scoring
FanDuel
DraftKings
Yahoo DFS
Loading Batting Game Log...
2018 MLB Game Log

Calculate Stats Over Time
Just click on any two dates.
Scoring
FanDuel
DraftKings
Yahoo DFS
Loading Batting Game Log...
2017 MLB Game Log

Calculate Stats Over Time
Just click on any two dates.
Scoring
FanDuel
DraftKings
Yahoo DFS
Loading Batting Game Log...
Minor League Game Log

Calculate Stats Over Time
Just click on any two dates.
Loading Minor League Batting Game Log...
Batting Order Slot Breakdown
#1
#2
#3
#4
#5
#6
#7
#8
#9
#1
#2
#3
#4
#5
#6
#7
#8
#9
Left/Right Batting Splits
OPS
PA
HR
RBI
AVG
Since 2021

vs Left

.821
285
10
31
.250
Since 2021

vs Right

.674
871
26
91
.217
2023

vs Left

.685
96
3
9
.233
2023

vs Right

.636
309
5
24
.235
2022

vs Left

.773
93
1
6
.257
2022

vs Right

.506
283
4
21
.186
2021

vs Left

1.031
96
6
16
.266
2021

vs Right

.909
279
17
46
.233
More Splits

→

View More Split Stats
Home/Away Batting Splits
OPS
PA
HR
RBI
AVG
Since 2021

Home

.687
567
18
52
.212
Since 2021

Away

.731
589
18
70
.237
2023

Home

.601
177
3
10
.219
2023

Away

.684
228
5
23
.246
2022

Home

.541
189
1
10
.191
2022

Away

.597
187
4
17
.212
2021

Home

.919
201
14
32
.227
2021

Away

.963
174
9
30
.256
More Splits

→

View More Split Stats
Stat Review
How does Yasmani Grandal compare to other hitters?
This section compares his stats with all batting seasons from the previous three seasons (minimum 400 plate appearances)*. The bar represents the player's percentile rank. For example, if the bar is halfway across, then the player falls into the 50th percentile for that stat and it would be considered average.
* Exit Velocity and Barrels/PA % are benchmarked against 2019 data (min 400 PA) and Hard Hit Rate is benchmarked against last season's data (min 400 PA).
See here for more exit velocity/barrels stats
plus an explanation of current limitations with that data set.
BB/K

Walk to strikeout ratio

BB Rate

The percentage of plate appearances resulting in a walk.

K Rate

The percentage of plate appearances resulting in a strikeout.

BABIP

Batting average on balls in play. Measures how many of a batter's balls in play go for hits.

ISO

Isolated Power. Slugging percentage minus batting average. A computation used to measure a batter's raw power.

AVG

Batting average. Hits divided by at bats.

OBP

On Base Percentage. A measure of how often a batters reaches base. Roughly equal to number of times on base divided by plate appearances.

SLG

Slugging Percentage. A measure of the batting productivity of a hitter. It is calculated as total bases divided by at bats.

OPS

On base plus slugging. THe sum of a batter's on-base percentage and slugging percentage.

wOBA

Weighted on-base average. Measures a player's overall offensive contributions per plate appearance. wOBA combines all the different aspects of hitting into one metric, weighting each of them in proportion to their actual run value.

Exit Velocity

The speed of the baseball as it comes off the bat, immediately after a batter makes contact.

Hard Hit Rate

A measure of contact quality from Sports Info Solutions. This stat explains what percentage of batted balls were hit hard vs. medium or soft.

Barrels/PA

The percentage of plate appearances where a batter had a batted ball classified as a Barrel. A Barrel is a batted ball with similar exit velocity and launch angle to past ones that led to a minimum .500 batting average and 1.500 slugging percentage.

Expected BA

Expected Batting Average.

Expected SLG

Expected Slugging Percentage.

Sprint Speed

The speed of a runner from home to first, in feet per second.

Ground Ball %

The percentage of balls put in play that are on the ground.

Line Drive %

The percentage of balls put in play that are line drives.

Fly Ball %

The percentage of balls put in play that are fly balls.
Advanced Batting Stats
Loading Advanced Batting Stats...
Games By Position
Defensive Stats
Loading Games Played by Position...
Loading MLB Defensive Stats...
Batted Ball Stats
Loading Batted Ball Stats...
Stats Vs Upcoming Pitchers
Recent RotoWire Articles Featuring Yasmani Grandal
See More
Past Fantasy Outlooks
2022
2021
2020
2019
2018
2017
2016
2015
2014
2013
2012
2011
Grandal's 2021 season can be split by an IL trip in early July for a torn tendon in his knee. He dealt with some knee problems in spring training and they continued until the tear. Before going on the injured list, he was hitting .188/.388/.436 with 14 homers in 246 plate appearances. While the production was fine in points or on-base leagues, the batting average was a killer in standard roto leagues. After returning from the IL, he hit .337/.481/.673 with nine HR in 129 PA. One of the biggest changes was dropping his strikeout rate from approximately 26% to 14%. While there were two distinct halves, his final stats were right in line with his career numbers. The key here is to possibly buy into the second half. Even with the knee struggles, he blew away his career highs in avgEV, Barrel%, HardHit% and HR/FB%. Pay for the steady year-over-year production knowing the elite, healthy version is hiding.
In the context of where Grandal was drafted in fantasy leagues heading into 2020 -- around pick 95 on average in the NFBC as the No. 3 catcher off the board -- his first season with the White Sox was a disappointment. Grandal finished as the No. 8 catcher in roto with a .230 BA, eight HR, 27 runs and 27 RBI. In real baseball, he was everything Chicago could have hoped for as he drew walks at a 15.5% clip and was a significant plus in regards to defense and pitch framing. Grandal tied for second at the catcher position in fWAR with J.T. Realmuto and Austin Nola at 1.7, trailing only Salvador Perez. Grandal is always going whiff, but the walks, power and defense more than make up for it, and James McCann is gone, potentially leading to even more playing time for Grandal. If you want to avoid the wasteland at catcher, Grandal is a fine option whose stats get a scarcity bump in two-catcher leagues.
Grandal bet on himself in 2019, eschewing a multi-year offer from the Mets in favor of a one-year pact with the Brewers. The gamble paid off, as he had the best season of his career and signed an even better long-term deal with the White Sox this past offseason. With the Brewers, Grandal set career highs in all of HR, RBI and SB. A career-high 513 AB certainly helped, but his numbers were supported by some nice underlying stats, as he hit lefties (.926 OPS) better than ever and finished with the best walk rate of his career. The added playing time may have caused some wear, as Grandal's OPS was over 100 points worse after the break, but he will be 1B-eligible in 2020 as a result, and in the AL he should DH more often than play first when he's not catching. If the at-bats remain steady, Grandal could hit even more homers on the South Side in a park that was one of the most favorable for HR in 2019.
For the second straight year, Grandal lost time to Austin Barnes down the stretch and into the playoffs, despite being one of the most productive backstops during the regular season. He won't have to worry about that this season after inking a one-year, $18.25 million deal with the Brewers. Grandal has cracked 73 homers the last three seasons, second most among all catchers, and his new home park could help him top his career high of 27 from 2016. Grandal's 23.9 K% and 18.8 Oppo% cap his average in standard leagues, but his 13.9 BB% pushes him up draft boards in OBP and points formats. Despite not being trusted in the playoffs, Grandal's glove grades out positive by most metrics (nine defensive runs saved). He's also among the most durable at the position, averaging 128 games the past five seasons, including a career-best 140 last year. Milwaukee is a dream landing spot, as it ensures a heavy workload with a park upgrade.
Where Grandal stands with the Dodgers' brass is unclear. After being the bell cow backstop for much of the season, a second-half swoon dropped him into a September platoon. In the playoffs, Grandal only started twice, pinch-hitting in another pair of games. The reason wasn't defense as Grandal rated well with the leather. Unfortunately, he slumped at the same time Austin Barnes got hot, coinciding with the Dodgers needing an offensive spark. For the season, Grandal's numbers were basically as expected, fueled by a .267/.319/.469 first half. Coming off a 2016 season with a career-best 25.2 percent HF/FB, he reverted to 17.7 percent. Grandal displayed marked platoon splits, unusual for a switch hitter, slashing just .233/.320/.349 versus southpaws. Grandal's exit velocity and barrels dropped considerably from 2016, likely from his troubles with left-handers. Still just 29 years old, Grandal is too good to be a backup, plus Barnes is able to play other positions, so at a minimum, Grandal should play against right-handed pitching.
Grandal was having a great season until he got injured in 2015, so for 2016, he mixed things up and got injured, then had a great season. Grandal had a brutal beginning to his campaign, ending the month of June hitting .179/.292/.347 after playing through the pain of forearm, wrist, and foot injuries. And then, he got better. From July 1 to the end of the season he hit .267/.376/.581 with 20 homers, superb numbers for a catcher. At his best, Grandal controls the strike zone like few hitters and simply crushes the ball when he makes contact, though he's still whiff-prone with a 22.9 percent career strikeout rate. There's little doubt that Grandal is an excellent player with rare value in OBP leagues when healthy, the problem is he's not healthy very often and will frequently play through injuries, even if they hurt his numbers. He enters 2017 as the clear starter in L.A. at catcher, with only Austin Barnes behind him to get an occasional start against lefties.
Grandal entered the 2015 season in a tough spot with the "we got THIS guy as the centerpiece for Matt Kemp?" label firmly attached to fans' expectations. Grandal put those whispers firmly to rest in the first half of the season, batting a robust .282/.401/.526 and making his first All-Star appearance. It all went south after that however, as a sore left shoulder was likely a major contributor to an awful second half that saw Grandal hit a meager.162/.280/.215. It's unlikely that Grandal simply forgot how to hit, but he'll certainly enter 2016 with something to prove. Grandal underwent shoulder surgery in October, and while no definitive timetable is known, he should head to spring training fully healthy and in a position to be the team's Opening Day catcher. Given his first half heroics and second-half fade, Grandal could be a good buy low with the chance of huge rewards if he can stay consistent and healthy over the course of a full season. A forearm issue slowed him late in camp, and brings a little added risk to the table.
Strife characterized Grandal's 2013 season, which was abbreviated due to a 50-game suspension to start the year and concluded with a gruesome ACL tear in July. While the injury legitimately threatened his Opening Night availability last season, he bucked all expectations and landed on the 25-man roster, making his first appearance behind the dish in the second game. As a precaution, the Padres carried three catchers well into May, but with no indication of a setback to Grandal's right knee, Nick Hundley was dealt to the Orioles on May 24. The move provided Grandal and Rene Rivera with an equal share of the nods, but as the season wound on, the former garnered sporadic starts at first base due to Yonder Alonso's season-ending forearm injury and to ease stress on Grandal's surgically-repaired knee. Ultimately, Grandal worked his way into a near everyday role at first, which coincided with the end of his season-long battle with the Mendoza Line. Entering Aug. 24 with a miserable .204/.302/.376 line, he thereafter displayed his prowess at the plate, batting .283 with five home runs, 21 RBI, 19 runs scored, and a 20:35 BB:K in 130 at-bats. Traded to the Dodgers as part of the Matt Kemp deal in December, Grandal should benefit from having a more talented lineup around him in Los Angeles. Look for him to take over as the team's primary catcher.
After serving a 50-game suspension to start the year for testing positive for a performance-enhancing substance, Grandal took over catching duties from Nick Hundley, fitting in 28 contests before sustaining a season-ending ACL tear in July. One month passed before Grandal underwent a full reconstruction of the ACL in his right knee, which typically requires 9-to-12 months in order to recover fully. Despite stated optimism that he'll be ready for spring training, the Padres ultimately have the final word on his rehab, and he's hardly a lock to be ready for Opening Day. In his absence, Hundley will continue to don a catcher's mask, with Rene Rivera acting as depth.
First the bad, Grandal was suspended for 50 games for testing positive for a performance enhancing substance in November. Now the good, whatever price most owners were set to pay for him in 2013, this recent news likely slashes that in half, if not further. It's impossible to say what, if any, effect the substance that Grandal was using had on his 2012 performance. What we do know is that as a rookie, he showed a good eye at the plate and can hit for power as he hit .268/.368/.392 in one of the toughest venues for hitters, Petco Park. These numbers come from a small sample size (114 plate appearances) as he spent half of his 2012 season in the minors. How he'll spend his 2013 season will largely depend on how he responds to his suspension and how his teammates perform early on in his place, but there's reason to believe he'll reprise his role as the Padres' primary catcher after his 50-game absence.
The Reds were in an enviable position to have two high-ceiling catching prospects in the system in Grandal and Devin Mesoraco. That depth was leveraged with the acquisition of Mat Latos in December, which made Grandal the catcher of the future in San Diego. Grandal progressed from High-A to Triple-A at the end of last season, though an injured left hand ended a campaign in the Arizona Fall League. It may not take him long to supplant Nick Hundley with his new organization. He eventually projects as a high-average hitter with the potential to hit 20 homers at the major league level.
Many draft experts considered Grandal to be a potential top-five pick in last year's Rule 4 draft, but he slipped to the Reds at No. 12 overall due to signability concerns. For the second year in a row, the Reds broke ranks with recent history by going over slot to sign Grandal much like they did Yonder Alonso the year before. Grandal will be on the fast track for the Reds, as he can hit for both power and average and is considered to be a smooth defensive catcher. Devin Mesoraco will probably reach the majors before Grandal, but Grandal has the higher ceiling.
More Fantasy News