James Shields had an amazing 2011 season leading the league in complete games and shutouts while winning 16 games with a 2.82 ERA and a 1.04 WHIP. Fantasy owners who took the risk after his disastrous 2010 were rewarded handsomely. The pundits hinted at regression to the mean before last season and did the same this season saying that Shields would have a tough time repeating last season's success. So far, Shields leads the league in hits allowed and batters faced and has an ERA of 4.52 and a 1.46 WHIP putting him back near his 2010 numbers rather than what he had been in most other seasons.

Over the last three seasons, this is the roller coaster that Shields has put fantasy owners through at a skill level:





In 2012, he is striking out batters at a career high rate, is generating more groundballs than ever, but he is still struggling to keep the ball in the yard and his normally pinpoint control is wavering a bit.
The velocity charts show that this is not an injury issue, as all of his pitches are right in line where they have been in the past. He features five pitches: a two and four-seam fastball, a cut fastball, a curve, and a change-up. The change-up is his money maker and strikeout weapon but his curveball has matured from a show-me chase pitch to a difference maker as well.

When studying Shields, this appears to be an issue of when he is throwing certain pitches rather than what he is throwing.
The next graphic shows the pitch mixture Shields has used in each of his 2012 starts: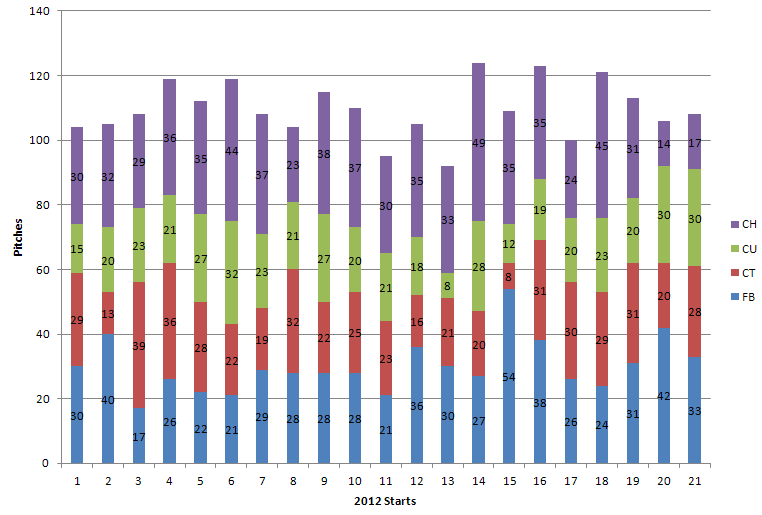 From this view, it is a bit concerning that Shields has used his best pitch so infrequently over the last two starts. The first start was a win against a rather punchless Seattle lineup but the last start was yesterday in Baltimore in which he had a disastrous fifth inning.
At this point, it would be helpful to see how Shields mixes those pitches up within the start. Jason Hanselman, a Rays analyst I do work with, created this chart to show how Shields changes up his mixture within a start: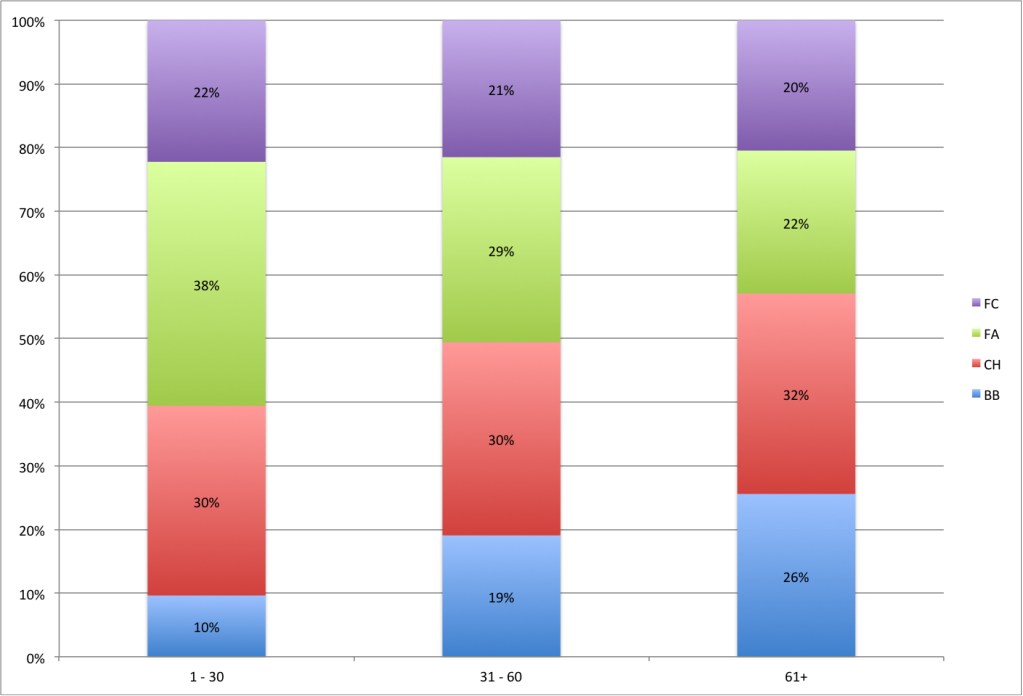 Notice how Shields goes away from his two and four-seam fastballs as he gets deeper into starts in favor of more curveballs while maintaining his cut fastball usage.

Change-ups are great pitches when the pitcher throws it like he does his fastball and gets velocity differential so the batter is out in front of the pitch along with depth and fade. Josh Kalk (who now works in the Rays' front office) did some work in 2008 to show where the optimal area is for differential on change-ups stating that too much differential would tip off the hitter as to what is coming. Shields, for the most part, gets good differential on the pitch but lately is not getting as much. The linegraph below shows the differential Shields gets on each change-up he has thrown this season compared to the previous two/four/cut fastball he has thrown.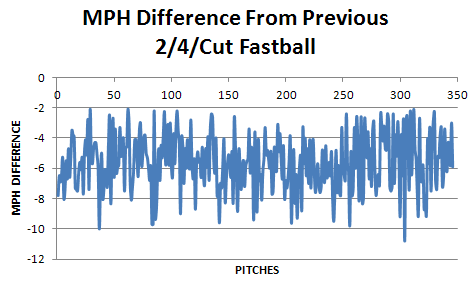 There were times this season when he was living in the 6-8 MPH difference but lately, has been getting less differential. If we go back to the first two graphs in this article, we see an increased usage of the cut fastball in starts of late as well as Shields' trend of moving away from his fastball within starts. This leads to less differential and it is also leading to less fortunate results within the game.
The chart below shows Shields' batted ball outcomes by pitch count in 2012 according to Baseball-Reference.com:





We know that after pitch 60, Shields goes away from his fastball and we see now that after pitch 76, hitters have been teeing off on Shields all season long. The sOPS metric shows just how much worse than league average (100) he has been and the .424 BABIP speaks to how hard the balls are being hit rather than blaming it all on poor luck or bad fielding (which does share some blame). In yesterday's fifth inning, Shields threw 29 pitches as the Orioles plated five runs. As he struggled through that inning, Shields went to his best pitch just three times.

It is tough to tell a pitcher coming off a Cy-Young caliber season that he needs to do something differently, but the change in process this season toward the last half of his starts is not working well for him. These are fixable issues with a change in process, but we are also talking about a very emotional pitcher who at times can be very stubborn in his ways.