Billy Hamilton and Delino DeShields Jr. have been making waves this season with their stolen-base skills. If not for the 132 steals Hamilton has piled up in just 110 games, DeShields would be garnering more attention as he is pushing 100 swipes.

It is nice to see the stolen base becoming a more active part in baseball and thus fantasy baseball leagues again after quite a drop-off in the past decade. In 1999, the league attempted 4,940 stolen bases which stands as the highest total since the league expanded to 30 teams in 1998. Just seven seasons later, the league hit a low point in 2005 as teams attempted just 3,634 steals which was a 26 percent reduction in attempts. The year-to-year flow for league-wide stolen-base attempts is shown in the graph below: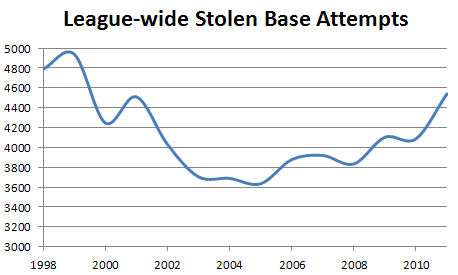 There are several theories as to why this type of trend has developed, but there are essentially two reasons that come into play: Moneyball and PEDs.

The term moneyball may not have entered into the lexicon until Michael Lewis published his excellent book, but the research behind that was already in the process of proliferating in baseball. In the past, managers would let their speedsters run, be damned the run expectancy situation. Most of the time, as long as the runner was over 60 percent successful, he was able to run. The success rate and the thought of giving the opposition a free base to then pitch around your big bat were essentially the only thoughts that came into play when considering when to run someone.

We began to learn from the great work of others in run expectancy that sometimes the risk of a runner being thrown out stealing a base outweighs the reward in doing so. As that work became more well known, managerial trends changed and the stolen base fell at an even more dramatic rate than the home run has since baseball last expanded.

Now, why has the stolen base made such a resurgence in recent years? One could say that teams decided the cold turkey path they were headed down from 2001 to 2005 was dramatic, or we could say teams decided to take more risks in a return to small ball as baseball finally came down on the PED usage that proliferated its sport.

It is no accident that home runs are on a downward trend since the Mitchell Report released its findings and baseball put its punitive plan in place to come down hard on those who failed PED tests. From time to time, league-wide home-run totals wavered from 1998 to 2006, but the trend has continued to run downward since then. In 2011, we saw a unique event as the league attempted more stolen bases than it hit home runs – the first time than has happened in the latest expansion era.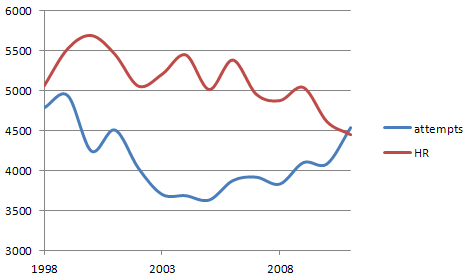 The days of 100-plus stolen bases are likely over unless Hamilton changes that landscape once he is promoted, so as fantasy players we need to lower our expectations a bit. Steals are not as rare as they were seven seasons ago, but the number of players attempting even 20 stolen bases in a single season is.

That said, if Billy Hamilton were guaranteed a starting job next year in Cincinnati, I would have no problem drafting him in the first round in order to punt steals for the next 9-10 rounds and focus elsewhere.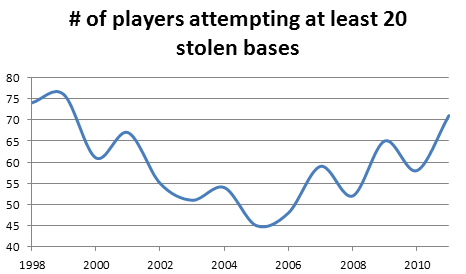 In a 12-team mixed league, that leaves just over five players per team! That is an improvement over the scarcity we dealt with just a few years ago, and it looks as if the league is trending up. To date, just 42 players have attempted at least 20 stolen bases in 2012, but 76 have at least 15 attempts already. If that pace holds up, we be back to pre-2000 levels in that category.