When the Royals traded for Ervin Santana last October, most people laughed at the move - present company included.


Santana was coming off a season in which he allowed 39 home runs and 109 runs in 178 innings pitched with a 5.63 FIP and a 4.48 xFIP. Any way you tried to polish his season, it was still terrible. Despite pitching in a park that suppressed offense, Santana struggled with consistency with the Angels as he had just one season with a sub 4.00 FIP in eight seasons there.
Last July, the Angels recognized something had to be done with Santana's mechanics because things were not headed down a good track. Sam Miller of Baseball Prospectus covered things in
this piece
($), as the Angels did not like Santana's arm slot, particularly on his slider. Their concern was that he had trouble repeating his arm slot and that he was getting too far on top of his pitches thus reducing the movement on his pitches. It raised some legitimate concerns with him tipping his pitches as Mike Scioscia explained:
"First thing is it telegraphs your pitches; if you're throwing each of your pitches out of a different arm slot, which has been the case that we're seeing—you want that consistency . You want everything out of the same look. If he does get that same look and you're high, then your slider is gonna have more depth and not as much velocity and your fastball's probably going to be a little straighter without that late life. Some guys throw out of that slot because that's their natural slot; that's the way they pitch. Ervin's slot is really a high three-quarter slot that he's been trying to find, not as much over the top, and at times he does get too far over the top."
In terms of arm angle, the images below were taken at three different times over the past 12 months, all three involving sliders. The first one is April of 2012, and it resulted in a home run. The other two both resulted in strikeouts. If anything, Santana's arm slot looks a bit lower in the latter two images than it does in the first one where he appears higher resulting in what Scioscia mentioned in his comment to Miller.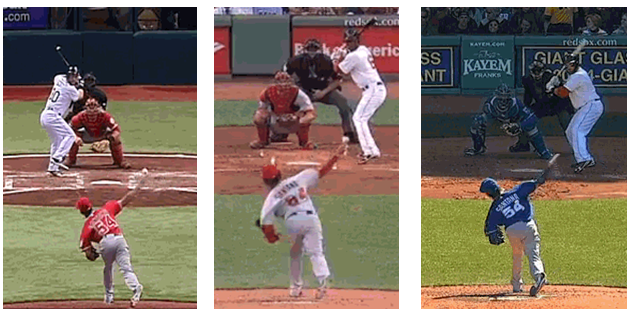 One of the things that makes this type of analysis difficult is that too many parks use the stupid off-center camera angle for broadcasts. As a Rays fan, I am spoiled because they have used that view forever but too few ballparks do, including Angels Ballpark. It made it tough to find examples of what I needed but I was able to find some that showed his delivery.
In studying his delivery, I noticed one change that the Angels made during the season. Early in the season, Santana's delivery started with his hands at his waist but in the second half of the season, that changed to where his hands started at his face.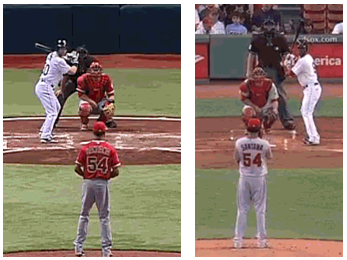 Once Santana came to the Royals, pitching coach
Dave Eiland
appears to have done more tweaking to Santana's delivery. In particular, note where his hands are at the moment his front foot comes off the ground to begin its journey toward home plate: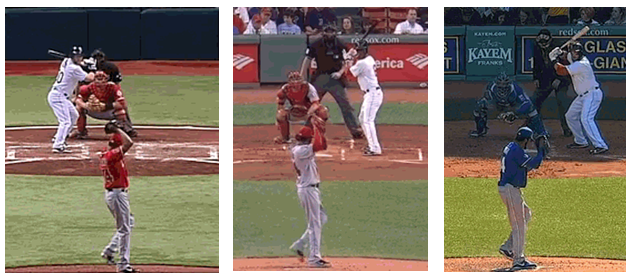 Lastly, Santana has changed where his head is at in his delivery. Last season, he would keep his head up looking at home plate during his entire delivery. This year, he finds his target, then looks down at the mound, relocates the target, and delivers his pitch.
Here is late 2012:
Here is April 2013:
Since the Angels started the process that the Royals have now continued, Santana's numbers have been incredibly impressive. Since the process started, Santana has made 16 starts, faced 415 batters, and has thrown 1539 pitches. Opponents have a .210/.261/.407 slash line against him during that timeframe while striking out 21 percent of the time and walking five percent of the time. They have also been limited to just a .219 batting average on balls in play.
In the final two months of 2012, Santana had 111 swings and misses at his pitches while he has already amassed 52 in 2013 which does not include the 13 he had in yesterday's snowed-out affair against Tampa Bay. If we look back over the last three complete months of regular season pitching, only
Edwin Jackson
has more swings and misses with his slider than Santana.
The sample size of work we have for Santana is enough to legitimize what he has done but that does not guarantee what he will do moving forward. Such a low BABIP is definitely a concern, but some of that is due to the fact he is a bit home run prone and those do not count against BABIP. His home run to fly ball rate in 2013 is at a rather normal 10 percent to date and three of those came in one start on the road against Chicago.
Mike Siano of MLB.com is arguably Big Erv's most ardent supporter but if Siano is allowing it, you may want to see if there is room on the bandwagon. Santana is primarily a two-pitch pitcher but the adjustments started by Mike Butcher in Anaheim and continued by
Dave Eiland
in Kansas City have made it much tougher for hitters to differentiate Santana's average fastball from his killer slider.