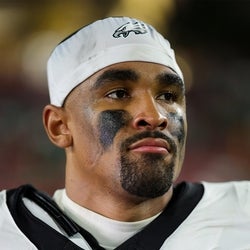 Rest-of-Season Projections
2023 Fantasy Outlook
A MVP-caliber season and a run to the Super Bowl were perhaps surprising, but Hurts finishing as the No. 3 fantasy quarterback last year should not have been shocking. He made tremendous strides with his arm between Years 1 and 2 as a starter, and he'd always been a threat with his legs. A.J. Brown joined DeVonta Smith and TE Dallas Goedert to help Hurts become one of the NFL's best passers. He led the league in on-target percentage (80.5) and completion percentage (72.5) from the pocket and finished second in TD/INT ratio at 20/4. Overall, his completion rate increased by more than five points to 66.5 percent (it was 52.9 as a rookie in 2020), his six interceptions were second fewest among QBs with at least 350 attempts and he finished third in YPA (8.0). Hurts' running game gives him a solid fantasy floor -- he led the league in designed runs by a quarterback last season and was fourth in scramble yards. While nearly 40 percent of those designed runs were QB sneaks, 14 came at the goal line, which helped him score 13 rushing TDs, second most in NFL history by a quarterback. It's possible Hurts' goal-line attempts regress, but the league decided against outlawing the Eagles' infamous "tush push" and longer-distance scores are also in play after back-to-back seasons with more than 750 rushing yards. Given that rushing production, Hurts can challenge for QB1 status even if he isn't quite on Patrick Mahomes' level as a passer and isn't likely to match Josh Allen's total volume.
Read Past Outlooks
RANKS
#

Overall
$Signed a five-year, $255 million contract with the Eagles in April of 2023.

Solid results in losing effort
Hurts completed 26 of 45 pass attempts for 298 yards and a touchdown while rushing seven times for 20 yards and another score in Sunday's 42-19 loss to San Francisco.
ANALYSIS
Hurts briefly exited Sunday's contest to be evaluated for a concussion after taking a hit in the second half. The 25-year-old missed only a handful of snaps before receiving clearance to return. Hurts showed no ill effects from the hit upon returning, and he went on to throw essentially a garbage-time touchdown late in the fourth quarter. Philadelphia was punched in the gut by a conference contender Sunday, but Hurts produced solid fantasy results for managers despite taking the loss. He will look to get the 10-2 Eagles back in the win column against the Cowboys on Sunday Night Football in Week 14.
Read More News
NFL Stats
Fantasy/Red Zone Stats
See red zone opportunities inside the 20, 10 and 5-yard lines along with the percentage of time they converted the opportunity into a touchdown.
Loading Fantasy/Red Zone Stats...
Advanced NFL Stats
How do Jalen Hurts' 2023 advanced stats compare to other quarterbacks?
This section compares his advanced stats with players at the same position. The bar represents the player's percentile rank.
The longer the bar, the better it is for the player.
Bad Pass %

The percentage of passes that were considered to be poorly thrown.

Avg Target Depth

The average number of yards thrown per pass by the quarterback – including incomplete passes.

Sack Rate

The percentage of dropbacks where the quartback was sacked. The longer the bar below, the more often they are sacked relative to other QBs.

Avg Receiver YAC

The average number of yards after the catch that receivers gained on passes thrown by this quarterback.

Receiver Drop %

The percentage of passes dropped by receivers on passes thrown by this quarterback. The longer the bar, the more sure-handed his receivers have been.
Loading Advanced NFL Stats...
2023 NFL Game Log

Calculate Stats Over Time
Just click on any two dates.
Scoring
Standard
PPR
Half PPR
FanDuel
DraftKings
Yahoo DFS
2022 NFL Game Log

Calculate Stats Over Time
Just click on any two dates.
Scoring
Standard
PPR
Half PPR
FanDuel
DraftKings
Yahoo DFS
2021 NFL Game Log

Calculate Stats Over Time
Just click on any two dates.
Scoring
Standard
PPR
Half PPR
FanDuel
DraftKings
Yahoo DFS
2020 NFL Game Log

Calculate Stats Over Time
Just click on any two dates.
Scoring
Standard
PPR
Half PPR
FanDuel
DraftKings
Yahoo DFS
Snap Distribution / Depth Chart
This Week's Opposing Pass Defense
How does the 49ers pass defense compare to other NFL teams this season?
The bars represents the team's percentile rank (based on QB Rating Against). The longer the bar, the better their pass defense is.
The team and position group ratings only include players that are currently on the roster and not on injured reserve. The list of players in the table only includes defenders with at least 3 attempts against them.

vs 49ers
Sunday, Dec 3rd at 4:25PM
Overall QB Rating Against
69.5
Loading Opponent Pass Defense Stats...
2023 Jalen Hurts Split Stats
Loading NFL Split Stats...
How do Jalen Hurts' measurables compare to other quarterbacks?
This section compares his draft workout metrics with players at the same position. The bar represents the player's percentile rank. For example, if the bar is halfway across, then the player falls into the 50th percentile for that metric and it would be considered average.
Recent RotoWire Articles Featuring Jalen Hurts
See More
Past Fantasy Outlooks
Hurts made laudable improvements in accuracy last season, but it didn't exactly turn him into a good passer. He increased his on-target rate by nearly 20 percentage points compared to 2020 (55.4 to 73.8 percent) but finished only 26th in the league in completion percentage (61.3). Perhaps most concerning, Hurts threw five interceptions and only two TDs on attempts 20-plus yards downfield, magnifying the pre-draft concerns about his arm strength. Despite that, he finished QB9 in fantasy thanks to incredible rushing production. He led quarterbacks in rushing yards (784) and became the ninth QB all-time with double-digit TDs on the ground. His rushing output, including a league-high 50 scrambles, likely will regress a bit this season, and for his passing to pick up the slack he probably needs more attempts. Hurts ranked 29th last season with 28.8 attempts per game, as the Eagles finished last in passing percentage (48.8) following their mid-year switch to a run-heavy offense. The only quality wideout was rookie DeVonta Smith, so Hurts largely relied on Dallas Goedert (76 targets) and his running backs (105 targets). The Eagles responded by trading for A.J. Brown on draft day, giving Hurts a game-changing No. 1 receiver to pair with Smith and Goedert. If Hurts throws more passes and continues to improve his accuracy with the help of an improved receiving corps, he can become a top fantasy QB even if he runs a bit less than last year.
Hurts started the final four games last season, displacing Carson Wentz and causing a rift between owner and coach that eventually led to the latter's dismissal. Out of college, the knock on Hurts, the Eagles' second-round pick last year, was his accuracy and arm strength. He did little to prove critics wrong. Among the 40 QBs with at least 140 attempts, Hurts ranked last in completion percentage (52.0) — lowest in the league since 2017. He didn't fare well throwing deep either. On attempts of at least 20 yards, only 36.4 percent were on target (34th of 38, min. 20 attempts). Part of the problem was an utter lack of playmakers in the Eagles offense. The leading receiver was the uninspiring Greg Ward, while tight ends Zach Ertz and Dallas Goedert each missed five games. And compared to Wentz, Hurts was better. Hurts' bad-pass percentage was 20.9, while Wentz posted a league-high 28.4 percent; his YPA was 7.2 to Wentz's 6.0. Hurts also showed reason for optimism with his rushing. Fast and elusive, he averaged 68 rushing yards in his four starts, a 1,000-yard season pace. The Eagles cleared the way for Hurts this offseason by trading Wentz. They then drafted WR DeVonta Smith with the 10th overall pick, and last year's first-round pick, Jalen Reagor, is healthy after an injury-plagued rookie season. A healthy year from Goedert would go a long way too. Former Colts OC Nick Sirianni is the new head coach, while the new offensive coordinator is Shane Steichen, who oversaw Justin Herbert's emergence last season with the Chargers. That bodes well for Hurts, but he needs his young receivers to blossom.
The Eagles surprisingly made Hurts their second-round pick in this year's draft despite Carson Wentz cemented as the starter. But Wentz is injury prone having missed eight games in four seasons (and was knocked out of the Eagles' wild card game last year), so it wouldn't surprise if the 6-1 Hurts gets some time under center this season. In the meantime, he can continue to develop as a passer, as he already has the mobility to kill defenses on the run. Hurts, who ran a 4.59 40 at the combine (second fastest among QBs), set a school record as a freshman at Alabama with 954 rushing yards and 13 touchdowns. As a grad-school transfer to Oklahoma last season, he was a Heisman Trophy finalist after rushing for 1,298 yards and 20 touchdowns. The knock on Hurts was his accuracy and arm strength, but he completed 69.7 percent of his passes last season (7th in nation) with 32 TDs and eight INTs and then wowed scouts at the combine with his downfield passing. Still, if Wentz stays healthy, he won't see much action, other than perhaps a Taysom Hill-like role. If Wentz gets injured, though, Hurts can at least use his legs to extend plays. That has value.
More Fantasy News