I have raised the issue of changing rates several times in this column during this season that statistics simply are not the same today as they were five years ago. The league-wide batting average is down for an eighth straight season. The league-wide strikeout rate is just two-tenths of a percent for being up for an 11th straight season.

In short, it is high time to change the way we quickly evaluate pitchers.

Many fantasy players like to look at strikeout to walk ratios (K/BB) for pitchers as a first filter when looking for pitching targets. Typically, you are playing with fire when acquiring pitchers with K/BB rates below 2.0, so owners typically will look at pitchers with K/BB rates of at least 2.5. That group was rather select 15 years ago, but these days the group's membership is growing.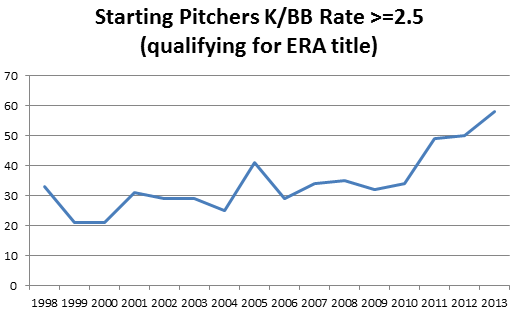 From 1998 to 2012, there are 523 instances of pitchers posting a K/BB of at least 2.5 in season in which they threw at least 160 innings. Only 18 of those pitchers (3%) had an ERA of 5.00 or higher and only 147 of them (31%) had an ERA of 4.00 or higher. Today, we have 58 qualified pitchers with K/BB's of 2.5 or greater. Two of them have ERA's over 5.00 - Matt Cain and Joe Blanton. Meanwhile, they are joined by 12 other pitchers who have ERA's of at least 4.00: Dillon Gee, Tim Hudson, Lance Lynn, Cole Hamels, Tommy Milone, CC Sabathia, Andy Pettitte, Phil Hughes, Jeremy Hellickson, Tim Lincecum, Rick Porcello, and Roberto Hernandez. That works out to be 26 percent of the qualified pitchers which gives a higher percentage of pitchers with high K/BB ratios posting sub 4.00 ERAs than what has happened over the previous 12 years. Not only are there more of those types of pitchers this season, they are also doing better as a group.

That said, of those 14 pitchers, which ones would you honestly want to pursue in a 15-team mixed league format in 2014? (stats as of start of play Monday)


Name
PA
ERA
WHIP
AVG
OPS
K/BB
K/9
BB/9
HR/9
BABIP
Joe Blanton
532
5.66
1.595
0.317
0.899
3.46
7.53
2.17
1.86
0.352
Matt Cain
490
5.00
1.197
0.226
0.693
2.61
8.23
3.15
1.23
0.262
Roberto Hernandez
461
4.90
1.311
0.277
0.792
3.36
6.98
2.08
1.50
0.307
Rick Porcello
412
4.80
1.258
0.272
0.708
4.21
7.25
1.72
1.00
0.317
Tim Lincecum
518
4.72
1.375
0.253
0.723
2.59
9.52
3.67
0.98
0.322
Jeremy Hellickson
499
4.62
1.215
0.257
0.737
3.45
7.34
2.13
1.17
0.295
Phil Hughes
430
4.57
1.290
0.268
0.784
3.38
7.74
2.29
1.58
0.299
Andy Pettitte
451
4.47
1.357
0.278
0.758
2.68
6.45
2.41
0.95
0.312
CC Sabathia
600
4.37
1.268
0.265
0.755
3.81
7.73
2.03
1.46
0.300
Tommy Milone
521
4.18
1.255
0.258
0.735
3.17
6.75
2.13
1.39
0.279
Cole Hamels
562
4.16
1.246
0.257
0.747
3.42
8.26
2.42
1.01
0.310
Lance Lynn
517
4.13
1.270
0.244
0.677
2.64
8.56
3.25
0.52
0.309
Tim Hudson
506
4.08
1.205
0.249
0.673
2.61
6.26
2.40
0.73
0.286
Dillon Gee
511
4.07
1.398
0.277
0.768
2.63
7.06
2.68
1.07
0.319
Joe Blanton
is simply this generation's
Dave Bush
; a guy with a shiny K/BB ratio that cannot strand runners because he cannot keep the ball in the park.
Matt Cain
is one mess after another in 2013 and does not look right. Drafting him in 2014 would be the ultimate test in the regression draft theory of targeting players coming off of poor seasons.
Roberto Hernandez
has found new success due to an increased use of his changeup and the stellar Rays defense, but is rather homer prone and is always good for one awful inning per outing. Porcello's overall numbers are mostly a product of two outings against the Angels as he has a 3.53 against the rest of baseball but allowed 16 earned runs in just five innings against the Halos.
Tim Lincecum
has the no-hitter to his name and 2013 has been nearly a mirror image of the 2012 season that disappointed many. It is a new version of Lincecum, and one who has diminished velocity, but can be effective around bouts of wildness. Lincecum is also a fine example of one of the caveats of using K/BB to target pitchers in that his walk rate is below league average for starting pitchers but the high strikeout totals mask it.
Jeremy Hellickson
has recovered nicely in recent weeks from a bout with gopheritis earlier in the season and is striking out batters at a full-season best rate while posting the lowest walk rate of his career. I have always been a defender of Hellickson; while he is not going to strand 80 percent of his runners for a third straight season, he continues to find ways to be successful in the face of the Luck Dragons.
Phil Hughes
would be quite attractive should the Yankees trade him out of that bandbox as all of his other skills are rather desirable, but his home run rate sticks out like a sore thumb. His elder teammates are both showing signs of age or heavy workload this season. Pettitte is always a year-to-year thing while Sabathia has been very hittable this season with diminished velocity and a lack of crispness to his stuff which absolutely lowers him into another tier for 2014 draft plans.
Tommy Milone
was a guy who built most of his success while pitching at home in 2012 and that has continued, ERA wise, in 2013. A 3.20 home ERA gives way to a 4.88 road ERA; matchup starters make for end game pursuits in 15 team mixed leagues.
Lance Lynn
's numbers have dropped off dramatically in recent weeks as he has scuffled through his last six starts with a 6.37 ERA and a 1.59 WHIP.
Cole Hamels
is always going to be a target, even after a frustrating season like this one. He struggled a bit statistically like this in 2009 and bounced back with three excellent seasons. This season, most of his numbers remain solid, but he has been a bit more hittable and thus has not stranded as many runners as he has in the past.
Lastly,
Dillon Gee
and
Tim Hudson
tend to be endgamers in this format as it is. Gee has taken a bit of a step back statistically this season as his strikeout rate is down and his opponents' OPS is up 70 points. Hudson's value is in his consistency as his statistics have been rather stable, which is a benefit of established veterans who rely on movement more than velocity.
In short, K/BB is a quick and dirty way to find pitchers to target but it is only quick and dirty. If you put in the work and look into the other skills, you will find cleaner targets to acquire.