On Tuesday, Jonah Keri of Grantland.com did
a piece
which spotlighted how incredibly nasty
Francisco Liriano
has been this season. The perennial fantasy tease has been nothing short of incredible, with a 15-6 record, a 2.57 ERA, a 1.19 WHIP, and 135 strikeouts in 21 games since getting a late start to the season.
It is a belief that lefties take longer to get their craft together than righties, but Liriano has been all over the place now and he is not even 30 years old. After the amazing debut in 2006, he missed all of 2007 with the elbow injury and was not the same when he returned in 2008. From 2009 to 2012, Liriano posted ERA's over 5.00 and WHIP's over 1.47 in three of the four seasons sandwiched around a 3.62 ERA/1.26 WHIP campaign in 2010. That 2010 was the last time I rostered Liriano as I enjoyed that season in AL Tout Wars. Needless to say, his potential has bitten many a fantasy owner who invested in him only to watch him destroy ratios. This is why he went undrafted in the Mixed Tout Wars auction and sold for just $6 in NL Tout Wars.
Liriano's success raises plenty of questions about how he turned things around, so let's answer each one.
Has his delivery changed?
There have been a few tweaks to the controlled madness in Liriano's launch toward home plate. Here is an animated gif of Liriano pitching for the Twins last season.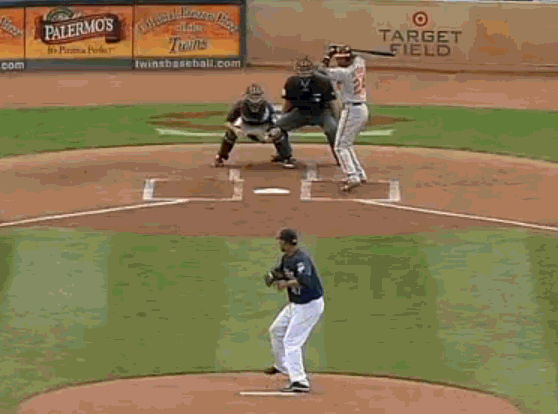 Now, compare it to one from his most recent outing this year.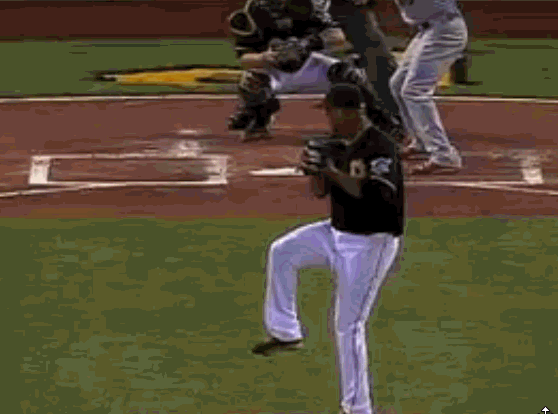 The most notable difference is the reduction in violent lower half movements after the release of the pitch. If you were to use
GifScrubber
to slow those animations down, you would see that Liriano is a bit more upright this season with his delivery and is now breaking his hands later in his delivery while using less of a stiff front leg as he comes toward the plate. In terms of body tilt or arm angle, he is the same guy. Liriano has made minor changes pre-release but the major changes to his delivery come after the ball is released. The
release point
itself is not that much different from where it has been in previous seasons.
While his delivery is not exactly a work of art, it is easier on the eyes this season than it was previously thanks to the work of Pirates pitching coach Ray Searge. It should be noted that Liriano has worked under some of the most respected pitching coaches in the game in Rick Anderson and Don Cooper, but it took a third voice to finally tap into Liriano's potential.
Is he throwing the ball harder?
In a word, no. His velocities are right where they were in previous seasons.
Has he changed his pitch mixture up?
This is a noticeable change this year. Liriano is throwing fewer fastballs these days while he has upped the percentage of secondary pitches he is throwing.
Liriano uses all three pitches against righties but mostly shelves his changeup against same-handed hitters and his fastball/slider combo has been lethal to lefties as Keri pointed out in his article Tuesday.
Liriano's reduction in fastball usage comes from the fact the league has hit .315, .286, .324, and .353 off the pitch over the past four seasons. This season, with lesser utilization, batters have hit .283 off Liriano's fastball.
In order for most pitchers to get to their secondary pitches, they prefer to get ahead in the count with fastballs and then put batters into chase mode. Given the nature of Liriano's slider and changeup, this is exactly what he would prefer to do. The problem has been that he had struggled to get that first strike. In 2010 when he had his effective year, he threw a first-pitch strike 61 percent of the time. In the other three seasons, that rate 54, 49, and 55 percent. This season, Liriano has thrown a first pitch strike 59 percent of the time.
Simply put, Liriano is a different pitcher when he is working ahead in the count compared to behind in the count or even in the count. These are his numbers this year and in his career in those situations:
SPLIT
AVG
OPS
Batter ahead 2013
0.313
0.843
Batter ahead 2009-2013
0.338
1.005
Even count 2013
0.220
0.600
Even count 2009-2013
0.273
0.813
Pitcher ahead 2013
0.180
0.437
Pitcher ahead 2009-2013
0.195
0.486
A combination of improving his strike one pitch and minimizing his fastball while using his more effective changeup and slider have allowed him to find the success he is experiencing this season.
Is he getting better defense?
This is an overlooked part of the equation. The Pirates have a terrific infield defense that is the best in the league in converting groundballs into outs according to ESPN Stats and Info. Liriano has a 53 percent groundball rate this season which plays very well with that Pirates' infield defense. The Pirates also employ more overall defensive shifts than nearly any other team in baseball which allows Liriano to get more help from the players behind him.
Other issues?
Nine percent of the batters he has faced have come from the ninth spot in the lineup and he has permitted just six hits in those plate appearances, a luxury he did not have in the American League. He has also pitched in a division that has poor teams in Chicago and Milwaukee as well as a lefty-laden team in Cincinnati. Liriano has an 8-3 record within his own division with a 1.68 ERA and a 0.95 WHIP.
In summary, Liriano has taken a roundabout journey to get back to the point we all witnessed in 2006 when we thought his career was destined for greatness. It took a six-year detour over some scary bumps and turns, but the talented lefty has found a home in Pittsburgh and has been a huge part of the turnaround in the three-river city while helping many a speculative fantasy owner in 2013.