I hate to be the bearer of bad news, but we only have 65 regular season baseball games remaining. As we play the final 10-11 periods of the fantasy baseball season, we look for anything that can help us make that last push toward the championship in our leagues. Beggars cannot be choosers when chasing teams in the standings, and sometimes that means re-examining any hitter or pitcher that can help down the stretch.

Even if that pitcher is 3-10 with a 5.01 ERA as Brandon McCarthy was when the Yankees traded for him earlier this month.

The acquisition of McCarthy by the Yankees was simple – they needed a healthy and available pitcher and Arizona was in sell mode. The trade was one that was a bit panned by yours truly and others.


Many others joined in and questioned how a groundball pitcher that struggled to keep the ball in the park would function in a stadium with a short porch and a very poor infield defense. In early June, Ken Davidoff of the NY Post
wrote a piece
outlining just how bad the Yankees' infield defense had been to date.
Baseball Info Solutions utilizes the measure "Defensive Runs Saved" then breaks that into two categories: non-shift and shift.

Heading into Wednesday's action, the Yankees ranked last in the major leagues - 30th out of 30 clubs - in both categories. They had minus-16 runs saved without the shift - in other words, their porous defense was responsible for allowing 16 more runs than the average defense would have allowed given the same balls hit in the same spots.

With the shift, the Yankees were at minus-4 runs saved, an improvement of 12 runs.

"While they have struggled to get outs when shifted relative to the rest of the league, because they are so range challenged it actually makes sense for them to shift aggressively so that they can put their infielders in a position to have to move the least to make a play," Joe Rosales, a research associate at BIS, wrote in an email.
For all of those reasons, picking up
Brandon McCarthy
seemed like an unwise play for AL-only players and mixed league owners hoping to catch lightning in a bottle. So far, those that were willing to take a chance on the name rediscovering his talents have been rewarded handsomely as McCarthy is 3-for-3 in quality starts with the Yankees with two wins and a 1.45 ERA.
McCarthy's turnaround is due to a few factors. First, he was changing leagues as he had not pitched full-time in the American League since 2012 while a member of the Oakland Athletics. Second, a pitcher leaving a bottom division team such as Arizona and joining a playoff-contending team (with a negative run differential!) can give a struggling pitcher a jolt of energy.
Most importantly, so can getting a pitch back.
Last weekend, John Harper of the New York Daily News had
an excellent piece
on McCarthy and how he had pitched in his first two games for the Yankees. Harper noted that the Yankees encouraged McCarthy to stop relying so heavily on his sinker.
In 2013, McCarthy threw 880 sinkers as a member of the Diamondbacks and opponents put up a .299/.323/.422 slash line against the pitch with a .335 BABIP. In 2014, McCarthy blew by that total throwing 945 sinkers before the trade, and the league hit .317/.340/.459 against the pitch with a .357 BABIP.
The pitch was not working well for him, and worse yet, he was throwing more of them because Arizona reportedly asked him to throw fewer cutters – a pitch that has historically been an effective one for him.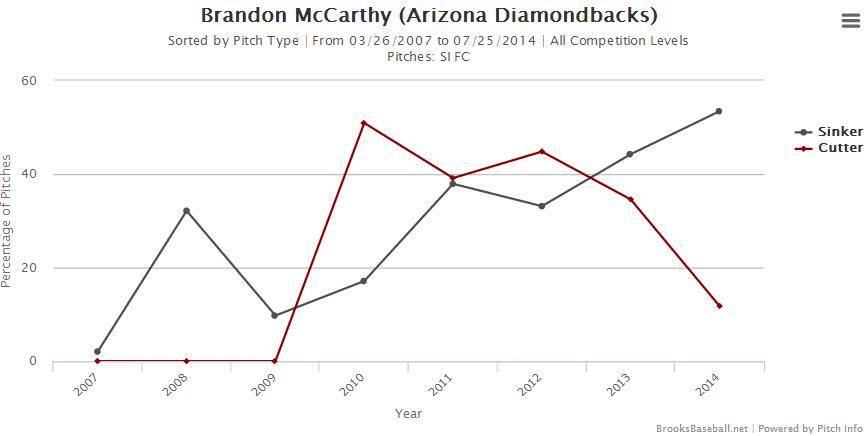 McCarthy went on to tell Harper why he likes using the cutter:
The difference, McCarthy said, was that the same hitters weren't able to simply look for his sinker... "It's hard to keep major league hitters off of just one pitch," he said. "The cutter neutralizes the inner half of the plate against lefthanders, and you can do things away to righthanders with it..." It kind of helps set up everything else and gives you some room to work."
From 2012 to 2013, McCarthy's cutter kept hitters at bay. He threw the pitch over 1,800 times and the league hit .233/.279/.345 against it. This season, McCarthy threw just 239 cutters while with Arizona and the league hit .231/.250/.446 against the pitch. One could extrapolate that with the decreased usage of the pitch, he was not as sharp with it and that along with the park factors of Chase Field led to the inflated slugging percentage. In short, it is weird how Arizona would ask a pitcher not to throw a pitch that has been a good one for him in the past. There has been talk of teams like Baltimore taking cutters away from young pitchers, but McCarthy is no kid. Perhaps this is why Arizona
has struggled so much
with developing pitchers.
Since coming to New York, the cutter is most definitely back in play for McCarthy.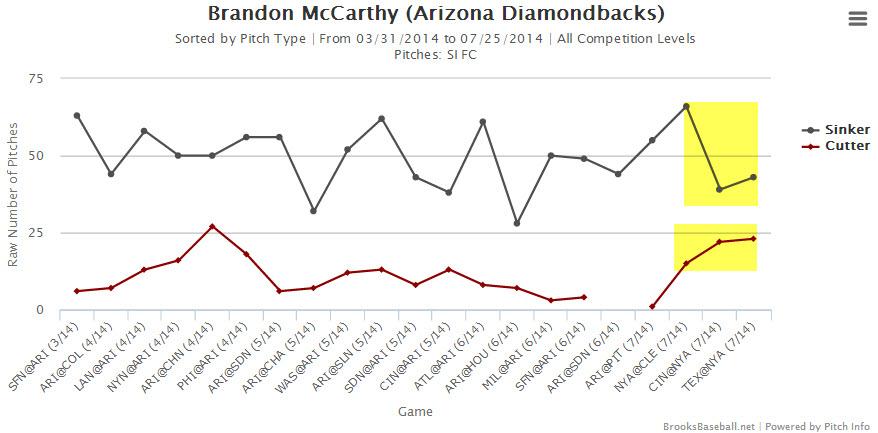 It also has not hurt that he has faced a cold-hitting Cleveland team, and the depleted lineups in Cincinnati and Texas. That said, this version of
Brandon McCarthy
is more rosterable than the one myself and others thought the Yankees were getting when they sent
Vidal Nuno
off to the desert. Chalk it up as a win for advanced scouting and metrics seeing what Arizona was apparently discouraging.