Rebound & Rant: Oh Happy Day!

Is the pain of losing a player to injury worth the joy of their return?

No, but early returns do feel like an extra day of Christmas. Who didn't enjoy Russell Westbrook's early November start? It's like hope for the hopeless. Second division fantasy teams, desperate for a reason to believe, clinging to "once this guy returns, all will be well" delusional prayers, suddenly think their problems are solved. Don't pee on their parade.

Well, speaking of delusional thoughts, let's dive into today's musings, shall we?

Davis is Back! Davis is Back! All Hail The Glorious Unibrow!
Oh happy day!!! Just as I was figuring out what a "non-displaced fracture in the hand" actually means, Anthony Davis returned to action last night after missing less than three weeks. Original forecasts had Davis missing four-to-six weeks. Activate him NOW. For those that don't think this is big news, kneel down at his game averages during his first 17 games of the season: 19 points, 10 rebounds, 1.7 steals, 50% field goal shooting, 82% free throw shooting and 3.4 glorious blocks. That's top-five production, folks.

Memphis Is in Trouble, but Jon Leuer Looks Good
Remember at the end of last year, when Marc Gasol was winning Defensive Player Of The Year and receiving accolades in Sports Illustrated and other places? Remember thinking "Hey, he's good, but he's not that good"? Well, now Gasol is out with a knee injury and the Grizzlies have been 3-9 without him, including their current five game losing streak. So, maybe the younger brother is MVP-like material. But since this is the feel-good addition of Rebound & Rant, let's look at the silver lining: Jon Leuer is playing really well as he gets a lot of Gasol's minutes. Seriously. The third-year veteran is getting 28 minutes per game over the last 10 contests, with averages of 14 points, 7.0 rebounds, and 1.3 threes while shooting 55% from the field. (Also, FYI, Gasol announced on his Twitter feed that he has shed his crutches.)

I Like Me Some DeMarre Carroll
Everyone in the RotoWire Keeper league knows I love DeMarre Carroll's surprisingly steady, productive play this season down in Atlanta. I've been accused of crossing the line into awkward mancrush land. Well, this is for you, Shannon...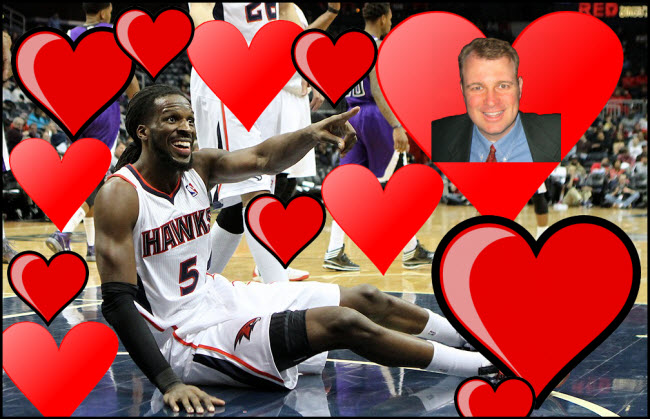 For Your Consideration: Trey Burke
Mr. Oladipo, Mr. MCW, let me introduce you to Trey Burke, the bonafide third horse in the Rookie Of the Year race. We showered praise on Mr. Burke in this column two weeks ago. Well, he's only gotten better, including showing up Oladipo Wednesday night in Orlando. Burke's line in Orlando: 30 points, 12-20 from the field, four treys, eight assists, seven rebounds and a rare Utah road win. Mr. Oladipo limped home with three points from 1-of-12 shooting. Hot shot rookies always have crazy highs and lows with dicey field goal percentages, but my money is on Burke to finish strong and steal the ROY. (Full confession: I picked Cody Zeller two weeks before the season started. Ugh.) Michael Carter-Williams, by the way, is supposed to return from his seven game absence (knee) on Friday night. Something tells me the wisely tanking Sixers might suggest MCW should take a few more breaks this season.

NY versus LA Hate
There has been a lot of hand wringing over the miserable Knicks and Nets the past few weeks. I agree that Brooklyn never should have hired Jason Kidd and obviously coach Mike Woodson is on thin ice. But, as is usual, NY hoops fans are over-reacting. The real major media market problem is the Lakers. They've lost all three of their point guards and now Kobe Bryant is out for six weeks. Kobe might be relieved – his point guard experiment (what choice did LA have, beat Chicago to D.J. Augustine?) wasn't going very well. And Pau Gasol is having a miserable season, blaming coach Mike D'Antoni's scheme for his lethargic play. Someone please tell Jack Nicholson to start jumping up and down on the panic button. We need him on that wall.

The New York teams will get better. Tyson Chandler is back, adding much needed defense. Sure, the Knicks also have injured point guards, but Raymond Felton and Pablo Prigioni should be back before Steve Nash and Steve Blake. And how much coaching do Deron Williams, Paul Pierce, Joe Johnson and Kevin Garnett really need? The Brooklyn vets will use this criticism to fuel a comeback in the atrocious East. Outside of Detroit, how many Eastern teams can guard Brook Lopez?

Isaiah Time
Much was made of Toronto's dumping of Rudy Gay on the suddenly gambling-big Kings. And you don't need me to add to all the Rudy Gay hate. Though you do need to look at this – that's a lot of red, even during the holidays. But the big news from the trade is that Isaiah Thomas has been given full control of the Sacramento offense. With Greivis Vasquez off to Toronto, Thomas should see 36+ minutes a night. In the five games since Vasquez's departure, Thomas has averaged 39 minutes, 22 points, six assists and 95% shooting from the charity stripe. Trade for him if you can.

Danny Green is Killing Me
OK, this column can't be all sunshine and rainbows. This is where I usually write "Paging Danny Green", but that doesn't express my full frustration. Is there a more annoying player in fantasy this year than Mr. Green? One night he's raining threes, grabbing steals, and generally producing sneaky efficient numbers. Then he'll hit a string of single-digit point clunkers. Coach Gregg Popovich finally had enough, removing Green from the starting lineup Wednesday night. How many messages does the former D-Leaguer need? Those super-hot games versus Miami in the Finals seem like a long time ago.

BONUS TRIVIA QUESTION: How many three pointers did Green make during last year's NBA Finals? Why does it matter?


Free Agent Pick-Ups?

Giannis Antetokounmpo (MIL): The Greek Freak is about to be a regular starter in Milwaukee. He does have some freakishly long arms (look here). 'Po is a nice source of steals, blocks, rebounds and general hustle. If he is somehow available, despite all the Bill Simmons love, grab him.

J.J. Barea (MIN): His minutes continue to climb as Alexey Shved continues to have shooting woes. He's averaged 21 minutes over the past four games.

D.J. Augustin (CHI): Hey, someone has to play point guard in Chicago and it isn't going to be Marquis Teague. I want to support Kirk Hinrich, but it's just too painful watching him over-dribble every time down the floor.

Jerryd Bayless (MEM): Jerryd is today's Deep League special. The pesky veteran is healthy, and the stagnant Memphis offense needs someone who can create his own shot. His stats should spike while Marc Gasol is out.

BONUS TRIVIA QUESTION ANSWER: Last summer, Danny Green broke the record for the total number of three pointers made during an NBA Championship Series. It took him only four games and three quarters to hit 23 treys and break Ray Allen's record (2008 vs the Lakers). He ended the Finals with 27 treys, but unfortunately couldn't get a rebound at the end of Game 6.