This article is part of our DFS College Basketball series.
Editor's Note (11/24): Updates are in progress following the postponement of Oregon vs. Eastern Washington, as well as the announcement that Utah State will no longer be accruing stats with its opponent changing to VCU.
It's been an incredibly rocky road getting here, but the season opener is finally upon us. While 110+ games were originally scheduled for Wednesday, Nov. 25, the DFS player pool has been narrowed down to 24 teams. The schedule is in a constant state of limbo due to COVID-19, however, so stay tuned to the RotoWire player news feed, or follow @RotoWireCBB on Twitter to keep up to date on the latest in cancellations and other injuries.
In terms of CBB DFS content in article format, we're going to try changing things up a bit in an effort to cover as many slates as possible, and give our content a longer shelf life. Last year, we wrote some drawn-out previews that might only make it a few hours before lineup lock. This season, we're going to keep it a bit more simple: 3 targets, 3 fades.
The discussion in these columns will focus largely on the DraftKings game, as they've made the best effort in terms of contest offerings and tend to have more reactive pricing than the competition. Nonetheless, we'll still include FanDuel salaries here for reference.
While these articles will hopefully be a good place to begin, the real value in the RotoWire College Basketball Subscription lies in its tools. We'll be making an official tutorial once the tools all populate with data, but here's a rundown of our most popular features.
DFS Lineup Optimizer: Here's your home base for lineup prep. Customize your player pools and generate up to 150 lineups for a given contest. Use the "filter" feature to identify value plays based on statistics (i.e. Want players projected for 20+ mpg with a 20% or higher usage rate for under $500? That can be accomplished here.)
Advanced Daily Lineups: Who's been starting for this team lately? Who's seeing the most usage? A player with a high salary may not be seeing the most run, and players with high usage could be underperforming. Use this page as a better predictor of future value.
Daily Matchup Info: This page is a great starting point for users looking for games to stack up, or high-paced games to attack. If a game has a high over/under and the opponents' pace is green, chances are you'd like to get a piece here.
Of course, the CBB DFS discussion doesn't stop here. Click here to join our RotoWire Discord server, where we'll provide updates beyond these articles and discuss other emerging value plays on the slate.
Finally, it's time to discuss the Wednesday season-opening slate (or what's left of it). Without further delay, let's take a look at some plays I like and dislike for opening night: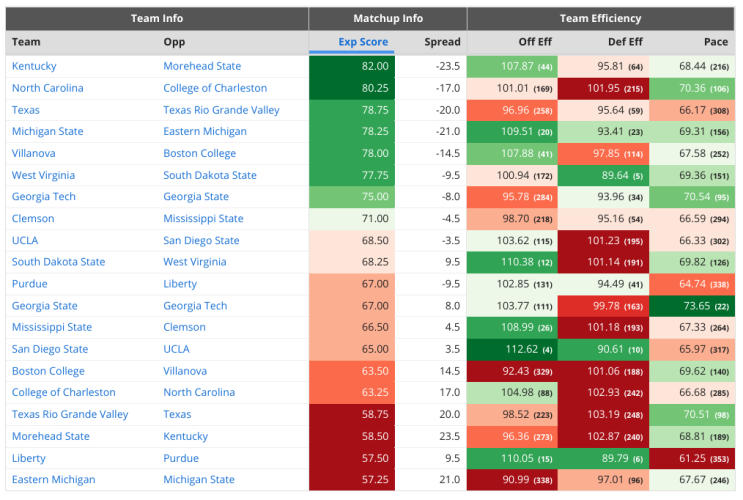 3 Targets
Early Slate
1. Charles Bassey, F, Western Kentucky ($5,400 DK)

Yes, he's coming off a massive injury, as his season was cut short last year after just 10 games due to a tibial plateau factor. Yes, he gets a Huskies team that is projected by KenPom to finish No. 325 in the country in tempo rating. However, these are all risks I'm willing to accept in order to roster a NBA-caliber talent who wouldn't be here right now if it weren't for the injury. Bassey put up 14.6 points and 10.0 rebounds his freshman year, and was on his way to an even better scoring year his follow-up campaign. Nobody on the NIU roster is listed at more than 6-foot-9, while Bassey checks in at 6-11. NIU had solid rebounding numbers last year, but I'm not looking too far into the matchup. I'd roster Bassey at $5,400 even if he were playing Kentucky, Gonzaga or Baylor.
2. Daeqwon Plowden, G, Bowling Green ($4,900 DK)

Plowden can be played at the guard spot on DraftKings, but he's really a 6-6 wing that rebounds like a forward (8.5 rpg last year). He's not too shabby on the offensive end, either, as he led all regular starters in offensive rating in 2019-20. Michigan is no pushover, but under Juwan Howard's leadership, the Wolverines have doubled their national ranking in adjusted tempo. Michigan is also without last year's leading rebounder, Jon Teske. Note: Some will look to Justin Turner ($5,300), but he'll need to score for a big fantasy day. Plowden is less scoring-dependent and can rack up his fantasy points doing the dirty work.
3. Isaiah Livers, F, Michigan ($8,300 DK)

Livers was a DFS darling in 2019-20 after coming back from injury and posting a few big fantasy days down the stretch. He's a double-digit scorer and 40-plus percent three-point shooter, plus can be effective on the glass when called upon. Both Jon Teske and Austin Davis have graduated, so it will be up to Livers – along with help from Franz Wagner and Brandon Johns – to clean up the rebounds. This game has the highest-listed over/under (149) on the morning slate, so there will be plenty of possessions to be had on both sides. I'm not confident enough in either $7k+ guards here, and Wagner seems a shade too high. Livers, on the other hand, is priced just right.

Main Slate
Editor's Note: We had originally picked out Neemias Queta (Utah State) and Kim Aiken (Eastern Washington), but Oregon vs. Eastern Washington has been postponed due to COVID-related reasons, and Utah State players will apparently not accrue points in their new matchup against VCU (they were originally scheduled to play Wichita State, who had to drop out due to COVID-related reasons).
1. Oscar Tshiebwe, F, West Virginia ($8,100 DK)

Both Tshiebwe and Derek Culver ($7,700 DK) should eat, but while we know what we're getting from Culver, Tshiebwe arguably hasn't reached his ceiling yet. He only needed 23.1 mpg to average nearly a double-double with 11.2 points and 9.3 rebounds, and is West Virginia's leading returnee in offensive rating. The matchup here works too. The Mountaineers have the fifth-highest implied win total on the main slate as of Tuesday evening, and will be facing a Jackrabbits team that finished No. 241 in KenPom's defensive efficiency rating last season.
2. Joey Hauser, F, Michigan State ($6,600 DK)

People tend to forget that Joey was once regarded as "the better" of the two Hauser brothers before suffering a knee injury in high school. While he trailed behind Sam Hauser in production while the two were at Marquette, he's fresh off a year on the sidelines and will be lacing up for a Michigan State team that just lost Xavier Tillman. The MSU frontcourt has had a bunch of moving parts for a while, but Hauser should help bring some consistency.
3. Brevin Galloway, G, Charleston ($4,500 DK, $6,000 FD)

No College of Charleston player is priced above $4,500 on DraftKings, as it's a tough program to project after three key seniors from last year's squad have departed. Galloway is the leading returning scorer (11.3 ppg), and he'll be tasked with making up a big part of Grant Riller's 21.9 ppg average. It won't come easy, but UNC is still a top-50 team in projected pace, and KenPom still projects Charleston to score 61 points. They have to come from somewhere. This is also a case where you use FanDuel's pricing to help determine the best player on DraftKings, though I don't really care to roster Charleston players over on FanDuel.
Bonus: Isaiah Thompson, G, Purdue ($5,400 DK)

Thompson and the Boilermakers also won't be getting any pace boosts here, but the key to this recommendation is the fact Eric Hunter (knee) is out indefinitely. Someone has to run point for Purdue. There have been reports of Jaden Ivey ($4,800 DK) running it in practice, and he's definitely an option if your appetite for risk is higher. But why not take the slightly more proven commodity? Sasha Stefanovic ($7,000 DK) also gets in the conversation, though he can be a lot more streaky.
FanDuel Special
Since the initial publication, FanDuel has withdrawn and re-added its Wednesday CBB slate. At first glance, my favorite plays there are Caleb Love and Josh Christopher, both at $5,200. Love – a five-star recruit ranked No. 18 in the class by ESPN – is set to serve as the starting point guard for the Tar Heels. The opportunities aren't quite as clearly laid out for Christopher since he has Remy Martin handling point guard duties, but he's another five-star freshman (ranked No. 11) that has received tons of praise in camp. Other FanDuel options I'm strongly considering include Wynston Tabbs ($5,800), Nathan Mensah ($4,800) and Jeremiah Robinson-Earl ($6,500).
3 Fades
Early Slate
1. Any player from Maine/Virginia. One, Maine has been replaced by Towson, so similar to the situation that occurred with Utah State earlier in the week, neither team will accrue points. I mostly wanted to take this space to make one point: If you're new to college basketball DFS, the first commandment is to NEVER play anyone going up against Virginia. The Cavaliers are consistently among the highest-ranked defensive teams and slowest overall pace in the country, which almost always results in a floor game for opposing players.
2. Mike McGuirl, G, Kansas State ($7,500)

I guess I can understand why McGuirl is the highest-priced Wildcats player here, as he's the team's only senior and leading returning scorer (but that scoring number was just 6.9 ppg). He improved a bit towards the end of 2019-20, but this is a player who scored exactly zero points on three separate occasions last year, and two of those times he was in the starting five. There's no big recruiting pedigree here, either. Even though the matchup is much worse for Landers Nolley ($7,300), I've at least seen Nolley take over games while with Virginia Tech in 2019-20.
3. DeAndre Williams, F, Memphis ($4,700 DK)

Williams would normally jump off the page using any numbers-based algorithm here, but he's still awaiting a waiver from the NCAA and seems unlikely to play Wednesday. DeQuan Jeffries ($8,500) and Landers Nolley ($7,300) should pick up any slack.
Main Slate
1. Matt Coleman, G, Texas ($9,100 DK)

This was a price I didn't understand upon opening up, and the price even went up $100 following the removal of Arizona State (read: Remy Martin) from the player pool. Sure, Coleman is the primary ball handler on a team KenPom projects to score 79 points. But in his last 10 games of the 2020-21 season, the now-senior maxed out at 31.25 DK points and was in single digits twice. This is really a slate to focus on the mid-tier options, so there's no need to spend up here.
2. Rocket Watts, G, Michigan State ($8,400 DK)

He's priced like Cassius Winston, but he's not Cassius Winston. IF Watts emerges as the full-time point guard, there's a chance he can live up to this price tag. Potentially standing in his way are Foster Loyer and A.J. Hoggard (knee), and while I can't recommend either of them without seeing MSU in action for at least a game, I'd rather wait and see how this plays out than roll the dice with Watts at this price. Furthermore, Watts has a slower-paced opponent and some blowout potential working against him. If you absolutely must get a piece of MSU, Joey Hauser ($6,600 DK) is the way to go. He was a key contributor at Marquette before sitting out last year due to transfer rules, but he's been in the system, practicing with the team all of last year.
3. Devin Askew, G, Kentucky ($7,900 DK)

I'm a little puzzled at how we arrived at this price when a higher-ranked and seemingly more dynamic B.J. Boston sits at $7,200. We know John Calipari doesn't hesitate to rotate his point guards, and there's a perfectly capable veteran backup in Davion Mintz ($4,500) on hand if needed. I spent hours looking for a beat writer angle here, but all I can find is that Askew and Mintz are competing for the job. Similar to the MSU situation, I'd rather wait and see how things play out than pay up for the big-hype player on opening night.
The author(s) of this article may play in daily fantasy contests including – but not limited to – games that they have provided recommendations or advice on in this article. In the course of playing in these games using their personal accounts, it's possible that they will use players in their lineups or other strategies that differ from the recommendations they have provided above. The recommendations in this article do not necessarily reflect the views of RotoWire. Jake Letarski plays in daily fantasy contests using the following accounts: FanDuel: rotojakeski, DraftKings: RotoJakeSki.