This article is part of our DFS College Basketball series.
As one might expect, our last Tuesday slate of the regular season features a large offering, with eight games offered on both sites. The matchup with the highest over/under is Auburn-Alabama, an ideal starting point for filling out your lineup.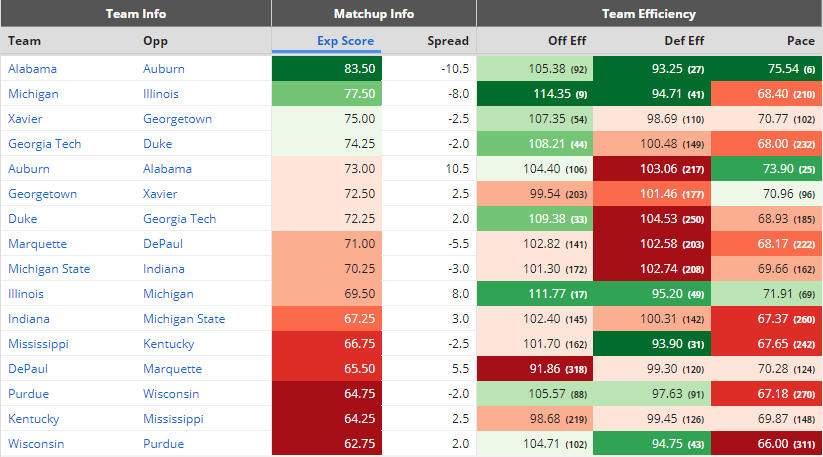 Targets
Herb Jones, G/F, Alabama ($6,900 DK, $6,400 FD)

Jones does it all. He leads the team in rebounds, steals, and blocks, and he also has the eighth highest assist rate in the SEC since conference season started. Alabama uses a balanced attack on offense, so picking the right player on the right night can be tricky, but we can always count on Jones to stay involved in the game, even when he's not scoring.
Mike Smith, G, Michigan ($5,200 DK, $4,700 FD)

Michigan is still scorching hot, its flame burning bright. Seems like it's hard to miss with any of the Wolverines the way they're playing these days. Illinois has an elite defense, but it's worth noting that it's been significantly more vulnerable against three-point shooting this season. Point guard Mike Smith has established himself as one of the most efficient shooters in the country, having made 48 percent of his shots from behind the arc this season.
Paul Scruggs, G, Xavier ($8,700 DK, $7,700 FD)

Georgetown has the third-worst defense in the Big East, so Xavier has a chance to put up a ton of points tonight. Senior point guard Paul Scruggs should play a central role as he leads the team in both usage rate and minutes, in addition to having the second-highest assist rate in the Big East since conference season started. He also has an extra edge in this matchup because Georgetown's offense is one of the worst in the country in terms of allowing steals. Scruggs has the 12th-highest steal rate in the Big East during conference play.
FanDuel Exclusive
Mac McClung, G, Texas Tech ($6,300)

We only have four exclusive teams today, and the Red Raiders figure to score the most points among the group. TCU's defense has the worst-ranked defensive efficiency in the Big 12, giving Texas Tech a highly favorable matchup. Mac McClung leads the team in both usage rate and minutes, a potent combination when it comes to DFS points.
Fades
D'Mitrik Trice, G, Wisconsin ($7,000 DK, $6,800 FD)

KenPom is expecting the Badgers to score just 63 points today, tied for the fewest points for any team in the common pool of games. This will likely be a slow, methodical, and physical game – a textbook Big Ten contest. Given this forecast, Trice's salary makes it difficult to pick him, especially with so many other options on the board. If I were intent on fading Purdue, I'd rather take a chance on Potter as he has the highest usage rate on the team while also boasting the highest offensive efficiency rating among relevant Badgers.
Keion Brooks Jr., F, Kentucky ($6,000 DK, $5,900 FD)

Similar to Wisconsin, KenPom has Kentucky scoring just 63 points today. This can be explained by Mississippi's defense, ranked No. 24 in the country in terms of adjusted efficiency. The Wildcats have struggled offensively for much of the season, so there aren't many promising options in this situation. Brooks, in particular, has been inconsistent this season and has displayed both a low floor and a high ceiling. All in all, not a great situation for rolling the dice.
Race Thompson, F, Indiana ($6,400 DK, $5,800 FD)

Here we have another Big Ten game featuring two desperate, defensive-oriented teams. Should be another grinder. Neither team is expected to crack 70 points, so this one is risky when it comes to DFS. Thompson doesn't have a high usage rate, so I'm not sure he'll be able to do enough to provide any value. The better, obvious option for fading the Spartans is Trayce Jackson-Davis, who scored 34 points in the first contest between these two teams.
The author(s) of this article may play in daily fantasy contests including – but not limited to – games that they have provided recommendations or advice on in this article. In the course of playing in these games using their personal accounts, it's possible that they will use players in their lineups or other strategies that differ from the recommendations they have provided above. The recommendations in this article do not necessarily reflect the views of RotoWire. Steve Peralta plays in daily fantasy contests using the following accounts: FanDuel: Buddusky, DraftKings: Buddusky24.