This article is part of our DFS College Basketball series.
The biggest weekday for college basketball is again upon us, which also means the opportunity to capitalize on larger prize pools. DraftKings is putting up $5k for first place in the $15 Pull Up Jumper, while FanDuel offers $1k to first in it's $9 All-American. Let's take a look at the day's implied totals before jumping into specific recommendations.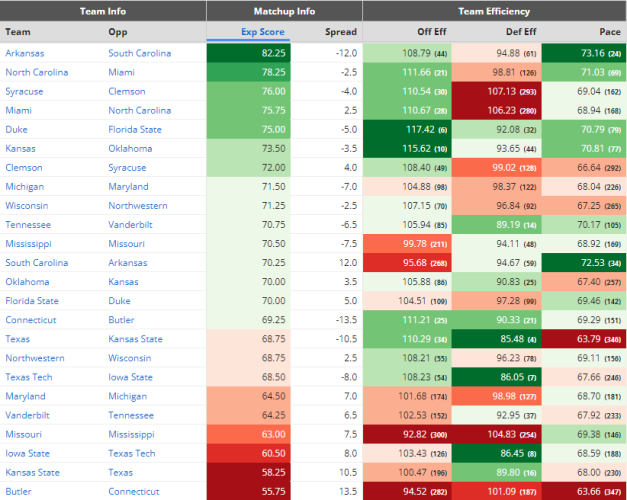 Top Players

Armando Bacot, F, UNC ($9,000 DK)
The Tar Heels are going against one of the worst defenses in the ACC, but more importantly, their facing arguably the worst rebounding team in the conference. Miami currently ranks in the bottom 20 percent of the country in both offensive and defensive rebounding rates, so North Carolina's frontcourt players have a major advantage heading into the game. Armando Bacot checks all the boxes in this one. He has the highest usage rate on the team, the highest offensive efficiency rating, the most blocks, the best two-point field goal percentage, and last but not least, he also leads the team in rebounds, by a mile. And if that's not enough, Bacot has been scoring hot lately, putting up 21-plus points and 12-plus rebounds in three straight games. It's hard not to imagine Bacot not having an impressive game today.

JD Notae, G, Arkansas ($8,200 DK)
Arkansas is projected to score almost 80 points today, and JD Notae is a safe bet to score a significant chunk of it. Through four conference games this season, Notate is taking 35 percent of his team's shots when on the court, the highest rate in the SEC. Given this usage rate, it comes as no surprise that Notate has scored in double figures in every game this season and is currently averaging over 21 points per game through four SEC contests this season. Considering the point total projections for this game, it's a good bet Notae will likely improve his average scoring after today.
Middle Tier

Umoja Gibson, G, Oklahoma ($6,300 DK)
The Kansas defense is no pushover, but it's actually the lowest-ranked defense, in terms of KenPom's adjusted efficiency ratings, that Oklahoma has played since New Year's Day. Coming off tough road games against the likes of Baylor, Texas and even TCU, Oklahoma's offense should feel a little more comfortable at home today, facing off against a high-scoring Kansas team that prefers pushing the pace. Umoja Gibson leads the team in points and steals this season, so he's an interesting candidate if you're looking to fade Kansas' defense. Gibson had a couple of sub-par outings in his last two games on the road, but he scored 20 points against a tough Iowa State defense in Oklahoma's most recent home game, so I'm trusting Gibson will return to form for a home game against a notable opponent.

Andrew Jones, G, Texas ($5,800 DK)
Andrew Jones has been playing at a higher gear since conference season tipped off. Through four Big 12 games this season, Jones is averaging 16 points, five rebounds and one steal per game. Add it all up and we should have a solid floor in today's contest, at the very least. Jones is currently taking about 25 percent of his team's shots when he's on the court, the second-highest rate on the team among Longhorn starters, so we can expect his scoring output to continue.
Value Plays

Isaiah Whaley, F, Connecticut ($5,200 DK)
Butler is an offensively challenged team, and it's significantly bad at having its shots blocked. This is great news for UConn, because the Huskies currently have the fifth-best shot-blocking rate in the country, per KenPom. Isaiah Whaley leads the Huskies in blocks, which is hardly surprising because Whaley posted the second-best shot-blocking rate among all Big East players during conference play in each of the last two seasons. Whaley has recorded a couple of games this season with five blocks and, based on today's matchup, there's a reasonable chance he'll have another one after today. Whaley might not score as many points as other frontcourt players, but he still has a good chance at providing value in this contest thanks to his other noteworthy abilities.

Steven Crowl, F, Wisconsin ($5,000 DK)
The sophomore center recently had a career game against Illinois State back on Dec. 29, recording 21 points and 10 rebounds, and he has since established a solid floor for himself. He's scored nine-plus points in three straight games, while also putting up six-plus combined rebounds and assists in the same span of games. Crowl is currently taking 20 percent of his team's shots when on the court, so he's staying involved offensively even with other notable scorers on the Badgers.
The author(s) of this article may play in daily fantasy contests including – but not limited to – games that they have provided recommendations or advice on in this article. In the course of playing in these games using their personal accounts, it's possible that they will use players in their lineups or other strategies that differ from the recommendations they have provided above. The recommendations in this article do not necessarily reflect the views of RotoWire. Steve Peralta plays in daily fantasy contests using the following accounts: FanDuel: Buddusky, DraftKings: Buddusky24.