This article is part of our CFB All-Decade Team series.
With the 2010s wrapping up and the 2020s almost here, we at Rotowire wanted to take a look back at the decade that was and the players that made it special. Here in the college football section, we'll be taking a look at the Top 10 players at quarterback, running back, and receiver as the decade comes to a close. As for the formatting, I opted to write about one player from each season who made his mark in the fantasy landscape and beyond. I then ordered them starting with the best and worked my way down from there.
When you see a blurb below, I want it to make you remember where you were and who you were with when you saw Lamar Jackson dice up Syracuse or Johnny Manziel topple Goliath in Tuscaloosa, for example. Each write-up includes a look at each player's most iconic game from that season, whether it was from a fantasy perspective or a real-life one, like Cam Newton's performance in the Iron Bowl.
And, selfishly, this was a fun project that allowed me to look back at some of the most fun highlight footage on the internet and cut up GIFs. It also let me dig back in the archives and appreciate how truly ridiculous some of the statistical outputs from these quarterbacks were. And, of course, these type of listicles open the floor up for debate so don't be shy in letting me know if I had a glaring omission.
Jackson's takeover of the NFL this season has produced its own library of highlights, but let's not forget what he was doing at Louisville during his 2016 Heisman season. The man threw for 3,543 yards and 30 touchdowns and ran for 1,571 yards and 21 touchdowns on top of that. By my count, that's the single greatest fantasy season of the last decade by any player regardless of position.
Seriously, how many people can you embarrass on a goal line carry? Sheesh. And then...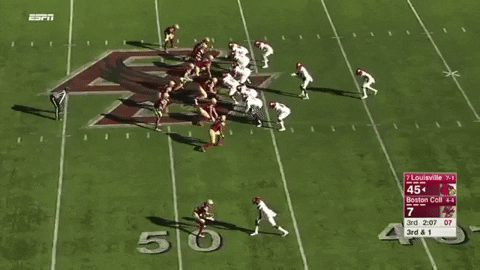 No.9 or No.5 might have had an angle. And then they didn't.
The Game: At Syracuse, Sept. 9th
Jackson opened the season with eight total touchdowns against Charlotte but it was his Friday night game at Syracuse that truly launched his Heisman campaign. He threw for 411 yards and a touchdown and added 199 yards and four touchdowns on the ground while making Orange defenders looking foolish at every stop along the way.
You knew it was on from the first play from scrimmage, a 73-yard touchdown pass.
And it didn't stop from there.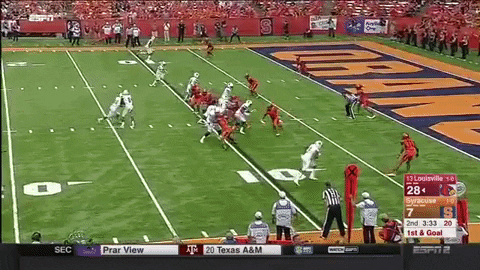 That was a night where you could tell that what you were watching was the beginning of something truly special.
Marcus Mariota, Oregon (2014)
Mariota's pro career might cloud our memory of what he was in college as his run with the Titans has made it easy to forget just how dominant he was at Oregon, particularly in his Heisman season. He accounted for 58 total touchdowns that year (42 passing, 15 rushing, 1 receiving) and 5,224 total yards en route to taking Oregon to the national championship game. Those 58 scores represent the most total touchdowns in a season for the entire decade.
The Game: PAC-12 Championship vs. Arizona, Dec. 5
Mariota absolutely rose to the occasion in a rematch against an Arizona team that dealt Oregon its only loss earlier in the season. He was surgical through the air, completing 25 of 38 passes for 313 yards and two touchdowns while adding three rushing scores to send Oregon to the College Football Playoff.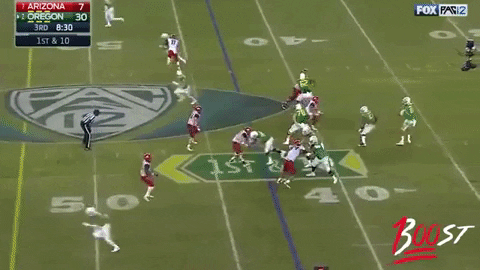 Cam Newton, Auburn (2010)
When I think of sheer dominance on the football field, I think of Cam Newton at Auburn. The route he took to get there is maybe the greatest gift ever given to college message boards, but when it came to Cam on the field, no one was better. We don't get to see true Man Among Boys optics every year, especially in the SEC, but that was Cam. Look at this poor Arkansas linebacker.
In the end, Newton racked up 51 total touchdowns (30 passing, 20 rushing, 1 receiving) en route to an undefeated national championship run that netted him a Heisman Trophy.
The Game: At Alabama, Nov. 26
It was far from Newton's gaudiest stat line but it was his most memorable game, the one that etched him into our minds forever. Leading Auburn back from a 24-point deficit, Newton threw for three touchdowns and rushed for another.
In terms of sheer fantasy dominance, there's a three-game stretch from October when he terrorized Kentucky, Arkansas, and LSU in consecutive weeks. His total stats from that stretch are listed below.
Rushing
Passing
Year
Team
G
Att
Yds
Avg
TD
Cmp
Att
Pct
Yds
TD
Int
Rate
2010-2010
Auburn
3
81
603
7.4
9
33
51
64.7
436
1
1
139.1
Newton's dominant rushing ability coupled with his ability to hit big plays in the passing game made for one of the most memorable college seasons ever, both in real-life and in fantasy.
2018 was a rich year for quarterback play. We had Kyler Murray and Dwayne Haskins establishing themselves as elite fantasy assets in their first seasons as starters, and we had King electrifying the AAC. King played in just 11 games that year due to a torn meniscus suffered in mid-November, but he still finished in third among quarterbacks in total fantasy points, with Haskins and Murray playing to more games than him. In terms of fantasy points per game, King was top dog, averaging 40.5 PPG. He did that by accounting for 36 passing scores and 14 rushing scores and racking up 3,656 total yards. Having King was basically a cheat code that season.
The Game: South Florida, Oct. 27
551 total yards. Seven total touchdowns. 67.4 fantasy points. And that might not even do it justice. I mean, look at him uncork that dime.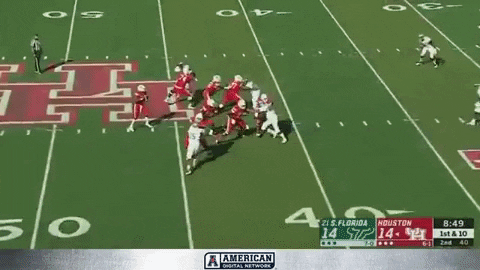 And then there's this: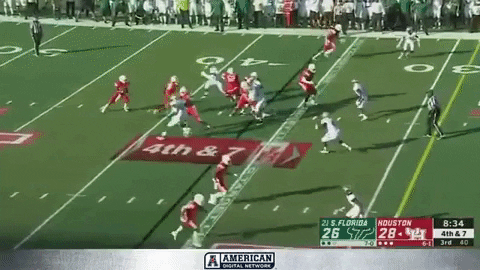 That spin move...what?!
King went on to lead Houston to a resounding 57-36 win over the 21st-ranked Bulls in what was arguably the best single-game performance of the season.
Johnny Manziel, Texas A&M (2012)
Johnny Football. Say what you will about his life after A&M, the man was appointment television during his time in Aggieland, especially in his 2012 Heisman season. Cocky, electric and creative, Manziel brought a unique energy to the game and it translated into one of the greatest fantasy seasons of the decade. He is one of five quarterbacks to post over 500 fantasy points in a season since 2010, joining Lamar Jackson (2x), Jordan Lynch (2x), Marcus Mariota and Kyler Murray. He did so by racking up 5,116 total yards and 47 total touchdowns. Jackson and Cam Newton are the only other quarterbacks this decade to throw for at least 25 touchdowns and run for at least 20 in a single season.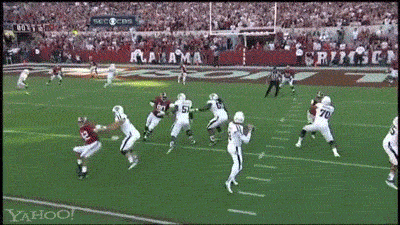 The Game: vs. Arkansas, Sept. 29
Manziel had gone off against SMU and South Carolina State, but we hadn't seen him have success against SEC competition just yet. Then he goes ahead and torches the Razorbacks for 453 yards and three scores through the air on top of 104 yards and a touchdown on the ground.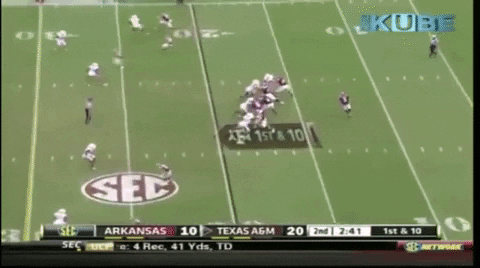 In other words, Johnny Football was sending a message to the rest of college football as to what was coming next. The story of football in this decade can't be written without Manziel's 2012 being included.
There's a lot to choose from this year, but I'd say Hurts' transformation into a true force of nature at Oklahoma was the fantasy storyline of 2019. This isn't a slight against Joe Burrow, and he'll have a Heisman Trophy to cry into if this pick upsets him.
Hurts was a true test case for the Lincoln Riley offense. We had three seasons worth of sample from Hurts' Alabama days to have an idea of who he was as a quarterback -- an athletic weapon with some tools to work with as a passer, but one who rarely showed the aggressive downfield tendencies that have marked recent Oklahoma quarterbacks under Riley. He averaged 7.6 YPA during his two years as a starter for the Tide to go with a modest 61.9 percent completion rate. At Oklahoma? That's a different story.
Hurts became an even more devastating rusher while also turning into one of the nation's most dangerous passers, averaging an FBS-best 11.76 YPA. He accounted for 50 total touchdowns, threw for 3,634 yards and also led all non-option quarterbacks in rushing with 1,255 yards. en route to getting Oklahoma back into the playoff for the third-straight year.
The Game: Houston, Sept. 1
"Allow me to reintroduce myself..."
Hurts did it all in a standalone nationally televised game, showing total mastery of the Oklahoma offense as he put the entire country on notice. He completed 20 of 23 passes for 332 yards and three touchdowns through the air and added 176 yards and three scores on the ground against the Cougs, which was good enough for 65.9 DraftKings points. He went on to become Oklahoma's third straight quarterback to go to New York as a Heisman finalist.
Jordan Lynch, Northern Illinois (2013)
You know you're doing something extraordinary when you lead Northern Illinois team to back-to-back 12-win seasons and that's what Lynch did in 2012 and 2013. His 2013 effort gets the edge here because the fantasy production was second only to Lamar Jackson's 2016 in terms of points. He accounted for 47 total touchdowns, 23 of which came on the ground. Those 23 scores are tied for the second-most by a non-option quarterback this decade, checking in behind Collin Klein's 27 in 2011.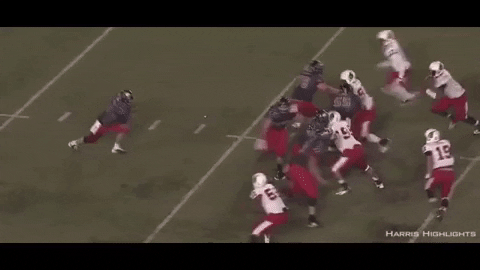 That almost looked like that Planet Earth video that went viral a couple years back where the lizard escaped from a den of snakes.
Derek Carr was a close second for that year as he threw a decade-best 50 touchdown passes.
The Game: At Western Michigan, Nov. 26
This was the final game of the regular season and Northern Illinois' chance to go undefeated heading into the MAC Championship. Lynch answered the bell, turning in his second 300-rushing-yard effort of the year. He finished the day with 321 rushing yards and three touchdowns to go with 39 passing yards and a touchdown. Lynch actually had better fantasy production earlier in the season against Central Michigan, but the stakes in this one give the outing against Western Michigan the edge.
Greg Ward, Houston (2015)
2015 was a tough year to parse as Ward was peers with Patrick Mahomes, Deshaun Watson, Keenan Reynolds, and Quinton Flowers among fantasy royalty. What was amazing about Ward was how consistently dominant he was as he seemingly shouldered the load for the entire Houston offense that ultimately took the bark off of Florida State in the Peach Bowl. Maybe there's some nostalgia baked in because it was my first year working up here at Rotowire HQ, and I distinctly remember hanging with Mario Puig and James Anderson talking about how many lineups we were going to build around Ward. But there's also extremely legit production to point to as well. Ward completed 67 percent of his passes with an 8.2 YPA for 2,827 yards and 17 touchdowns while also racking up 1,114 yards and 21 scores on the ground.
The Game: At Tulsa, Oct. 8
Ward may not have thrown a touchdown in this game, but he still managed to throw for 273 yards on top of shredding the Golden Hurricane for 182 yards and three scores. Part of Ward's brilliance was how easy he made everything look. This is a play where he beats several defenders around the edge then loses a cornerback on his way to the end zone and yet it never felt like he was in danger of being caught.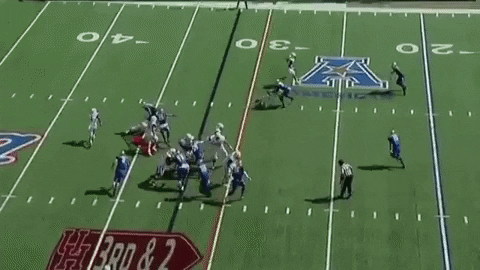 Going back to the MAC here, Rourke was not only one of the best fantasy quarterbacks of 2017, he was the biggest surprise. A native Canadian playing in his first year at the FBS level, Rourke showed that he was up to the challenge as he won the job over incumbent Quinton Maxwell and took over the conference.
He finished the year with 21 rushing touchdowns and 912 rushing yards on top of throwing for 2,203 yards and 17 scores. Rourke even caught a touchdown, too.
The Game: Vs. Miami of Ohio, Oct. 31
First of all, look how lit the Halloween atmosphere was up in Athens that night.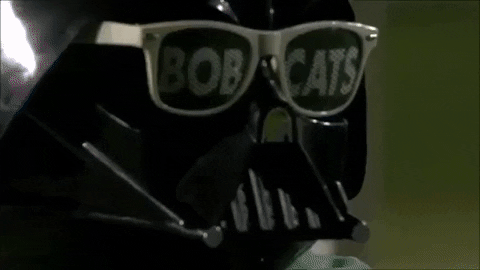 But back to Rourke: Three touchdown passes. Three rushing scores. 348 total yards and a resounding 45-28 victory over the Redhawks. It was the fourth time that season that Rourke racked up three rushing scores. And that's not to undersell his passing, either. Just look at this dime below.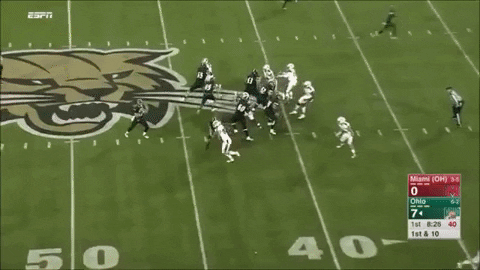 This game was a microcosm of Rourke's 2017. Powerful, effective running with enough passing ability to be a true dual threat.
Collin Klein, Kansas State (2011)
Like Jordan Lynch after him, Klein was the ultimate fantasy asset during his peak because he gave you the production of a top-end running back with just enough passing production to edge him out over the stud option quarterbacks. Klein was a bulldozer, and his 2011 serves as proof. 27 rushing touchdowns and 1,141 rushing yards topped off with 13 passing touchdowns and 1,918 yards. The overall yardage output isn't as gaudy as some others on the list, but does that really matter when he's banking 27 rushing scores and 40 total touchdowns? I say no.
Chandler Harnish of Northern Illinois and his 1,000-rush-yard,3,000-pass-yard combo and Case Keenum's 5,631-yard, 48-touchdown effort made them both worthy candidates, but Klein's absurd rushing touchdown volume gave him the edge here.
The Game: vs. Texas A&M, Nov. 12
Klein bid farewell to Texas A&M's Big 12 days with a cool six-touchdown outing in a four-overtime victory over the Aggies. He ran for five scores and added 281 yards and a touchdown through the air to snap a two-game losing skid.
This run in overtime was his most impressive on the day and showed the sort of back-breaking ability he posed if a defense didn't properly account for his rushing threat.