This article is part of our Team Previews series.
Miami Dolphins

Whoever starts off 2020 under center for the Dolphins should benefit from a bolstered offense. Top targets DeVante Parker and Mike Gesicki will be joined by a healthy Preston Williams, in addition to running back upgrades Jordan Howard and Matt Breida, plus a revamped offensive line.
Offseason Moves
Key Acquisitions
Unquestionable talent but comes with a concerning injury history.
Built for short-yardage and has a proven history of carrying the load.
The 5-11, 190-pounder brings the lightning to Howard's thunder.
Now the highest-paid cornerback in the NFL and set to lead Miami's secondary.
Though raw, he has the tools to become a future star.
Could serve as a safety/cornerback hybrid in the team's revamped defense.
The former New England standout reunites with coach Brian Flores.
Key Losses
The 10-year starter's departure leaves a hole at safety.
A Look Under the Hood
Head Coach: Brian Flores (Year 2)
Offensive Coordinator: Chan Gailey (Year 1) - Erhardt-Perkins scheme
Defensive Coordinator: Josh Boyer (Year 1) - 4-3 scheme
2020 Vegas Projected Wins: 6 (28th)
2019 Record: 5-11
2019 Points Scored: 306 (25th)
2019 Points Allowed: 494 (32nd)
2019 Point Differential: -188 (32nd)
2019 Run-Play Rate: 34.2 percent (31st)
2019 Situation-Neutral Pace: 30.24 seconds per play (13th)
2019 Offensive Snaps: 1,022 (11th)
2019 PFF O-Line Ranking: No. 32
Projected 2020 Depth Chart
QB: Ryan Fitzpatrick / Tua Tagovailoa / Josh Rosen
RB: Jordan Howard / Matt Breida / Patrick Laird / Kalen Ballage
WR1: DeVante Parker / Jakeem Grant
WR2: Preston Williams / Allen Hurns
WR3: Albert Wilson / Isaiah Ford
TE: Mike Gesicki / Durham Smythe
O-Line: LT Austin Jackson / LG Ereck Flowers / C Ted Karras / RG Shaq Calhoun / RT Robert Hunt (RotoWire Rank: No. 32)
Kicker: Jason Sanders
Top Storylines
The Tagovailoa Timetable
Tua Tagovailoa, the much-hyped fifth overall pick in the 2020 NFL Draft, represents the future of Miami's franchise, but his immediate prospects remain murky. The Alabama product still is rehabbing from a serious hip injury that he suffered last November, and much has been made of the uncertainty surrounding his recovery, as well as the Dolphins' inability to have him visit with their medical staffers.
That said, the team obviously believes that the QB's health won't inhibit his ability to suit up under center down the road. The only question is when? Considering that Tagovailoa's concerning injury history goes beyond the hip issue and includes previous surgeries on both ankles, it may behoove the team to ease him on to the field.
As such, Ryan Fitzpatrick could be the early favorite to helm the offense out of the gate, even if only as a placeholder for Tagovailoa. The 37-year-old Fitzpatrick overcame the limitations of a barren roster down the stretch in 2019, leading Miami to five wins (including a Week 17 upset win over New England) after a 0-8 start.
The veteran did so via lethal connections with DeVante Parker, Mike Gesicki and Preston Williams, so there's reason to hope he's capable of effectively guiding the offense through early growing pains, allowing the team to build up chemistry in time for his successor's eventual arrival.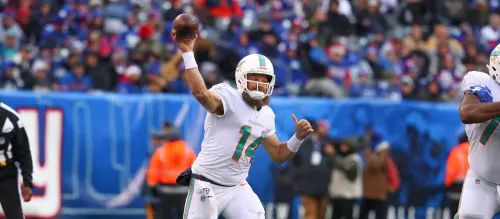 How long will Ryan Fitzpatrick direct the offense? That is the question.
Drafting the Future
Miami barreled toward the future with 14 picks in the 2020 NFL Draft, most notably selecting Tua Tagovailoa fifth overall. The team followed that up by nabbing left tackle Austin Jackson in the No. 18 slot. His standout athleticism and projected upside should compensate for the time he'll likely take to develop.
Cornerback Noah Igbinoghene, the team's final first-round choice, boasts enough versatility to potentially earn a Week 1 role, despite Byron Jones and Xavien Howard already having claimed both starting cornerback spots. Should Igbinoghene ultimately play a hybrid safety role, he could return sleeper IDP value.
Miami's remaining selections – notably defensive tackle Raekwon Davis, safety Brandon Jones and guards Robert Hunt and Solomon Kindley – continued to follow a clear pattern. They're players whose collegiate film demonstrates a safe floor and tangible ceiling, though they may require time to transition to the NFL level.
The proposition is a risky one, as payoff from this draft may not come in full until two to three years down the line, and regimes in the NFL don't often get the benefit of multi-year tenures without showing immediate results, or at least improvement. Ultimately, it'll once again fall to coach Brian Flores to maximize the talents of his roster, just as he did down the stretch last season.
In Flores We Trust
After a rough opening to his inaugural campaign in Miami, coach Brian Flores ultimately managed to get the most out of a talent-deficient roster, wringing five wins out of what looked like a hopeless situation.
The team's brass continued to build on that momentum via the draft and free agency, though the selections of an injured franchise QB candidate along with multiple developmental options who may not start right away could pave the way for another rocky start.
To Flores' credit, however, there's legitimate reason for some optimism that early road bumps might be avoided. He's already demonstrated an ability to maximize his players' abilities and implement schemes that cover up weaknesses.
Meanwhile, the offseason acquisition of cornerback Byron Jones stands to immediately shore up one of the team's biggest deficiencies on defense. On offense, the aerial attack will benefit from DeVante Parker, Mike Gesicki and Preston Williams having another year to build chemistry, while the team's ground game – which averaged a league-low 72.3 yards per game in 2019 – gets a much-needed makeover in the form of veteran additions Jordan Howard and Matt Breida.
The offensive line, perhaps last year's largest area of need, replaces four of five starters with clear upgrades, though left guard Ereck Flowers and center Ted Karras aren't necessarily high-end options.
Barometer
⬆️ Rising: TE Mike Gesicki
The tight end took a huge step forward in his sophomore season, and a bit more development could make the ultra-athletic Gesicki his team's best red-zone weapon. He'll offer intriguing upside as a mid-to-late round option in fantasy drafts.
⬇️ Falling: QB Ryan Fitzpatrick
Fitzpatrick is well-positioned for success if he starts in Week 1, as he was a usable fantasy option in 2019 and now will benefit from better offensive line and running back play, but he's clearly just a temporary bridge while Tua Tagovailoa develops.
😴 Sleeper: WR Preston Williams
With no notable offseason competition added, Williams is once again set up to serve as Miami's No. 2 wide receiver. Having flashed as a rookie, including a 5-72-2 stat line in his final game, he could be a fantasy steal in the later rounds.
🌟 Pivotal Player: DeVante Parker
Parker looked convincing while engineering a fifth-year breakout in 2019, compiling 72 receptions for 1,202 yards and nine TDs. He's once again poised to serve as Miami's top wideout. Still, some concerns about his mediocre first four years in the league remain. Can Parker prove that last year was indeed career-changing and not an anomaly?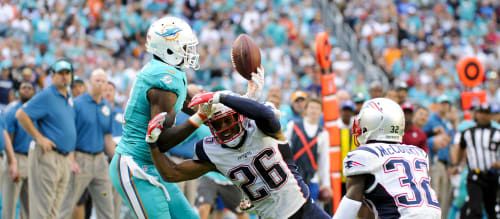 Not only will DeVante Parker attempt to replicate a breakout 2019, but help the Dolphins move up the AFC East ranks.