This article is part of our 2020 Training Camp Preview series.
Expanding upon our team preview collection from earlier this offseason, we're gearing up for an irregular August with a series of team-specific articles to get you up to speed for training camp. You can find the previous writeup on the Kansas City Chiefs here.
State of the Franchise
Not a ton has changed with the Chiefs offense since we last visited its outlook this spring. The primary concern for the unit at this point is getting its young weapons as many reps as possible in the wake of a shortened offseason due to COVID-19.
Rookie first-round pick Clyde Edwards-Helaire is among the key rookies needing some extra seasoning, but he'll unfortunately miss out on opportunities to garner work in preseason games. This could lead to him being eased into the Kansas City offense early in the season, as he figures out the playbook and gets acquainted with the speed and physicality of the pro game.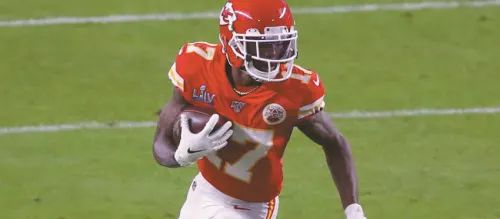 Another player who could have used the extra offseason work is Mecole Hardman, who many pegged for a potential breakout campaign before the Chiefs elected to rework Sammy Watkins' deal to keep him in town and then proceeded to re-sign Demarcus Robinson. Hardman's lack of a normal preseason to display his improvement heading into his sophomore campaign could put him behind the eight ball initially.
Job Battle
We addressed the Chiefs' running back job battle in May's team preview, so in this space we'll take a look at the team's backup QB situation.
With Matt Moore having returned to the fold, he's in line to compete with Chad Henne for the top backup designation. Moore held the gig last year, appearing in six games and starting two after franchise signal-caller Patrick Mahomes suffered a dislocated kneecap. That could give Moore the edge in the battle for the backup role yet again, though it could come down to training camp. Jordan Ta'amu is also an intriguing option and likely is the most similar to Mahomes athletically on Kansas City's roster.
While he wasn't quite on the level of PJ Walker in the XFL, Ta'amu did toss five touchdown passes over five weeks and completed 72 percent of his passes en route to 1,050 yards, while also rushing 41 times for 217 yards and another score. He could be a wild card to make the roster if given a legitimate training camp to test things out. However, the lack of a preseason in 2020 due to COVID-19 will hurt Ta'amu's chances of stating his case in live action.
Medical Tent
Williams was set for a full workload as the Chiefs' lead back for 2019 and paid the price for his expanded snap count, missing five games due to injury. The 28-year-old back also saw a minor dip in productiveness during his second season in K.C., dropping his yards per carry from 5.1 in 2018 to 4.5 last year. While he's not facing health concerns entering 2020, the Chiefs added rookie Clyde Edwards-Helaire to the backfield, which presumably will lighten Williams' load to a degree. Perhaps the reduced snaps will increase Williams' efficiency, but in turn they may result in a downturn for stats overall.
The talented and often disappointing wideout hasn't played a full 16-game regular season since his rookie year back in 2014 and has logged just 24 regular-season contests in his two years with Kansas City. Watkins finished 2019 healthy and compiled a pair of impressive games in the AFC Championship Game and the Super Bowl, combining for 12 catches for 212 yards and a touchdown between them. If – and it's a big if – Watkins can keep himself on the field for a full 16 games, he could yield nice dividends at a discounted ADP in 2020.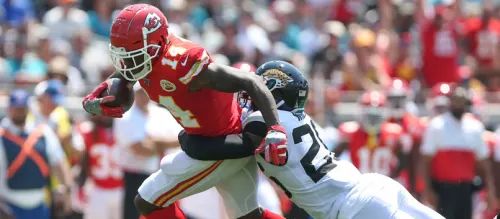 Thornhill tore his ACL in the Chiefs' regular-season finale versus the Chargers, but he's worked hard this offseason and may be in a position to be available for some work at the beginning of camp. The 2019 second-round selection was fairly impressive during his first season in Kansas City, collecting 58 tackles (42 solo) and three interceptions (one for touchdown). When healthy, he should resume starting duties alongside Tyrann Mathieu, giving the Chiefs a talented tandem as the last line of defense.