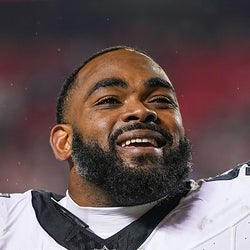 Rest-of-Season Projections
2023 Fantasy Outlook
It would have been understandable if Graham elected to hang up his cleats last offseason instead of return for his age-34 campaign after missing most of 2021 due to a torn Achilles. Not only did he keep playing, he roared back with a career-high 11 sacks, which tied for second on the Eagles and 14th in the NFL. He also finished with 35 tackles, including 11 for loss. The productive season came despite a change in role for the veteran, who was used in a rotational capacity, starting once and taking the field for 42.7 percent of defensive snaps. Age and a reduced role add risk to Graham's profile this year, but his ability isn't in doubt.
Read Past Outlooks
RANKS
#

IDP
$Signed a one-year, $6 million contract with the Eagles in March of 2023.

Will stay in Philadelphia
ANALYSIS
Graham posted his first double-digit sack campaign in 2022 and tied
Javon Hargrave
and
Josh Sweat
for second on the team behind
Haason Reddick
(16). The 2010 first-round pick likely could've landed a more lucrative deal elsewhere, but he's opted to stick in Philadelphia for a 14th consecutive season. "It wasn't even about no money," Graham said. "It was more about wanting to be an Eagle as long as I could still play at a high level, and of course I still have a sour taste in my mouth on how things ended this last year." Graham is second in Eagles history in regular-season appearances (178) and could pass David Akers (188) during the 2023 campaign.
Read More News
NFL Stats
2023
2022
2021
2020
2019
2018
2017
2016
2023 NFL Game Log

Calculate Stats Over Time
Just click on any two dates.
2022 NFL Game Log

Calculate Stats Over Time
Just click on any two dates.
2021 NFL Game Log

Calculate Stats Over Time
Just click on any two dates.
2020 NFL Game Log

Calculate Stats Over Time
Just click on any two dates.
2019 NFL Game Log

Calculate Stats Over Time
Just click on any two dates.
2018 NFL Game Log

Calculate Stats Over Time
Just click on any two dates.
2017 NFL Game Log

Calculate Stats Over Time
Just click on any two dates.
2016 NFL Game Log

Calculate Stats Over Time
Just click on any two dates.
Snap Distribution / Depth Chart
2023 Brandon Graham Split Stats
Loading NFL Split Stats...
Measurables Review
How do Brandon Graham's measurables compare to other defensive ends?
This section compares his draft workout metrics with players at the same position. The bar represents the player's percentile rank. For example, if the bar is halfway across, then the player falls into the 50th percentile for that metric and it would be considered average.
Recent RotoWire Articles Featuring Brandon Graham
See More
Past Fantasy Outlooks
2022
2021
2020
2019
2018
2017
2016
2015
2014
2013
2012
2011
2010
From 2012 through 2021, the only game Graham missed came in Week 17 of the 2017 season, when the Eagles had already secured home-field advantage. That incredible durability wouldn't carry over into his age-33 season, however, as a torn Achilles suffered in Week 2 against the 49ers wound up costing him the remainder of the campaign. He recovered in time to be a full participant in the Eagles' offseason program, an undoubtedly positive sign, but he's still a 34-year-old coming off a major injury. That said, his age-31 and age-32 seasons were excellent, as he posted the second- and third-best sack totals of his career in those years.
Graham has gotten better with age, putting up at least eight sacks in three of four years since his age-29 season in 2017. While risk increases at age 33, he once again should be a good bet to play all 16 games and lead the Eagles' defensive front. The Michigan product has missed only one game over the last nine seasons.
After an off year, Graham rebounded with one of his best seasons to date in 2019. The 10-year vet has now racked up at least 47 tackles and 8.5 sacks in two of the past three years. Now 32, it's possible he'll take a step back in the production department, but he's been one of the game's most consistent performers, having missed just one game since 2012 and only failing to get to 5.5 sacks twice in that span.
Although Graham's tackle (39) and sack (four) totals last season were his lowest since 2013, the Eagles re-signed the seasoned vet to a three-year deal anyways, perhaps counting on a return to form thanks to the addition of Malik Jackson at tackle. At the very least, Graham will provide consistency on the outside as he has only missed one game over the past seven campaigns. Plus, he may benefit from the emergence of less-proven, but potential-laden, players like Derek Barnett or Josh Sweat.
Watching the Eagles pass rush last year was like watching a pack of wolves fight over a single deer. Graham was in the backfield constantly, but there's only one sack to go around each play. That's how he managed to total just 15 sacks over the last two years despite ranking among the league leaders in pressure forced. It's generally encouraging, though, that Graham posted 9.5 sacks last year on just 666 snaps. If you prorate that production over the 764 snaps he played in 2016, you'd get about 11 sacks.
Graham has not turned into the standout sack producer that was expected when he was drafted 13th overall in 2010, but he still took a big step forward last season. He was credited by Pro Football Focus with 83 pressures despite notching just 5.5 sack, also adding a career-high 59 tackles while forcing multiple fumbles for a third straight year. He wants a new contract as a result, so he needs to be monitored for holdout risk this summer. But so long as he is on the field for Philadelphia it's likely he turns at least a handful of those pressures into sacks this year.
Largely considered a disappointment while miscast as a 3-4 outside linebacker the last three years, Graham should finally show his true form as Philadelphia switches to a 4-3 defense this year, allowing Graham to move to end. While he eventually figured out how to play in the 3-4, 4-3 end is Graham's natural position, and playing next to the fine tackle tandem of Logan and Cox while playing opposite Connor Barwin should result in a favorable situation for Graham. He should face single-teams and make the most of the opportunity while his line-mates collapse the pocket.
After arguably his best season in the midnight green, Graham signed a four-year deal in March and is slated to step in for the departed Trent Cole at starting outside linebacker. He should see starter-level snaps this year as he looks to top his 2014 campaign, which featured 5.5 sacks and four forced fumbles as a rotation player.
Graham has the ability to make an impact as a pass rusher in the NFL, but he's proven a poor fit in Philadelphia's 3-4. He might get traded in the near future.
Graham will be Philadelphia's top backup at outside linebacker, behind Trent Cole and Connor Barwin. Despite his backup designation, it could truthfully be a timeshare between the three, as Graham might actually be the most disruptive out of the trio. He's not likely to get on the IDP radar, however.
Although he's a promising talent and former 13th overall pick, Graham has had knee issues (including microfracture surgery) and is unlikely to see many snaps at end this year with Trent Cole, Jason Babin, Philip Hunt and Vinny Curry all in town.
Likely to start the season on the PUP list due to his knee injury from 2010. Will serve as a rotational player upon his return.
Graham will be in a rotation, but he could start as Philadelphia's left defensive end during his rookie season.
More Fantasy News