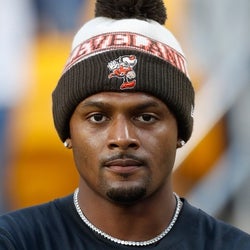 Rest-of-Season Projections
2023 Fantasy Outlook
When Watson finally got back under center Week 13 last year, he looked like a quarterback who hadn't played in a season and a half. Of 38 QBs with at least 170 attempts, Watson ranked 32nd in on-target percentage (68.2) and 36th in completion percentage (58.2). He failed to top 200 yards passing in four of his six games, with his 6.5 YPA ranking 32nd. Watson especially struggled throwing deep, completing only four of 17 attempts beyond 20 yards with one touchdown and two interceptions. On a positive note, he rushed for 175 yards, showing at least part of his game was up to the task. Getting his arm back to his pre-suspension level is partly a matter of reps. Watson missed the offseason program last year and after participating in training camp and then was away from the team for three months. The long layoff from game action likely is responsible for his apparent slower processing -- Watson averaged a league-high 3.27 seconds before throwing -- and resulting struggles. Plus, last season he stepped into an offense that was tailored for QB Jacoby Brissett. This season, the scheme is his, and he'll have additional weapons after the Browns traded for Elijah Moore and drafted Cedric Tillman (Round 3) to join Amari Cooper and Donovan Peoples-Jones at wide receiver. Nick Chubb returns after a 1,500-yard rushing season, and TE David Njoku is coming off a career-high 58 receptions. It doesn't take much faith to believe Watson can return to a top-10 fantasy quarterback, if not the top-5 QB we saw from 2018-20.
Read Past Outlooks
RANKS
#

Overall
$Signed a five-year, $230 million contract with the Browns in March of 2022.

Watson completed 22 of 40 passes for 235 yards with one touchdown and one interception while adding six rushes for 22 yards in the Browns' 26-22 loss to the Steelers on Monday night. He also lost two fumbles and ran for a two-point conversion.
ANALYSIS
Watson's busy but ultimately uneven stat line is somewhat of a microcosm of what is now an eight-game starting stint with the Browns. His second fumble was also highly costly, as he lost the handle on a sack by
Alex Highsmith
, and the ball was scooped up by
T.J. Watt
for a 16-yard touchdown that would turn out to be the difference in the game. The veteran quarterback still doesn't appear completely comfortable in head coach Kevin Stefanski's offense, and outside of his clear chemistry with
Amari Cooper
, Watson has had trouble consistently connecting with complementary options like
Elijah Moore
and
Donovan Peoples-Jones
over the first pair of contests this season. Watson could certainly also be affected by the loss of
Nick Chubb
to what appears to be a season-ending knee injury, as despite second-year back
Jerome Ford
's impressive showing in Chubb's stead Monday night, there will likely be more defensive attention focused on Cleveland's air attack for the time being. Watson does draw a favorable matchup on paper Week 3 when the Titans come to town.
Read More News
NFL Stats
Fantasy/Red Zone Stats
See red zone opportunities inside the 20, 10 and 5-yard lines along with the percentage of time they converted the opportunity into a touchdown.
Loading Fantasy/Red Zone Stats...
Advanced NFL Stats
How do Deshaun Watson's 2023 advanced stats compare to other quarterbacks?
This section compares his advanced stats with players at the same position. The bar represents the player's percentile rank.
The longer the bar, the better it is for the player.
Bad Pass %

The percentage of passes that were considered to be poorly thrown.

Avg Target Depth

The average number of yards thrown per pass by the quarterback – including incomplete passes.

Sack Rate

The percentage of dropbacks where the quartback was sacked. The longer the bar below, the more often they are sacked relative to other QBs.

Avg Receiver YAC

The average number of yards after the catch that receivers gained on passes thrown by this quarterback.

Receiver Drop %

The percentage of passes dropped by receivers on passes thrown by this quarterback. The longer the bar, the more sure-handed his receivers have been.
Loading Advanced NFL Stats...
2023
2022
2021
2020
2019
2018
2017
2023 NFL Game Log

Calculate Stats Over Time
Just click on any two dates.
Scoring
Standard
PPR
Half PPR
FanDuel
DraftKings
Yahoo DFS
2022 NFL Game Log

Calculate Stats Over Time
Just click on any two dates.
Scoring
Standard
PPR
Half PPR
FanDuel
DraftKings
Yahoo DFS
2021 NFL Game Log

Calculate Stats Over Time
Just click on any two dates.
Scoring
Standard
PPR
Half PPR
FanDuel
DraftKings
Yahoo DFS
2020 NFL Game Log

Calculate Stats Over Time
Just click on any two dates.
Scoring
Standard
PPR
Half PPR
FanDuel
DraftKings
Yahoo DFS
2019 NFL Game Log

Calculate Stats Over Time
Just click on any two dates.
Scoring
Standard
PPR
Half PPR
FanDuel
DraftKings
Yahoo DFS
2018 NFL Game Log

Calculate Stats Over Time
Just click on any two dates.
Scoring
Standard
PPR
Half PPR
FanDuel
DraftKings
Yahoo DFS
2017 NFL Game Log

Calculate Stats Over Time
Just click on any two dates.
Scoring
Standard
PPR
Half PPR
FanDuel
DraftKings
Yahoo DFS
Snap Distribution / Depth Chart
This Week's Opposing Pass Defense
How does the Titans pass defense compare to other NFL teams this season?
The bars represents the team's percentile rank (based on QB Rating Against). The longer the bar, the better their pass defense is.
The team and position group ratings only include players that are currently on the roster and not on injured reserve. The list of players in the table only includes defenders with at least 3 attempts against them.

vs Titans
Sunday, Sep 24th at 1:00PM
Overall QB Rating Against
93.3
Loading Opponent Pass Defense Stats...
2023 Deshaun Watson Split Stats
Loading NFL Split Stats...
How do Deshaun Watson's measurables compare to other quarterbacks?
This section compares his draft workout metrics with players at the same position. The bar represents the player's percentile rank. For example, if the bar is halfway across, then the player falls into the 50th percentile for that metric and it would be considered average.
Recent RotoWire Articles Featuring Deshaun Watson
See More
Past Fantasy Outlooks
2022
2021
2020
2019
2018
2017
After a year in purgatory in Houston, Watson is reborn in Cleveland - not exactly paradise, but $230 million fully guaranteed goes a long way. However, the QB's regular season debut with the franchise will be delayed by an 11-game suspension under the NFL's personal conduct policy. To add Watson, the Browns traded six draft picks, including three first-rounders, having finally given up on 2018 No. 1 overall pick Baker Mayfield, whom the team eventually dealt to the Panthers in July. What the Browns get in Watson is a dual-threat quarterback with a great arm and impressive accuracy downfield. Of course, he hasn't played in a year, but in 2020, he led the league in passing yards, finishing as a top-5 fantasy quarterback for the third consecutive season. The Browns signed wideout Amari Cooper, and Donovan Peoples-Jones looks poised for a bigger role as a downfield threat, but the WR corps is not deep. That never slowed Watson in Houston, though, even after DeAndre Hopkins left.
A doozy of an offseason has Watson's 2021 in jeopardy. In January, he demanded a trade. In February, he threatened to sit out games if not moved, and in March, he became embroiled in a legal mess that could get him suspended by the league, if not worse by the legal system. Until that's resolved, he's only draftable as a risk-less, late-round pick - if he plays, he's a steal; if not, he's an easy cut. On the field, there's little question about Watson, who led the league last season with career highs in passing yards (4,823), completion percentage (70.2) and YPA (8.9). He also threw a career-high 33 TD passes with a career-low seven interceptions. That Watson did all that on a terrible team with few playmakers and season-long coaching ineptitude is remarkable. He had a league-low 14.2 bad-pass percentage, which considering his 8.9-yard average target depth (6th highest) is even more impressive. As a downfield passer, he had few peers. On passes of 20-plus yards, he led the league in completion percentage (50.0) thanks to a 56.5 on-target rate (3rd), which resulted in 10 TD passes (T-3rd). With plenty of rushing to boot, Watson finished top five in fantasy QB scoring for the third consecutive year. He'd likely get there again if he played a full season, but the Texans seemingly plan to keep him on the roster as a healthy scratch until they're able to trade him.
For the second year in a row, Watson finished fourth in QB fantasy scoring, posting similar numbers to 2018. He matched his passing TDs (26) in one fewer game and might have matched his passing yards had he played Week 17. His completion percentage, YPA and average depth of target were down slightly, while his bad-pass percentage remained unchanged. Watson's sacks fell from 62 to 44, though that was still sixth most. Fortunately, Watson is excellent on the run. He tied for the league lead in touchown passes outside the pocket with eight (Jameis Winston, Kirk Cousins) and was one of five quarterbacks to average more than five yards per rush (min. 50 attempts). He scored seven rushing touchdowns, tying Lamar Jackson for second among QBs behind Josh Allen's nine. While Watson's rushing skills give him a solid floor, his ceiling doesn't appear as high this season after All-Pro wide receiver DeAndre Hopkins was traded to Arizona. The Texans acquired oft-concussed Brandin Cooks — who is on his fourth team in six years and coming off a career-worst season — as another big-play threat alongside oft-injured Will Fuller and Kenny Stills. They also signed slot man Randall Cobb. That's a decent foursome (when healthy), but it doesn't make up for losing Hopkins. Arriving in the Hopkins trade is RB David Johnson, who peaked in 2016 and looked washed up last season. And while TE Darren Fells (seven TDs) is back, he's 34. Second-year coordinator Tim Kelly will calls plays this season, which hopefully lets Watson break free from coach Bill O'Brien's head-scratching game plans, but it would be fun to see what Watson could accomplish in a better setup.
A year removed from an ACL tear, Watson showed no ill effect last season, finishing top 7 in completion percentage (68.3), YPA (8.2) and passer rating (103.1). He kept running too, averaging 5.6 yards per carry and scoring five touchdowns, third among quarterbacks. A weak offensive line often forced Watson to run, but his league-high 62 sacks - the most for a quarterback since 2006 - was also partially caused by holding the ball too long. For all the sacks his playing style leads to, Watson also creates frequent long gains when he dodges pass rushers rather than throwing the ball away or settling for a dump-off. His 9.2-yard average depth of target ranked seventh, and his 10 touchdowns thrown from outside the pocket were second to only Patrick Mahomes' 11. And that was all accomplished with a receiving corps that couldn't stay healthy - Will Fuller, Keke Coutee, Demaryius Thomas and Bruce Ellington each played no more than seven games. The Texans are optimistic Fuller and Coutee will be healthy for Week 1, and the team traded for pass-catching back Duke Johnson in August. While the offensive line still looks shaky, it should at least benefit from the addition of left tackle Tytus Howard, the 23rd overall pick in the draft. If the 23-year-old Watson takes another step forward - his completion percentage jumped 6.5 points last year - without straying too far from his aggressive instincts, he could challenge for the top fantasy spot among quarterbacks.
It's not often a quarterback has a breakout season as a rookie. And Watson didn't just break out last year, he was in the MVP discussion before suffering a torn ACL midseason. Through Week 8, Watson was tied for first in the league in TD passes, second in YPA and first in quarterback rushing, leading the league's most prolific offense at 30.7 points per game. Watson showed rare poise in the pocket - he was arguably the best QB against blitzes last season. He led the league in YPA (9.5) in blitz situations and was second in completion percentage (65.6 percent) to Drew Brees, posting an NFL-high 134.5 passer rating, nearly 22 points better than the next best. What's more, the 22-year-old Watson had seven touchdowns and no interceptions against blitzes. Watson was good on downfield passing, ranking fifth in completion percentage on attempts beyond 20 yards (min. 20 attempts), but he also threw five interceptions. And if there's an area in which he can improve it's accuracy. Had he qualified, Watson would have ranked 20th in completion percentage, just ahead of Eli Manning, and his 3.9 interception percentage would have been third highest. Watson was highly accurate in college, so it's reasonable to think he can improve in his second year. Wide receivers DeAndre Hopkins and Will Fuller are back for Watson, assuming he's available. That, of course, is the biggest concern. But the Texans are confident Watson will be ready for Week 1, and the quarterback said in mid-July that he expects to be a full-go for the start of training camp.
The Texans traded their 2018 first-round pick to move up 13 spots and draft Watson 12th overall, believing they found their franchise QB. Incumbent Tom Savage enters Week 1 as the starter, but if he struggles it will be hard to keep the rookie off the field. Savage is no proven commodity himself, with two starts in three years and a 60.9 career completion percentage in five appearances. And while Watson's ceiling is obviously higher, his floor is probably higher too because of his running ability. At 6-2, 221, the dual-threat Watson is an exceptional athlete who can throw on the run or tuck the ball and make plays with his legs. In Clemson's spread offense, he wasn't asked to read the entire field and displayed inconsistent decision-making and accuracy, which lead to 32 interceptions in 38 games. But according to scouts, accuracy, especially deep-ball accuracy, can be easily improved with mechanical adjustments and better footwork as he transitions to a pro-style offense and working under center. Watson's poise in the pocket and leadership skills impressed the Texans, who cycled through a number of journeymen quarterbacks in recent years while the defense carried the team. Watson will have a solid supporting cast around him, too, with Lamar Miller in the backfield and DeAndre Hopkins at receiver.
More Fantasy News