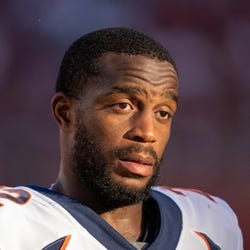 Reserve-Sus
Injury Suspension
Est. Return 12/24/2023
Rest-of-Season Projections
$Signed a one-year, $2.67 million contract with the Broncos in May of 2023.

Suspension upheld Wednesday
Jackson's four-game suspension was
upheld
on appeal Wednesday.
ANALYSIS
It's the second four-game stint this season that Jackson will have to spend on the bench for repeated violations of the league's unnecessary roughness rules. Until he's eligible to play again, 2022 fifth-rounder
Delarrin Turner-Yell
will likely step back into a starting role at safety next to
Justin Simmons
.
Read More News
NFL Stats
2023
2022
2021
2020
2019
2018
2017
2016
2023 NFL Game Log

Calculate Stats Over Time
Just click on any two dates.
2022 NFL Game Log

Calculate Stats Over Time
Just click on any two dates.
2021 NFL Game Log

Calculate Stats Over Time
Just click on any two dates.
2020 NFL Game Log

Calculate Stats Over Time
Just click on any two dates.
2019 NFL Game Log

Calculate Stats Over Time
Just click on any two dates.
2018 NFL Game Log

Calculate Stats Over Time
Just click on any two dates.
2017 NFL Game Log

Calculate Stats Over Time
Just click on any two dates.
2016 NFL Game Log

Calculate Stats Over Time
Just click on any two dates.
Snap Distribution / Depth Chart
2023 Kareem Jackson Split Stats
Loading NFL Split Stats...
Measurables Review
How do Kareem Jackson's measurables compare to other safeties?
This section compares his draft workout metrics with players at the same position. The bar represents the player's percentile rank. For example, if the bar is halfway across, then the player falls into the 50th percentile for that metric and it would be considered average.
Recent RotoWire Articles Featuring Kareem Jackson
See More
Past Fantasy Outlooks
2022
2021
2020
2019
2018
2017
2016
2015
2014
2013
2012
2011
2010
Entering the 2022 season, Jackson is likely to remain Denver's starting strong safety after a 2021 campaign in which he led all Broncos with 88 total tackles. The 34-year-old is still getting it done at a high level and signed a one-year deal to stay in Denver during the offseason. Jackson's veteran presence in the secondary has helped the Broncos' defense to be a formidable unit that continues to develop. He'll look to continue to be an impact player in what should be an improved defense in 2022.
The 12-year pro continues to build an impressive resume, as the 2020 campaign marked his sixth consecutive season with at least 50-plus tackles and an interception. Jackson's athleticism continues to wane, but it's actually been a boon for fantasy managers as the Broncos have been forced to play the 33-year-old closer to the line of scrimmage, resulting in more tackle opportunities. Situated in a talented and deep secondary, it's possible Jackson could find himself off the field more often than last season, but he's still a capable and reliable option when he's out there.
Jackson set a career high with 5.5 tackles per game and added three total turnovers and a touchdown in his first season in Denver. He and Justin Simmons established themselves as among the league's top safety duos. Expect improvement in 2020. Jackson will be in his second season in Vic Fangio's scheme and, after having to play some corner to start last season due to poor depth, he'll be able to focus all of his attention on playing safety.
The former first-round pick enjoyed somewhat of a renaissance while transitioning to safety in 2018, setting a career high with 87 tackles while tying a career high with 17 passes defended. The Alabama product was one of the prizes of Denver's free-agency class and figures to be one of the most versatile chess pieces in the Broncos' scheme. Look for Jackson to fill the stat sheet by doing a little bit of everything, staying mostly at strong safety while also moving down into the slot and even outside on occasion.
During his first eight NFL seasons, Jackson has been a sound cornerback that doesn't miss many games, but with just 14 career interceptions he's not a top-tier fantasy target on defense. What he does very well is support the run. Jackson finished sixth among cornerbacks last season with a career-high 73 tackles, which ranked third on the Texans. The secondary has been a strength for this team for several seasons, but its reputation took a hit in 2017, when injuries to the team's best pass rushers put a strain on Jackson, Johnathan Joseph and Kevin Johnson. The returns of J.J. Watt and Whitney Mercilus, plus the addition of Aaron Colvin and Tyrann Mathieu should make this unit strong once again. Plus, Jackson is moving to free safety, where he'll have a great opportunity to build upon last year's tackle total.
Jackson returns as one of the Texans' starting cornerbacks. He and Johnathan Joseph have been an elite pair for the last six seasons, a period of time in which the Texans' defense has routinely finished in the top 10. A strong secondary has been a constant since Jackson arrived in 2010. While he's scored touchdowns each of the last two seasons, overall Jackson's been a disappointment in the fantasy-friendly category of interceptions with just 13 in seven seasons. His major asset is in run support and routinely is a leading tackler, including 2016 when he finished third on the team with 62.
Jackson has been a mainstay in the Texans' secondary since being drafted in the first round of the 2010 draft. There's been some bumps along the way, particularly during his rookie season, but he's worked hard to make himself a legit cornerback and got the organization to re-sign him for another four years prior to 2015. He really shines in run support, placing third on the team in tackles in 2015. The knock on him, though it's more of a fantasy knock than a real-world one, is that he has just 12 picks in six NFL seasons.
Jackson, who signed a four-year deal in the offseason, will return as one of Houston's starting cornerbacks.
Jackson will be one of Houston's starting cornerbacks.
Jackson had a nice bounce-back season in 2012 when his hold on one of the starting cornerback jobs appeared to be vulnerable. He enters the 2013 as a starter with more solid footing.
Jackson held on to his starting cornerback spot, but was pushed for snaps all season by Jason Allen, who left for Cincinnati in the offseason via free agency. Jackson certainly hasn't lived up to the billing as a first-round draft pick and his starting job can be stolen by a veteran, like Alan Ball. The Texans will also take a look at two 2011 draft picks -- Brandon Harris and Roc Carmichael -- but Jackson enters training camp as the starter.
Like many rookie cornerbacks, Jackson had a difficult time in transitioning to the pro game, though his struggles were no worse than as every other cornerback on the Texans' roster. Coaches love his physicality -- Jackson was fifth on the team with 71 tackles -- and feel good about him in zone coverage. They feel he needs to learn better man-to-man technique, and those are the kinds of things that come with experience and repetition. One thing is for certain, he should see more action coming his way with opponents likely to throw away from Jonathan Joseph's side.
Jackson was already lining up with the first-unit and is expected to start at one of the cornerback positions to open the 2010 season. Houston needs some of its younger players to develop in the secondary and it doesn't take a savant to realize Jackson, selected in the first round, will get a plenty of chances to prove himself.
More Fantasy News