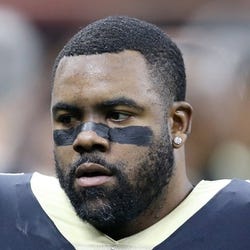 Questionable
Injury Knee - MCL
Est. Return 6/15/2023
2022 Fantasy Outlook
Coming off a season of reduced playing time for the Ravens in 2020, Ingram joined the Texans last March and became part of a messy committee with three other veteran backs. He seemed like the winner of the playing-time battle when he ran for 85 yards and a touchdown in Week 1, but Ingram's role was inconsistent thereafter. He failed to see more than six carries in three of the next six games before landing back in New Orleans, where he spent the first eight years of his lengthy NFL career. Ingram briefly turned back the clock when Alvin Kamara was sidelined, topping 100 total yards in consecutive games, before dropping back to an average of 8.7 touches for only 20.3 yards in three games once the Saints had their starter back in the lineup. The 32-year-old was never the most athletic running back and obviously has lost a step since his prime, but he'll have a chance to stay relevant for one more year, entering camp as the favorite for the No. 2 spot on New Orleans' depth chart.
Read Past Outlooks
$Signed a one-year, $1.8 million contract with the Saints in October of 2021.

Moved to IR, ending season
ANALYSIS
Ingram suffered an MCL tear in a Week 13 loss to Tampa Bay, likely leaving him with a recovery and rehab timeline of 4-to-6 weeks. He's now officially ruled out for the remainder of the regular season, and he might not be ready for the start of the playoffs even in the highly unlikely scenario that the Saints earn a spot. New Orleans is left with
Eno Benjamin
,
David Johnson
and
Dwayne Washington
as its depth options behind top running back
Alvin Kamara
.
Read More News
NFL Stats
Fantasy/Red Zone Stats
See red zone opportunities inside the 20, 10 and 5-yard lines along with the percentage of time they converted the opportunity into a touchdown.
Loading Fantasy/Red Zone Stats...
Advanced NFL Stats
How do Mark Ingram's 2022 advanced stats compare to other running backs?
This section compares his advanced stats with players at the same position. The bar represents the player's percentile rank.
The longer the bar, the better it is for the player.
Broken Tackle %

The number of broken tackles divided by rush attempts.

Positive Run %

The percentage of run plays where he was able to gain positive yardage.

% Yds After Contact

The percentage of his rushing yards that came after contact.

Avg Yds After Contact

The average rushing yards he gains after contact.

Rushing TD %

Rushing touchdowns divided by rushing attempts. In other words, how often is he scoring when running the ball.

Touches Per Game

The number of touches (rushing attempts + receptions) he is averaging per game

% Snaps w/Touch

The number of touches (rushing attempts + receptions) divided by offensive snaps played.

Air Yards Per Game

The number of air yards he is averaging per game. Air yards measure how far the ball was thrown downfield for both complete and incomplete passes. Air yards are recorded as a negative value when the pass is targeted behind the line of scrimmage. All air yards data is from Sports Info Solutions and does not include throwaways as targeted passes.

Air Yards Per Snap

The number of air yards he is averaging per offensive snap.

% Team Air Yards

The percentage of the team's total air yards he accounts for.

% Team Targets

The percentage of the team's total targets he accounts for.

Avg Depth of Target

Also known as aDOT, this stat measures the average distance down field he is being targeted at.

Catch Rate

The number of catches made divided by the number of times he was targeted by the quarterback.

Drop Rate

The number of passes he dropped divided by the number of times he was targeted by the quarterback.

Avg Yds After Catch

The number of yards he gains after the catch on his receptions.

% Targeted On Route

Targets divided by total routes run. Also known as TPRR.

Avg Yds Per Route Run

Receiving yards divided by total routes run. Also known as YPRR.
Avg Depth of Target
-0.7 Yds
Avg Yds Per Route Run
0.82
Loading Advanced NFL Stats...
2022
2021
2020
2019
2018
2017
2016
2022 NFL Game Log

Calculate Stats Over Time
Just click on any two dates.
Scoring
Standard
PPR
Half PPR
FanDuel
DraftKings
Yahoo DFS
2021 NFL Game Log

Calculate Stats Over Time
Just click on any two dates.
Scoring
Standard
PPR
Half PPR
FanDuel
DraftKings
Yahoo DFS
2020 NFL Game Log

Calculate Stats Over Time
Just click on any two dates.
Scoring
Standard
PPR
Half PPR
FanDuel
DraftKings
Yahoo DFS
2019 NFL Game Log

Calculate Stats Over Time
Just click on any two dates.
Scoring
Standard
PPR
Half PPR
FanDuel
DraftKings
Yahoo DFS
2018 NFL Game Log

Calculate Stats Over Time
Just click on any two dates.
Scoring
Standard
PPR
Half PPR
FanDuel
DraftKings
Yahoo DFS
2017 NFL Game Log

Calculate Stats Over Time
Just click on any two dates.
Scoring
Standard
PPR
Half PPR
FanDuel
DraftKings
Yahoo DFS
2016 NFL Game Log

Calculate Stats Over Time
Just click on any two dates.
Scoring
Standard
PPR
Half PPR
FanDuel
DraftKings
Yahoo DFS
Receiving Alignment Breakdown
See where Mark Ingram lined up on the field and how he performed at each spot.
Loading Alignment Breakdown...
Loading Alignment Breakdown...
Loading Alignment Breakdown...
Loading Team Alignment Breakdown...
2022 Mark Ingram Split Stats
Loading NFL Split Stats...
How do Mark Ingram's measurables compare to other running backs?
This section compares his draft workout metrics with players at the same position. The bar represents the player's percentile rank. For example, if the bar is halfway across, then the player falls into the 50th percentile for that metric and it would be considered average.
Recent RotoWire Articles Featuring Mark Ingram
See More
Past Fantasy Outlooks
2021
2020
2019
2018
2017
2016
2015
2014
2013
2012
2011
Ingram enters his 11th season, well past the life expectancy for NFL running backs, but he's been durable and productive. The 31-year-old was a lead back for many seasons with the Saints, and most recently, Ingram was the primary back for the Ravens in 2019 before sharing the load in 2020. He had just 72 carries last season, finishing behind quarterback Lamar Jackson and younger backs Gus Edwards and J.K. Dobbins. Last season was a good prelude for his expected role with the Texans, who have the incumbent David Johnson along with free agents Phillip Lindsay and Rex Burkhead. What the Texans don't have is a young back in the pipeline. So, while the organization's focus is on rebuilding, Ingram's veteran status will not be a blocker to playing time. With the expected absence of Deshaun Watson, running backs figure to have an increased role in 2021. Ingram's recent history with head coach David Culley, who also came from Baltimore, may come in handy, but he'll need injuries to others to reach 150-200 carries.
Ingram remains among the most dependable and overlooked running backs in the NFL, a remarkable turnaround after his inconsistent and injury-prone first few seasons in the league. The 30-year-old enjoyed a strong first season as a Raven last year, scoring a career-high 15 touchdowns and recording his third 1,000-yard rushing season. Ingram's powerful running style and balanced skill set made him a good fit in Baltimore alongside Lamar Jackson, and defenders had trouble bringing him down on initial contact without some help, as Ingram placed 17th in broken tackle rate and 10th in average yards after contact (2.6). But Gus Edwards also was effective (5.3 YPC) in offensive coordinator Greg Roman's celebrated scheme, and the Ravens unexpectedly made a big addition to their backfield in the form of second-round pick J.K. Dobbins. The rookie may start out by simply taking over Edwards' old role, but early success likely would lead to more carries, and it'll be tough for the Ravens to match last year's league-high 596 rush attempts. Given his age and the tough competition for touches, there's probably nowhere for Ingram to go but down compared to last season's production.
Ingram's production took a big step backward last year after consecutive 1,000-yard campaigns. A four-game PED suspension to begin the season didn't help, but the biggest driver of his decline was simply that coach Sean Payton liked what Alvin Kamara brought to his offense a lot more. When Ingram did get chances, he looked like the same back he's been since his 2014 breakout, averaging 4.7 YPC and adding utility as a receiver, but losing 129 touches compared to 2017 left him few opportunities to make a big impact. His primary strength as a ballcarrier remains his power and low center of gravity, but Ingram isn't a one-dimensional bulldozer and has more than enough elusiveness to gain yards by avoiding contact as well. He signed with Baltimore in free agency this offseason, and his skill set and experience with the Saints should allow him to thrive in a dynamic offense built around young QB Lamar Jackson. Gus Edwards could still be a factor, particularly in short-yardage situations, but a return to the 250-touch level isn't out of the question for Ingram, even if the system around him isn't as supercharged and doesn't allow him to be quite as efficient with those touches as he was in New Orleans.
When the Saints took Alvin Kamara in the third round of the 2017 draft, it was considered a potential threat to Ingram's three-down workload. Instead, it proved to be a boon. The duo played off each other perfectly and became one of the most productive backfields in NFL history, with both topping 1,500 scrimmage yards - the first RB teammates to do so in the same season. For his part, Ingram set career highs in rushing yards, rushing TDs, catches and receiving yards while playing 16 games for the second consecutive year, putting to rest his earlier injury-prone label. He's the thunder to Kamara's lightning, using his explosiveness and low center of gravity to crash through would-be tacklers and make himself an effective runner in short-yardage spots. Ingram remains surprisingly nimble in close quarters, and his balance and footwork allow him to slip by defenders in the hole just as they brace for a big collision. He won't play 16 games this season, as a PED suspension will cost him the first quarter of the year, but once he returns to the lineup Week 5 he should quickly resume his role splitting work with Kamara in a prolific backfield.
You'd never know it from the moves the Saints' front office made in the offseason, but Ingram put together his best NFL campaign in 2016, topping 1,000 rushing yards and 5.0 YPC for the first time while also remaining a threat in the passing game (he caught the first four TD passes of his career). He even played in all 16 games, just the second time he's been able to stay on the field all season, and finished in the top 10 in red-zone touches for the third straight year. At 5-9, 215, Ingram has the frame to dish out and absorb punishment when required, along with the elusiveness and balance to avoid it when he can, and his ability to contribute both at the goal line and through the air gives him the capabilities of a true three-down back. It seems highly unlikely that he'll see anything close to last year's workload, however. New Orleans signed Adrian Peterson to a two-year deal in the offseason and used the 67th overall pick on explosive open-field runner Alvin Kamara, and while the additions could make life miserable for opposition defenses and keep everyone healthier, they should also cut into Ingram's opportunities in all situations. He still figures to be the team's lead back, but 200 touches aren't guaranteed, especially if Peterson has anything left in the tank.
The development pattern is different for all young players, and sometimes it takes a while for the light bulb to go on. Ingram's a case in point —after two ordinary seasons to open his New Orleans career (3.9 YPC; almost no receiving production), he's taken off nicely the last three years. Ingram's averaged 4.5 yards per tote since 2013, and last year he went for a career-best 50 catches in just 12 games. He was No. 3 on the RB PPR leaderboard through three months; a torn rotator cuff cost him the final four games. Sean Payton's Saints tend to get attention for their pass-heavy ways, but this is a scoring offense as much as it is a passing offense. Payton's offenses (includ-ing his Giants resume) have finished top 10 in rushing TDs in 8 of 13 seasons; the last two years, its sixth and fifth. New Orleans goes marching in regularly, and many of those plunges figure to feature Ingram. If you need another reason to be sold on Ingram, consider the New Orleans depth chart. Immediately behind Ingram are two ordinary players: Tim Hightower (a 30-year-old journeyman who was out of football four years)and C.J. Spiller (a talented enigma who was just about useless in his New Orleans debut). The Saints need Ingram, and they figure to lean on him again. He's not as sexy as some, but many fantasy teams will be fine with Ingram.
When Ingram broke his hand in Week 2 last year, it seemed like another disappointing season was in store for the talented but frustrating 2011 first-round pick. By the time he returned, however, the rest of the Saints' running backs had also become banged up, and for the first time Ingram essentially had the backfield to himself. The result was 610 rushing yards in six weeks, leading to the realization that maybe he could handle a bigger role after all. At 5-9, 215, Ingram is a pure power runner who uses his vision and burst to smash into the second level, and while not a burner, he has enough agility to do some damage once he gets there. His real value in 2014 came at the goal line, with his 20 carries inside the five easily tops in the NFL. Ingram, a useful receiver in college, also finally got a chance to show it in New Orleans as his 36 targets more than doubled his career total. The Saints upgraded their offensive line in the offseason, bringing in center Max Unger from Seattle in a move that figures to improve the power-run game, and while free agent C.J. Spiller should see significant touches as his speedier complement, Ingram seems ready to assume lead-back duties.
After two quiet seasons that had the football world questioning Ingram's ability to live up to his 2011 first-round selection, he looked great in limited action last year despite missing five weeks to a toe injury, posting a sparkling 4.9 YPC. Ingram's much harder to bring down than his 5-9, 215-pound frame would imply, as the hard-running back posted the NFL's second-highest broken tackle rate, shedding 15 defenders in just 85 touches – a rate even higher than that of Marshawn Lynch, who led the league in broken tackles. The two biggest marks against Ingram are questions about his durability – he's had two knee surgeries and hasn't had a 200-carry season since his Heisman-winning 2009 at Alabama – and the fact that he's near-totally uninvolved in the Saints' pass game. However, Darren Sproles and his 71 catches were dealt to the Eagles in the offseason, and Pierre Thomas can't account for all that excess. That could mean that Ingram – a decent receiver out of the backfield in college – sees more passing work than in past years. Further, he has a very real chance to cut into Pierre Thomas's work on early downs. Now that he's finally healthy and well removed from his surgeries, this could be Ingram's time to shine.
Ingram got off to a slow start in his second season, perhaps the result of an arthroscopic knee procedure he had in May, 2012, but the physical, 5-9, 215-pound back regained the lead role late in the year and closed with 4.2 YPC and four touchdowns over his final seven games. Moreover, after missing six games as a rookie, the former Heisman trophy winner played a full 16-game slate last season. Only 23, Ingram could still emerge as a workhorse should the Saints ever move away from a committee backfield. Oddly, for the second year in a row, Ingram saw far fewer snaps than Darren Sproles or Pierre Thomas, yet received more carries than either and led the team in rushing yards and rushing touchdowns. In addition to sharing touches, Ingram's other problem is the Saints' penchant for passing in the red zone. They ranked ninth with 142 red-zone plays, but 27th with just 44 red-zone rushes. Until his committee situation in a pass-first offense changes, Ingram's ceiling will be modest.
Ingram had a disappointing rookie campaign, totaling just 520 yards while missing six games due to injuries. Curiously, he received the same amount of goal-line carries (three) as Darren Sproles. Despite seeing 181 fewer snaps than Pierre Thomas and 282 fewer than Sproles, Ingram was given more rushing attempts than both, so he was utilized heavily when on the field. Ingram's year ended prematurely when he had surgery to repair a turf toe injury, and discouragingly, he also underwent arthroscopic knee surgery in May, the second time in three years his left knee has been repaired. It wasn't major surgery and is expected to keep him out only six weeks, but Ingram might not be 100 percent healthy for the start of training camp. Another variable is how New Orleans doles out carries with Sean Payton suspended for 2012. If the team ditches its past committee approach, and Ingram emerges as the lead back in such a potent offense, big production could follow.
The Saints traded up to draft Ingram with the No. 28 pick, and as a result, he looks like the favorite to lead the team in carries in 2011. After winning the Heisman trophy in 2009, Ingram battled injuries during his junior season last year, though he still managed to total 14 touchdowns on limited carries in 10 games. Not overly fast or super athletic, Ingram is a hard runner often compared to Emmitt Smith. Of course, expecting similar production would be foolish, even in the league's No. 1 offense for two of the last three years. While the Saints should provide plenty of scoring opportunities, trusting coach Sean Payton is another thing, as he's unpredictable when it comes to distributing carries. Pierre Thomas seemingly can't stay healthy, but he's a more than capable back when on the field, and last year's team rushing leader Chris Ivory will also be in the mix. Another committee could easily emerge, but if Ingram somehow becomes a feature back in this offense (he only averaged 15.9 carries per game in college), there's a lot of upside. There's some concern about the degenerative arthritis in Ingram's knee, but Dr. James Andrews recently gave him a full clean bill of health.
More Fantasy News