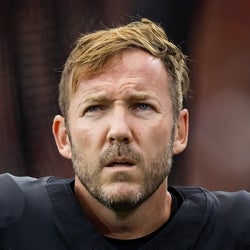 Rest-of-Season Projections
2023 Fantasy Outlook
Prater had five conversions from 50-plus yards in seven of the last eight seasons, aided by friendly kicking environments in Detroit and now Arizona. From a real-life standpoint, he's probably still a top-10 kicker, but there's not a ton of fantasy upside with the Cardinals looking like one of the weaker teams in the league and possibly playing the start of the season without QB Kyler Murray. Even last year Prater was 25th among kickers in fantasy points per game, and that was with Murray healthy much of the year.
Read Past Outlooks
$Signed a two-year, $6.5 million contract with the Cardinals in March of 2023.

Prater missed his only field-goal try and didn't attempt an extra point in Sunday's 37-14 loss to the Rams.
ANALYSIS
Prater launched a 56-yarder wide right during the third quarter. The veteran has missed just four kicks all season, accounting for 68 total points despite Sunday's goose egg.
Read More News
NFL Stats
Fantasy Stats
Loading Fantasy/Red Zone Stats...
2023
2022
2021
2020
2019
2018
2017
2016
2023 NFL Game Log

Calculate Stats Over Time
Just click on any two dates.
Scoring
Standard
PPR
Half PPR
FanDuel
DraftKings
Yahoo DFS
2022 NFL Game Log

Calculate Stats Over Time
Just click on any two dates.
Scoring
Standard
PPR
Half PPR
FanDuel
DraftKings
Yahoo DFS
2021 NFL Game Log

Calculate Stats Over Time
Just click on any two dates.
Scoring
Standard
PPR
Half PPR
FanDuel
DraftKings
Yahoo DFS
2020 NFL Game Log

Calculate Stats Over Time
Just click on any two dates.
Scoring
Standard
PPR
Half PPR
FanDuel
DraftKings
Yahoo DFS
2019 NFL Game Log

Calculate Stats Over Time
Just click on any two dates.
Scoring
Standard
PPR
Half PPR
FanDuel
DraftKings
Yahoo DFS
2018 NFL Game Log

Calculate Stats Over Time
Just click on any two dates.
Scoring
Standard
PPR
Half PPR
FanDuel
DraftKings
Yahoo DFS
2017 NFL Game Log

Calculate Stats Over Time
Just click on any two dates.
Scoring
Standard
PPR
Half PPR
FanDuel
DraftKings
Yahoo DFS
2016 NFL Game Log

Calculate Stats Over Time
Just click on any two dates.
Scoring
Standard
PPR
Half PPR
FanDuel
DraftKings
Yahoo DFS
Recent RotoWire Articles Featuring Matt Prater
See More
Past Fantasy Outlooks
2022
2021
2020
2019
2018
2017
2016
2015
2014
2013
2012
2011
2010
2009
2008
Known for his big leg, Prater attempted 10 kicks from 50-plus yards in both 2020 and 2021, making 13 of 20 overall. He's not the most accurate kicker in the league, but he has a favorable kicking environment and a fast-paced offense to help his volume, in addition to the big leg granting him extra chances from long range. All that makes Prater one of the better fantasy kickers, though he isn't attached to an elite offense.
Prater spent the last seven years in Detroit, mostly staying fantasy relevant (at least until 2020) even when the team wasn't good. He's now 37 and won't be kicking in a dome anymore, but the move to Arizona could nonetheless prove beneficial from a fantasy standpoint. The Cardinals play at a fast pace, if nothing else, and have attempted 35 (T-6th) and 30 (T-16th) field goals in two seasons under coach Kliff Kingsbury.
Prater isn't the most reliable kicker, nor is he attached to one of the league's elite offenses. No matter, he finished top 12 in fantasy scoring each of the last four years, largely because of his prowess on difficult kicks. His 76.8 percent career conversion rate from 50-plus yards is actually higher than his work in the 40-49-yard range (70.5), and the Lions have never hesitated to let him show off his leg.
Prater has made 86.3 percent of field-goal attempts in five seasons with Detroit, including 25 of 34 (73.5 percent) from 50-plus yards. His success from distance is partially the product of playing for a dome team, as only six of his 21 missed FGs in a Lions uniform have occurred at home. Prater had 112 points last season and has never scored more than 123 in Detroit.
While not quite in the same class as Justin Tucker for reliability, Prater is unmatched when it comes to accuracy from 50-plus yards, converting 43 of 56 such attempts (76.8 percent) in his career. He checks all the boxes, boasting a strong and reasonably accurate leg while playing for a high-scoring dome team. Prater has never quite cracked the top five among kickers, but he was top 10 the last two years.
After three consecutive seasons of no more than 26 field-goal attempts, Prater set a career high with 36 last year, eighth in the league. His conversion rate was good for 14th, though impressively he hit all seven of his attempts from at least 50 yards while going just 10 of 14 from 40-49 yards. The Lions ranked 17th in red-zone touchdown percentage last year after finishing second the year before. If the offense splits the difference of the last two seasons, more of Prater's 2016 three-point attempts will turn into PATs, ultimately reducing his fantasy output.
The Lions have had significant kicking struggles in the past few years, but Prater seems to have steadied the position. After plenty of success with the high-scoring Broncos, Prater's chances have decreased with the Lions, who haven't cracked the top-20 in kicker scoring in the past three years. Prater's 91.7 percent field-goal conversion rate was the second-highest of his career, but his 24 attempts ranked 25th in the league, severely limiting his fantasy upside. Prater does have a big leg, which has been seen in Detroit after showing it in the thin Denver air, but ultimately the volume of attempts will likely keep him as a middle-of-the-pack option.
Prater was suspended for the first four games last season and was subsequently cut by the Broncos. He joined the Lions in Week 6 and promptly missed 2-of-3 field-goal attempts in his debut. He missed three more during the year, finishing with his lowest conversion rate (80.8 percent) since 2008. He was still given a decent number of chances from distance, though without the benefit of the thin Denver air, he hit only 3-of-5. The Lions only scored touchdowns on 53 percent of red-zone opportunities last year (18th) but could improve if Calvin Johnson, one of the league's best red-zone targets, stays healthy. The lack of touchdowns limited Prater to 21 PATs in 11 games, which prorates to a mere 30 in a full season.
Prater rode the coattails of a prolific offense to a career-best 150 points in 2013, nailing six field goals of at least 50 yards (including an NFL-record 64-yarder in Week 14) in the process. Though he ranked just 26th in total field goal attempts, Prater still finished second in the league in scoring on the strength of his 75 PATs – 22 more than anyone else. Despite losing Knowshon Moreno and Eric Decker in the offseason, the Broncos still have plenty of firepower around Peyton Manning to help Prater maintain fantasy utility, that is, when he is on the field. The start to Prater's 2014 season will be delayed by a four-game suspension that the kicker must serve out of the gate.
Broncos receivers weren't the only beneficiaries of Peyton Manning's arrival in Denver, as Prater saw his PATs rise from 30 to a career-high 55 and his field-goal attempts climb from 25 to 32. There's no reason to think the Broncos offense won't similarly buoy Prater's scoring totals this time around, especially with the rest of the AFC West essentially in rebuilding mode. The thin air at Mile High should continue to aid Prater in the occasional long field-goal attempt, as he already has two 59-yarders under his belt in his career. Last year's 81.3 field-goal percentage was a step up from his 76 percent the previous season, and further improvement is possible considering he's just two years removed from kicking 88.9 percent.
Prater received acclaim in Week 14 for crushing a 59-yarder to force overtime. That was pretty much the highlight of his season, though, as an offense that struggled to move the ball gave Prater few scoring opportunities. His 25 field-goal attempts and 87 points both ranked near the bottom of the league. With Peyton Manning at quarterback, Prater's numbers could improve, though Manning remains a wild card returning from a serious injury and after a year away from the game. Prater also needs to return his accuracy to the mid-80's range after kicking at 76 percent last year.
A late-season groin injury capped a disappointing season for Prater last year as he was on pace to score 20 points fewer than in 2009 when he totaled 122. The culprit was a lack of field goals. Prater attempted just 18 in 12 games, a pace that would have left him 11 shy of his previous year's total. Denver jumped from 23rd to 13th in the league in red-zone touchdown efficiency at the expense of Prater's fantasy status. Prater's accuracy was again in good shape as he converted 88.9 percent of his attempts. The thin air at Prater's home stadium gives him a good opportunity to make long kicks – he hit five from 50-plus in 2008 – but he hit just two all season from that distance last year, only one of which was at home. The Broncos don't have a lot of star power on offense and while Kyle Orton is the starter, Tim Tebow is close behind if anything bad happens. For Prater to return to fantasy relevance, he needs more scoring opportunities, especially inside 40 yards where he had just 10 attempts last season after seeing 22 in 2009.
Prater is perhaps the highest rated kicker who doesn't play with either an elite quarterback or running back. And while Denver's resulting red zone inefficiency (23rd in the league) gave Prater 35 field goal attempts in 2009, he was really helped by improved accuracy. Prater converted only 73.5 percent of his attempts in 2008, missing 5-of-11 from 40-49 yards. Last season, he hit 8-of-10 from that range, en route to 30 made field goals and 122 total points (seventh). Prater also benefited from increased short-range field goals, going 14-for-14 from 20-29 yards.
Despite the lack of star power — and with the departure of Brandon Marshall, Prater no longer has an elite receiver either — Prater still has scoring opportunities. And kicking in high altitude Denver is always good for the 50- yarders. Prater is 7-of-9 from 50-plus yards the last two seasons.
The post-Jay Cutler era begins in Denver, and, no matter the starting quarterback is (Kyle Orton or Chris Simms), the Broncos don't figure to be as productive in new coach Josh McDaniels' first year. Prater posted the lowest field-goal percentage (73.5) in the NFL last season other than Washington's Shaun Suisham, and he might not see 34 attempts again this year, either. Interestingly, while he was just 5-of-11 between 40-49 yards, he was 5-of-6 from 50 and beyond.
With Jason Elam's departure to Atlanta, the kicking job is Prater's for now. Prater does not have much of a track record. He was just 1-of-4 in two games for Atlanta last year before being released, and the Broncos could bring in other kickers to compete for the job. The Denver kicking position was once one of the best, but the team's offense scored just 34 touchdowns last season (the fewest since 2001). Even with the expected improvement of Jay Cutler, the team is unsettled at running back and second receiver, and Prater's not even guaranteed to claim the job.
More Fantasy News