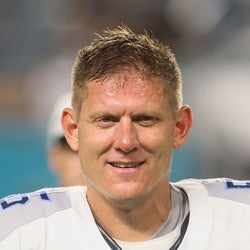 Rest-of-Season Projections
2023 Fantasy Outlook
The 38-year-old Folk enjoyed arguably the best stretch of his lengthy career the last four years in New England, converting 89.3 percent of field-goal attempts and 91.3 percent of PATs. He even hit nine kicks from 50-plus yards the last two seasons after never making more than three from that range in a year. Furthermore, he finished top 5 in total field-goal makes the last two years, despite being a subpar offense. Or, maybe that helped, as the Patriots mostly remained competitive due to a mix of defense and special teams. Regardless, the team apparently wasn't too impressed, using a 2023 fourth-round pick on Maryland kicker Chad Ryland, who has a stronger leg and may soon displace Folk.
Read Past Outlooks
$Signed a two-year, $5 million contract with the Patriots in March of 2022. Traded to the Titans in August of 2023.

Costly missed extra point
Folk made two of his three extra-point attempts and both of his field-goal attempts in Sunday's 31-28 overtime loss to the Colts.
ANALYSIS
Folk has been excellent this season, as he entered Sunday's contest having missed only one field goal across 23 attempts while making all 17 extra-point attempts. He was mostly on target once again, though he missed a vital point-after attempt late in the fourth quarter that would have given the Titans a one-point lead. That miss was influenced by an injury to
Ryan Stonehouse
(knee), as his absence forced
Ryan Tannehill
into the game as the holder, and he went on to mishandle the snap on Folk's missed kick. Assuming the Titans resolve their situation at holder before their Week 14 matchup against the Dolphins, Folk should remain a reliable kicking option.
Read More News
NFL Stats
Fantasy Stats
Loading Fantasy/Red Zone Stats...
2023
2022
2021
2020
2019
2017
2016
2023 NFL Game Log

Calculate Stats Over Time
Just click on any two dates.
Scoring
Standard
PPR
Half PPR
FanDuel
DraftKings
Yahoo DFS
2022 NFL Game Log

Calculate Stats Over Time
Just click on any two dates.
Scoring
Standard
PPR
Half PPR
FanDuel
DraftKings
Yahoo DFS
2021 NFL Game Log

Calculate Stats Over Time
Just click on any two dates.
Scoring
Standard
PPR
Half PPR
FanDuel
DraftKings
Yahoo DFS
2020 NFL Game Log

Calculate Stats Over Time
Just click on any two dates.
Scoring
Standard
PPR
Half PPR
FanDuel
DraftKings
Yahoo DFS
2019 NFL Game Log

Calculate Stats Over Time
Just click on any two dates.
Scoring
Standard
PPR
Half PPR
FanDuel
DraftKings
Yahoo DFS
2017 NFL Game Log

Calculate Stats Over Time
Just click on any two dates.
Scoring
Standard
PPR
Half PPR
FanDuel
DraftKings
Yahoo DFS
2016 NFL Game Log

Calculate Stats Over Time
Just click on any two dates.
Scoring
Standard
PPR
Half PPR
FanDuel
DraftKings
Yahoo DFS
Recent RotoWire Articles Featuring Nick Folk
See More
Past Fantasy Outlooks
2022
2021
2017
2016
2015
2014
2013
2012
2011
2010
2009
2008
2007
Folk was a workhorse last season, attempting the third most field goals in the league. The 37- year-old has converted all but eight of his 84 attempts since joining New England in 2019, with five of the misses coming from 50-plus yards. The occasional frigid conditions and possibly mediocre offense could limit Folk's long-distance attempts, but he's nearly automatic from short range and has Bill Belichick's confidence.
Folk has played for four teams in 13 seasons, with his most recent stop representing one of the better stretches of an up-and-down career. He's converted 88.9 percent of FGAs and 93.3 percent of PATs in 23 games for New England, including 15 of 19 from 40-49 yards. UDFA Quinn Nordin beat out Folk for New England's kicking job this summer, but the veteran was added to the team's practice squad, suggesting that he could be added to the active roster at some point if the rookie struggles.
Despite drilling 87.1 percent of his 31 field-goal attempts last season with the Jets, Folk was let go on Feb. 23 and was inked by the Bucs on March 17. The signing of a decorated veteran just one year into 2016 second-round pick Roberto Aguayo's tenure would have been a highly improbable scenario at this time last year, but the latter's rocky rookie season necessitated the move. Folk brings a career success rate of 81.3 percent overall, including a respectable 59.0 percent (23 for 35) from over 50 yards. His extensive experience could certainly set him apart from Aguayo in training camp and preseason, especially on a team with aspirations of going deep into the playoffs in 2017.
Despite a remarkable increase in offensive production last season, the Jets' kicking game wasn't nearly as improved, as they finished 11th in scoring and 12th in kicker scoring after ranking 28th and 15th and 29th and 13th in the two years prior, respectively. Folk was decent before his season was cut short in Week 9 due to a quadriceps injury, and with replacement Reggie Bullock barely performing any better, Folk will go into this season as the only kicker on the roster. The Jets' offense hinges on who will be under center, but there's little reason to think Folk will improve dramatically even if Ryan Fitzpatrick does return (and he could get worse if the QB doesn't).
Folk led the league in field-goal attempts last season, and while he was third in makes, he was only 14th in scoring. The culprit was a lack of extra points as the Jets ranked 31st in touchdowns. Folk also could have helped himself more. He ranked 22nd in field-goal accuracy, despite a league-high 13 chip shots from less than 30 yards (thanks to the Jet's league-low 36.1 percent red-zone TD rate). But he was good on just 63.2 percent from 40-plus, 26th in the league. Folk has never been known for accuracy, making his 91.7 field-goal percentage from 2013 a bit of an anomaly; last year's 82.1 percent rate would have been his highest since 2008. The Jets made some considerable upgrades, namely adding wideout Brandon Marshall, so Folk could see increased scoring opportunities this season - surely more PATs - but he lacks the accuracy to be an upper-tier fantasy kicker.
Folk's stellar 33-for-36 showing on field goals last season, which included three game-winners, earned him a multi-year contract from the Jets in March. While 2013 represented a career year by just about any measure, there's reason to be skeptical about Folk finishing among the top half of the league in scoring again. His 91.7 percent conversion rate was by far his best mark since joining the Jets in 2010, as he had been below the 80-percent mark in each of his other three seasons in New York. Furthermore, he saw just 27 PATs last season behind an offense that doesn't expect to be markedly better in 2014, despite the high-profile additions of Chris Johnson and Eric Decker.
Folk proved to be a mediocre fantasy commodity last season, amassing a mere 93 points behind a comically-bad Jets offense and connecting on only 77.8 percent of the limited field-goal opportunities he did garner, the fourth straight season in which he's fallen below the 80-percent threshold. With little in the way of training camp competition, Folk will once again be kicking in a less-than-ideal climate for the majority of his games, supporting an offense that may be even more unsettled than last season's version.
Folk was 19-for-25 in field goals last season. The Jets brought in Josh Brown to compete with him for the starting kicker job.
Folk totaled 127 points last season, which likely will make him of the more overvalued fantasy kickers this year. Folk finished fifth in the league in kicker scoring thanks to volume, not accuracy. He missed nine field goals last season, nearly losing his job. His 39 field-goal attempts ranked third in the NFL, supported by a league-high 27 inside 40 yards. It's doubtful Folk will get that kind of advantage this season. The Jets ranked 28th in red-zone touchdown efficiency last year, finding the end zone on just 44.3 percent of those possessions. If the Jets improve merely to the league average of 53 percent – a reasonable expectation under third-year quarterback Mark Sanchez – Folk could lose five or six chip-shot attempts. Accuracy has always been a major issue with Folk as he has made just eight of his last 18 attempts between 40-49 yards. Unless his accuracy dramatically improves, Folk is likely facing a drop in production in 2011, and his job could be at risk.
Folk comes to the Jets after Jay Feely left for Arizona. Folk struggled last season with the Cowboys and was released before the season was out. Folks's problems were related to his accuracy from beyond 40 yards. In his first two seasons with the Cowboys, Folk was 17-of-18 from 40-49 yards. Last season he was just 5-of-12. The Jets gave Feely 36 field-goal attempts (second in the league) and 32 PATs last season. If the Jets improve their red-zone efficiency in Mark Sanchez's second year as quarterback, it'll mean fewer field goals and more extra points for Folk. But that's the least of Folk's concern. He needs to regain the accuracy from his first two years in the league when he kicked 86.8 percent. He also has one of the toughest slates of bad-weather December road games — at New England, Pittsburgh and Chicago.
Folk was perhaps the most disappointing fantasy kicker last season, though through no fault of his own. Folk missed only two kicks all year, but the Cowboys scored 11 fewer touchdowns than in his rookie season and offered him just 22 field-goal attempts, a league low among full-time kickers. The Cowboys had just 44 red-zone possessions last season (26th in the league), which helps explain why Folk had 11 fewer attempts from 20-29 yards than in 2007 when the Cowboys made 56 trips into the red zone (4th). Terrell Owens has gone to Buffalo, which might help in the locker room, but leaves the offense weaker at wide receiver. Injuries, though, might be a bigger factor, specifically, keeping Tony Romo healthy for a full 16 games. Folk underwent surgery to repair torn cartilage in his hip, but is expected to be ready for training camp.
Our top pick could easily be ranked seventh or eighth because the top tier is that close. As a rookie, Folk ranked fourth in the league in kicker scoring (131 points) and made 26 field goals (missing two from less than 30 yards). Folk has a strong leg, he's easily capable of improving on his 2-of-5 performance from beyond 50 yards and he kicks for one of the NFL's best offenses. Plus, the Cowboys have one of the better defenses in the league as well. Folk has two potential bad weather road games in December, at Philadelphia and at Pittsburgh.
6th round pick has a strong but somewhat inaccurate leg and will try to unseat Martin Gramatica for the starting placekicking job.
More Fantasy News