Do Older Running Backs Start the Season Better Than Young Ones?

In your typical fantasy draft, most owners seem to be pretty bullish on older players. They like to see past production and generally think it will repeat itself. And sometimes it does.

Expert owners tend to favor younger players, on the other hand, trying to find value before players break out. It's not that they don't care about past production, but rather, since they know others are paying for it, they can maximize value by accurately predicting it from players who have yet to produce at a high level.

I think both sides have it right. I really believe the extent to which we value past production should depend on the position we're analyzing. Namely, it's okay to jump on unproven running backs because running back is such a dependent, binary position. Running backs are either seeing the touches necessary to produce or they aren't, and their play is very much the product of their offensive line quality.

Further, running backs can come into the NFL and produce immediately. Take a look at historic fantasy points per opportunity for each position.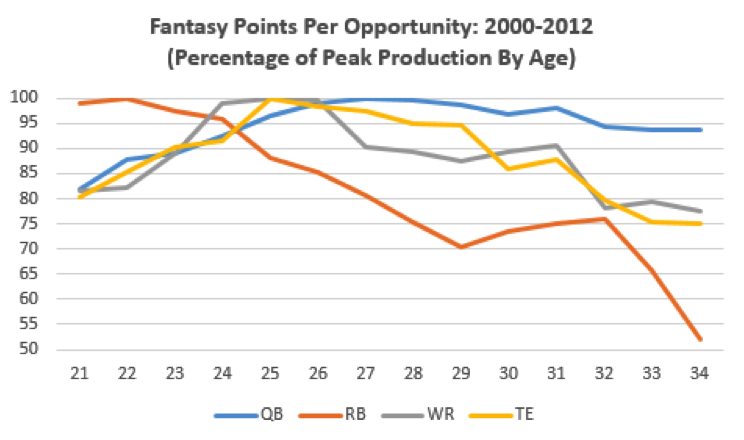 Whereas most other skill players take time to develop, running backs can play at near peak efficiency from the moment they enter the league. That means fantasy owners should emphasize youth at the running back position, almost to an extreme degree. If a young back is going to see a heavy workload, that's a recipe for big-time success.

Early-Season Production

However, I've noticed a trend over the past few years; to the naked eye, it seems like older running backs have been able to keep pace with younger ones to start the season. Looking at the numbers, it appears that's true in 2013.

Below, I charted the average age for the top-10 players drafted at each position and the top 10 as they're ranked right now.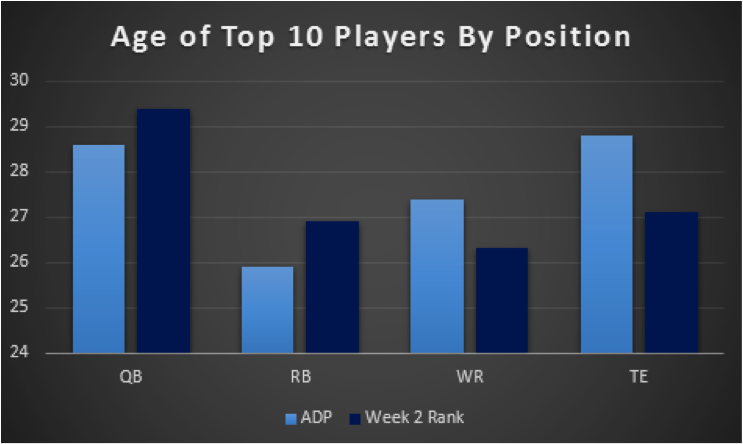 Let me start by saying that, yes, this is a relatively small data sample. We've seen only two weeks of games, so the rankings are currently influenced heavily by matchups. But the sample isn't so small that we can't try to identify trends to monitor over the coming weeks.

Through two weeks, the average age of the top-10 running backs is 26.9 - a full year older than the average age of the top-10 backs in terms of ADP. We see the same effect at the quarterback position, where the average age of the top-10 passers is 29.4 - 0.8 years older than the top 10 in ADP. We don't see the phenomenon at the wide receiver and tight end positions, where younger players are actually outperforming the older ones relative to their draft spots.

This is a trend we need to monitor as the season progresses, but it makes some sense on the surface. Running backs have physically demanding jobs and wear down as their careers progress. It's not outrageous to think they'd wear down in-season as well.

And if running backs do wear down as the season chugs along, we'd expect it to be the older players who go first. That doesn't mean you need to sell high on Matt Forte or buy low on Doug Martin just yet, but keep in mind backs like Marshawn Lynch or even Adrian Peterson might be more likely than Martin or Giovani Bernard to fade at season's end.

Jonathan Bales is the author of Fantasy Football for Smart People: How to Dominate Your Draft. He also runs the "Running the Numbers" blog at DallasCowboys.com and writes for the New York Times.