Last year, FanDuel featured the NFL Slam contest. It was a $25 entry with 13,380 entries and the winner took home $25,000. This year, FanDuel is going with the NFL Million in Week 1 of the NFL season. There are 45,977 entries and first place takes home $100,000. What does it take to win these tournaments? A lot of luck helps, but also selecting the right type of team.

In this article, we will review the teams that won the NFL Slam last year in the first four weeks of the season. Are there any trends or similarities between the winning squads? Did they use high-priced quarterbacks, running backs, receivers or tight ends? Did they use players on the same teams? These are the type of questions we looked at.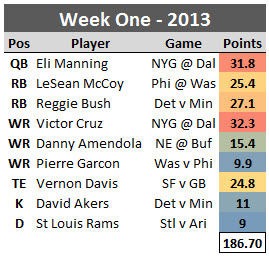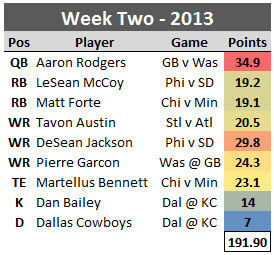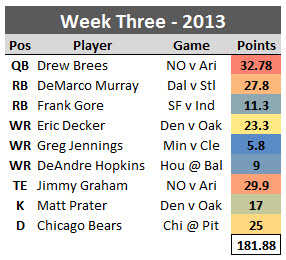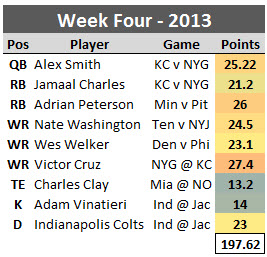 What We Learned:
- The average amount of fantasy points need to win was 189.52
- The average points for quarterbacks was 31.18
- The average points for running backs was 22.14
- The average points for wide receivers was 20.44
- The average points for tight ends was 22.75
- The average points for kickers was 14.00
- The average points for defenses was 16.00
- Every team used two players from the same team twice (two Giants and two Lions in Week 1)
- Two of the four teams used premier quarterbacks (Rodgers and Brees)
- Every team used two solid starting running backs
- Every team used mid to upper tier wide receivers
- No team used premier wide receivers
These findings are very interesting to me. It tells me that securing points from your running back position is a must. The wide receiver position is very important, but you must be able to find value here. There are many wide receivers at a value that can go off for a big game. It is very important to find high scoring games. Every person who won these contests had two players on the same team; they actually each had two sets of players on the same team. Pick a defense that will be under-owned. Three of these defenses (Colts, Bears and Cowboys) were terrible last year, but they put up decent fantasy points. Defenses can be so unpredictable. If you get a defense that is not highly owned, and they score a touchdown, you are instantly in an advantage over the rest of the field.
The author(s) of this article may play in daily fantasy contests including – but not limited to – games that they have provided recommendations or advice on in this article. In the course of playing in these games using their personal accounts, it's possible that they will use players in their lineups or other strategies that differ from the recommendations they have provided above. The recommendations in this article do not necessarily reflect the views of RotoWire.