This article is part of our Behind the Breakout series.
Everyone loves a breakout season, particularly when it is a part of their fantasy team. But what drives those breakouts? And more importantly, how sustainable are they going forward? This series will deep-dive into some of the biggest breakouts of 2014, looking at what changes drove the improved production and then deciding how those changes might hold up in 2015. Some were building toward this breakout and should be reliable investments for the future while others are primed for a dip. Our first trip to the mound looks at a completely off-the-radar gem who emerged on one of baseball's worst clubs.
Collin McHugh wasn't much of a prospect coming up with the Mets. He got some second-10 love from John Sickels in 2012, but never cracked a Baseball Prospectus or Baseball America list. Of course when you see Sickels' assessment, you can understand why the others passed him over for consideration: "Could be a fifth starter or long reliever." He had some impressive minor league numbers, but he did so with a high-80s, low-90s fastball from the right and he was always at or just above the median age for his level so it was hard to get too excited about the work.
He got a few tastes of the major leagues in 2012 and 2013, but it went horribly with an 8.94 ERA in 47.1 innings with the Mets and Rockies. He was a great example of the difference between control and command. Control is simply putting the ball in the zone, while command is putting it where you want within the zone. He only walked 13, but also allowed 11 homers (2.1 HR/9) and an obscene 72 hits (13.7!! H/9). Even the most generous small-sample size caveats couldn't excuse the work. So it's no real surprise that Houston claiming him off of waivers from Colorado on December 18th of last year went completely unnoticed.
He hit the radar with is 2014 debut when he fanned 12 Mariners in 6.2 scoreless innings, but there was still skepticism. He followed it up with an 8.2-inning, one earned run gem against Oakland (with seven more strikeouts). Seattle roughed him up the second time around, but he rebounded and a month into his season he had a 3.32 ERA, 1.03 WHIP, 41 strikeouts, and 3.4 K/BB ratio in 38 innings. It was time to take notice. It only got better from there, too. In fact, on August 1st he started a nine-start run of two or fewer earned runs per start yielding a filthy 1.50 ERA in 60 innings. Seattle got to him for three earned in his season finale to break the streak, but the season was a resounding success without question.
All told, he finished with a 2.73 ERA, 1.02 WHIP, 25% K rate, and 3.8 K/BB ratio in 154.2 innings. He was robbed in the downballot voting for Rookie of the Year as he should've finished above Matt Shoemaker, who checked in behind winner Jose Abreu.
WHAT CHANGED
First off, let's talk about what he started with and the one asset that probably intrigued the Astros in the first place: his curveball. Even during that horrid run with the Mets and Rockies, the curve held batters to a .158 AVG and .530 OPS with a 21.0% strikeout rate. He dropped seven scoreless on the Rockies in his MLB debut with nine strikeouts, five of which came via the curve. Here is sampling: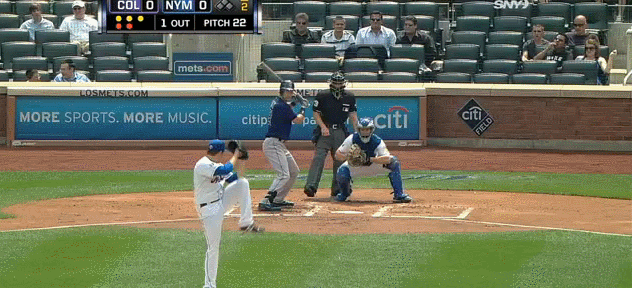 It was the one true weapon in his arsenal (though it wasn't yet the 70-grade beast that it was in 2014), but lacking anything close to a reliable fastball made it hard for him to get in situations to deploy the curve. The singular weapon wasn't enough to save him with New York and Colorado so how did he all of a sudden emerge into a major asset for the Astros? The first big change was a substantial uptick in velocity.
I mentioned earlier that he was a high-80s, low-90s arm coming up and it was only a tick or so better in his short MLB sample before Houston. His fastball averaged about 91 MPH (90.82 to be exact, according to Brooks Baseball), but last year he dialed it up another couple notches with a 93 MPH average (92.47 for the sticklers, again thanks to Brooks) and even had a handful of 94-95 MPH bullets in his back pocket. He paired that improved velocity with much sharper command of the pitch which lessened the damage done by the opposition and gave him a slightly better than league average fastball.
He allowed an NSFW 1.295 OPS off the fastball in 2012-13 over 116 plate appearances. In 2014, it was down to .768 in 203 plate appearances, just below the .775 OPS that the league's starting pitchers allowed as a whole. He worked the pitch away in the zone a lot more, too. The outer portion of the strike zone is defined below: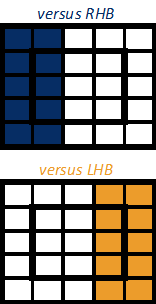 McHugh's fastball was thrown outside 54 percent of the time, way up from the 45 percent figure in 2012-13. He also worked it up in the zone more regularly, going from 31 to 39 percent, which allowed him to leverage effectivevelocity on both ends of the spectrum.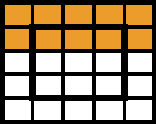 Additionally, the 9-10 MPH split between his fastball and curveball can help the former play up. Having a trustworthy fastball is the foundation for just about any pitcher (we'll look at what it did for recently crowned AL Cy Young, Corey Kluber, later in the series) and it allowed McHugh to get to his breaking balls more often and they were both downright amazing.
I already mentioned a bit about the curveball. It was his primary asset coming in and it got even better in 2014. There were 30 pitchers who threw at least 500 curveballs and McHugh's 51 percent strikeout rate on the pitch (73 in 144 PA) was second to only the aforementioned Kluber and even though batters had a pretty good idea that it was coming once they were at two strikes, they couldn't do anything with it.
All told, the opposition managed a paltry .377 OPS which was also second to Kluber (.241). Of those 30 pitchers, Kluber and Jon Lester didn't allow a single homer while McHugh was part of a seven-pitch group to allow just one. In that group, only Alex Wood (169) had more plate appearances end with the pitch.
While the curveball was a known commodity that got better, the slider's emergence was a pleasant surprise. Unless you were facing him in the box. A worthless pitch in his first two MLB stints, McHugh's slider saw a two MPH rise in velocity to an average of 87 MPH and a whole helluva lot of effectiveness to go with it. Batters hit .400 with a 1.070 OPS against the pitch in 47 PA from 2012-13, but amassed just a .210 AVG and .565 OPS against the pitch in 243 PA last year.
The curveball draws the attention because it was his strikeout weapon, but the slider took some of the burden off of his fastball and gave him another all-counts, all-hitters weapon. Righties chased it down and away while lefties struggled with it up and in (which again allowed him to utilize the gains of effective velocity).
So when asking the question of "what changed with McHugh?" the answer is basically "everything!" It wasn't just one change, but rather a transformation of a once nondescript prospect into a real weapon.
Improved velocity
Improved command and control
Refinement of his curveball
Emergence of his slider
IS IT SUSTAINABLE?
Let's clear something up that should've been addressed in the first piece of this series, calling something "sustainable" doesn't mean "repeat". You should never bet that a breakout year will be the new norm without any regression, even for a star talent. I think this point is especially important with a player like McHugh who has really come out of absolute nowhere.
There is a measure of sustainability here with McHugh. That curveball is one of the filthier pitches going right now, but he really needs to hold the velocity improvements to set everything else up. It is tough to project with real accuracy whether or not he will hold the gain which leaves us in a bit of a holding pattern. Of course, everyone is in this holding pattern together which keeps his price tag low for 2015, even if you do see a repeat coming.
This wasn't just a stone-cold fluke, but plenty of guys have fooled the league even longer before crumbling back to earth so while there is talent here, everyone in the league has real talent. I wouldn't bet on another 2.73 ERA at all, but he could add a full run to his ERA and still be useful if he takes 32 turns and keeps logging the strikeouts (even if not at a one-per-inning clip).
2015 OUTLOOK
McHugh is going to have some nice runs of work in 2015. It helps that the Astros don't have enough ready-made assets to force McHugh from the rotation at the first sign of trouble so he will have a leash if he doesn't come out of the gate firing on all cylinders. They aren't 1:1 comps, but Travis Wood dropped 200 innings of a 3.11 ERA in 2013 only to post a 5.03 last year. Ryan Vogelsong had his out of nowhere 2.71 ERA in 2011 and backed it up with a 3.37 the following season. The major difference for McHugh compared to these two and most of the other surprise pitcher seasons of late is that he backed his with great underlying numbers which resulted in the 20th-best FIP among pitchers with 150+ innings.
The fantasy community is going to price McHugh at a level much lower than you would normally find for a sub-3.00 ERA, but there is good reason for that given the sample size in question. Pencil McHugh in for a high-3.00s ERA and 1.20 WHIP over 180-190 innings and then price him as such. I can't comfortably project a full repeat of his 25.4% strikeout rate, which ranked ninth among starters last year. However, even a dip to the 21-22% range would still register a top-50 strikeout total if he makes at least 30 starts. Expect 150 in 180 innings and go from there.
Finding any sort of comparable player who could experience a similar breakthrough in 2015 would be next to impossible as far as I'm concerned. There just isn't a category of mid-20s non-prospects with one plus pitch who might all of a sudden take a jump in velocity, develop another plus pitch, and turn their one gem into a diamond. Additionally, even if we somehow isolated a pool of guys who kinda fit this profile, would you really want to take a shot on any single one becoming the miracle story? There is a much better pool for late-round gambles.
Don't sleep on McHugh entirely, but wait it out and take the market's discount if you are interested in him for 2015.