This article is part of our Behind the Breakout series.
Anthony Rendon
wasted very little time showing how dominant he can be at the big league level and unlike many of the inclusions in this series his breakout isn't really a shock because it happened, but rather because of how quickly it happened. After all, Rendon is a former No. 6 overall pick who landed in the top-30 of the Baseball America, Baseball Prospectus, and MLB.com prospect lists before ever taking a professional at-bat. In fact, Rendon could have been taken earlier than sixth overall if he had been healthy.
An electric hitter at Rice University, Rendon enjoyed an unreal freshman campaign (1.170 OPS, .388 AVG, and 20 home runs in 242 at-bats) that earned him several accolades, but suffered an ankle injury in the Super Regional. He underwent surgery, but it didn't seem to faze him in the slightest as he was actually better in his sophomore season (1.340 OPS, .394 AVG, and 26 homers in 226 at-bats) before again suffering a right ankle injury after the regular season, this time as a participant on Team USA.
He made it back for his junior season and while it was still very impressive, it was a far cry from his early work at Rice: 1.043 OPS, .327 AVG, and just six homers in 214 at-bats. It is kind of incredible that a 1.043 OPS can be labeled as a far cry from a previous level. What he lacked in power that year (.523 SLG was his college worst by 179 points), he made up for in on-base ability drawing an obscene 80 walks against just 33 strikeouts (.520 OBP).
The power drop and pair of ankle injuries no doubt cost him the No. 1 spot in 2011 draft. The Nats had just picked Stephen Strasburg and Bryce Harper back-to-back in the most fortunate down period ever and they were about to get yet another stroke of good fortune as a No. 1 overall talent fell to them at six. An early-April injury to his – you guessed it – ankle cost him over three months of work during his professional debut, but he touched four levels that season, sputtering to the finish line at Double-A (.162 AVG, .673 OPS in 82 of the 160 plate appearance that he had that year).
He wasted little time proving that was a fluke in 2013 and made the majors from Double-A after just 14 games. It was just eight games, but by early-June he was up for good, finishing off the 2013 season with another 90 games before heading into his 2014 breakout. With him, it's less about "what changed" and more of "what developed" as he didn't have a substantial track record of one level before emerging last year as Michael Brantley did.
WHAT CHANGED
Again, after just 98 MLB games the changes are more a development of skill, but we'll stick with the convention from the first two Behind the Breakout pieces. The bulk of Rendon's breakout came via his improvements against righties. He managed just a .682 OPS against right-handed pitchers in 2013 with a few problem spots. His .275/.341/.401 line against hard stuff (four-seamers, sinkers, and cutters) wasn't bad, but it was depressed by some poor work on stuff down the middle.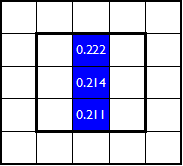 It was only 57 plate appearances, but that is 15 percent of his 2013 total and 21 percent of his work against righties, so the .214/.228/.375 line had a substantial impact. You expect a hitter like Rendon to feast on pitches in that area, but he managed just a .216 BABIP and the small sample never got a chance to even out. The league's righties managed an .846 OPS in that zone so he was well-below average.
He turned the tide in 2014. His line jumped to .310/.303/.598 in the middle of the zone against righties. His .289 BABIP in those situations was still below his career .312 in all situations, but it was well ahead of the abysmal .216 mark from 2013. To my eye, there was no real change from 2013 to 2014 in these situations, but rather the accumulation of reps paying off for a spectacular hitter. In short, his 2013 against right-handed hard stuff was a learning curve.
Rendon also improved a bit against the soft stuff when facing righties, which also contributed to his surge against righties. While the hard stuff improvements were just a matter of time for Rendon, the ability to handle the soft stuff (breaking balls and changeups) is a constantly evolving process for the even the best hitters. The general idea is that if you're in the majors, you can hit the hard stuff with a modicum of regularity, but the separation of wheat from chaff comes against pitches that move. Right-handed soft stuff remains an overall weakness for Rendon.
In 2013, he didn't see a ton of changeups, but the ones he did see had him in fits. He put up a virtually non-existent .000/.125/.000 in eight plate appearances ending with the pitch. He was 0-for-7 with a walk and a strikeout. That sample just can't be treated as anything terribly worthwhile. To say he improved against righty changeups because of his .875 OPS (6-for-24 with two homers, 2:6 BB:K in 27 plate appearances) in 2014 would be folly. He had no discernible strength or weakness against righty changeup after 2013 and that hasn't really changed after 27 more plate appearances in 2014.
His work against curves and sliders showed only modest improvement:
| | | | | | | |
| --- | --- | --- | --- | --- | --- | --- |
| Rendon v. RHP | PA | AVG | OBP | SLG | K | BB |
| 2013-Slider | 57 | 0.212 | 0.25 | 0.25 | 17 | 2 |
| 2013-Curveball | 25 | 0.261 | 0.292 | 0.478 | 6 | 1 |
| 2014-Slider | 90 | 0.202 | 0.256 | 0.333 | 21 | 6 |
| 2014-Curveball | 36 | 0.314 | 0.333 | 0.457 | 11 | 1 |
The slider might be a key to handling, though I wouldn't be surprised if he was well aware of his deficiency against them and working to erase it.
Rendon never displayed a hole against righties before his 2013 debut. In fact, he clubbed them to the tune of a .997 OPS in 227 minor league plate appearances, so you don't have to look at his 2014 breakout as the maturation or creation of a skill because it really is just more the case of his 277 plate appearances against righties in 2013 was too small of a sample to make any firm judgments.
As far as sustainability, Rendon has it. He has always hit. The question has always been about the health. He played 153 games in 2014 and 134 in 2013 (split between minors and majors, so that was a full season) and while neither of those rid him of the health concerns, they certainly have him going in the right direction. If he keeps that ankle healthy, he will continue to rake.
2015 OUTLOOK
You should be buying with confidence here. The skill set is in place and it is remarkable. That isn't to say he won't fluctuate a bit, but I wouldn't fear any sort of cratering. The injury risk remains in place, though. However, that only moves him from the middle of the first round to the end of it. This is the kind of skill set you bet on even with the risk.
It's why Troy Tulowitzki never falls below the second round despite a terrible health record that has seen him fail to reach 150 games in any of the last five seasons. He can be the unmitigated fantasy MVP if he manages a full season while still returning plenty of value when he almost inevitably falls short of it. At least Rendon is out of the gate with a full season under his belt. And while he doesn't have the same shortstop eligibility that boosts Tulowitzki's value even in the face of that injury record, he does qualify at both second and third base.
Rendon doesn't carry one single category, but he doesn't have a single deficient one, either. He may not lead the league in runs scored again (111), but he will be pushing triple digits and his RBI total could head toward the century mark as well if he were dropped a spot into the three-hole, but Jayson Werth is penciled in there for now.
The team would actually be better with a direct flip of the pair given Werth's penchant for getting on base and Rendon's emerging power, but I wouldn't bet on it happening. I'm looking at a .290-98-24-92-12 season from Rendon, which obviously projects some growth on the heels of a breakout season, but I don't see the automatic regression here. Speed is tricky to bet on with these kinds of guys. He has the skill, but might not always utilize, especially if any sort of nagging injuries hit his lower half. Go the extra dollar.