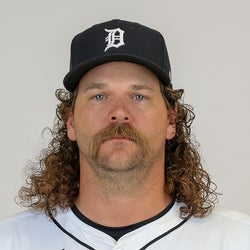 $Signed a one-year, $5.5 million contract with the Tigers in March of 2022. Declined $6.5 million player option for 2023 in November of 2022.

ANALYSIS
Chafin won't have to formally submit a decision regarding whether or not to exercise his 2023 option until five days after the end of the World Series, but the 32-year-old has already decided to try his luck on the open market following an impressive season in Detroit. The veteran lefty made 64 appearances for the Tigers, notching two wins, three saves and 19 holds while submitting a 2.83 ERA, 1.17 WHIP and a 15.9 K-BB% across 57.1 innings. No matter where he ultimately lands, Chafin is unlikely to get a look as a full-time closer, but he should be a key part of the late-inning mix.
Read More News
Pitching Stats
Loading Pitching Stats...
2022
2021
2020
2019
2018
2017
2022 MLB Game Log

Calculate Stats Over Time
Just click on any two dates.
Scoring
FanDuel
DraftKings
Yahoo DFS
FantasyDraft
Head2Head
Loading Pitching Game Log...
2021 MLB Game Log

Calculate Stats Over Time
Just click on any two dates.
Scoring
FanDuel
DraftKings
Yahoo DFS
FantasyDraft
Head2Head
Loading Pitching Game Log...
2020 MLB Game Log

Calculate Stats Over Time
Just click on any two dates.
Scoring
FanDuel
DraftKings
Yahoo DFS
FantasyDraft
Head2Head
Loading Pitching Game Log...
2019 MLB Game Log

Calculate Stats Over Time
Just click on any two dates.
Scoring
FanDuel
DraftKings
Yahoo DFS
FantasyDraft
Head2Head
Loading Pitching Game Log...
2018 MLB Game Log

Calculate Stats Over Time
Just click on any two dates.
Scoring
FanDuel
DraftKings
Yahoo DFS
FantasyDraft
Head2Head
Loading Pitching Game Log...
2017 MLB Game Log

Calculate Stats Over Time
Just click on any two dates.
Scoring
FanDuel
DraftKings
Yahoo DFS
FantasyDraft
Head2Head
Loading Pitching Game Log...
Minor League Game Log

Calculate Stats Over Time
Just click on any two dates.
Loading Minor League Pitching Game Log...
Pitching Appearances Breakdown
How many pitches does Andrew Chafin generally throw?
What part of the game does Andrew Chafin generally pitch?
% Games Reaching Innings Threshold
% Games By Number of Innings Pitched
Left/Right Pitching Splits
BAA
K
BB
H
HR
Since 2020

vs Left

.210
56
20
43
4
Since 2020

vs Right

.209
87
23
61
7
2022

vs Left

.233
30
10
21
2
2022

vs Right

.214
37
9
27
3
2021

vs Left

.170
21
8
16
1
2021

vs Right

.196
43
11
29
3
2020

vs Left

.286
5
2
6
1
2020

vs Right

.278
7
3
5
1
More Splits

→

View More Split Stats
Home/Away Pitching Splits
ERA
WHIP
IP
K/9
BB/9
Since 2020

Home

2.34
0.95
69.1
9.7
1.8
Since 2020

Away

2.86
1.23
66.0
9.3
4.0
2022

Home

2.51
1.01
28.2
11.3
1.6
2022

Away

3.14
1.33
28.2
9.7
4.4
2021

Home

2.21
0.87
36.2
8.8
2.0
2021

Away

1.41
1.00
32.0
7.9
3.1
2020

Home

2.25
1.25
4.0
6.8
2.3
2020

Away

10.13
2.06
5.1
15.2
6.8
More Splits

→

View More Split Stats
Stat Review
How does Andrew Chafin compare to other relievers?
This section compares his stats with all relief pitcher seasons from the previous three seasons (minimum 30 innings)*. The bar represents the player's percentile rank. For example, if the bar is halfway across, then the player falls into the 50th percentile for that stat and it would be considered average.
* Exit Velocity, Barrels/BBE %, Balls Hit 95+ MPH %, and Spin Rate are benchmarked against 2019 data (min 30 IP).
See here for more exit velocity/barrels stats
plus an explanation of current limitations with that data set.
K/BB

Strikeout to walk ratio.

K/9

Average strikeouts per nine innings.

BB/9

Average walks per nine innings.

HR/9

Average home runs allowed per nine innings.

Fastball

Average fastball velocity.

ERA

Earned run average. The average earned runs allowed per nine innings.

WHIP

Walks plus hits per inning pitched.

BABIP

Batting average on balls in play. Measures how many balls in play against a pitcher go for hits.

GB/FB

Groundball to flyball ratio. The higher the number, the more likely a pitcher is to induce groundballs.

Left On Base

The percentage of base runners that a pitcher strands on base over the course of a season.

Exit Velocity

The speed of the baseball as it comes off the bat, immediately after a batter makes contact.

Barrels/BBE

The percentage of batted ball events resulting in a Barrel. A Barrel is a batted ball with similar exit velocity and launch angle to past ones that led to a minimum .500 batting average and 1.500 slugging percentage.

Spin Rate

Spin Rate is the rate of spin on a baseball after it is released. It is measured in revolutions per minute (rpm).

Balls Hit 95+ MPH

The percentage of batted balls hit that met or exceeded the 95 MPH threshold.

Swinging Strike

The percentage of pitches that result in a swing and a miss.
Advanced Pitching Stats
Loading Advanced Pitching Stats...
Loading MLB Defensive Stats...
Recent RotoWire Articles Featuring Andrew Chafin
See More
Past Fantasy Outlooks
2022
2020
2019
2018
2017
2016
2015
2014
Chafin only threw 9.2 innings in 2020, so last season was his first pitching with the three-batter minimum rule. In 2019, Chafin faced lefthanders 60 percent of the time, but last year the southpaw faced lefties in just 39 percent of plate appearances. The shift didn't affect Chafin as his OPS against righthanders was a stingy .551 and an even more frugal .473 with the platoon edge. Normally, Chafin's groundball tilt limits homers, but renders a high BABIP. Lasts season, he yielded a customarily low four homers in 68.2 innings, while enjoying a fortunate .232 BABIP. Facing more righthanders did lower Chafin's strikeout rate, so he needed all the luck he could muster. Chafin's 1.83 ERA and .93 WHIP from last season may look enticing, but they are both due a steep correction. There are safer options in leagues where middle relievers are useful.
Chafin bears a resemblance to former closer Todd Jones. He pitches like him with the two-pitch mixture, but he has 317 fewer career saves than the former Tigers stopper. Chafin is a slider-first pitcher, as he throws the pitch 40% of the time with good reason. It is an excellent pitch which has generated a mid-20s whiff percentage the past few years. His fastball is decent enough, but the slider is the money maker for Chafin. That's the pitch that has helped him strike out at least 25% of the hitters he has faced in each of the past four seasons. The lefty does a decent enough job against righties so he can shed a LOOGY label, but he will pitch around righties to get to lefties which impacts his WHIP in a negative way. In NL-leagues, he's a quality source of reliever strikeouts but offers little value otherwise.
Chafin made 77 appearances and recorded a 3.10 ERA, overcoming a poor 11.9% walk rate with above-average strikeout (25.1%) and groundball (50.4%) rates. His role began to approach true-LOOGY territory, however, limiting his total innings to just 49.1 and putting a cap on his fantasy value. His average appearance was a career-low 0.64 innings, while a career-high 51% of the batters he faced were lefties. He actually fared better against righties, holding them to a .257 wOBA compared to .302 for lefties, though that's likely a one-season, BABIP-driven blip, as he's historically had fairly typical splits. The 28-year-old will likely remain a competent bullpen piece for the Diamondbacks this season, but he's unlikely to be considered in the closer conversation, and he doesn't have the high workload or dominant strikeout rate required to be a valuable fantasy asset without saves.
Chafin was among the unheralded bullpen options who stepped up to provide the D-backs with quality innings in 2017. He was used in a variety of roles, logging 51.1 innings in 71 appearances, a workload considerably heavier than that of a LOOGY. Chafin missed bats at a good clip (27.6 percent) and managed to trim his walk rate from 11.2 to 9.5 percent, churning out an ERA (3.51) that was more in line with his FIP (3.39) than the 6.75 mark he pitched to in 32 appearances in 2016. Holding lefties to a .217/.281/.284 line, Chafin needs to continue improving against righties (.261/.354/.439) in order to take another step forward. Working frequently with a sinker and slider combo, Chafin continues to get a lot of outs on the ground (56.3 percent). If he can do that, more high-leverage opportunities may be on tap, but Chafin is unlikely to close with Brad Boxberger and Archie Bradley ahead of him in the pecking order for saves in the Arizona bullpen.
After a stellar 2015, Chafin endured a disappointing 2016. The lefty was slowed by shoulder and groin injuries, and he ended up only pitching 22.2 innings at the big league level. A year earlier, Chafin led Arizona relievers by appearing in 66 games and tossing 75 innings. That year, he posted a 2.76 ERA to go along with a 1.15 WHIP. Those numbers ballooned last year. There were some encouraging signs, however. Chafin bumped his K/9 rate to 11.1 -- a significant jump from the 7.0 figure he posted in 2015. And Chafin's 2.89 FIP last season indicates that he was the victim of some bad luck. If he can keep his strikeout rate up, Chafin should post good numbers as one of Arizona's top left-handed relievers. Look for Chafin to gobble up some more holds after he recorded six last season and 16 in 2015.
Chafin was a key contributor to the Arizona bullpen in 2015, leading the unit in games and innings. In his age-25 season the lefty posted a 2.76 ERA across 75 innings, while striking out 58. He was particularly tough on left-handed hitters, holding them to a .182 batting average (righties hit .225 off Chafin). Now entering his second full season with the Diamondbacks, Chafin is poised to once again be a big part of the bullpen. Brad Ziegler figures to return as the closer, meaning Chafin, who had 16 holds a season ago, could be the main setup guy, though his effectiveness against lefties might lead to him pitching earlier in games depending on matchups. Any ineffectiveness on Ziegler's part could lead to a change at the back end of the Arizona bullpen, although Daniel Hudson is probably a more likely replacement option than Chafin.
Chafin enjoyed a measure of prospect status coming up with the Diamondbacks as a former first-round pick, but his stuff leveled out a bit in the high minors, giving him more of a back-end projection as opposed to someone who could be an impact starter. His command and control faltered at Triple-A, but he still earned three late-season starts that contained limited success. Chafin's best-case scenario is to become a Patrick Corbin-lite by tightening up his command to curb the free passes and long balls. There is no room at the inn with the Diamondbacks' rotation right now so Chafin will likely have to hone his skills in Triple-A, which can be tricky given the PCL hitting environment. While the best-case scenario involves a rotation spot, the most likely scenario puts Chafin in the bullpen though not necessarily as just a lefty-killer.
The left-handed Chafin had a very good year at High-A and Double-A in 2013, showing improved control after the promotion while seeing his strikeout rate fall. He sports three very effective pitches, mixing a fastball, slider and changeup in his arsenal. Chafin will likely open the season at Triple-A Reno alongside Archie Bradley, and he sits in the same boat as many of the Diamondbacks' young pitching prospects: an injury, trade, or letdown away from a chance at a few starts in Phoenix.
More Fantasy News