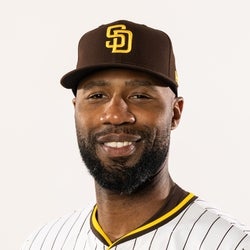 Rest-of-Season Projections
2023 Fantasy Outlook
Heyward feels like a player who's a lot older than 33. That's probably because he made his MLB debut way back in 2010 when he was just 20 years old. Heyward exploded on the scene with 18 home runs and 11 stolen bases as a rookie. He got to the 20-20 level two seasons later, but that version of Heyward is long gone. In 2022, he had just one home run and one stolen base while batting a lowly .204 across 48 games. A knee injury definitely slowed him down, but the veteran was showing signs of decline the past few seasons. The rebuilding Cubs decided Heyward no longer fit their plans, so they released the outfielder in November despite still owing him $22 million for the final year of his contract. He got a minor-league deal with the Dodgers, and while they may be able to get the most out of him, it will be a high bar for him to clear to get significant MLB time.
Read Past Outlooks
$Signed a one-year, $9 million contract with the Dodgers in November of 2023.

Reaches deal to stay in L.A.
ANALYSIS
Heyward and the Dodgers will run it back after he was surprisingly productive in 2023, slashing .269/.340/.473 with 15 home runs and 40 RBI over 377 plate appearances. His .813 OPS this past season was his highest mark since 2012, excluding the pandemic-shortened 2020 campaign. The 34-year-old should fill a similar role again in 2024, starting in right field against righties while occasionally filling in as a center fielder. The Dodgers' decision to bring back Heyward also means that
Mookie Betts
will continue to see more action at second base.
Read More News
Batting Stats
2023
2022
2021
2020
2019
2018
2017
2023 MLB Game Log

Calculate Stats Over Time
Just click on any two dates.
Scoring
FanDuel
DraftKings
Yahoo DFS
Loading Batting Game Log...
2022 MLB Game Log

Calculate Stats Over Time
Just click on any two dates.
Scoring
FanDuel
DraftKings
Yahoo DFS
Loading Batting Game Log...
2021 MLB Game Log

Calculate Stats Over Time
Just click on any two dates.
Scoring
FanDuel
DraftKings
Yahoo DFS
Loading Batting Game Log...
2020 MLB Game Log

Calculate Stats Over Time
Just click on any two dates.
Scoring
FanDuel
DraftKings
Yahoo DFS
Loading Batting Game Log...
2019 MLB Game Log

Calculate Stats Over Time
Just click on any two dates.
Scoring
FanDuel
DraftKings
Yahoo DFS
Loading Batting Game Log...
2018 MLB Game Log

Calculate Stats Over Time
Just click on any two dates.
Scoring
FanDuel
DraftKings
Yahoo DFS
Loading Batting Game Log...
2017 MLB Game Log

Calculate Stats Over Time
Just click on any two dates.
Scoring
FanDuel
DraftKings
Yahoo DFS
Loading Batting Game Log...
Minor League Game Log

Calculate Stats Over Time
Just click on any two dates.
Loading Minor League Batting Game Log...
Batting Order Slot Breakdown
#1
#2
#3
#4
#5
#6
#7
#8
#9
#1
#2
#3
#4
#5
#6
#7
#8
#9
Left/Right Batting Splits
OPS
PA
HR
RBI
AVG
Since 2021

vs Left

.614
125
3
10
.222
Since 2021

vs Right

.707
753
21
70
.238
2023

vs Left

.750
28
2
2
.192
2023

vs Right

.818
346
13
38
.276
2022

vs Left

.435
23
0
0
.217
2022

vs Right

.579
128
1
10
.202
2021

vs Left

.621
74
1
8
.235
2021

vs Right

.629
279
7
22
.208
More Splits

→

View More Split Stats
Home/Away Batting Splits
OPS
PA
HR
RBI
AVG
Since 2021

Home

.681
427
16
45
.216
Since 2021

Away

.704
451
8
35
.254
2023

Home

.794
182
9
22
.244
2023

Away

.831
192
6
18
.293
2022

Home

.452
74
0
5
.164
2022

Away

.655
77
1
5
.243
2021

Home

.663
171
7
18
.210
2021

Away

.593
182
1
12
.217
More Splits

→

View More Split Stats
Stat Review
How does Jason Heyward compare to other hitters?
This section compares his stats with all batting seasons from the previous three seasons (minimum 400 plate appearances)*. The bar represents the player's percentile rank. For example, if the bar is halfway across, then the player falls into the 50th percentile for that stat and it would be considered average.
* Exit Velocity and Barrels/PA % are benchmarked against 2019 data (min 400 PA) and Hard Hit Rate is benchmarked against last season's data (min 400 PA).
See here for more exit velocity/barrels stats
plus an explanation of current limitations with that data set.
BB/K

Walk to strikeout ratio

BB Rate

The percentage of plate appearances resulting in a walk.

K Rate

The percentage of plate appearances resulting in a strikeout.

BABIP

Batting average on balls in play. Measures how many of a batter's balls in play go for hits.

ISO

Isolated Power. Slugging percentage minus batting average. A computation used to measure a batter's raw power.

AVG

Batting average. Hits divided by at bats.

OBP

On Base Percentage. A measure of how often a batters reaches base. Roughly equal to number of times on base divided by plate appearances.

SLG

Slugging Percentage. A measure of the batting productivity of a hitter. It is calculated as total bases divided by at bats.

OPS

On base plus slugging. THe sum of a batter's on-base percentage and slugging percentage.

wOBA

Weighted on-base average. Measures a player's overall offensive contributions per plate appearance. wOBA combines all the different aspects of hitting into one metric, weighting each of them in proportion to their actual run value.

Exit Velocity

The speed of the baseball as it comes off the bat, immediately after a batter makes contact.

Hard Hit Rate

A measure of contact quality from Sports Info Solutions. This stat explains what percentage of batted balls were hit hard vs. medium or soft.

Barrels/PA

The percentage of plate appearances where a batter had a batted ball classified as a Barrel. A Barrel is a batted ball with similar exit velocity and launch angle to past ones that led to a minimum .500 batting average and 1.500 slugging percentage.

Expected BA

Expected Batting Average.

Expected SLG

Expected Slugging Percentage.

Sprint Speed

The speed of a runner from home to first, in feet per second.

Ground Ball %

The percentage of balls put in play that are on the ground.

Line Drive %

The percentage of balls put in play that are line drives.

Fly Ball %

The percentage of balls put in play that are fly balls.
Advanced Batting Stats
Loading Advanced Batting Stats...
Games By Position
Defensive Stats
Loading Games Played by Position...
Loading MLB Defensive Stats...
Batted Ball Stats
Loading Batted Ball Stats...
Stats Vs Upcoming Pitchers
Our full team depth charts are reserved for RotoWire subscribers.
Subscribe Now
Recent RotoWire Articles Featuring Jason Heyward
See More
Past Fantasy Outlooks
2022
2021
2020
2019
2018
2017
2016
2015
2014
2013
2012
2011
2010
2009
2008
Heyward may just be the oldest 32-year-old in baseball. He has been in the majors since he was 20, but the aging curve has hit him hard and fast. Strangely enough, his max exit velocity last season was in the 95th percentile, but there was otherwise little positive to take away from a fantasy perspective. Heyward's outlook was further muddled with the arrival of highly touted Japanese outfielder Seiya Suzuki in the offseason. Suzuki is expected to serve as the everyday right fielder, so Heyward should play more in center, where he'll compete with Rafael Ortega for playing time. With the Chicago outfield a bit more crowded and Heyward showing clear signs of decline at the plate, he is NL-only or draft and hold material only these days; set your expectations low and you will not be disappointed.
Heyward delivered steady production for the Cubs and fantasy managers in 2020. The veteran outfielder posted an .848 OPS, which was his highest mark since his 2010 rookie season and the first time he cleared an .800 OPS since 2012. Heyward added six home runs, 20 runs scored and 22 RBI across 50 games. Those were welcome numbers during a year in which Chicago saw players such as Javier Baez and Kris Bryant fall short of their lofty standards. Heyward's greatest asset is still his defense in right field. That doesn't translate to fantasy baseball, but at least he's started to hit a bit more after the Cubs signed him to an eight-year, $184 million deal before the 2016 season. The 31-year-old might never be quite the offensive dynamo you'd expect of a player with such a contract, but Heyward can still be expected to earn regular playing time and post respectable numbers in 2021.
Heyward hit more home runs in 2019 than he had the previous two seasons combined, and did so with very little change to his average exit velocity or launch angle. Yes, the 11.1% launch angle was the highest of Heyward's career since the measures became public in 2019, but it was 0.2 points higher than his 2017 season, so there was no massive change here to fuel the new power. To put Heyward's season in context: Yordan Alvarez earned $4 more on our Earned Auction Value Calculator despite 200 fewer plate appearances than Heyward last year. Heyward's value comes from the fact he plays five-to-six days a week as the Cubs attempt to squeeze as much as they can from the $23 million they spend on him each season. Before getting excited about a resurgence, stare long and hard at 2013-2018. His 2020 futures are somewhere in those numbers.
Take heed Cubs fans: Heyward has only five years and $105 million left on his contract. While he lowered his already-stingy strikeout rate even more to 12.5%, Heyward continues to do little with it. His hard-hit rate is well below average, corroborated by Statcast data, as he ranks low in exit velocity and barrels. Making matters worse is Heyward essentially stopped running, swiping just one bag all season. Even his defense slipped a bit. Not to pile on, but Heyward's durability is now a concern after he failed to top 127 games/488 PA for the second straight season. In 2018, he missed time early with a concussion then later with a hamstring issue. In the spirit of saying something nice, Heyward improved against southpaws for the second straight season. The Cubs are essentially pot-committed and thus will continue to send Heyward out there. With limited power and no steals, he's well off the mixed-league radar.
Heyward has failed to recapture the magic from his elite 2012 season while experiencing a steep decline in power, failing to top 14 homers in five subsequent years. That drawback is more acceptable if he approaches 20 stolen bases and a useful batting average, but he only swiped four and slashed .258/.326/.389 in 2017. Mining for positives? The once touted prospect plays for one of the league's best lineups, possesses a consistently above-average batting eye (0.59 career BB/K) and should remain in the lineup most days thanks to Gold-Glove-caliber defense. Unfortunately, his almost constant tinkering of his swing has left himself and fantasy players confused over what to expect, especially with his weak contact. Since he's still just 28 years old, there's an outside shot that he can finally cash in again on his tools, but it's understandable to be sick of chasing him, even if it costs pennies.
According to FanGraphs, Heyward was worth $12.8M during the 2016 regular season in the first year of an eight-year deal with the Cubs. If the speech he gave teammates during the rain delay of Game 7 of the World Series is worth at least $2.2M, the Cubs broke even. Elite defense is valuable, and Heyward continues to offer that on a day-to-day basis. Unfortunately, he was completely lost at the plate in 2016, and there were no signs of improvement as the second half and postseason unfolded. The sky appeared to be the limit when he swatted 27 homers for the Braves in 2012, but Heyward has racked up 45 long balls in the four seasons since (2,291 plate appearances). Wrist soreness and a hip contusion caused Heyward to miss time during the first half of 2016, and it's unclear if the lingering effects of those ailments fueled his big step back at the plate. Considering that he's just one year removed from a 13-homer, 23-steal campaign backed by a .293/.359/.439 line, and that he's still just 27 years old, targeting Heyward on the cheap may prove to be a low-risk investment that bears fruit.
Heyward has proven himself to be one of the game's best all-around players, but unfortunately, fantasy owners aren't really rewarded for excellent outfield defense. He has yet to grow into the kind of power bat he flashed in 2012 when he hit 27 home runs for the Braves. Heyward has yet to hit 15 home runs in a season since then. Heyward has, however, developed into a fine contact hitter, as he had a career-low 14.8-percent K rate and a career-high .293 batting average in 2015. He is also exhibiting increasingly efficient baserunning, as he stole 23 bases in 26 attempts (88 percent) last year and has 43 steals in 50 attempts (86 percent) over the past two seasons. Heyward never hit more than 18 home runs in his brief minor league career, so this could just be who he is, but at just 26 years old, Heyward could still tap into more power. He figures to slot in to a top-third lineup spot after signing with the Cubs in December.
If you subscribe to WAR, Heyward was a top-25 overall player in 2014, but his real-life value far outweighed his fantasy utility. The major-league leader in defensive runs saved with 32, Heyward improved his average by nearly 20 points and saw a dramatic spike in stolen base production, but he finished three homers shy of his 2013 total despite playing in 45 more games (209 more PA), resulting in a 60-point drop in ISO (from .173 to .113). He struggled against left-handed pitching to the tune of a .477 OPS, down from .802 in 2013, and he hit just .268 against four-seamers, well below the league average. There are some concerns that his issues against fastballs could be a lingering effect of him being drilled in the jaw with a fastball late in 2013, but he improved his contact rate to a career-high 82.2%, and his HR/FB rate (6.5%) figures to return closer to the mean (13.0%) in 2015. A November blockbuster sent Heyward to St. Louis, where he'll look to finally break out under the guidance of hitting coach John Mabry.
Three weeks into the 2013 season, Heyward, who had hit just .121 to that point, was forced to undergo an emergency appendectomy, and he continued to struggle immediately upon his return in mid-May. Slowly but surely, Heyward began heating up (.312 average in June), and he was off to a nice start to the second half before a broken jaw, the result of being drilled by a fastball, put him back on the shelf in August. All in all, Heyward hit .254/.349/.427 with 14 home runs and just two steals in 104 games. His ISO fell by nearly 40 points (from .210 to .173), and he took off on the basepaths a mere six times. There were some positive takeaways, however, as Heyward improved upon his strikeout rate dramatically (from 23.3 percent in 2012 to 16.6 percent), while also walking more frequently. He bettered his average against lefties by 40 points, and hit .322/.403/.551 after moving atop the batting order. Heyward is a likely candidate to lead off for Atlanta in 2014, and he's an obvious candidate to bounce back at the dish, after hitting just .199/.321/.323 on the road last year.
Heyward's power numbers took a big step forward in 2012 as he hit 27 home runs, more doubles and triples than ever before in his career, and easily set a new personal best in RBI and runs scored. He also stole 21 bases, more than he ever stole in his career, even in the minors. After suffering heavy sophomore struggles in 2011, his on-base percentage still has not come close to approaching the dazzling .393 OBP he posted in his rookie season, but it took a step back in the right direction at .335 in 2012 as his batting average also bounced back to .269. Sooner or later, Heyward should break out into a true MVP candidate. A lot of great players have done so in their age-23 season, which Heyward is entering. Even if it doesn't happen just yet, he will still be one of the most valuable fantasy outfielders available.
Heyward may have been the most disappointing player in fantasy baseball last seasons as he hit just .227 and was benched most of August in favor of Jose Constanza and later platooned with Matt Diaz against lefties (he struggled with just a .577 OPS against left-handed pitching). There are reasons to think he'll rebound as he's just 22 this season, he was bothered by a shoulder injury much of the season, he still drew walks at a decent rate and had a low .261 BABIP. A series of tests in the offseason also showed no structural damage in his shoulder. He needs to reduce his strikeouts and improve against lefties and last season leaves doubt he'll become an elite player. Still, the price for a young player with his talent and minor league track record may never be lower.
Heyward entered 2010 as the top hitting prospect in baseball and didn't disappoint. He finished second in NL Rookie of the Year voting after hitting .277/.393/.456 with 18 home runs while playing outstanding defense in right field. Heyward won the starting right field job in spring training and started off hot by hitting eight home runs with a 1.033 OPS in his first 31 games. However, he strained a ligament in his thumb on May 14 and continued to play with the injury before landing on the DL in July (and missed taking the field after being named to the All-Star Game), hitting .222 with a .689 OPS over that stretch. Once healthy, he hit .302 with a .875 OPS in the second half. Heyward has as much upside as any player in the game with excellent power, great strike-zone judgment, speed and an outstanding glove and arm in right field. He turned just 21 last season, so his initial performance in the majors shows he could quickly improve, especially given that he struggled with a hand injury much of the season. But there are some reasons for concern. Heyward struck out 128 times (75 percent contact rate) and hit just . 249 with a .755 OPS against lefties. Still, he drew walks at a strong rate (15 percent of plate appearances) and should see more power as he grows. It may not be too long before he's one of the best players in the game.
Heyward may be the best prospect in baseball after dominating at Double-A last season as a 19-year-old and he could be a fixture in Atlanta as early as 2010. Heyward hit .296/.369/.519 with 10 home runs at High-A and then hit .352/.446/.611 at Double-A before a three-game taste of Triple-A. His stats were even more impressive given that he turned 20 in August. He has all of the qualities you like to see in a prospect including excellent power, great strike-zone judgment, speed and all the tools to be a plus fielder. He'll likely start the season at Triple-A, but it may only be until late May or early June before he's in the everyday lineup for the Braves.
Heyward, the Braves' 2007 first-round pick could be a fast riser through the system after a strong 2008 season. He has all the qualities you like to see in a prospect including excellent power, great strike zone judgment, some speed and all the tools to be a plus fielder. He'll start the season at High-A Myrtle Beach and could be a factor in the majors as early as 2010.
Heyward, Atlanta's first-round pick in the 2007 draft, hit .288/.386/.404 in his first professional season in rookie ball. He has enormous power, good strike zone judgment and the tools to play right field. He's got a chance to rise very quickly in the system.
More Fantasy News