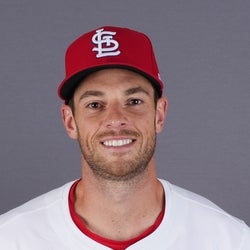 15-Day IL
Injury Lat
Est. Return 2/1/2024
Rest-of-Season Projections
2023 Fantasy Outlook
Fantasy managers hoped that Matz's signing with St. Louis would be a great match for his pitching style and the defensive prowess of the Cardinals. That never materialized because knee and shoulder injuries limited Matz to 48 innings of work and his gopheritis returned after a one year hiatus in the AL East of all places. Matz's 21% K-BB% is the only positive sign of the outcomes of his 2022 effort and a significant gap between his actual and expected ERA point to the potential for him to have a rebound in 2023 if he can get more grounders. He still retains three pitches with whiff rates above 25%, so if you squint at the numbers, there is an Andrew Heaney-like path toward that rebound season. You cannot be faulted for giving this enigmatic lefty one more chance on your fantasy roster, especially with his market value much lower than it was at this point last season.
Read Past Outlooks
$Signed a four-year, $44 million contract with the Cardinals in November of 2021.

ANALYSIS
Matz landed on the 15-day injured list Aug. 14 with a left lat strain and has yet to resume throwing. While the Cardinals haven't indicated that his lat strain is serious enough to require surgery, the team won't look to rush back a historically injury-prone pitcher in the midst of a non-contending season. Assuming Matz remains shut down, he'll finish his second season in St. Louis with a 4-7 record, 3.86 ERA, 1.33 WHIP and 98:32 K:BB over 105 innings. He'll head into the 2024 campaign with two seasons remaining on the four-year, $44 million deal he signed in November 2021.
Read More News
Pitching Stats
Loading Pitching Stats...
2023
2022
2021
2020
2019
2018
2017
2023 MLB Game Log

Calculate Stats Over Time
Just click on any two dates.
Scoring
FanDuel
DraftKings
Yahoo DFS
Loading Pitching Game Log...
2022 MLB Game Log

Calculate Stats Over Time
Just click on any two dates.
Scoring
FanDuel
DraftKings
Yahoo DFS
Loading Pitching Game Log...
2021 MLB Game Log

Calculate Stats Over Time
Just click on any two dates.
Scoring
FanDuel
DraftKings
Yahoo DFS
Loading Pitching Game Log...
2020 MLB Game Log

Calculate Stats Over Time
Just click on any two dates.
Scoring
FanDuel
DraftKings
Yahoo DFS
Loading Pitching Game Log...
2019 MLB Game Log

Calculate Stats Over Time
Just click on any two dates.
Scoring
FanDuel
DraftKings
Yahoo DFS
Loading Pitching Game Log...
2018 MLB Game Log

Calculate Stats Over Time
Just click on any two dates.
Scoring
FanDuel
DraftKings
Yahoo DFS
Loading Pitching Game Log...
2017 MLB Game Log

Calculate Stats Over Time
Just click on any two dates.
Scoring
FanDuel
DraftKings
Yahoo DFS
Loading Pitching Game Log...
Minor League Game Log

Calculate Stats Over Time
Just click on any two dates.
Loading Minor League Pitching Game Log...
Pitching Appearances Breakdown
How many pitches does Steven Matz generally throw?
What part of the game does Steven Matz generally pitch?
% Games Reaching Innings Threshold
% Games By Number of Innings Pitched
Left/Right Pitching Splits
BAA
K
BB
H
HR
Since 2021

vs Left

.258
76
19
66
6
Since 2021

vs Right

.264
220
66
250
31
2023

vs Left

.215
19
7
17
2
2023

vs Right

.275
79
25
91
9
2022

vs Left

.279
14
3
12
1
2022

vs Right

.250
40
7
38
7
2021

vs Left

.276
43
9
37
3
2021

vs Right

.261
101
34
121
15
More Splits

→

View More Split Stats
Home/Away Pitching Splits
ERA
WHIP
IP
K/9
BB/9
Since 2021

Home

3.98
1.37
138.0
8.1
2.8
Since 2021

Away

4.13
1.28
165.2
9.3
2.3
2023

Home

3.19
1.30
53.2
8.2
3.2
2023

Away

4.56
1.36
51.1
8.6
2.3
2022

Home

6.14
1.36
22.0
9.8
1.2
2022

Away

4.50
1.15
26.0
10.4
2.4
2021

Home

3.90
1.43
62.1
7.4
3.0
2021

Away

3.77
1.27
88.1
9.5
2.2
More Splits

→

View More Split Stats
Stat Review
How does Steven Matz compare to other starting pitchers?
This section compares his stats with all starting pitcher seasons from the previous three seasons (minimum 120 innings)*. The bar represents the player's percentile rank. For example, if the bar is halfway across, then the player falls into the 50th percentile for that stat and it would be considered average.
* Exit Velocity, Barrels/BBE %, Balls Hit 95+ MPH %, and Spin Rate are benchmarked against 2019 data (min 120 IP).
See here for more exit velocity/barrels stats
plus an explanation of current limitations with that data set.
K/BB

Strikeout to walk ratio.

K/9

Average strikeouts per nine innings.

BB/9

Average walks per nine innings.

HR/9

Average home runs allowed per nine innings.

Fastball

Average fastball velocity.

ERA

Earned run average. The average earned runs allowed per nine innings.

WHIP

Walks plus hits per inning pitched.

BABIP

Batting average on balls in play. Measures how many balls in play against a pitcher go for hits.

GB/FB

Groundball to flyball ratio. The higher the number, the more likely a pitcher is to induce groundballs.

Left On Base

The percentage of base runners that a pitcher strands on base over the course of a season.

Exit Velocity

The speed of the baseball as it comes off the bat, immediately after a batter makes contact.

Barrels/BBE

The percentage of batted ball events resulting in a Barrel. A Barrel is a batted ball with similar exit velocity and launch angle to past ones that led to a minimum .500 batting average and 1.500 slugging percentage.

Spin Rate

Spin Rate is the rate of spin on a baseball after it is released. It is measured in revolutions per minute (rpm).

Balls Hit 95+ MPH

The percentage of batted balls hit that met or exceeded the 95 MPH threshold.

Swinging Strike

The percentage of pitches that result in a swing and a miss.
Advanced Pitching Stats
Loading Advanced Pitching Stats...
Loading MLB Defensive Stats...
Our full team depth charts are reserved for RotoWire subscribers.
Subscribe Now
Recent RotoWire Articles Featuring Steven Matz
See More
Past Fantasy Outlooks
2022
2021
2020
2019
2018
2017
2016
2015
2014
Matz got lit up during the short 2020 season to the tune of 4.1 HR/9, leading to a 9.68 ERA. He regressed back to his previous results with an ERA near 4.00 last season while striking almost a batter per inning. It was almost a mirror image of his 2018 and 2019 campaigns. Most of Matz's struggles took place in his early-season "home" starts in Dunedin (5.23 ERA) and Buffalo (6.00). He went on to post a 2.12 ERA in Toronto. Now, he moves to an even bigger home park in St. Louis with one of the league's best defenses behind him. One item to keep an eye on is his fastball velocity. Before going on the COVID-IL in mid-June, he had a 9.4 K/9 with his fastball averaging 94.8 mph. After he returned from the injury (around the same time the foreign substance ban got enforced), those dropped to 7.7 K/9 and 94.1 mph. Matz has never been a consistent pitcher and it'll be interesting to see which version shows up in 2022.
When you look up the word enigma in the dictionary, you will find Matz's picture as an illustration of the word. For all of his potential, we have seen few results to back it up. This past season saw him strike out one of every four batters he faced, but that is the entire success story. Full stop. Matz was blasted around the strikeouts, allowing 14 homers in 30.2 innings of work. It was so bad, Jose Lima and Bert Blyleven felt bad for him. Add in 42 hits allowed and 10 walks, and it is pretty easy to figure out how a talented arm went 0-5 with a 9.68 ERA. The big blue wave of 2020 turned out to be Matz's Statcast page as he finished in the bottom 10th percentile in nearly every measure available. The Blue Jays bought low in an offseason trade, which may provide Matz the change of scenery he needs to right the ship. He should slot into the middle of Toronto's rotation.
Aside from a two-week stint on the injured list in May, Matz did well in his efforts to shed the "injury prone" label, making 30-plus starts for the second straight year while covering a career-high 160.1 innings. The improved health seemingly hasn't translated to much meaningful skills growth, however, as Matz's 4.23 xFIP and 14.5 K-BB% over the past two seasons are just about in line with his career marks (4.01 and 14.8%). Now 28 years old, Matz may never become the No. 2 starter that once seemed like a possibility when he broke into the majors in 2015, but he still maintains usefulness as a mid-rotation or back-end arm for both a real-life or fantasy pitching staff. Ideally, fantasy managers would maximize Matz's utility by keeping him active primarily for his home starts. He owns a 3.47 ERA at Citi Field for his career, including an exceptional 2.31 mark over 89.2 innings in 2019.
Matz exceeded the limited expectations set by his shaky health history, establishing career highs in starts and innings after offseason elbow surgery. The lefty kicked his K/9 back toward 9.0 and thrived in his home starts (3.59 ERA). Unfortunately, he endured another harmful HR/9 and posted a career-worst BB/9, leading the ERA estimators to paint a less rosy picture. The lefty dealt with a flexor pronator sprain in his left elbow in August but rebounded with a 2.51 ERA and 39 strikeouts in 32.1 September innings. In the end, he had a 10.4 K/9 in the second half. Matz worked to establish a repeatable delivery, and if the 26-year-old can build on his velocity gains and limit damage from right-handed batters (1.66 HR/9), his true breakthrough could still happen. You shouldn't have to pay for another 30 starts, which helps Matz's appeal.
After having bone spurs removed from his elbow prior to the 2017 campaign, Matz opened the season on the disabled list with renewed elbow discomfort. He came off the DL at the beginning of June and pitched 13 games before undergoing season-ending surgery to correct a nerve issue, again in his elbow. While active, Matz changed his approach in an effort to preserve his health. During the 2016 season, Matz threw his slider 10.4 percent of the time. That figure fell to 4.3 percent in 2017 -- he ditched the offering completely for a while. The change harmed his performance and resulted in a 6.08 ERA and 1.53 WHIP, career-worsts for the 26-year-old lefty. The long ball was detrimental to Matz, who gave up home runs at an alarming rate of 1.63 HR/9. Matz is expected to be ready for spring training and should have a rotation spot, but he is about as high risk of an arm as there is in baseball.
Unfortunately, nothing about Matz's outlook changed in 2016. He was seen as a high-end No. 3 starter with durability concerns, and sure enough, he posted a 3.39 FIP and 129:31 K:BB in 132.1 innings but missed the final six weeks of the season with a shoulder injury. He did not need shoulder surgery, but he did have an offseason procedure to remove a bone spur from his elbow, further adding to the litany of arm issues on his resume at the age of 25. At his best, Matz pairs a mid-90s sinker that can miss bats with above-average secondaries in his curveball and changeup. His 51.1 percent groundball rate ranked 18th among starters with 130-plus innings, and for a sinkerballer, his 23.6 percent strikeout rate is pretty impressive. Matz will enter spring training as the Mets' No. 4 starter, and he will be appropriately discounted in drafts due to the durability concerns. If he ever stays healthy for a full season, his owners will enjoy the profits.
Already flush with an obscene amount of pitching, the Mets called up Matz in late June and he appeared ready to join the conversation as the next big thing along with his young rotation-mates. His first two starts were 13.2 IP of a 1.32 ERA and 0.88 WHIP with 14 strikeouts and five walks. A torn lat muscle halted his speedy ascent and cost him two months, but he was good in September and throughout the postseason with a 3.19 ERA across 36.2 IP. The skills aren't really in question, even after just 50 IP (regular & postseason), but health was an issue coming up through the minors and seeing him hit the DL after just two MLB starts is worrisome. At the same time, this kind of profile can net big returns as long as the price isn't through the roof. Betting on health when the skills are already in place is a worthy gamble and a better use of resources than hoping for skills growth in areas of weakness.
Tommy John surgery prevented Matz, a 2009 second-rounder, from debuting as a pro until 2012. He wouldn't make his full season debut until a year later, and while the numbers were impressive, he was as a 22-year-old in A-ball. Matz took a big step forward in 2014, not only with another injury-free season during which he managed a career-high innings total (141), but he dominated yet again, splitting time between High-A and Double-A with a low-2.00s ERA in both. He works at 92-94 mph from the left side with solid command. His slow curve can be a plus pitch and should also miss bats regularly. The growth of his changeup will determine his future. When right, it looks great, but it is inconsistent. He has made up for the missed time and now sits on the doorstep of the big leagues, but the Mets may not have a need anytime soon. Consider Matz a worthwhile pick in leagues with minor league focus, otherwise wait until he is in the majors to act on him.
Matz, the Mets' top selection in the 2009 draft, had a slow recovery from May 2010 Tommy John surgery, finally pitching this year in the minors. He made the most of the year, tossing an impressive season for Low-A Savannah and posting a 2.62 ERA with 121 strikeouts over 106.1 innings. He has a fastball that tops out around 94 mph in addition to a good feel for his curveball and changeup. Matz was added to the 40-man roster in November to protect him from the Rule 5 draft, and he should begin 2014 at High-A St. Lucie.
More Fantasy News