Fantasy baseball continues to shift from the offensive explosion of the 1990s to an era where 2010 may have been the year of the pitcher. There were a slew of standout performances, including Roy Halladay running away with the NL Cy Young, Felix Hernandez deservedly getting the AL hardware despite a 12-13 won-loss record and Tim Lincecum's strong postseason run to lead the Giants to the World Series title.

Last year was also about across-the-board better pitching, as the league-wide ERA dropped from 4.31 to 4.07 year over year. The Giants rode a league-best 3.36 ERA to their first title since moving to San Francisco 52 years ago, and scores of impressive young pitchers made their big league debuts, including the much-hyped (and now hurt)Stephen Strasburg, Jeremy Hellickson, and Cuban fire-baller (105 mph? Really?) Aroldis Chapman. We saw five no-hitters during the regular season, including a Dallas Braden perfecto. Finally, we saw Cliff Lee's (more on him later) strike-out-to walk ratio of 10.3 fall just sort of Bret Saberhagen's modern-day record of 11.0.

As a result, finding the top pitchers may be more important for fantasy strategy than in the recent past. There are three circumstances that can help identify pitchers that could be undervalued or overvalued heading into 2011: The Verducci Effect, component numbers and offseason movement...

The Verducci Effect

Named for the venerable Sports Illustrated columnist, Tom Verducci, The Verducci Effect is based on the concept that young pitchers (25 years or younger) who experience innings spikes of 30 or more year over year are at an increased risk for injury. Is the concept that pitchers need to build stamina incrementally over a period of a couple of years a sound one? Sure, it makes sense. Are the players we're about to discuss in need of a severe fantasy downgrade due to their appearance here? Not necessarily. Simply, this is merely one more tool to take into account as you build your 2011 cheat sheets.

A quick review of Verducci's Top 10 as they appeared on the 2010 list:

No impact: Mat Latos (a Verducci Effect repeater in 2011), Felix Hernandez, Wade Davis
Injured: Homer Bailey
Maintained performance: Bud Norris, Josh Johnson (back injury), Rick Porcello, Max Scherzer
Took a step back: Joba Chamberlain
Was never that good anyway: Cesar Carrillo

An interesting list, but the theory clearly didn't hold true, as Felix Hernandez's 38 innings increase in 2009 didn't exactly affect the Cy Young winner in 2010. Historically though, the concept has predicted the breakdowns of pitchers such as Francisco Liriano, Anibal Sanchez, Dustin McGowan and Fausto Carmona. But who are we to say that there is a clear and direct correlation between increased workload and injury for young pitchers? Maybe it's pure randomness, but the Verducci Effect does give us a platform for discussing some of the game's better young pitchers and what we can expect from them in 2011.

Jaime Garcia's huge spike is due to a 2008 Tommy John surgery rehabilitation, and since the Cardinals did a good job of limiting his workload in September, I'm slightly less worried about his 2011 prospects for staying healthy. Still, this is a huge jump in innings, so perhaps the Cardinals limit him to 170-180 IP in 2011.

Philip Hughes' spike relates to his transition from the bullpen to the rotation, a move that is now permanent. I'm a little worried about Hughes in 2011, but if the Yankees can re-sign Andy Pettitte or another innings eater, I'll become less concerned. I'd rather the Yankees take the gloves off Hughes in 2012 than 2011 in terms of his workload.
A nasty hamstring injury limited Jon Niese's workload in 2009, but he rebounded with a solid 2010. No big concerns with him.

Mat Latos makes his second consecutive Verducci list appearance, with the Padres taking Latos beyond his projected 2010 innings due to their unexpected contention for the NL West flag. He did seem to tire a bit in September, though his 6.21 ERA that month was offset by a solid 35:8 K:BB. At 6-foot-6, he can probably absorb the spike
in innings.

Madison Bumgarner's 52.1 innings increase doesn't include the 20.2 innings of 2.18 ERA ball he spun in the playoffs. Hopefully he's not counted on for as big a workload in 2011, as he's by far the youngest pitcher on this list. Bumgarner also has an unusual delivery that can be seen as concerning, but yet again, he's not alone on the Giants' staff in that regard is he?

David Price is a big kid who got better and better as the season went along. That his increase came at age 25 minimizes the risk here. Jhoulys Chacin is a little more of a concern given his age, but he did post a 1.78 ERA in September. Mike Minor's college workload was very reasonable, so he should be fine.

Regarding Brett Cecil, the innings increase is a data point worth noting, but I'd be more concerned with how much the 1.84 ERA he posted against the Yankees in 2010 will regress.

A guy to be concerned about is Gio Gonzalez. He clearly has talent, but he's also just 5'11" and despite doing a better job in 2010 of repeating his delivery, he can be prone to mechanical issues that could potentially impact his ability to avoid injury.

I'm not sure Clayton Kershaw is any more prone to injury than any other pitcher despite his appearance here, but then again, maybe I have my Dodgers blinders on. It's really tough to not predict greatness here, especially given his vastly improved command over the second half last year (3.0 BB/9 vs. 4.0 pre-All-Star break). That said, I'm not quite ready to put him in the Adam Wainwright class of NL starters ... yet.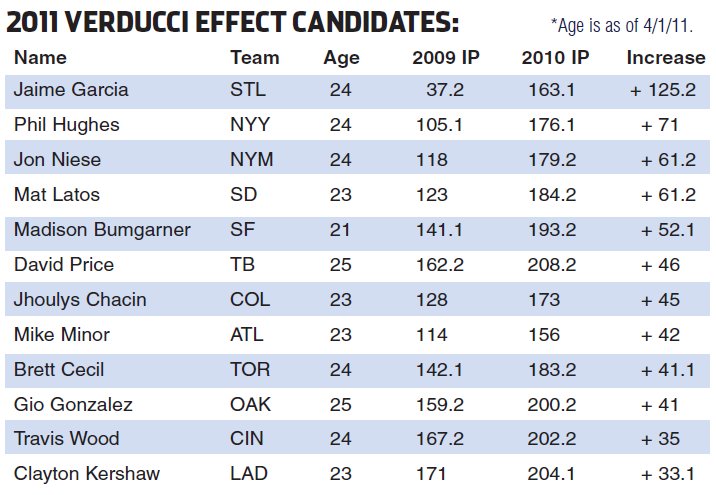 Component Numbers Looking Beyond ERA

Let's get a few definitions out of the way first:

xFIP – A metric used to approximate ERA, but takes into account only those things
(walks, strikeouts and home runs) that a pitcher can control. An extreme variance between (.80 or more as a general rule) xFIP and ERA.
BB/9 – Walks per nine innings.
K/9 – Strikeouts per nine innings.
HR/F – Home runs as a percentage of flyballs allowed (11 percent is about league
average).
Component numbers: The aforementioned BB/9, K/9, etc.
BABIP – Batting average on balls in play. Around .300 is league average, so as a
general rule, consider a mark greater than .320 signifying "bad luck," and a sub-.280
mark "good luck."

When evaluating starting pitching from a fantasy perspective, one simple rule is that you want to target hurlers who strike guys out, avoid walking the house and don't surrender too many home runs. Obvious right? In one sense, yes. On the other hand, it's pretty easy to get caught up in wins (though I'd imagine a large percentage of the fantasy community realizes wins are a poor way to compare pitchers) and ERA come draft day. This isn't exactly a pioneering concept, but unless you're playing in an expert league, there is value to be gained from focusing more on K/9, BB/9 and HR/F than ERA and wins.

No, this doesn't work in all cases, but one example from 2009/2010 is Ricky Nolasco. In 2009, Nolasco was a fantasy disappointment, notching 13 wins with a disappointing 5.06 ERA. However, Nolasco's 9.5 K/9 and 2.1 BB/9 were outstanding, and the difference between his ERA and 3.28 xFIP was a league-high (by far) 1.78. A year later, Nolasco's skills resulted in a 4.51 ERA and I imagine 2011 will be even better. On the opposite end of the spectrum, Randy Wells went from a 3.05 ERA in his 2009 rookie year to a 4.26 mark in 2010. The culprit? An inability to strike guys out (5.7 K/9) and a 26-point increase in his BABIP.

That said, who are a few guys that may be over or undervalued headed into 2011 based on their 2010 component numbers? Let's take a look and a handful:

Overvalued

David Price – Don't get me wrong, I love guys with 19-win, sub-3.00 ERA seasons on their resume. On the flip side, the Rays are cutting payroll, Price still plays in the AL East and a 3.4 BB/9 is average at best.

Clay Buchholz – A 6.2 K/9 and 3.5 BB/9 are not frontline starter worthy. That said, we haven't seen his best yet and you may have noticed that the Red Sox have upgraded their offense this winter. Just make sure you don't count on anything near a 2.33 ERA again.

Trevor Cahill – Cahill turns 23 in March, and while his sophomore season went far
better than his rookie debut in 2009, 18 wins and a 2.97 ERA leave Cahill a bit overvalued headed into 2011. Considering his age, further development will offset some of the decline, but simply, a 5.4 K/9 and .238 BABIP leave Cahill vulnerable to more like a 4.25 ERA than a sub-3.00 mark.

Mike Pelfrey – 15 wins and a 3.66 ERA were nice, but there wasn't really that much difference in Pelfrey from the 2009 version that posted a 5.03 ERA. A 5.0 K/9 represented a slight (5.2 in '09) year-over-year decline while his BB/9 improved slightly from 3.2 to 3.0. Interestingly, Pelfrey did develop a splitter last year, using it 16 percent of the time while relying less on his fastball and slider, so if that pitch continues to develop, that will certainly help. Still, in projecting Pelfrey's 2011 ERA, expect the truth to lie somewhere in the middle of his prior two years' results.

C.J. Wilson – Wilson (15-8, 3.35 ERA) made a solid transition to the rotation in 2010, but given his 4.1 BB/9 and .271 BABIP, I'm not sure those numbers are repeatable. Better to forecast around a 4.00 ERA for the 30 year-old.

Others: Jason Vargas, R.A. Dickey, Dallas Braden, Jeremy Guthrie, Tommy Hunter.

Undervalued

Josh Beckett – Given his history, it's unlikely Beckett is devalued too much next year, but either way, a strong rebound from a 5.78 ERA is nearly a given. Beckett's 8.2 K/9 remained strong, and though his command wasn't quite what we're used to seeing, his velocity is still there and his .349 BABIP is likely to return to his normal levels.

James Shields – Much of Shields' 5.18 ERA can be attributed to the 7.59 ERA mark he put up in his final six starts. Shields' 8.2 K/9 was the best mark of his career and he continued to limit free passes (2.3 BB/9). Expect his ERA to return to normal levels (3.80-4.00) right along with his .354 BABIP.

Jason Hammel – A 7.1 K/9 and 2.4 BB/9 shouldn't result in a 5-plus ERA, but it did for Hammel in 2010. Hammel added velocity last year and will pitch most of 2011 as a 28-year-old, so the best is yet to come. A nice NL-only sleeper.

Brandon Morrow – Among all major league pitchers with a minimum of 140 innings, no one came close to Morrow's 11.0 K/9. Sure, his 4.1 BB/9 is below average, but considering that mark dipped to 3.2 over his final 12 starts, there's a lot to like about the guy the Mariners drafted ahead of Tim Lincecum five years ago.

Bud Norris – Only a handful of major league starters bested Norris' 93.6 mph average fastball. That led to a 9.3 K/9 and 2011 sleeper status, particularly given the potential
(likely?) decline in Norris' 4.5 BB/9.

Others: Edwin Jackson, Ricky Nolasco, Justin Masterson, Joe Blanton, Chris Narveson (NL-only leagues).

On the Move

It doesn't take a rocket scientist to know that a move from the AL East to say Petco Park has a resulting positive impact to a pitcher's fantasy value. We didn't have such an occurrence this offseason (with the exception of a prospect involved in the Adrian Gonzalez deal), but let's take a quick pass through a handful of guys who will be taking the mound for new teams in 2011.

Cliff Lee (TEX to PHI) – Both ballparks are challenging for pitchers, but the move to the NL certainly helps. That said, Lee would be a stud in either league. Value change: Underrated.

Zack Greinke (KC to MIL) – Easier league. Check. Better offense. Check. Winning environment. Check. Value change: Underrated

Shaun Marcum (TOR to MIL) – Out of the AL East and into the NL Central. Yeah,
this helps Value change: Underrated.

Casey Kelly (BOS to SD) – We know a lot of you play in keeper leagues, so keep this
guy in mind given the change in leagues and very positive change in ballparks.Value
change: Underrated.

Matt Garza (TB to CHC) - It's hard not to say that moving out of the AL East in favor of the NL Central isn't a good thing for a pitcher (a la Shaun Marcum). In this case, a quick examination of the numbers tells a different story. Over past three years, due in no small part to an utter domination (12 starts, 1.47 ERA) of the Blue Jays, Garza was 18-13 with a 3.18 ERA against AL East opponents and 16-18 with a 4.59 mark against all other foes. As a result, Garza's move to the NL may cause his price to rise
too high on draft day. Value change: Overrated.