A commonly held fantasy truth is that hot Septembers are a telltale sign for breakouts the following season. Ben Zobrist crushed it in 2008 and had a career season in 2009. Jose Bautista had a big September in 2009 before his monster 2010 season and Troy Tulowitzki did the same in September 2010 before the even bigger 2011 season.

September 2011 saw several guys have big months including Brent Morel, Jeff Francouer, James Loney, Chris Parmelee and Carlos Pena. While Pena started off hot in April and has cooled off considerably in May (psst, he LOVES June), the rest of those guys have been a steaming pile of fantasy crap so far this season. One hot September came from someone who hit .333/.432/.606 that included five home runs, 20 runs driven in, 21 runs scored, and nine stolen bases. In all, a monster fantasy month from...B.J. Upton.

Upton has been someone that people have put some rather unrealistic expectations on since his 2007 season when he went 20/20 and hit .300. He took a .393 BABIP that season to hit .300 and as that BABIP came back down to a normal level in previous seasons, so did his batting average that more closely matched a guy that strikes out 25 percent of the time throughout his career.

Upton's career has been an odd one as the franchise first called him up in 2004 as a 19-year-old and then left him in Triple-A for all of 2005 and most of 2006 and even for the start of 2007 before leaving him up to stay. He injured his shoulder in the middle of 2008 and limped through the rest of the regular season until carrying the Rays through the AL playoffs and into the World Series. 2009 was a very tough rehab season for his hitting while he continued to steal bases, and his bat continued to come back in 2010 with power despite his batting average falling to a career-low .237. Last season, Upton got back over the 20-homer plateau and stole 36 bases but his average remained low at .243.

Late in 2011, he started making some changes to his swing. One of the first things he changed was his where he put his hands in his swing. In July, he held his hand up at his eye level at the start of the swing with the bat more vertical but lowered his hands a bit in September.




The other change he started was to change his lower half movement in his swing. For most of his career, Upton has kept that front foot on the ground and done a funky ankle twist with that front foot as part of his swing but late last season, he incorporated more of a pronounced front leg left and less of the ankle twist as shown in the animated gif below that shows three different swings from July, August, and September.


http://www.baseballprospectus.com/u/images/upton_swing_jc.gif>

This season, Upton has added another change to his swing as he has now gone to a more open stance at the plate. The image below shows an Upton plate appearance in late 2011 against Boston and one from earlier this week against Toronto.




Both plate appearances resulted in home runs but notice his front leg in the 2012 swing as it comes down while he gets ready to turn on an inside breaking ball to hit it out of the park.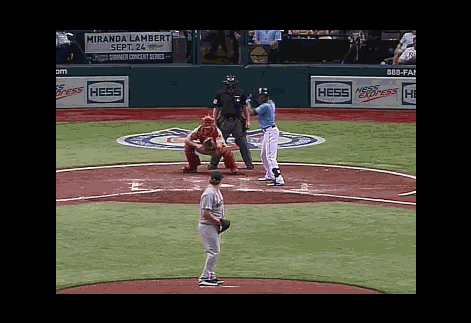 Since September 1st, Upton is now hitting .316/.397/.541 which includes nine home runs, 19 stolen bases, 35 runs scored, and 36 runs driven in, numbers any fantasy owner would love to have on a regular basis. My local colleague Tommy Rancel looked into what Upton was doing differently at the plate and found that Upton is being more aggressive at the plate while not compromising any contact.




The more aggressive approach at the plate as well as the opened stance have not affected how Upton uses the field. The spraycharts below, from texasleaguers.com, show how Upton is still using all parts of the field at nearly the same clip that he was doing last season.




250 plate appearances in, the only statistics that we can consider meaningful are swing percentage, contact rate, strikeout rate, line drive rate, pitches per plate appearances, walk rate, groundball rate, and flyball rate. This new approach from Upton is a meaningful change as he is being more aggressive at the plate while not sacrificing the batting average or the power. A .393 BABIP over these last 250 plate appearances is much like the .396 BABIP he had in 2007 when he had that big fantasy season and he would have to completely go into the tank to hit .240 again by season's end. 20 homers and 50 steals are certainly possible for Upton this season should he remain healthy.