In 2008, I traded away Manny Acosta for Ricky Nolasco before Nolasco picked up his first win of that season. He went on to win 15 games and Acosta saved one game before falling apart and that trade was a big reason I was able to finish second place that season. To date, that has been my highest placement in the league as I have had a meddlesome run of rather average finishes, some of my own doing.

The Tout Wars leagues are hosted on the onRoto software which has a very neat tool that shows you how the standings would have played out if everyone played the rosters they drafted all season without making moves. According to that tool, I would have finished second place last season with 85 points. Instead, I finished with 63 points because my own roster management got in the way. I am hopeful I did not commit a similar sin this week when I completed an in-staff trade this week with Chris Liss.

Liss and I are only a point apart in the standings but we have taken different paths to get to that point so far this season. Liss' team is an offensive juggernaut as he leads the league in runs and home runs and is third in runs driven in. He is tied for fourth in steals but his batting average has him ninth in the league. Meanwhile, he is first in the league in wins despite the fact he has the second worst ERA and WHIP in the league and is tied for eighth in strikeouts while completely punting saves.

Conversely, my offense has once again struggled. Pitching carried me in 2008 and every season in Tout Wars, my pitching outpaces my hitting. This season, I was determined to change that and drafted Albert Pujols, Peter Bourjos, Joe Mauer, and Nelson Cruz for power and speed. To date, I am fifth in average, tied for fourth in runs driven in, but am no better than eighth place in runs, home runs, or stolen bases while I lead the league in ERA and WHIP, am third in strikeouts, but ninth in wins since Liss is stealing all of the good karma there in wins while I can't buy one. Simply put, our two teams were a good match as he needed ERA/WHIP help and I needed power.

Here is a current view of the AL Tout Wars standings: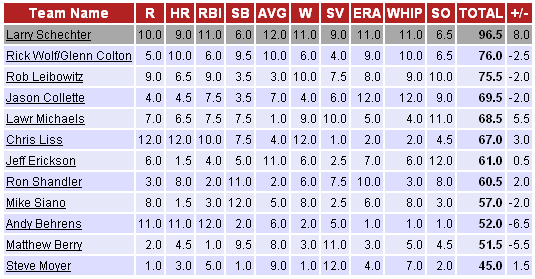 Earlier this week, I sent him C.J. Wilson and Michael Brantley for Adam Dunn and Alex Cobb. In a vacuum, it is a deal where both teams traded from their strengths but it does merit further examination at the categorical level.

Runs: While I am in ninth place, I am only eight runs out of fifth place in the category. Assuming Brantley holds his playing time the rest of the way, this deal is not going to help me move up in this category because most of Dunn's runs come when he drives himself in. Any improvement in this category is going to have to come from Bourjos (the other player Liss asked for) and others.

Home runs: At 67 home runs, I am tied with Matthew Berry and am seven ahead of the next team in the standings. Just 11 more home runs would put me in third place in the category so swapping out the punchless Brantley for Dunn while hoping for the Pujols resurgence to continue is where this deal should have its greatest impact.

RBI: I currently sit in sixth place tied with Lawr Michaels but am eight points from fourth place. There is a substantial gap of 42 RBI between third and fourth place so potential growth is likely limited to just two points.

Stolen Bases: This was not a strong category for me anyhow (thanks for nothing, Bourjos!) but this is where this deal could fall apart. I am tied for ninth with 36 steals, but third place has 43 steals so progress could be made. Brantley has been helpful of late stealing seven bases over the past 30 days and overall has hit .330/.362/.480 during that stretch thanks to a .368 BABIP from a guy with a career .302 rate. Since Brantley does not walk much, his steals come from his opportunities of being on base and that is going to be tied to his BABIP.

Average: I am tied for fifth at .2572 with Andy Behrens but this is going to go south. Liss is two spots behind me at .248 and six weeks worth of Dunn could easily see the two of us trade spots. Carrying both Dunn and Cespedes will hurt, but hopefully Pujols and Mauer can help soften that somewhat as well as Jeff Keppinger once he comes back from his broken toe.

Wins: Ninth place with 24 wins and Wilson owns 25 percent of those. My next big wins guy – Phil Hughes with five. Jeremy Hellickson and Colby Lewis both have four, and that's it for me. I have carried mostly middle relief pitchers on the team as Charlie Furbush, Alexi Ogando, Wade Davis, Addison Reed, Jake McGee, and Hisashi Iwakuma make up the rest of my team. Cobb will have a job for awhile as Jeff Niemann is both traditionally a slow healer and the Rays are extremely conservative with their injury rehabs. It was not by intent, but the sputtering Rays offense is going to need to pick it up if Hellickson and Cobb are to get consistent run support. I will still need to find another starter here as four starters is not going to be enough to make headway in this category and Cobb will help tread water. I can only drop as many as two points in this category.

ERA: I currently hold a .30 lead in this category and third place is .54 points behind me. Wilson has been a monster so far in this category, but Cobb and the Rays' defense (once it is full strength) should help keep me in the top three all season.

WHIP: I am up 1.133 to 1.192 over defending champ and current leader Larry Schechter. Third place is 1.279 so Cobb should also help keep me near the top the rest of the season but not at the top.

Strikeouts: There is significant risk here as I am currently in fourth place with 372 strikeouts but there is only eight strikeouts between fourth place and ninth place in this category where Liss currently sits at 364. This makes picking up another starter or high strikeout reliever an imperative move because the drop in strikeouts from Wilson to Cobb will show up in the standings very quickly. I have Koji Uehara available to put in for McGee which is a temporary band aid and Andrew Bailey is also on my roster once (if?) he gets healthy.

An overall seven-point surge would get me into second place in the standings….just a mere 20 points behind the league leader as Schecter looks to dominate the league for a second straight season. Damn dynasties!