Welcome to the meeting of the I Hate Wins As a Fantasy Category Club. My name is Jason and I will be chairing our discussion today. Raise your hand if you own Cliff Lee in a league this season? We're all in this suffering together so don't be shy. There you go. Now 11 starts into the season and he has as many wins as you and I do this season despit a 3.48 ERA, a 1.12 WHIP, and a 8.5 K/9IP. He has had four straight seasons of double-digit wins and has been a consistent four-category producer but entered Friday's start against the Rays still looking for his first win. Have hope – the Rays' offense is not very good these days as Evan Longoria is still out and Matt Joyce is out as well meaning the team will be Ben Zobrist, seven struggling hitters, and James Shields. The circumstances are perfect for a win – and I will even be there in attendance for the game and I am 0-for my last-5 in seeing the Rays attempt to win a game. These are the sacrifices that I make for this club.

Yet, while everyone is focused on Clifton Phifer Lee's issues, there is another guy out there pitching very well who cannot buy a win either. Over the last five weeks, he has a 10.5 K/9IP, a 1.11 WHIP, a 2.72 FIP, a 3.11 ERA and has but one win to show for it. His name is Francisco Liriano.

Admittedly, those starts include the end of his time in the bullpen in between his stints in the Twins' rotation but even if we focus on just his last five starts since reclaiming his job, it looks even better. 30.1 innings, just 16 hits allowed, has struck out 35 while walking 12 and has allowed just one home run. That computes out to a 2.69 ERA, a 2.50 FIP, a 0.93 WHIP, but gives him just one win and two losses in those five decisions.

To own Francisco Liriano is to love him because only someone that loves another could want to keep Liriano on their team. He had the magical 2006 season, the bounceback 2010 season, and the headaches since. As he is often called in fantasyland, he is fantasy kryptonite. His name comes up in a draft, an auction, or even a trade talk and despite your superpower analytical abilities; you break down and pick him, draft him, or trade for him. We all get at desperate times when our strikeouts are struggling but we're all here to support each other. Fact is, Liriano is looking good of late but we have been down this road many times with him so let's see what, if anything, has changed recently.

I posted the Liriano stats on Twitter this morning while working on this article and Sky Kalkman and Marc Normandin both chimed in on it. Kalkman is someone I have known since our days at RotoJunkie together while Normandin is a former editor of mine who I still like despite his allegiance to the Red Sox. Both guys came to the same point that I thought of when last watching him pitch – the slider is back. Liriano has always had a fastball and his changeup was there as well but every starter needs a third pitch to keep the opposition guessing.

Using the monthly splits data provided by Brooksbaseball.net, we can see how Liriano has done by month. He was a starter throughout April, pitched in both the rotation and bullpen in May, and has worked exclusively as a starter in June which allows the monthly splits to help us very well here so let's focus on just the slider over those three months to see how it has worked for him.


| | | | | | |
| --- | --- | --- | --- | --- | --- |
| MONTH | FREQ | VELO | %BALL | %CALLED | WHIFFS |
| April | 25.0% | 84.5 | 34.6% | 12.4% | 14.8% |
| May | 32.0% | 85.2 | 33.8% | 14.4% | 25.8% |
| June | 37.0% | 86.6 | 24.3% | 14.0% | 27.2% |
It would be great if we had a clean look at what Liriano did in May, but there is no doubt the slider is a more effective pitch for him now than it was at the start of the season. He is getting more swings and misses on the pitch now than in April – in fact, nearly twice as many. The big improvement with him is that he is throwing the pitch more for strikes than he did earlier this season. Some guys have great sliders but throw them as chase pitches when ahead in the count and guys spit on the pitches when it is thrown in other situations. He is getting the same amount of sliders called as strikes in June as he did in May, but the drop in called balls on the slider is rather dramatic as is the frequency of his usage.
The data at texasleaguers.com lets us see where Liriano was locating that slider by month: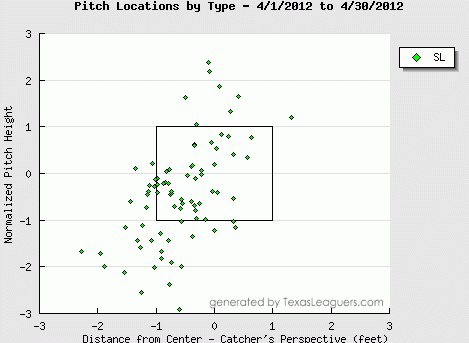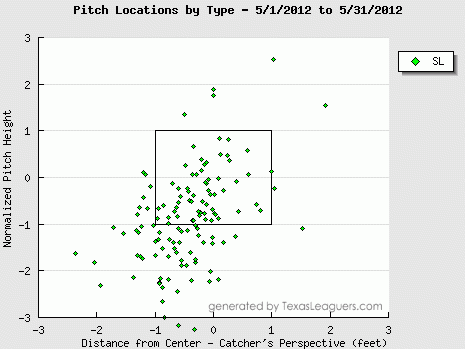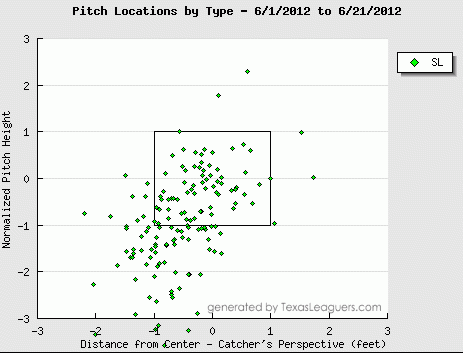 That helps show how poorly Liriano was in April with the slider that helped make him a more predictable two-pitch pitcher and how he's pounding the zone.
The issue with Liriano has ALWAYS been about consistency. The overall numbers still look putrid for him so you may be able to buy low on him and hope that he can continue this improvement. The run support in Minnesota will struggle since most of it lately has been supplied by the improbable
Trevor Plouffe
, but Liriano is pulling me back in right now.