For the last eight seasons, the Rays have had a different pitcher lead them in saves. Danys Baez, Tyler Walker, Al Reyes, Troy Percival, J.P. Howell, Rafael Soriano, Kyle Farnsworth, and now Fernando Rodney have led the team in saves from 2005 to 2012. That may seem maddening (or Maddoning) for fantasy owners, but it is not like any of these really should have come as a large surprise. Percival was ineffective in 2008 and gave way to Howell in 2009. Howell ended the season hurt and the Rays traded for the final year of Soriano's services in 2010. Farnsworth was signed to be the closer even though Maddon was reticent to actually slap the label on the pitcher.

The only surprise was Rodney who caught everyone by surprise this season by changing his delivery and location on the rubber to have a season of the ages. In fact, had our own glorious leader spent $53 on Rodney rather than Hector Santiago, he would be running away with AL Tout Wars. Many, including myself, thought Joel Peralta would fill in while Farnsworth was delayed in returning from an offseason injury but that never happened and Farnsworth's return took longer than expected allowing Rodney to cement himself into the role this season.

The good news is that the Rays have a very affordable team option on Rodney to exercise for next season, as they did for Farnsworth prior to this season. The only bad news is will they exercise it? The Rays were burned by Farnsworth as he was injured and has not been as effective this season. Rodney will be coming off a career year so there is the chance that Andrew Friedman could decide to sell the closer at peak value rather than retain him. Rodney's price tag could be a valuable commodity on the open market and it could help the team address its offense that appears likely to keep them out of the postseason in 2012. If the team does trade him, they appear to have a pretty good replacement ready in Jake McGee.

McGee was a 2004 draftee who moved up the organization quickly alongside Wade Davis until Tommy John surgery slowed down his progress in 2008. He came back fully in 2010, first as a starter in Double-A Montgomery before changing to relief in Triple-A Durham and never starting another game. McGee's transfer to the bullpen was both for durability issues as well as his inability to throw any kind of effective off-speed pitch.

McGee's gameplan is rather simple – rear back and fire fastballs. For his major league career, he has fired a fastball at the plate 84% of the time. When he isn't throwing fastballs, he throws a slider as he has no changeup to speak of. Frankly, he has not needed one. After all, the weighted run value on his fastball is the ninth-best in baseball for all qualified relievers according to the Fangraphs leaderboards. It is a simple gameplan for McGee: Here is my best pitch, see what you can do with it: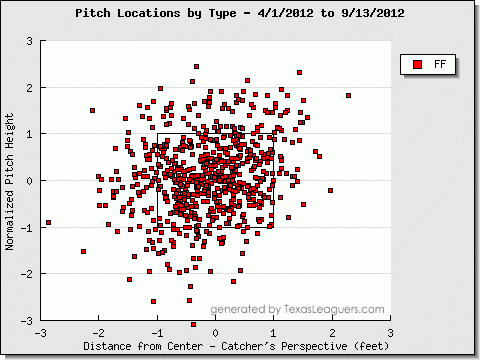 This season, McGee has permitted just 29 hits while walking six batters unintentionally and striking out 63 in 47 innings. As a result, 35% of the batters he has faced this season have been retired by strikeout including 16 of the last 25 batters he has faced. Opponents are hitting just .171 against him this season and he has stranded over 80% of his baserunners for a second consecutive season. Even his career strand rate is at 82% with 80 innings.

Looking at the Fangraphs leaderboard, McGee has the highest percentage of pitches in the strike zone swung at (75.4%) and yet still gets those dominating results. Overall, batters swing at any of his pitches more frequently than any other pitcher except Octavio Dotel and Jason Motte. Despite the fact batters swing at his pitches in the zone most frequently, they come up empty quite often he has the 19th lowest in-zone contact rate among all qualified relievers. In fact, if you look at the difference between the percentages of pitches hitters makes contact with and the percentage of pitches the pitcher throws in the zone, McGee's rate is the third best in baseball.

Aroldis Chapman leads all pitchers with a difference of just 1.3 as hitters swing at 66.2% of his pitches in the zone while making contact with just 67.5% of them. Steve Delabar is next as hitters swing at 72.3% of his pitches in the zone while making contact with 77.1% of them. McGee is third as hitters make contact 80.3% of the time while swinging at 75.4% of the pitches he throws in the zone.

Again, he is doing this kind of damage primarily with just one pitch. His slider is a good one, but he only uses it when he is ahead. This season, he has thrown 310 fastballs when the batter has been ahead in the count to just 12 sliders but has thrown 65 sliders when he is up in the count. The slider, even used sparingly, has been a good pitch for him as he has yet to allow a base hit when throwing that pitch and has struck out seven of the 12 batters he has faced when using that pitch at any point in the plate appearance.

With a high strikeout rate, very low walk rate, 49% groundball rate, and a high strand rate, McGee has all of the skills fantasy owners look for in reliever prospects. Now, all he needs is the opportunity so he can finally don that cap of Future Closer that has been on his hat rack for the past two seasons.