Strikeouts are a growing trend in baseball as the league strikeout percentage continues to rise in recent seasons. What was once 17 percent league-wide is now 20 percent here in 2013.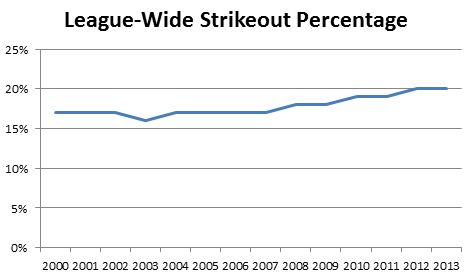 There are a few theories as to why this is happening, but one that is tough to refute is the fact that the game is becoming more specialized from the mound. Not only are we seeing better secondary pitches from certain pitchers, but we are seeing more utilization of bullpens that are loaded with fresh arms that can fire 95-plus mph seeds to the plate.

Managers are not hesitating to use their relievers frequently these days. Consider that from 2010 to 2012, there were just 10 different pitchers that threw at least 80 games in a single season. This season, nearly every team played their 81st game of the season yesterday officially putting us in the true second half of baseball and 10 different relievers have worked in at least 40 games in 2013:

1. Brad Ziegler - 43
2. Scott Rice - 43
3. Kenley Jansen - 41
4. Joel Peralta - 41
5. Michael Gonzalez - 41
6. Mark Melancon - 40
7. Wilton Lopez - 40
8. Jim Johnson - 40
9. Mike Dunn - 40
10. Ronald Belisario - 40

Only Jansen, Melancon, Peralta, and Johnson are owned in fantasy leagues, and those owners should be a bit troubled by the heavy workload so far this season. That said, if managers are going to ride their relievers hard and use them this frequently, we should take advantage of them on our fantasy rosters.

The aforementioned Jansen gained more value recently as the Dodgers finally gave him the closer job. He already had value with his strikeouts as he has totaled 59 strikeouts already on the season to lead all relief pitchers. Oh yeah, he also has more strikeouts than 32 pitchers that have made at least 10 starts this season!

As of the start of play Sunday, there were seven different pitchers who had struck out at least 50 batters in 2013: Jansen, Jason Grilli, Aroldis Chapman, Trevor Rosenthal, Steve Delabar, Ernesto Frieri, and Drew Smyly. Only four of those pitchers are closers.

Meanwhile, 21 starting pitchers have failed to strike out at least 50 hitters through 10 starts: Clayton Richard, Vance Worley, Freddy Garcia, Alex Sanabia, Brandon Maurer, Jon Garland, Ross Detwiler, Scott Diamond, Mike Pelfrey, Brandon McCarthy, Brandon Morrow, Alexi Ogando, Jeff Francis, Jonathan Pettibone, Zach McAllister, Wandy Rodriguez, Zack Greinke, Jeremy Guthrie, Joe Saunders, Jonathan Niese, and Luis Mendoza.

It has to be rather surprising to see pitchers such as Ogando, Greinke, and Morrow on that list, but it is true. A reliever like Delabar, who has both five wins and more than 50 strikeouts, currently has more value than those starting pitchers. Admittedly, the wins could dry up for someone like he or Tanner Scheppers but the strikeouts are not showing any sign of going away for some of the high-usage relievers. Besides Delabar, here are a few relievers to consider as you kick the soft-tossing starters to the curb:

Jesse Crain: Crains has two wins (zero saves), but has struck out 46 batters in under 37 innings. Crain has a lot of value on the real baseball trade market and could find himself on a team that is looking for someone to solidify their closer role (hello, Detroit) and could jump in value while continuing to pile up strikeouts.

Brett Cecil: He has absolutely reinvented himself as a shutdown reliever in late innings, particularly against same-handed batters. Cecil has struck out 47 batters in 41 innings while allowing just 21 hits, 12 walks, and a single home run.

Josh Collmenter: Collmenter has four wins and 44 strikeouts in under 43 innings of work with a WHIP just a hair over 1.00.

Shawn Kelley: He is only getting lower leverage work for the Yankees, but he has vultured three wins already and has struck out 43 batters in just 29 innings.

Mark Melancon: It would take a Jason Grilli injury for him to get saves, but he is consistently used in the eighth or ninth inning and has struck out 43 batters in 39 innings. The Pirates have not exactly had the most explosive of offenses outside of Pedro Alvarez lately allowing for some opportunities to pick up some wins in the later innings.

Justin Wilson: He has been coming into games before Melancon as Clint Hurdle is rather dogmatic with his bullpen patterns. Wilson has struck out 39 batters in 45 innings while picking up five wins at the halfway point of the season.

Koji Uehara: He is rather unhittable, strikes out a ton, and rarely walks anyone. Oh yeah, he pitches in a rather unsettled bullpen situation.

Roughly one-third of all games started in 2013 by pitchers have resulted in wins while 54 percent of quality starts become wins. Pitchers who struggle to strike batters out do not frequently meet the benchmarks for a quality start. Of the 1,264 quality starts in baseball in 2013, only 264 of those have come in games where the pitcher struck out three or fewer hitters. If most of these soft-tossers are going to struggle to get wins anyhow, why not go for pitchers that will at least help strikeouts while participating in the same futile chase for wins?