To say that I've been a
Nelson Cruz
fan for a long time would be a bit of an understatement. I first got on his trail in 2008, when my beloved Rays were struggling to hit left-handed pitching. I was looking for people to trade for and came to Cruz, who wasn't even on the 40-man roster for the Rangers and was raking in Triple-A for yet another season.
I spent that summer going on sports talk radio stations in the area making my case for this guy, even though hosts had never heard of him. I got very desperate near the 2008 trading deadline, I made a rather bold bet:

A trade was not made, and Cruz was eventually called up by Texas on August 25th and hit .330/.421/.609 for the Rangers in 133 plate appearances. That winter, Cruz was brought up in a Baseball America chat by my colleague Tommy Rancel as he asked, "Breakout candidate or Quad A?" Jim Callis's response was short and quick – "Quad A." This did not discourage me.

In 2009, Cruz hit 33 home runs, stole 20 bases, and hit .260 while I gently wept in a corner.
Fast forward five and half years later, and I shave my head every two weeks by choice, but Cruz does finally have a new home in Baltimore. What kind of player can fantasy owners expect from the new Oriole and how does his signing affect other players on the roster?
I have referenced this study a few times this offseason, but it's worth repeating several times as well.
Jeff Zimmerman
revisited the aging curve
, finding that we did not know what we thought we knew. This is where Cruz sits on the aging curve coming into 2014 as he turns 34 on July 1st.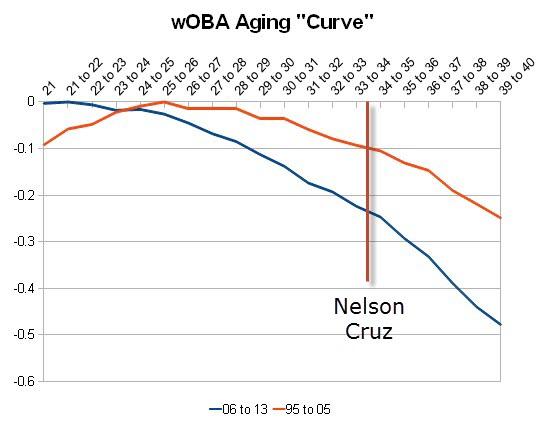 Heading into this point on the curve, Cruz has been very stable as a fantasy player. The only hiccup in his numbers over the past five seasons is that he sacrificed some power for contact and batting average in 2010. He also peaked with steals in 2009 as his stolen base total has dropped each of the past five seasons. Otherwise, Cruz has been good money in the bank, especially over the past three seasons.
| | | | | | |
| --- | --- | --- | --- | --- | --- |
| YEAR | BA | R | HR | RBI | SB |
| 2009 | 0.260 | 75 | 33 | 76 | 20 |
| 2010 | 0.318 | 60 | 29 | 78 | 17 |
| 2011 | 0.263 | 64 | 29 | 87 | 9 |
| 2012 | 0.260 | 86 | 24 | 90 | 8 |
| 2013 | 0.266 | 49 | 27 | 76 | 5 |
The average of those numbers is very much in line with the
composite projections
our friends at MLB.com's Fantasy411 posted last week. The composite projections, an average of all of the published projections by pundits, has Cruz hitting .259 with 70 runs, 25 home runs, 80 RBI, and six steals.
The change in ballpark does not affect Cruz's potential production because the park factors for Rangers Ballpark and Oriole Park at Camden Yards (OPACY) have been nearly identical in recent seasons. Some may worry leaving Texas may hurt him, while others may think the short fences in left will help him. Take solace in that Cruz will be fine as long as he continues to hit the way he has in the past.
Thankfully, Cruz's tendencies have been mostly as stable as his outcomes.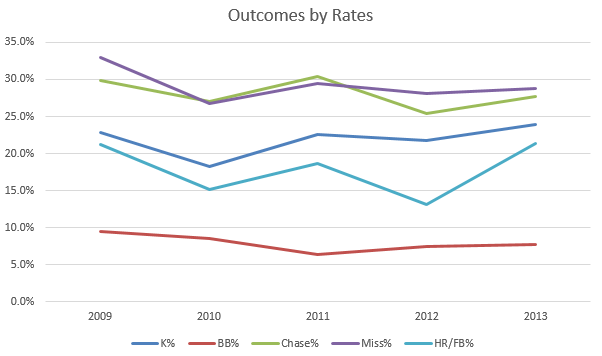 Only his HR/FB rate has shown some volatility; it was 21% at each end, but shifted around in the middle and was 13% in 2012. His rate of chasing pitches, his swing-and-miss rates as well as his walk rates are stable. The strikeout rates have increased over the past few seasons, but the rate is still within the acceptable range for someone of his skill set.
A projected lineup in Baltimore, once
Manny Machado
is fully healthy, will likely be:
1.
Nick Markakis
2.
Manny Machado
3.
Chris Davis
4.
Adam Jones
5.
Nelson Cruz
6.
Matt Wieters
7.
J.J. Hardy
8.
Ryan Flaherty
9.
David Lough
That lineup gives the Orioles a nice balance of left as well as right-handed bats in the middle of the lineup with only Jones and Cruz as back to back batters from the same side of the plate. Cruz spent most of his time in Texas hitting in the fifth or sixth spot in the lineup, so any increase in RBI potential will be minimal. If Wieters does hit behind him, fantasy owners will want better production from him than last season as he had a disappointing season. Wieters had just 13 extra-base hits with runners in scoring position last season, and these days, Cruz may not score from second on singles without a strong secondary lead.
David Lough
appears to be the biggest victim here in that he will plunge down the lineup and lose plate appearances. Lough at the top of the lineup had some
Nate McLouth
potential with the guys behind him having their extra base chops, but will now have to rely on the lineup turning over to score his runs. Lough should not lose time in left field, in AL games, to Cruz as Cruz is a horrendous defender. He has been near the bottom of advanced defensive metrics over the past few seasons.
The good news for owners of Cruz in keeper leagues, or players interested in him is that he did not land in Seattle. A few weeks ago, it seemed like a foregone conclusion that Seattle was going to buy the bat, and Cruz's production was going to suffer moving to Safeco. That did not happen, and mixed league players can safely spend $8-10 to acquire Cruz's power in the middle of this lineup. He goes from a division that had three pitchers parks (Seattle, Oakland, LA) to a division with just one (Tampa Bay). Given his motivation to revisit the free agent market this time next season, it wouldn't surprise me to see Cruz go the
Marlon Byrd
route and give up contact for power and try to hit 30 homers again in 2014.