My first trip to New York for Tout Wars in 2007 was terrifying.

That year, the draft weekend coincided with Easter. As a then 22-year-old who grew up in the Midwest, I was completely out of my element from the second the plane touched down at LaGuardia.

I remember nervously making my way toward Ground Transportation with the hope that I might be able to hail a cab by watching the locals do the same. To say that I was overwhelmed with joy when I saw a taxi stand just outside the airport doors, would be an understatement.

I wasn't going to end up in Hoboken.

There were three occasions where I ventured beyond the block that my hotel was on - and by Saturday night, after I had assembled my team in the NL-only auction, I was a slightly more grown up version of Kevin McCallister at the beginning of Home Alone. Slightly. The other league members had all booked flights to return home to their families on Saturday night for the holiday. I watched NCAA tournament games in my room with the door dead-bolted, chained and barricaded by my luggage.

Irrational? Absolutely. Did I mention I was 22 at the time?

Admittedly, there were others in the industry more deserving of a place in Tout Wars than I was at that time. The Powers That Be rightfully made changes after the 2007 season which ultimately knocked me out of the Tout ranks until 2012. It was then that I returned as a member of the 15-team mixed league auction.

Needless to say, the difference that five years can make is profound.

My track record in the league is not one to be proud of, with an 11th place (of 13) finish in the NL-only league in 2007, seventh place in 2012 (of 15) and a 13th place debacle last season.

Inevitably, leagues that have 12-15 great players are still going to have guys who finish in the bottom half (or bottom third) of the standings. But, I am hoping to look back at the early years of my time in Tout in the not-so-distant future and think that I was earning my stripes before reeling off a string of championships.

So there I was in New York again last week, seven years later. This year was going to be different.

I knew that something had changed when I was walking down Seventh Avenue on Thursday morning.

The bus-tour shills on the street corners of Manhatthan were no longer shoving pamphlets into my hand as I walked by. In fact, as I would approach them before reaching the crosswalk, they would turn and look elsewhere.

If nothing else, my "f*ck off" look has matured.

I looked back at the notes that I had from my team after the auction last season. My takeaway was that while I wasn't pushed around at the auction table, I wasn't aggressive enough for this format.

Back in February I told Jeff during an XM show that I was planning on buying Miguel Cabrera and Mike Trout in Tout this year.

Dead set on making it happen, I used the RotoWire Draft Kit app on my iPad to simulate what my roster could look like if I paid full price for both players. The app, factoring in the league's use of OBP instead of AVG, valued Trout at $59 and Cabrera at $51.

Here's what I had upon simulation: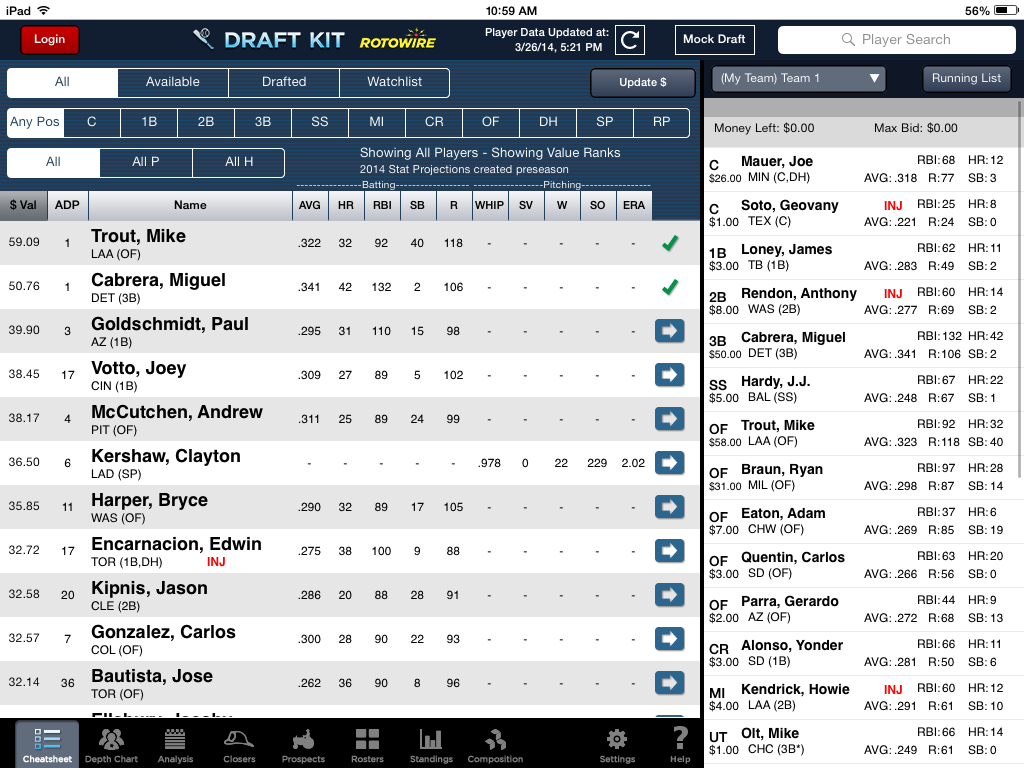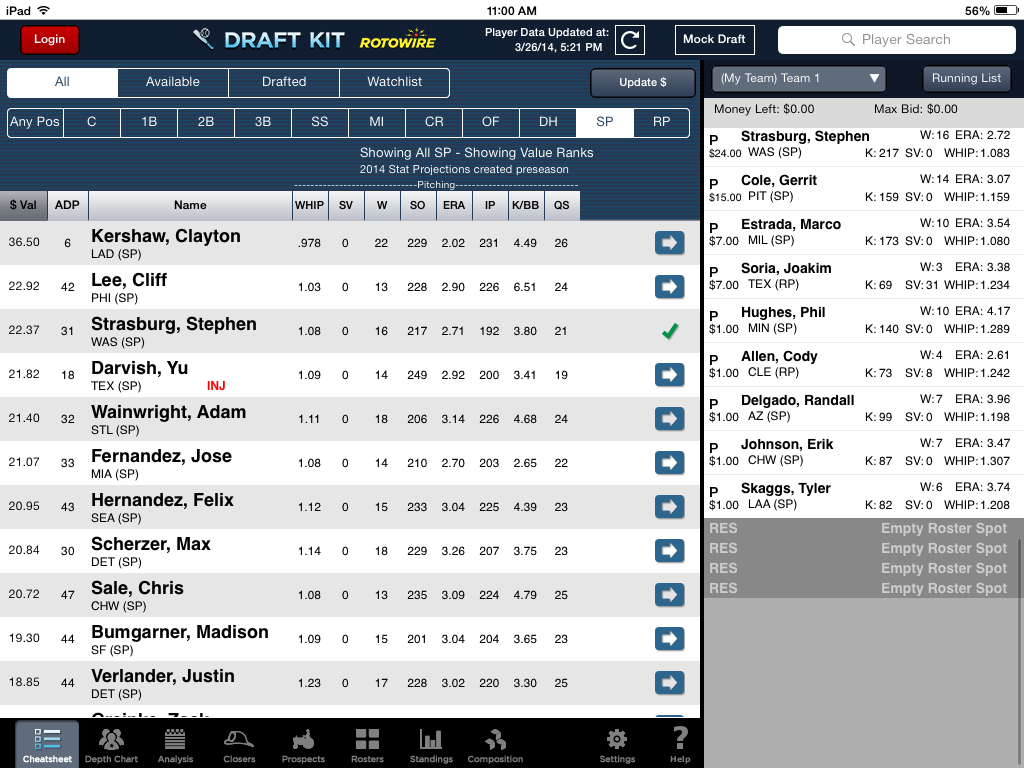 This simulation was run the morning of the draft, just before the Rangers announced that Joakim Soria would be their closer.

According to the projections, these 23 players were projected as follows for the 10 categories:

HR - 241, RBI - 939, SB - 112, R - 978, OBP - .355
W - 77, SO - 1,099, SV - 39, ERA - 3.411, WHIP - 1.184

There were definitely flaws here, but the numbers weren't completely far away from my targets. Plus, the idea of spending heavily on the two best hitters in the pool meant that I would need to make adjustments to my team throughout the year and have a lot of success in FAAB to tie up the bottom end of the roster.

Eight hours later, I had actual results.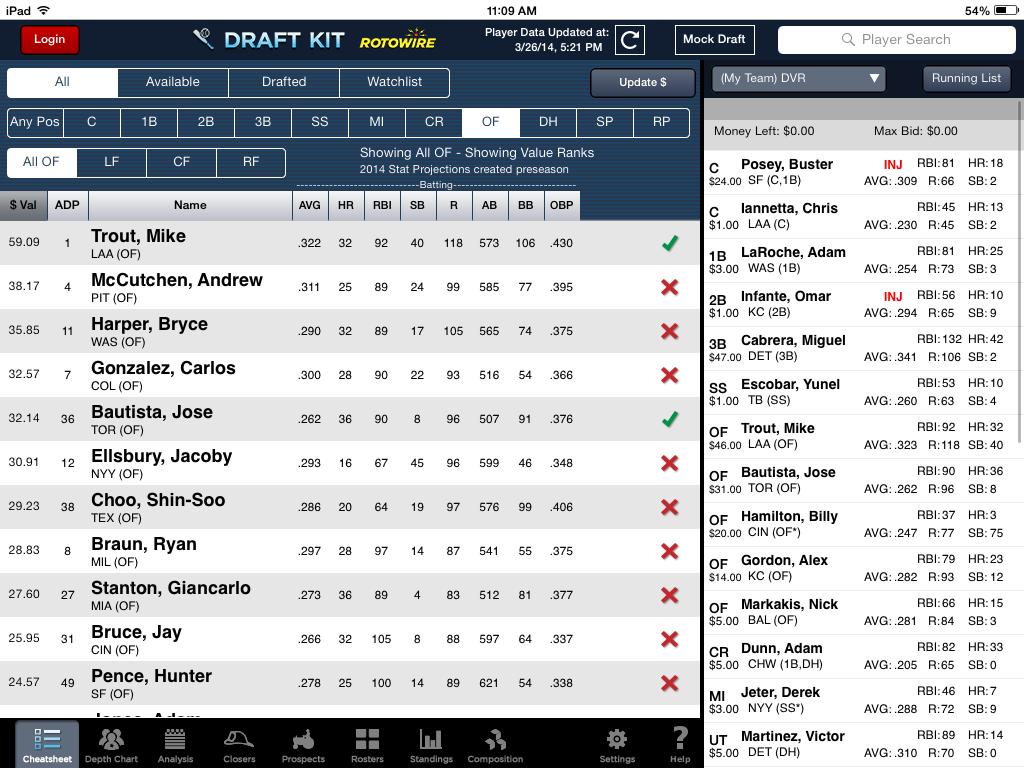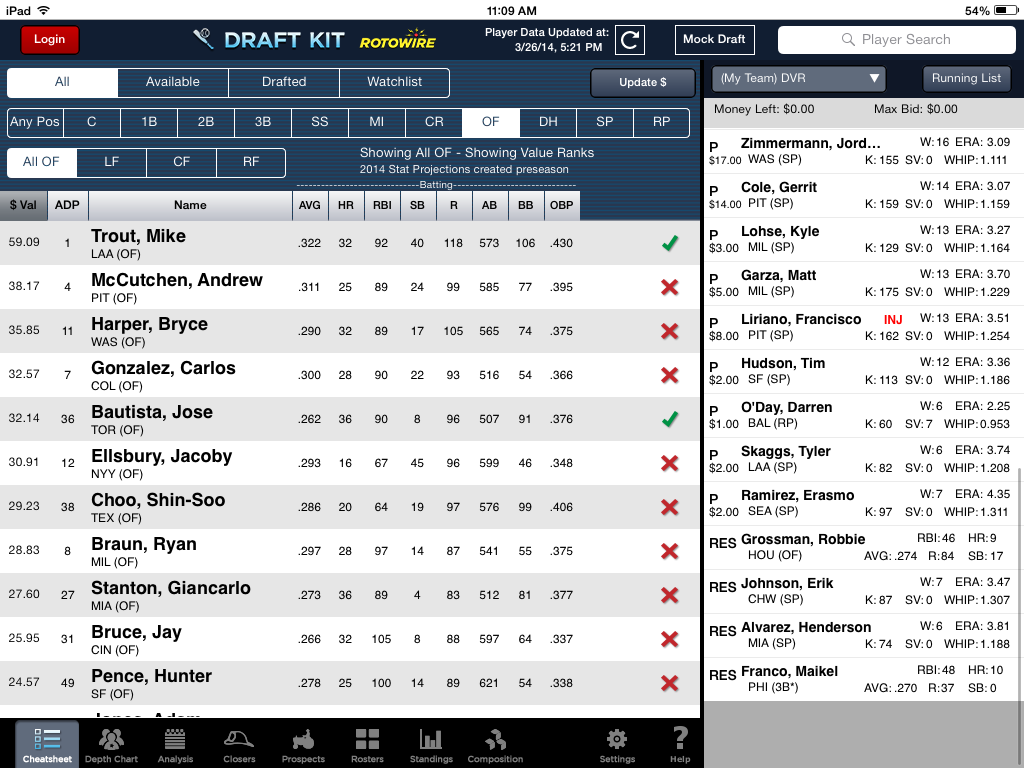 First and foremost, let's go to the tape. Did I land better projected numbers against the other 14 members of the league than in my simulation?

HR - 281, RBI - 1,029, SB - 169, R - 1,093, OBP - .355
W - 100, SO - 1,132, SV - 7, ERA - 3.39, WHIP - 1.184

(How strange is it that I ended up with a matching OBP and WHIP?)

The actual roster turned out better than my simulated one. And by a decent margin in a few categories. My offense is particularly strong thanks to the lack of a $25 pitcher, and not having a closer. However, I am confident that I can find saves on the waiver wire, or make a trade or two to fill the void if my waiver-wire efforts fail to yield fruit.

Some quick thoughts on each buy, top to bottom:

C - Buster Posey, $24 - I wasn't in on Posey last year when he was a first-round pick in some drafts, but I think the baseline for his production falls somewhere near the middle of his last two campaigns. Perhaps the playing time will look more like other catchers' workloads now that Brandon Belt has emerged to become a more steady bat at first base. Posey should give me an OBP over .380, 18-20 homers, and plenty of RBI, especially with the return of Angel Pagan atop the Giants' lineup.

C - Chris Iannetta, $1 - Even with the potential to share starts with Hank Conger, Iannetta projects at $6 in this league as one of the catchers who receives a big boost with the OBP/AVG swap.

1B - Adam LaRoche, $3 - Maybe the lineup placement is less than ideal to start the season, but LaRoche played through an elbow injury that required offseason surgery in 2013 and still carried a .330 OBP with 18 homers in 411 at-bats. If he's still a boring 20-25 HR, 80+ RBI guy, he's worth at least $10.

2B - Omar Infante, $1 - A filler player in the stars-and-scrubs arrangement. As long as his elbow injury doesn't linger, he'll just take up space for me. Not expecting much of anything to change with him in 2014.

3B - Miguel Cabrera, $47 - He came up for bidding after Trout was purchased, and the other owners pushed me to $1 more than Trout's price. I would have topped out at $51, so there's actually some room for profit here. By all accounts, he's fine after offseason groin surgery.

SS - Yunel Escobar, $1 - Hak-Ju Lee might push him during the second half of the season, but I like the way the Rays mix and match to create a better than expected offense on any given day. Much like Infante, there isn't much to gain here, and it will be a spot I try to upgrade over the course of the year.

CR - Adam Dunn, $5 - With so much OBP at the top of the roster, Dunn won't drag the overall number down much. His three-year averages in the power categories (28 homers, 74 RBI) might still be within reach assuming Paul Konerko doesn't wrestle away a large share of his playing time now that Jose Abreu is manning first base. It would hardly be surprising if he returns $8-10 in 2014.

MI - Derek Jeter, $3 - I had budgeted extra in the endgame for the likes of Dunn and LaRoche. The extra few bucks I had during dollar days were placed on Jeter as I can get a few extra FAAB dollars back if he ends up suffering a season-ending injury in 2014. Aside from that, I can't completely write off The Captain during his swan song.

OF - Mike Trout, $46 - As noted above, I was willing to pay $59 for Trout's services. Player prices in auctions exponentially decay from the second they are sold, but timing is crucial here. Paul Goldschmidt went at $39 to Paul Singman immediately before it was my turn to nominate. I figured there was a good chance Trout wouldn't go for more than $10 above Goldschmidt's price with that number fresh in the minds of the other owners.

OF - Jose Bautista, $31 - Credit Jeff Stotts for this buy. After Jeff indicated that the hip injury Bautista suffered last season shouldn't present long-term concerns, I was very comfortable at this price. Joey Bats offers plenty of batting average risk in traditional leagues, but his 16.4% BB% over the past three seasons ranks second only to Joey Votto.

OF - Billy Hamilton, $20 - If Hamilton reaches his RotoWire projection: .247/.305, 77 runs, 75 steals, he's worth $23.50 here. Much like Dunn in the endgame, the idea was that I had a lot of OBP built up and could roll the dice on getting a large share of my stolen bases here. The Reds still don't have quality alternatives to play center field, or to replace him in the leadoff role if he struggles. It's a risky use of $20, but Hamilton fit my core very well.

OF - Alex Gordon, $14 - This buy came at a point in the auction where I wasn't looking to spend this much on a hitter, but Gordon is a $20 player for me, especially with the chance to drive in more runs as he moves closer to the heart of the Royals' lineup.

OF - Nick Markakis, $5 - What ailment was he playing through last season? Markakis never became the annual 25-HR hitting start we expected years ago, but he'll lead off in a loaded Baltimore lineup this season with the chance to exceed 100 runs scored if he can rebound even slightly at the plate.

UT - Victor Martinez, $5 - Perhaps this is one of the better buys of the entire auction? Martinez hit .361/.413/500 over his final 66 games in the second half last season. Moving up in the order with the departure of Prince Fielder, he'll now follow Miguel Cabrera with an increase in RBI opportunities. If he manages to get behind the plate and earn catcher eligibility (only five games required in this league), this becomes even better.

P - Jordan Zimmermann, $17 - The max I was willing to spend on Zimmermann, although I think he was the highest ranked pitcher on my board at the time he was sold. Is there another level in terms of his strikeout rate coming (8.7% swinging-strike rate)? Maybe not, but a lot of innings with strong ratios still make him a good anchor.

P - Gerrit Cole, $14 - Much like Zimmermann, there isn't much profit room if the projections hold, but considering his pedigree and the trends with his results post callup last season, he might be able to push the ceiling quite a bit higher than expected. He should become an annual 200-strikeout starter, but will it happen in 2014?

P - Kyle Lohse, $3 - His eventual decline is going to resemble the end of a game of Jenga, but he's consistently better than most will give him credit for (three-year average: 3.16 ERA, 1.13 WHIP).

P - Matt Garza, $5 - I have concerns about his durability, but the move back to the NL (even with a hitter-friendly home park) should make him an asset with the bump I'm expecting in his K/9.

P - Francisco Liriano, $8 - The health grade is a concern here too, but Pittsburgh hasn't caught up to San Diego and Oakland in terms of a commonly held reputation for being a pitcher-friendly environment.

P - Tim Hudson, $2 - An older version of Lohse, in many ways, and pitching in an even more friendly home park with the move to San Francisco this offseason. Without closers, piling up more innings with good ratios offsets the need for higher K/9 options at the bottom of the rotation.

P - Darren O'Day, $1 - I don't think there's any reason why O'Day can't handle the ninth inning if the Orioles decide to move away from Tommy Hunter at some point.

P - Tyler Skaggs, $2 - With Skaggs, this is merely betting on the come. There will be spots (at Texas, in particular) where I can't use him, but trading Reno and Arizona for the park and defense in Anaheim is a huge win. Still just 22 years old, there is plenty of growth potential here.

P - Erasmo Ramirez, $2 - Remember the hype this time last year? The Mariners now have him inked into their rotation. He has been healthy and productive this spring (20:2 K:BB, 23.2 innings), while I am of the opinion that the former prevented a breakout from materializing a year ago.

Closing Thoughts

Scott Swanay has caught a lot of flack for leaving $61 on the table, but he'll actually claim that in FAAB after the savvy move of buying Brandon Beachy (already ruled out for the season) as his final player at that price. With a $161 FAAB budget from the start, he'll have the ability to use the hammer on free-agent picks for several weekly bidding periods. As a result, he may control the first six-to-eight weeks of pickups, and significantly bolster his roster in the process. Leaving that much money is a mistake no matter how you spin it, but Swanay's issue was that he was too loyal to his values.

It seems to have gone unnoticed, but the other 22 players he purchased for $199 project into a tie for fifth place right now in the projections-based standings I have. While the cost of sticking to his values cost him an elite player, and an upgrade or two throughout the auction, he seems to have a lot of profit potential on his roster.

Perhaps most importantly, the category that many owners believe to be the most difficult to acquire on the waiver wire (home runs), is the one he's projected to lead the league in.

As always, Foley's took great care of us throughout the weekend. It's hard to beat a bar that has Ommegaang on tap, an extremely friendly staff, and plenty of TVs to track NCAA tournament games. It's a must stop if you're looking for a watering hole in midtown Manhattan.