Last week I looked at how to use available statistical information to find out the cause for a hitter's struggles at the plate. In the article, I mentioned that I also utilize video to review a hitter's recent at-bats. Today, I am going to use both methods to determine Eric Hosmer's struggles.

It does not require formal training as a scout to pick up on a few things the basic and advanced numbers don't immediately point to. Sometimes it is just a hunch. Other times, it is pretty obvious. While watching Hosmer hit, I found some items in his plate approach that are causing his struggles.

When I do the dual approach, I don't look at the stats first to get any ideas of the cause. I will know the hitter is struggling or overachieving, but I don't want to go in with any preconceived notions of what I should be looking for.

When I look at a player, I like to get ~20 of his most recent plate appearances. Usually at least one game against a left-handed starter. For Hosmer, I looked at and took notes on each game from May 23rd to May 27th where he hit .190/.217/.190 (my notes are in the Appendix).

Here are the conclusions I came to:

- He chased pitches low and outside with weak or no contact.
- He took strikes right down the middle on the first pitch.
- He seemed to have problems making contact and fouled off a ton of pitches.
- Left-handed pitchers owned him.
- Teams used an exaggerated shift with the shortstop playing behind second base as seen here: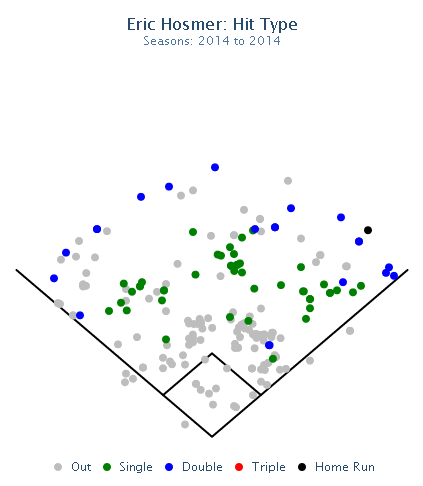 - Unrelated to anything with his production, he has an annoying pre-pitch toe tap.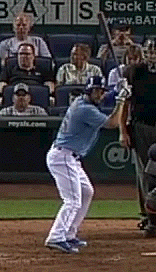 OK, with my eyes I have an idea of his problems. Now, I want to go through my statistical steps from last week to see if the data matches up.

His AVG (.280) is basically the same as his career average of .277. The main problem with Hosmer is his power outage. He has hit only one home run this season. He is on pace for three or four for the season after hitting 17 in 2013. Additionally, his ISO is down ~50 points from .146 to .100.

Concentrating on solely his home runs, some numbers stick out. First, his flyball percentage (FB%) is up from 2013 (25% to 33%). Even with the increase number of flyballs, he is just not hitting home runs with a HR/FB% at 2%. Finally, looking at his home run and flyball distance, he has gone from 297 feet last season to 264 feet this season. Essentially, he is hitting more flyballs with less power. Looking through recent articles about Hosmer, I can't find any mention of an injury or approach change sapping his power. Using my numbers-only analysis, there is not much of an answer for the power decline beyond the simple fact that he is just not hitting the ball as far as he did a season ago.

Now, I will dig into the points I noticed watching him.

I begin with these three points as they end up intertwined:

- He chased pitches low and outside with weak or no contact.
- He took strikes right down the middle on the first pitch.
- He seemed to have problems making contact and fouled off a ton of pitches.

First, does he not swing at the first pitch. Here are his swing rate for all 0-0 counts:




He pretty much goes after pitches in the upper inside part of the zone and has hit with a .333 average and .056 ISO. Nice average, but no power.

If he doesn't swing at 0-0, it is the tale of two outcomes. So far this season, when he goes 0-1 he hits .242/.271/.308 and when he goes 1-0, his production is .309/.374/.447.

Noticing he was swinging at pitches out of the zone, I looked at when this was happening. Basically, Hosmer is only looking to hit high and inside pitches with in no-strike counts. Once he gets one strike and especially when he gets two strikes, he is swinging at anything and everything. Here are his swinging zones for zero, one and two strikes.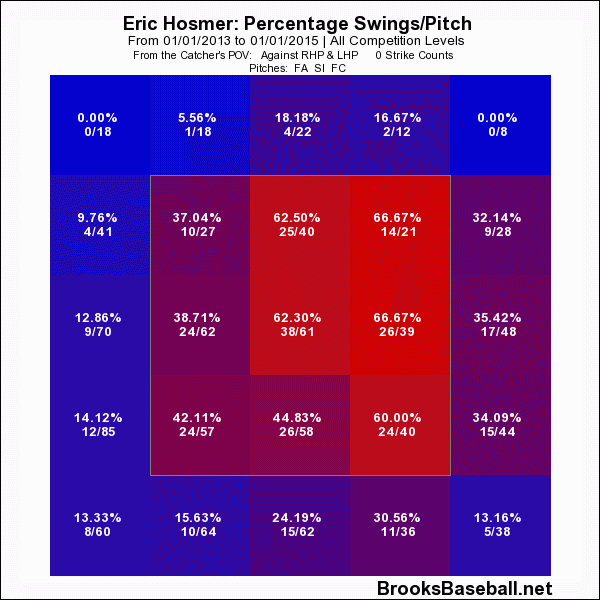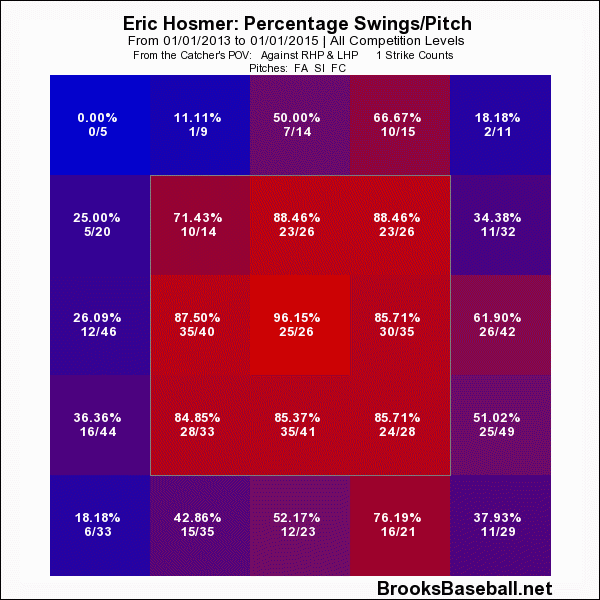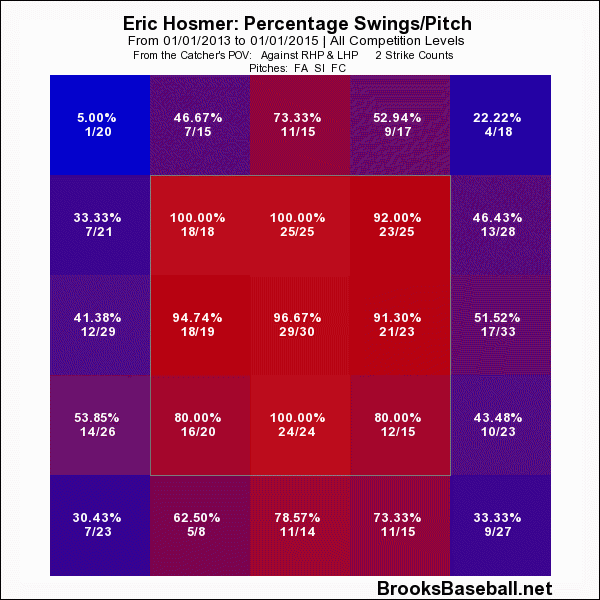 With no strikes, he is swinging at no more than 20% of pitches out of the zone. With one strike, his swing rate, especially for low inside pitches, jumps. With two strikes, almost every outside pitch is swung at 50% of the time, with the low pitch being swung at over 66% of the time. He transforms from Joey Votto to Jeff Francoeur once a pitcher gets a strike on him.

Now, here are the ISO values for each zone.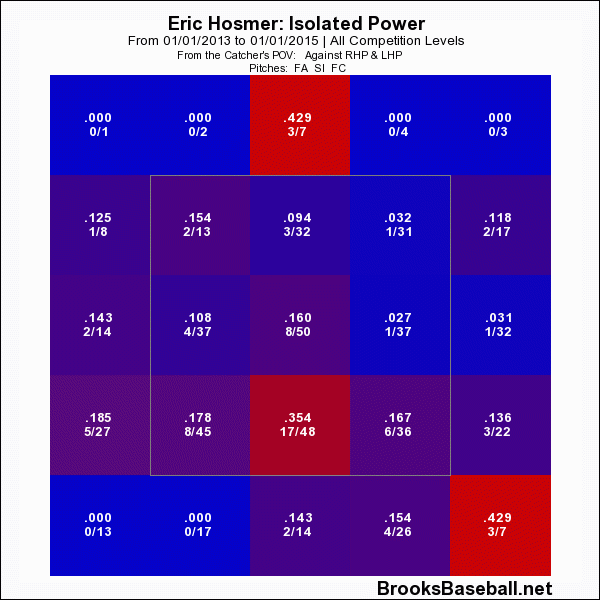 Hosmer is first-pitch swinging at only inside pitches and he has displayed very little power on these pitches as seen above.

Putting this information together, Hosmer doesn't scare opposing pitchers with his early approach. Hosmer will either swing with no power at high inside fastballs or not swing at pitches on the plate's outer half. Once the pitcher gets one strike, there is no need to get near the plate and risk solid contact as Hosmer is likely to swing at pitches out of the zone. For Hosmer to hit for more power, he is going to need to hit the high inside pitch for power and/or begin laying off pitches out of the strike zone after he gets one strike.

Now the second point:

Left-handed pitchers owned him.

Yep, he has struggled with LHP this season.

Pitcher hand: AVG/OBP/SLG, K%
Left: .242/.296/.348, 20%
Right: .299/.338/.394, 11%

and his career:

.263/.309/.358, 18%
.284/.341/.450, 14%

The difference is not surprising considering historical lefty-lefty matchups. I may be to the point of benching him against all left-handed pitchers.

And the third point:

Teams used an exaggerated shift with the shortstop playing behind second base:

Hosmer does a decent job hitting to all fields, but still favors the right side and center parts of the field. With this image, the location of the shifted shortstop can determine where the batted balls around second base are fielded, or if they make it to the outfield.




The shift may be dragging down his numbers a bit, but he is spreading the ball around enough to limit its effectiveness.

In conclusion, a better picture of Hosmer's struggles can be seen by combining all of the information at our disposal. He is hitting for almost zero home-run power because his plate approach makes it almost impossible to hit home runs. First, he can't hit the inside pitches for power (which he swings at a ton). Also, when the pitcher gets a strike on him, he expands the strike zone thereby limiting his solid contact. For Hosmer to turn it around, I would like to see him hit for power on strikes and not expand his strike zone with one or two strikes.

A person can spend hours going through the numbers determining why a hitter is struggling. A method to find the information faster is to watch some plate appearances. The data collected can help to find why a hitter is struggling and what to look for them to turn it around. With Hosmer, a new plate approach – depending on the number of strikes – could be a sign that his power will come back.

Appendix

5/27 vs Astros

#1 McHugh RHP
Just owned by McHugh
2 Fouls and swing and miss

#2 McHugh RHP
At 1-1, went for a pitch low in the zone for a warning track out.

#3 McHugh RHP
Flyball on curve.

#4 Sipp LHP
Hard hit grounder to 2B on inside pitch.

5/26 vs Astros

#1 RHP Feldman
Took curve down middle
Swung at curve low and away, flyball out left field

#2 RHP Fedlman
Late on 89-91 FB x4
Swung at CB in dirt, FB outside

#3 RHP Feldman
Handle of bat, groundball into shift

#4 LHP Sipp
Low inside pitch (first pitch) to the warning track. Great defensive play.

5/25 vs Angels

#1 RHP Richards
Swing K 98, Late Foul, Swing K

#2 RHP Richards
Late Foul, Foul fly out (LF)

#3 RHP Richards
Take strike, foul, swing strike (curve)

#4 Kohn RHP
Walk, pitches not even near plate.

5/24 vs Angels

#1 RHP Shoemaker
Grounds out to 2nd, seems like hips are way ahead of his bat. Fooled a bit.

#2 RHP Shoemaker
Grounds a 2-1 pitch to RF

#3 RHP Shoemaker
Golfs a breaking pitch in the dirt for a bloop single

#4 LHP Burnet
Take 1st K
Golf swing for a swinging strike
Hard grounder up the middle

#5 RHP Frieri
SwgK*2 94mph

#6 RHP Salas
Weak groundball up the middle into middle shift.

#7 Morin RHP
Check swing inside pitch on 0-0
GB through left side because of shift.

5/23 vs Angels

#1 C.J. Wilson LHP
Nice piece of hitting. Was an opposite field line drive right at third baseman moved over because of shift.

#2 Wilson LHP
Took strike on 0-0
Golfed a grass hugger for a flyball to CF for an easy out.

#3 Wilson LHP
Swung 0-0 at inside fastball for a flyball to CF

#4 Burnett LHP
Good at-bat until he reach for Ball 3, which was a ball near dirt and outside.