This article is part of our Handicapping the NBA series.
The Odds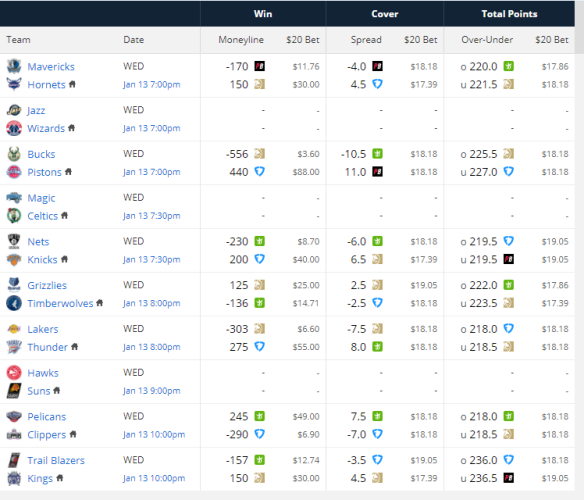 The Picks
Nick Whalen: Trail Blazers-Kings OVER 237.5 total points (Bet MGM)
Sacramento is the worst defense in the league and Portland is in the bottom-10, so the table is set for a high-scoring game. The number is huge – more than 10 points higher than the next-highest total on Wednesday's slate – but both teams play quickly, take care of the ball, and get to the free throw line. Portland potentially being without Jusuf Nurkic is a concern, but the backcourt alone is more than capable of carrying the scoring load. When these two teams faced off over the weekend, the total was just 224 points, but Sacramento's 99 points look like an anomaly. Over the last five Kings games, the totals have been 243, 252, 267, 224 and 249 points.
Alex Barutha: RJ Barrett over 2.5 assists (-165) vs. Nets – Bet MGM
This is such a low number that I don't mind the -165 juice. Barrett is averaging 3.5 assists in 37.8 minutes per game this season, and he's gone below 3 dimes just three times in 11 games. The Nets are on the second night of a back-to-back and could be slow-footed defensively, which could help the Knicks exceed the 106 points they're expected to score here, and that would likely lead to more assists for Barrett.
Ken Crites: I like MIN (-2.5) at home versus MEM.
The Grizzlies are coming in with a two game winning streak, via hot shooting from Dillon Brooks and their bench, plus their usual strong defense. I don't see them sustaining the low overall scores against a Timberwolves team that finally has Karl-Anthony Towns back. Are the Timberwolves a powerhouse? Of course not. But with KAT, they are better than their 3-7 record.
Jeff Edgerton: Austin Rivers - OVER 3.5 REBOUNDS (BetMGM, 3:43 PM)
We don't know if Rivers will start but over the past two games, he's averaging 35 minutes and has nine rebounds to his credit. His lifetime average hovers just blow three boards per game but his enhanced role with the Knicks should help him beat this number, especially against a Brooklyn defense that's especially generous in giving up boards after an errant shot.