With the NBA Finals underway, the end of the 2020-21 NBA season is near. For season-long fantasy players, the season has been over for almost two months, but that doesn't mean managers haven't been keeping a close eye on the key playoff storylines.
As the Suns look to secure the franchise's first ever championship, it's been impossible not to marvel at the play of Deandre Ayton, who's a noticeably better player now than he was just a few months ago. Meanwhile, Reggie Jackson – rostered in 21% of Yahoo leagues at the end of the regular season – emerged as the Clippers' second-best player after Kawhi Leonard went down. And while the Jazz ultimately outlasted the Grizzlies in Round 1, Dillon Brooks continued to demonstrate his ongoing transformation as a two-way, scoring guard.
For as much as the playoffs can boost a player's stock, the increased spotlight and scrutiny can also have the reverse effect. Ben Simmons' offensive struggles landed him most of the blame for the Sixers' disappointing second-round exit. And Julius Randle shooting 29 percent from the field in a five-game loss to the Hawks made it easy to forget why he was voted to the All-NBA Second Team.
It's important not to read too far into some of those narratives. After all, only four teams played more than 12 games. But the postseason is the final evaluation period for fantasy managers before officially turning the page to 2021-22, and it's often a player's last chance to impact his fantasy stock.
Let's examine some players who either raised or lowered their fantasy value this postseason:
Has any player boosted his reputation in these playoffs more than Ayton? A few months ago his identity was still directly tied to going two spots ahead of Luka Doncic. Fast forward to now and he's three wins away from capping an excellent playoff run with an NBA championship.
Ayton's scoring and rebounding numbers have risen in the postseason, and while his per-36 production is almost exactly the same, Ayton seems to have unlocked another level of confidence as a finisher. He may never be the type of big man who consistently creates his own shot, but if Ayton can finish at a 65-plus-percent rate, he'll be among the league's most valuable FG% contributors, while also adding scoring, high-volume rebounding and a little over 1.0 blocks per game. - Nick Whalen
The 2020-21 Most Improved Player helped lead a scrappy Knicks team to a shocking No. 4 seed in the Eastern Conference. He was the hub of the offense and averaged 24.1 points, 10.2 rebounds and 6.0 assists per game. His increased offensive output was partly due to the coaching staff trusting him to make plays for his teammates and partly due to his improved jumper. Prior to 2020-21, Randle shot 29.5 percent on threes and 72.4 percent on free-throws. Those numbers increased to 41.1 percent and 81.1 percent, respectively. He finished the season ranked 26th on a per-game basis.
Things took a nasty turn in the playoffs, however. The Hawks were able to key in on Randle during the first round, forcing him into rough looks and bad decisions. He was one of the worst high-usage performers in the playoffs, averaging 18.0 points per game but shooting just 29.8 percent from the field. He also turned the ball over 23 times combined to just 20 assists.
If the Knicks make no significant moves in the offseason, Randle will still hold the keys to the offense, and he could remain productive enough to flirt with an All-Star nod. However, fantasy managers should wonder if the book has been written on how to guard Randle. Can he adjust? And is a team led by Randle simply doomed in the playoffs? If coach Tom Thibodeau believes that to be the case, the offense could undergo some adjustments to make it more egalitarian. - Alex Barutha
When we compiled our way-too-early top-150 last month, Jackson did not make the cut. I don't think Alex or I even remotely considered adding him to the list. But after a brilliant playoff run that began midway through the Clippers' first-round series against Dallas, Jackson is very much back on the map.
Over his final 15 appearances, he averaged 19.3 points, 3.6 assists, 3.2 rebounds, 1.1 steals and 3.2 made threes per game, all while posting a 50-43-87 shooting line. Expecting those numbers to sustain is unrealistic, but Jackson showed enough that he'll be a sought-after guard in free agency this summer. If he lands in the right spot – that is, a team willing to hand him close to 30 minutes per night – it's possible he could hover around the top 100. - Nick Whalen
⬆ Stock Up: Ja Morant, Grizzlies
From a fantasy perspective, Morant actually took a step back during the 2020-21 regular season, mostly due to his declining efficiency (44.9 FG%, 72.8 FT%). As a rookie, he ranked 74th in fantasy on a per-game basis, and his rank dropped to 114 as a sophomore.
However, he took his game to another level when he was needed most. From the Grizzlies' second play-in game against the Warriors through the end of the playoffs, Morant averaged 31.0 points, 7.8 assists, 5.0 rebounds and 1.0 steals in 41.3 minutes. He also shot well from three (2.5 makes per game at 36.6%) and cleaned up his efficiency in general (48.6 FG%, 78.6 FT%).
The overarching questions about how Morant's game translates to fantasy are still unanswered – Will he ever put up meaningful defensive stats? Will he be a reliable volume three-point shooter? Can he crack 80 percent from the free-throw line? – but he looked like an emerging star in the 2020-21 postseason, and that should prompt fantasy managers to draft him for his upside. - Alex Barutha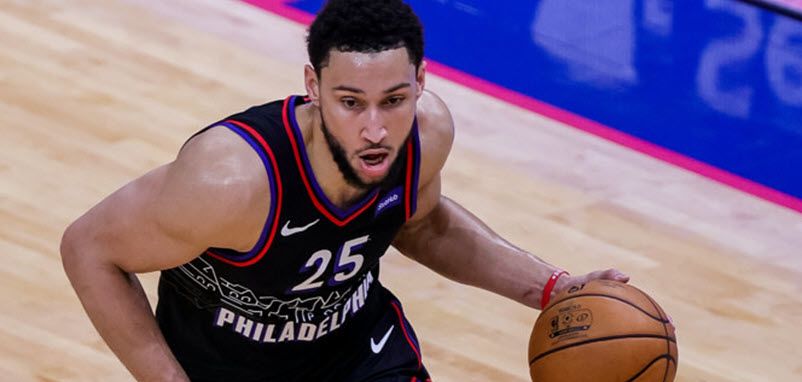 Fantasy value aside, Simmons may hold the official record for the single most reputation-damaging postseason in NBA history. Over the course of just 12 games, Simmons managed to go from we can't give him up for James Harden to could they even get Collin Sexton for him?
Statistically, Simmons wasn't all that far off from his career playoff averages. In fact, his 8.8 assists per game were a career-high (playoffs or regular season) and he added 7.9 rebounds, 1.3 steals and 0.8 blocks. But when it comes to scoring – and free throw shooting – there's clearly some sort of mental disconnect.
Heading into the offseason, it remains to be seen how the Sixers will proceed with their once-cornerstone piece. If Simmons remains in Philly, he'll be under extreme pressure to show tangible improvement right away. Maybe that happens, but history suggests it won't. If the Sixers opt to trade him, there's a chance he could find a better fit, but adjusting to a new situation would carry an entirely different set of unknowns. By draft season, fantasy managers should have a clearer picture of what to expect. But one thing is certain: Simmons won't go into next season with an ADP inside the top-20 again. - Nick Whalen
Fantasy managers always have to factor in health with Porzingis. He played just 43 games in 2020-21. So, while his per-game numbers remained impressive – he ranked 40th in fantasy on a per-game basis – he ranked just 106th in total value. It's tough to blame managers, especially those in best ball leagues, for hoping Porzingis can stay healthy since his numbers translate so well to fantasy. In 2020-21, he averaged 20.1 points on 48/38/86 shooting, 8.9 rebounds, 1.6 assists and 1.34 blocks in 30.9 minutes.
With that said, the 2021 playoffs were a new low point in Porzingis' career (putting aside injuries). The player to whom the Mavericks gave a five-year max, the clear No. 2 option on a team with an MVP candidate as its No. 1, took just 10.3 shots per game for 13.1 points in a seven-game series against the Clippers. He grabbed 5.4 rebounds per game. He took 18 shots at the rim in seven games. It was a historic "I'm going to prove the doubters right" performance.
Maybe Porzingis can keep putting up numbers against softer regular-season defenses, but something will have to ultimately change for the Mavericks to have faith in him long-term. - Alex Barutha
George's 2020 bubble playoff run was so disastrous it managed to earn him the nickname "Pandemic P", but he managed to brush that off and play well during the 2020-21 season, improving his numbers nearly across the board compared to his debut season with the Clippers. He notably set career highs in true shooting percentage (59.8) and assists per game (5.2). The increased efficiency and playmaking led to him ranking 19th on a per-game basis in fantasy.
George continued to rectify his reputation in the 2021 playoffs, playing well throughout the whole postseason. Notably, he stepped up his usage after Kawhi Leonard suffered a knee injury that kept him out from Game 5 against Utah onward. During the Clippers' final eight playoffs games, George averaged 29.6 points, 11.0 rebounds, 5.6 assists and 1.4 steals. It remains unclear if Leonard will miss any significant time next season, but if he does, there should be confidence from fantasy managers that George can continue to play at a high level. - Alex Barutha
It was an overall disappointing season for Davis, who got off to a slow start and never fully caught up before injuries wrecked his second half. I'm willing to chalk up the across-the-board statistical decline to a post-Bubble swoon, but what's more concerning is that the injuries continue to pile up for the big man.
On top of the calf strain that cost him 30 regular-season games, Davis battled knee and groin issues leading up to the Lakers' unceremonious Round 1 playoff exit. When healthy and engaged, Davis still has the potential to be a top-three fantasy asset. But after burning many a fantasy manager in 2020-21, expect Davis to carry a lower ADP into his age-28 season. - Nick Whalen
Brooks earned the reputation of a chucker during the 2019-20 season, and he continued launching away relatively inefficiently in 2020-21, shooting 15.4 times per game and hitting just 41.9 percent of his field goals and 34.4 percent of his threes. During the regular season, he ranked in the 23rd percentile in points per shot attempt by players classified as wings by Cleaning the Glass. Ultimately, he finished the fantasy season ranked 126th on a per-game basis, with his pure points volume doing most of the heavy lifting.
Like the Grizzlies' leader, Ja Morant, Brooks elevated his play during the most crucial moments of Memphis' season. From the final game of the regular season onward, he averaged 23.1 points, 4.0 rebounds, 2.9 assists and 1.4 steals. While his three-point shooting (1.1 makes at 29.0%) was poor, he was strong from the field (47.4%) and the charity stripe (81.1%) while often guarding the opposing team's best backcourt player.
The biggest change in his game was his shot profile. Brooks became increasingly aggressive in finding his own shot and driving to the basket. Comparing the regular season to playoffs, Brooks took 9% more shots at the rim and made them at a 13% better clip. He also increased his drawn fouls (shooting and non-shooting) significantly. If Brooks uses his new-found confidence next regular season, it wouldn't be surprising to see him settle inside the top-100. - Alex Barutha